Beef stew reminds me of being a kid. I guess that's because my parents always made a really amazing one. It's also just the thing to warm you up on a cold winter night when soup sounds sooo good, but just not filling enough. And for those of you who love red meat but are trying to eat healthy, you can always buy a super lean cut of beef.

You can put pretty much ANYTHING you want into your stew, but I loosely followed
this recipe from Dave Lieberman.
In my stew, I put beef (duh, obvi), carrots, green beans, mushrooms, and potatoes. I think it would be really good with leeks and turnips too. However, you should probably take note that the stew takes a while to cook. So if you start making it at 8:00 p.m. on a Monday, it probably won't be done until around 11:00 p.m. (oops). But that's basically because it has to cook in the pot for a while, and you can leave it and go about your regular business, while your stomach rumbles.

So, first you'll want to brown your meat. I bought lean beef from Trader Joe's that's already cut up and perfect for stews. Then cook the carrots, onions, and mushrooms (or whatever you decide to use); stir in the flour; and add chicken or beef broth (I used Trader Joe's beef broth), wine (I used 3 buck chuck Cabernet Sauvignon from TJ's), and crushed tomatoes (mine had garlic in them). Now you need to turn the heat down and let the stew simmer for 50 minutes. Make sure you stir it occasionally or it will get gross and stick to the bottom of the pot.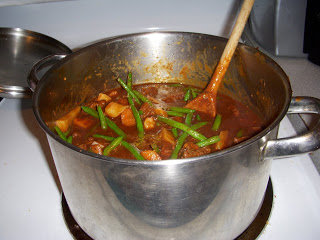 Then throw in the potatoes and let it sit for another 45 mintues (Yes, I was starting to get hungry by now). Finally, you can add the green beans for about 5 minutes before you're ready to dig in to the stew (if you're still awake and haven't accidentally fallen asleep and let the stew cook all night and burnt your apartment down in the process). I also added some Gravy Master at the end to give it a bit more color. I admit I had no idea what Gravy Master was and let it sit in my cabinet for a few months after my mom gave it to me (why would I want to add brown color to my food??), but then decided this was the perfect opportunity to use it. I may have gotten a little overzealous.

Lucky for me, the stew can be made a couple days ahead of time. But you'll probably need to add some water to it once you take it out of the fridge because it will be super-thick. I was really happy with how the stew came out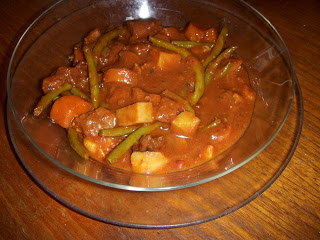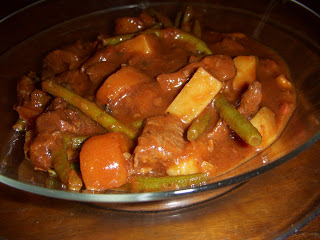 Not only is the beef stew really delicious, but it's made even better when you listen to the suggestions of 2Guys Uncorked and pair it with a pinot noir (try A to Z) or a California Syrah (try Rosenblum). Obviously, these wines (along with everything else in my life) can be found at Trader Joe's. Really, what can't? Besides marshmallows; TJ's doesn't have marshmallows.

[Sues]