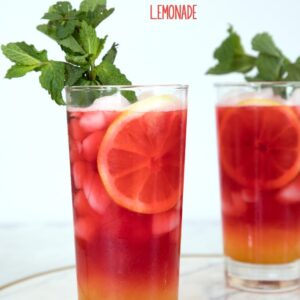 This Blackberry and Turmeric Lemonade is not only the prettiest drink around, but it's incredibly tasty and refreshing and perfect for a backyard party.
2/3

cup

granulated sugar
,

divided

1/2

cup

freshly squeezed lemon 
juice,

plus sliced lemon rounds for garnish

1/2

tsp

ground turmeric

1

cup

(4 oz) blackberries

Ice

12

oz

seltzer

Thai basil, regular basil, or mint


for garnish (optional)
Add 
1/3 cup of sugar and 1/3 cup of water to a small saucepan and bring to a boil, stirring to 
dissolve the sugar.

Lower heat to a simmer and let cook for about 5 minutes.

Pour simple syrup into a heatproof quart-size jar or large container and place in fridge to chill, about 30 minutes.

Mix in lemon juice, turmeric and 
1 cup of water. Cover and shake to blend.

Add blackberries and remaining 1/3 cup sugar and 1/2 cup water to a small saucepan and gently simmer for 10 minutes. Press berries with the back of a wooden spoon to break them up.

Strain blackberry syrup through a fine mesh sieve set over 
a small pitcher or bowl. Cover and place in fridge to chill, about 30 minutes.

Fill 4 collins glasses or other tall glasses with ice.

Shake turmeric lemonade again and divide it amongst the glasses.

Stir seltzer into the blackberry syrup and pour it over the lemonade.

Make sure you don't stir the mixture. Garnish with lemon rounds and basil or mint, if desired and serve immediately.