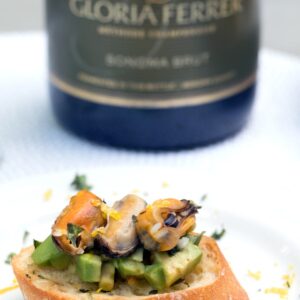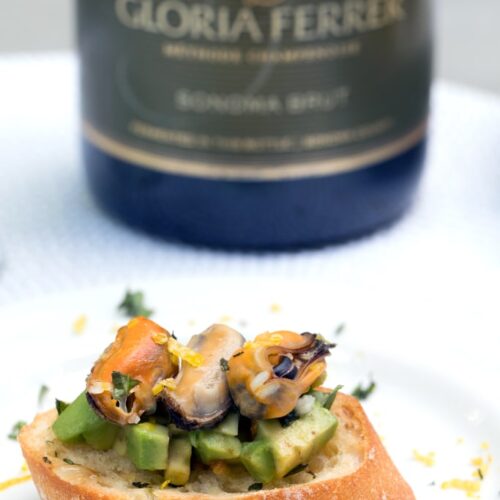 Print Recipe
Sparkling Wine Mussel Crostini with Avocado, Grilled Lemon, and Basil
These Sparkling Wine Mussel Crostini are not only made with sparkling wine, but they pair perfectly with a glass of it! The crostini are topped with mussels, avocado, grilled lemon, and basil, making them the perfect little appetizer.
1

French baguette,

sliced diagonally into about 24 1/2-inch slices

4

tsp

olive oil,

divided

4

Tbsp

unsalted butter,

softened

7

cloves

garlic,

minced and divided

1 1/2

tsp, plus 1 Tbsp chopped basil

1

shallot, finely chopped

(about 1/4 cup)

3

lbs.

mussels,

cleaned and de-bearded

1/2

cup

Gloria Ferrer Sonoma Brut

1/3

cup

freshly squeezed lemon juice

1

avocado,

peeled, pitted, and diced

1

Tbsp

finely chopped lemon zest

(from 2 lemons)

2

lemons,

halved and grilled
Pre-heat oven to 350 degrees.

Brush bread slices lightly with about 2 tsp olive oil and place on a foil or parchment paper-lined baking sheet.

Bake at 350 degrees for 16-18 minutes, until just crispy.

While crostini are in oven, mix together butter, 4 cloves minced garlic, and 1 1/2 tsp chopped basil in a small bowl.

When crostini are out of oven, lightly brush butter mixture onto each piece of bread. Set aside.

Pour remaining 2 Tbsp olive oil into large skillet or dutch oven over medium heat. Add shallot and cook for about 2 minutes. Add remaining 3 cloves minced garlic and cook for 2 more minutes.

Add the mussels to the pan, along with the Sonoma Brut and lemon juice.

Bring to a boil, cover pan, and let cook for 8-10 minutes, until mussels have opened. Discard any mussels that have not opened. Place cooked mussels in a large bowl.

When the mussels are cool enough to handle, remove meat from the shells.

Top each piece of bread with diced avocado and three mussels.

Evenly distribute lemon zest and remaining Tbsp chopped basil on top of crostini and squeeze grilled lemon over the top.