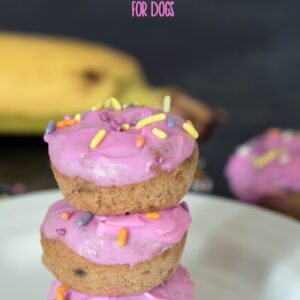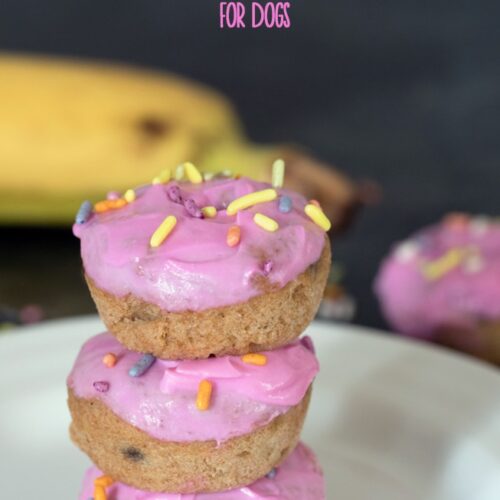 Print Recipe
Banana Doughnuts for Dogs
Doughnuts are the most delicious dessert, but why shouldn't your dog have any of the fun? These Banana Doughnuts for Dogs are the perfect special occasion or any time treat for your pup!
Pre-heat oven to 350 degrees and lightly spray a mini doughnut pan with cooking oil (natural/organic, if possible)

In a large bowl, whisk whole wheat flour and baking powder together.

In a separate smaller bowl, mix together mushed banana, egg, buttermilk, and honey until well combined.

Pour wet ingredients into dry ingredients and stir until just combined.

Put batter into a pastry bag or a small Ziplock bag with the corner cut off and fill mini doughnut tins about 3/4 the way full.

Bake at 350 degrees for about 5 minutes, until doughnuts are just turning golden and a toothpick inserted comes out dry.

Let cool in pan for about 5 minutes before moving to wire racks to cool completely.

Once cooled, frost doughnuts with Frosting for Dogs and sprinkle with natural colored sprinkles.