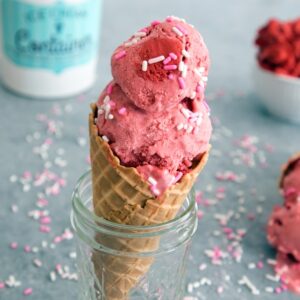 Print Recipe
Red Velvet Ice Cream with Cookie Dough
Cookie dough ice cream is nice, but red velvet ice cream with red velvet cookie dough is a whole lot more fun. This buttermilk-based ice cream is packed with cookie dough and is pretty on the eyes.
Servings:
1
1/2 quarts ice cream
Red Velvet Cookie Dough:
1/2

stick (4 Tbsp)

unsalted butter,

room temperature

1/4

cup plus 2 Tbsp

packed light brown sugar

1

tsp

vanilla extract

1/8

tsp

salt

1/2

cup

all-purpose flour

1

tsp

cocoa powder

1

Tbsp

buttermilk

3-4

drops red food coloring

2

Tbsp

mini chocolate chips
Heat heavy cream, buttermilk, sugar, and salt in a medium-sized saucepan over medium heat.

Stir constantly, until the mixture just reaches the point of simmer. Remove from heat.

While cream/buttermilk is heating, lightly whisk egg yolks with cocoa powder in a separate medium-sized bowl.

Pour half of the warm cream/buttermilk into the bowl with the egg yolks, whisking while you do so.

Then pour the egg mixture back into the pan with the rest of the cream/buttermilk.

Continue to cook over low heat, while stirring with a wooden spoon. Stir for about 3-5 minutes, until the mixture thickens enough to coat the back of the spoon. Remove the saucepan from heat.

Strain egg/milk mixture into a separate large bowl.

Mix in vanilla extract and red food coloring.

Cover bowl with plastic wrap, making sure plastic wrap is touching top of the liquid so skin does not form, and refrigerate for at least 4 hours.

Once mixture is chilled, freeze in an ice cream maker according to the manufacturer's instructions, mixing in pieces of red velvet cookie dough when ice cream is almost done processing.

Place ice cream in airtight containers and put in freezer for at least 4 hours to continue to harden.
Red Velvet Cookie Dough:
In the bowl of a stand mixer or a large bowl with a hand mixer, cream butter and brown sugar together until light and fluffy.

Mix in vanilla and salt.

Slowly beat in flour and cocoa powder until combined. Stir in buttermilk.

Add red food coloring and mix until combined.

Fold in mini chocolate chips.

Refrigerate cookie dough for at least one hour.