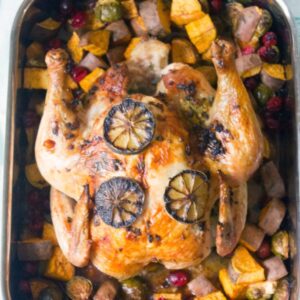 Roast chicken is the perfect comfort food no matter the time of year and this jalapeño lime version will brighten your evening and help get rid of the Sunday scaries.
Pre-heat oven to 400 degrees.

Remove giblets from chicken and pat dry with paper towels.

In a small bowl, stir together melted butter, minced garlic, diced jalapeño pepper, lime zest, and lime juice.

Rub the chicken with the butter mixture, making sure to get under the skin and in the chicken cavity.

Slice one lime into quarters and place in the chicken cavity.

Place chicken in roasting pan breast side-up. Tuck wings behind back and tie legs with string if desired.

Slice remaining lime into thin slices and place on top of chicken.

Place sweet potatoes, brussels sprouts, and cranberries in a bowl and toss with olive oil, chili powder, and salt and pepper.

Put vegetables in roasting pan around chicken.

Roast at 400 degrees for about one and a half hours, until thermometer inserted into the thickest part of the thigh registers at 165 degrees.

Remove chicken from pan and let rest on cutting board for about 10 minutes before carving.