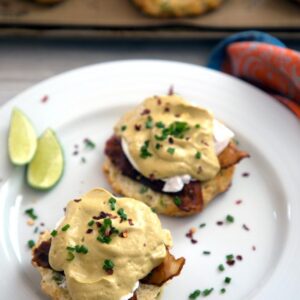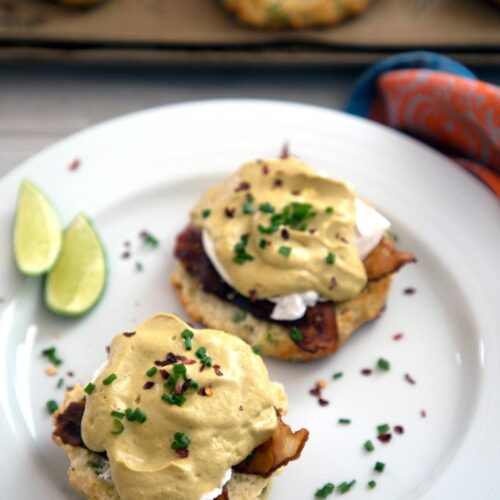 Print Recipe
Jalapeño Biscuit Eggs Benedict with Avocado Lime Hollandaise
Want to serve an impressive that will make it look like you were slaving all day? This spicy Jalapeño Biscuit Eggs Benedict with Avocado Lime Hollandaise will do the trick! Make the biscuits and hollandaise ahead of time and all you have to do the morning of is poach the eggs, make the bacon, and plate!
12

large Eggland's Best Eggs

6

Jalapeño Biscuits

recipe below

12

slices

of cooked bacon

crispy

1

batch Avocado Lime Hollandaise Sauce

recipe below

3

Tbsp

finely chopped chives

Red Hot Pepper Flakes
Jalapeño Biscuits (makes 6):
Avocado Lime Hollandaise:
Fill a large saucepan with about 2 inches of water and bring to a boil. Lower to a simmer.

Crack egg into a small bowl or ramekin and gently drop egg into simmering water (lower bowl all the way to water to release egg). Continue with remaining eggs, taking care not to overcrowd pot. I recommend sticking to three at a time.

Let simmer for about three minutes and then remove eggs with slotted spoon to a paper towel covered plate or bowl, making sure egg whites are cooked, but yolks are still soft . Continue with the rest of the eggs.

Slice biscuits in half and place 1 halved piece of bacon on each biscuit half. Top each biscuit with a poached egg and spoon Avocado Lime Hollandaise Sauce over them.

Sprinkle chives and red hot pepper flakes over tops of biscuits.
Jalapeño Biscuits:
Pre-heat oven to 400 degrees.

In a large bowl, whisk together flour, sugar, baking powder, cream of tartar, garlic powder, salt, and pepper.

Work butter into the flour mixture, using a pastry blender or your fingers. Blend until the mixture is coarse.

Mix in chopped jalapeño peppers and chives.

In a separate small bowl, whisk together buttermilk and egg.

Pour buttermilk mixture into flour mixture, stirring with a wooden spoon until just combined, taking care not to over-mix.

Scoop about 1/2 cup of the dough with a measuring cup or ice cream scoop onto a parchment-lined baking sheet, placing scoops about 2 inches apart.

Bake biscuits at 400 degrees for 19-22 minutes, until just starting to brown.

Let cool in pan for about 5 minutes before moving to wire rack to cool completely.
Avocado Lime Hollandaise:
Place avocado, lime juice, ground black pepper, red pepper flakes, and hot water in a blender and blend on high until smooth.

With blender running on low, pour extra virgin olive oil in slowly, until combined. Add additional olive oil 1 Tbsp at a time for a runnier consistency.
Notes:
Jalapeño Biscuits can be made ahead of time and warmed in the toaster oven before serving.

Avocado Lime Hollandaise can be made a day in advance and kept in fridge until ready to serve. Heat in a small saucepan over low heat or in the microwave before serving.