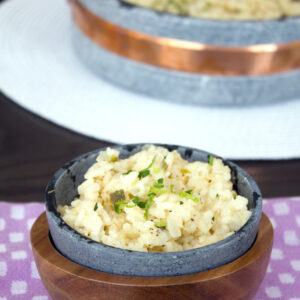 Contrary to popular belief, risotto is incredibly easy to make and worth every second of stirring. This Jalapeño Cheddar Risotto is packed with flavor from lime juice, jalapeño pepper, and sharp cheddar cheese.
Pour chicken or vegetable broth into a saucepan and bring to a boil. Lower to a simmer.

In a separate medium-sized saucepan, heat the butter over medium heat. Add onion, jalapeño, and garlic and cook about 3 minutes, until onion is transparent and garlic is fragrant.

Add the arborio rice and cook for about 2 minutes.

Pour wine or hard cider into the saucepan and cook, stirring until it's absorbed, about 2 minutes.

Add 1 cup of the warmed broth to the rice. Stir and let the rice absorb the stock. Once the broth is absorbed, continue to add more, a cup at a time, stirring and letting it absorb before adding more. You don't have to stir non-stop, but make sure rice doesn't start sticking to the bottom of your saucepan.

Continue with the rest of the broth, or until the rice is nice and tender, but still firm.

When rice is fully cooked, stir in lime zest, lime juice, and sharp cheddar cheese.

Season with salt and pepper to taste before serving.