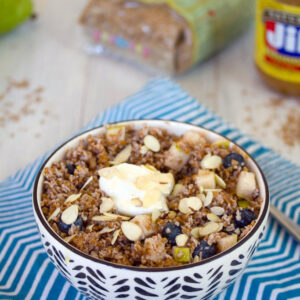 Print Recipe
Overnight Bulgur Breakfast Bowls with Pears and Blueberries
Easy to prep, these Overnight Bulgur Breakfast Bowls with Pears and Blueberries will keep you satisfied for hours. Must be those healthy grains, peanut butter, fruit, and nuts!
Combine uncooked bulgur and coconut almond milk in a medium-sized bowl. Cover and refrigerate overnight.

In the morning, fluff grains and stir in peanut butter and cinnamon.

Toss with chopped pears and blueberries.

Serve in individual bowls and top with Greek yogurt, sliced almonds, and honey.