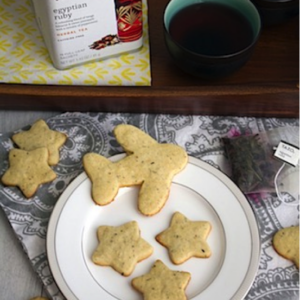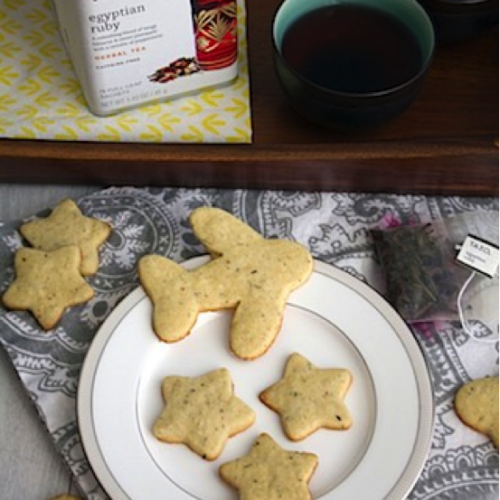 Print Recipe
TAZO® Egyptian Ruby Tea Cookies
What's better than sitting down with a cup of tea? Enjoying tea time with a plate full of cookies, too! These cookies are made with TAZO® Egyptian Ruby Tea and will make you feel like you're taking a trip around the world.
Pre-heat oven to 375 degrees.

In the bowl of a stand mixer or in a large bowl with a hand mixer, beat together butter and sugars until light and fluffy, about 3-4 minutes.

Mix in eggs.

Cut open tea bag and place tea leaves in a mortar. Using the pestle, crush tea leaves as finely as possible. Push through a fine mesh strainer if pieces are still too big.

In a separate medium bowl, whisk together flour, baking powder, salt, and crushed tea leaves.

Add flour mixture to wet mixture and slowly mix, until just combined.

Divide dough into two and form into balls. Wrap each ball in plastic wrap and flatten with your hand or a rolling pin. Refrigerate for 1-3+ hours.

Lightly flour your surface. Take one of the wrapped flattened dough balls out of fridge and unwrap. Using a floured rolling pin, roll dough to about 1/4" thickness.

Using the cookie cutter of your choice, cut cookies and place on parchment paper-covered baking sheet.

Bake cookies at 375 degrees for 5-7 minutes, until starting to turn golden around edges.

Let rest for 5 minutes before removing to wire racks to cool completely.