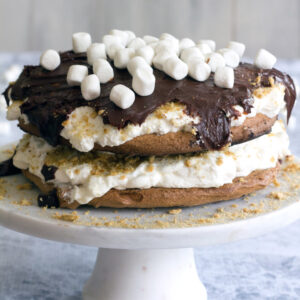 All the classic components of s'mores come together to form a decadent multi-layer pavlova. It tastes just like a cake and it's incredibly easy to put together. No campfire required.
6

large egg whites

3/4

C

granulated sugar

3/4

C

finely chopped dark chocolate

3

T

unsweetened cocoa powder

Marshmallow whipped cream

recipe below

2

graham crackers

crumbled

Chocolate ganache

recipe below
Marshmallow Whipped Cream:
2

C

heavy cream

2

T

granulated sugar

1

t

vanilla

3/4

C

mini marshmallows

plus more for topping.
Preheat oven to 350 degrees.

On two pieces of parchment paper, draw circles 9 inches in diameter and place parchment paper upside-down on baking sheets.

In a stand mixer or in a large bowl with hand mixer, beat the egg whites until soft peaks begin to form. Beat in sugar slowly until egg whites turn shiny and stiff.

Fold chopped dark chocolate and cocoa gently into the egg whites until evenly dispersed.

Dab a small amount of meringue onto each corner of the parchment paper in order to secure papers to the pans.

Divide the meringue into two equal portions and form mounds within both of the circles on the parchment paper. Smooth sides and tops of meringue mounds with a spatula.

Put meringue in the oven at 350 degrees and then immediately turn oven temperature down to 300 degrees. Bake for about one hour, until meringues are crisp on top, but squishy underneath.

Turn oven off and open door a bit to let meringues cool completely.

Once cooled, invert one meringue onto a cake plate and cover in marshmallow whipped cream. Sprinkle graham cracker crumbs on top.

Invert second meringue on over whipped cream and graham crackers and top with more whipped cream and graham cracker crumbs.

Pour chocolate ganache over the whipped cream and let drizzle down the sides. Top with additional mini marshmallows.
Marshmallow Whipped Cream:
In a stand mixer or in a large bowl with a hand mixer, beat cream until soft peaks form.

Add sugar and vanilla to cream and continue to beat until soft peaks form once again.

Fold in mini marshmallows.

Keep chilled until ready to use.
Chocolate Ganache:
Place chopped dark chocolate in a medium bowl.

Heat cream in a small saucepan over medium-low heat.

When cream is very hot (but not boiling), pour over chocolate. Let sit for one minute and then stir gently until smooth.

Allow to cool slightly before using.