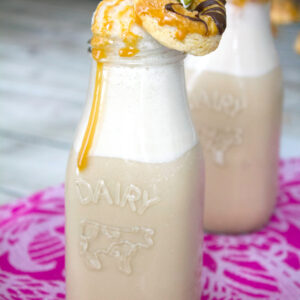 Print Recipe
Caramel Coffee and Doughnuts Milkshake
What's better than coffee and doughnuts? Caramel coffee and doughnuts in milkshake form! This caramel coffee milkshake is seriously adorable with mini doughnut garnish.
Mini Caramel Doughnuts (makes 12):
1/2

C

all-purpose flour

1/4

C

granulated sugar

1/2

teaspoon

baking powder

Pinch

salt

1/4

C

BAILEYS® Coffee Creamers Caramel

2 1/2

T

melted coconut oil

1/3

C

Caramel Sauce

recipe below

1/4

C

dark or melt chocolate chips
Put cold coffee, creamer, and vanilla ice cream in a blender and blend until combined.

Pour into four glasses and drizzle caramel over the top.

Put a mini doughnut through a straw and place straw in milkshake.
Mini Caramel Doughnuts:
Pre-heat oven to 400 degrees.

In large bowl, whisk together flour, sugar, baking powder, and salt.

Stir in creamer and melted coconut oil, until just combined.

Fill cavities of a mini doughnut pan about 3/4 the way full.

Bake for 7-9 minutes, until doughnuts are just starting to turn golden at edges.

Let doughnuts cool in pan for a few minutes before moving to wire rack to cool completely.

Once doughnuts are cool, dip facedown in caramel sauce.

Heat chocolate until melted. Using a fork, drizzle melted chocolate over the top of the doughnuts in a zigzag fashion.
Caramel Sauce:
In a medium saucepan, heat granulated sugar over medium heat. Stir frequently with a rubber spatula until sugar turns into a smooth amber-color liquid.

Stir butter into sugar. The mixture will bubble quite a bit. Stir for about 1 minute, until the butter is completely melted.

Stir the creamer into the mixture and let it come to a boil.

Remove the saucepan from the heat and stir in salt. Pour the mixture into an airtight container like a mason jar or bowl. Store in fridge until ready to use.