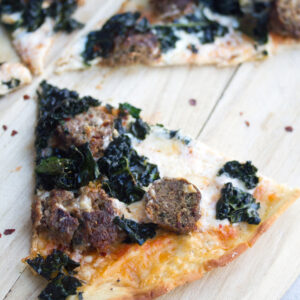 This flatbread combines some of my very favorite foods into the ultimate meal. The meatball recipe will yield double the amount of meatballs necessary for these two flatbreads, but I still recommend making an entire batch for snacking purposes.
Parmesan Peppercorn Flatbread Dough:
3/4

T

rapid rise granulated yeast

1 1/2

C

lukewarm water

3/4

T

salt

1 1/2

t

sugar

1/8

C

extra-virgin olive oil

3

C

unbleached all-purpose flour

1/2

C

parmesan cheese

1/2

T

cracked black pepper
Meatballs:
1

lb.

ground meat

I used beef, pork, and veal mixture

1/3

C

panko

2

cloves

garlic

minced

1/4

C

freshly grated parmesan cheese

2

large eggs

1/4

C

finely chopped parsley

Salt and pepper

1/2

T

olive oil
Pre-heat oven to 450 degrees.

Divide dough into two portions and roll into two 10-inch rounds on a lightly floured surface.

Brush 2 T of olive oil on each dough round and sprinkle garlic around.

Spread 1/4 C tomato sauce on each dough round and top each with 3 oz. fresh mozzarella cheese and 1/2 C shredded cheddar cheese.

Slice meatballs in half and top each flatbread with about 15 meatball halves.

Sprinkle kale over the tops of the flatbreads

Bake flatbreads on pizza stones or foil-covered pans at 450 degrees for about 10-13 minutes, until crust is golden.
Parmesan Peppercorn Flatbread Dough:
Mix yeast and water in a large bowl and let rest for 2 minutes.

Stir salt, sugar, and extra-virgin olive oil into the mixture.

With a wooden spoon, mix the flour into the mixture. If dough is dry, add more water, 1 T at a time.

Gently knead parmesan cheese and cracked black pepper into the dough mixture.

Cover bowl with a kitchen towel and let rest in a warm spot for about 2 hours. Dough should rise during this time.
Meatballs:
In a large bowl, mix together ground meat, panko, minced garlic, parmesan cheese, eggs, chopped parsley, and salt and pepper.

Using your hands, form about 30 mini meatballs.

Pour olive oil into a skillet over medium heat and fry meatballs for about 10 minutes, until browned and cooked from the inside.

Place cooked meatballs on a paper towel-lined plate.