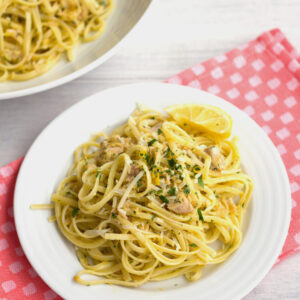 Two classic pasta dishes get some major updates in this light and fresh Tuna Meyer Lemon Carbonara.
Bring a large pot of salted water to a boil. Once boiling, add linguini and let cook for 8 to 10 minutes, until al dente

While pasta is cooking, heat the olive oil in a small skillet over medium-low heat. Add garlic to the skillet and sautée for about 30 seconds to a minute, until softened.

Drain oil from tuna and place tuna in a medium-sized bowl. Mix in meyer lemon juice and zest.

In a separate medium bowl, beat eggs and yolks and mix in the grated parmesan.

When pasta is al dente, drain water. Return to pot while still hot.

Keeping pot off the heat, pour egg and parmesan mixture into pasta and stir well. Stirring will allow the eggs to cook slowly and keep from scrambling in the hot pasta.

Mix in garlic, tuna and lemon mixture, and most of the chopped parsley.

Serve pasta on plates, with additional chopped parsley and parmesan sprinkled on top.