Last week, my favorite ex-coworker (and newly engaged woman!), Kerry, and I went out to lunch. She works in the Boylston St. area of Boston, which is full of great restaurants, so we get to try somewhere new every time we meet up.
This time we took a stroll down to Newbury St. and had lunch at Bouchee, a cute little French restaurant. I'd say we made a good choice as we both had fabulous meals that left us feeling full and satisfied.
As we usually do when we meet for lunch, we each chose a meal that we were both somewhat interested in, so we could share. Kerry ordered the macaroni and cheese with smoked ham and parmesan breadcrumbs. It was simply amazing. The mac and cheese was nice and rich, but not too heavy; while the parmesan breadcrumb topping added the perfect crunch.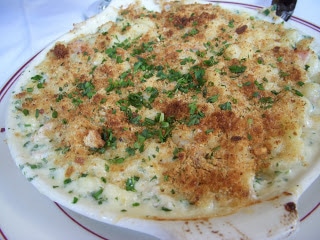 I ordered the flatbread with sweet sausage, bleu cheese, grapes and tarragon. Generally, I'm not an alternative pizza kind of girl. When I get a pizza craving I want the real thing with tomato sauce, mozzarella cheese, and pepperoni. But this sounded appealing to me, and I'm telling you, I could have eaten the entire thing (and it was really large). The sharpness of the bleu cheese was nicely cut by the cinnamon flavor of the sausage and the sweetness of the grapes. The crust was thin and crispy just the way I like it.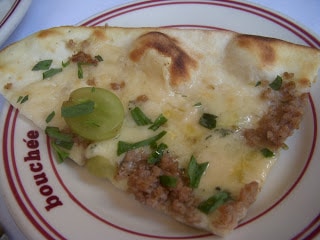 Bouchee's lunch menu is large and filled with mouth-watering French delicacies, like escargot, foi gras, and duck confit, as well as delicious-sounding salads and sandwiches. The Croque Madame sandwich is smoked ham, gruyere, bechamel, and fried egg; sounds like a heart attack waiting to happen, but like it might be worth it.
Prices range from about $10-$17 for lunch entrees, while dinner entrees are $13-$35. I can't wait to go back for lunch at Bouchee later this spring to enjoy the outdoor seating right on beautiful Newbury.
Bouchee Brasserie
159 Newbury St.
Boston, MA 02115
617.450.4343
www.boucheebrasserie.com
[Sues]