Mistral is one restaurant in Boston I've been dying to go to, but have never had the opportunity (read: it's expensive). But after going last night, I saw exactly why it's so expensive; it's amazingly delicious food…and so worth it! I mean, Valentine's Day is coming up. So if you're not planning on cooking up the fabulous Valentine's Day menu we're going to give you (just sit tight a few days), then take your honey (or make your honey take you) to Mistral. Birthdays? Anniversaries? Just please, find an ocassion to go here!

Located in the South End (only one of my favorite Boston neighborhoods ever), Mistral even looks posh from the outside.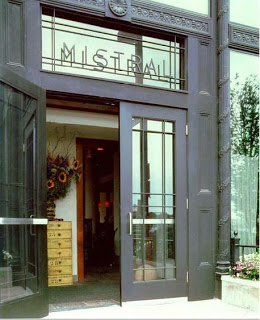 Mistral
My favorite part of the meal was no doubt the appetizer of Maine Crab Ravioli with Thyme-Tomato Broth (16). I've never tasted such tender, fresh crab meat and the raviolis basically melted in my mouth. The Grilled Portobello Mushroom "Carpaccio" with Roasted Peppers Agrodolce & Baby Arugula (13) and Lambs Lettuce Salad with Soft Goat Cheese & Apple Cider Vinaigrette (14), were also pretty much to die for. I could have filled up on appetizers alone, but I'm really glad I didn't.
I had a really difficult time deciding on an entree, but finally chose the Skillet Roasted Sirloin Steak "Au Poivre" with Potato-Chicory Hash, Cognac & Peppercorns (42) and was extremely happy that I did. The steak was juicy and full of flavor and was definitely more than enough food. I took home lots of leftovers.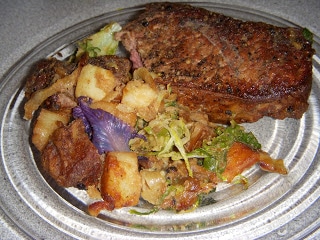 I love leftovers.

Of course, I still saved room for dessert, which was a warm chocolate torte and the dessert special, some sort of pineapple cake, also delicious. Of course, the sambuca on the rocks washed it down nicely. We sat with our dessert for over an hour just chatting and catching up, never feeling rushed.
The restaurant is beautiful and had me feeling like I was far away from Boston. Dare I say, it actually felt like a NYC restaurant? Because it did. If you really can't afford to eat at Mistral, it's worth just going to the bar for a couple drinks. I heard it's a great place to pick up older men who will buy your drinks. You didn't hear that from me, though. Allegedly, there's also a late-night menu on Fridays and Saturdays, which looks to be a bit cheaper than the regular menu.
Our waiter left a little to be desired (almost spilling an entire dirty martini on my sister, but merely splashing her instead), but according to my aunt and frequent Mistral customer, if her "usual" waiter had been there, things would have been close to perfect. As she said, that just means we'll have to go back. I can handle that.
Mistral
223 Columbus Ave.
Boston, MA 02116
(617) 867-9300
[Sues]