I am a magazine fanatic and basically read anything I can get my hands on. But I especially love cooking magazines. Between the recipes, photography, and advice, I think they are an extremely valuable source of information, and would even describe some as pieces of art. And of all the cooking magazines out there (and believe me, there are A LOT!), one of my all-time favorites is Cook's Illustrated.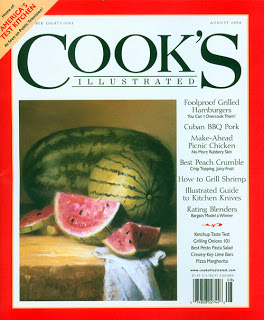 This magazine is filled with all the best recipes. How do we know they're the best? Well, as Cook's Illustrated claims, they "test each recipe 30, 40, sometimes as many as 70 times, until we arrive at the combination of ingredients, technique, temperature, cooking time, and equipment that yields the best, most-foolproof recipe." The magazine explains why the recipes are the best and how they came to their conclusions. Its pages are black-and-white, but there are no advertisements. Usually, I think "black-and-white, ew," but the content in Cook's Illustrated is so awesome, you don't even miss the color. Trust me.
They have a huge test-kitchen where they do all their cooking, located in Brookline, MA, pretty much down the street from my apartment. It's basically my dream to some day be a good enough cook to work in their test kitchen, testing out recipes and writing about them. Cooking and writing? To me, it doesn't get much better than that.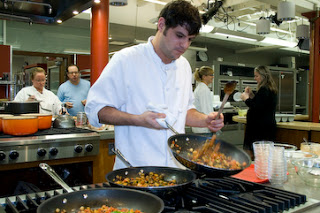 The Test Kitchen
You may also know the folks from Cook's Illustrated from the PBS show, America's Test Kitchen. The guy with the bow tie is Chris Kimball; founder, publisher, and editor of Cook's Illustrated. He's extremely intelligent and just a little bit intimidating. Last year while taking a magazine editing class, I decided to write a paper on Cook's Illustrated, and he allowed me to interview him and was more than friendly. I think that says a lot about a man who does so many huge things and wears so many hats. Not only does he have his television show and Cook's Illustrated, he also has a magazine called Cook's Country, and tons of books that are filled with the best recipes.
Chris Kimball and Bridget Lancaster on America's Test Kitchen
In the test kitchen, they hold weekly blind taste tests to let us know the best brands of various products. They test and rate kitchen equipment as well and publish the results in Cook's Illustrated.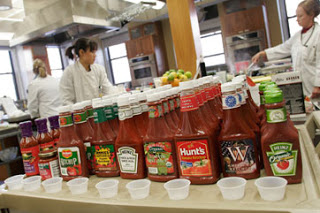 Blind Taste Test to find the best Ketchup
One of my favorite recipes from Chris Kimball is his blueberry clafouti. It's really easy to screw up clafouti, but using his recipe, it has come out perfectly for me every time! I'll make one soon and post some pictures!
[Sues]

All images taken from www.Americastestkitchen.com and www.Cooksillustrated.com