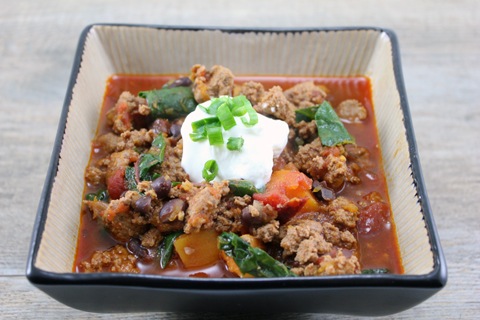 Winter means chili. Even if it was almost 60 degrees out on Saturday. AKA heaven. But still. You can't be this far into football season without whipping up a big batch of chili. Now, when I want chili, nine times out of ten, I want meat in that chili. Unless it's this sweet potato chili that I made last year, which, I'm not gonna lie, was pretty much ridiculously awesome. But meat. I was definitely craving a beef or turkey chili the other night. But with my vow to get more veggies in place, I decided I could definitely have the best of both worlds. Have meat in my chili and eat my veggies, too! I used a lean turkey in this chili, plus added in plenty of butternut squash and swiss chard. For a ton of extra zing, I used chipotle peppers in adobo sauce. Because I love them. And I poured in a beer, too. Can't forget that important food group, can we? Not during football season.
Chipotle Turkey Chili with Butternut Squash and Swiss Chard (serves 8-10):
Print this recipe!
2 T extra virgin olive oil
1 yellow onion, chopped
4 cloves garlic, finely chopped
4 t chili powder
1 ½ t oregano
1 t cayenne
3 t tomato paste
2 lb. lean ground turkey
3 chipotle chilis and 3 T adobo sauce
1 bottle (12 oz.) beer, preferably a dark bock
14.5 oz. chopped/diced tomatoes
1 15 oz. can black beans.
2 ½ C cubed butternut squash
1 bunch swiss chard
Greek yogurt for topping
Green onions for topping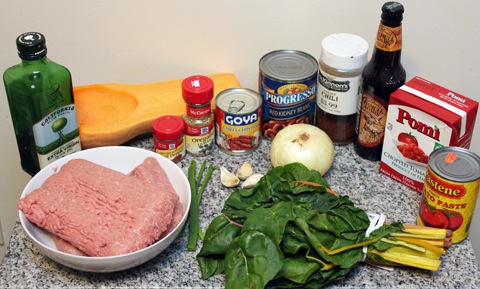 To start, pour extra virgin olive oil to a large dutch oven or stockpot and turn heat to medium-high. Add onions and garlic to the pan and stir. Add chili powder, oregano, and cayenne and let cook for about 4 minutes, until onions are translucent.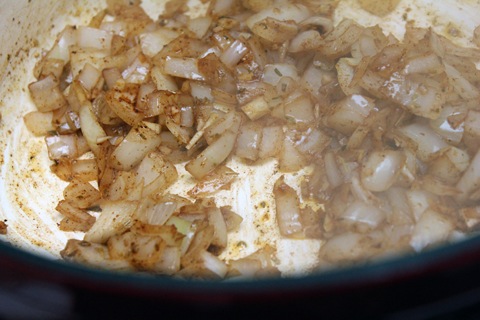 Stir in the tomato paste and cook for about a minute before putting ground turkey into the pot. Break up turkey with a wooden spoon and cook until the meat is no longer pink. Add the chipotle peppers and the adobo sauce to the mixture and stir; cook for about 2 more minutes.
Pour beer into the pot. I used a nice Sam Adams Double Bock that I had never tried before.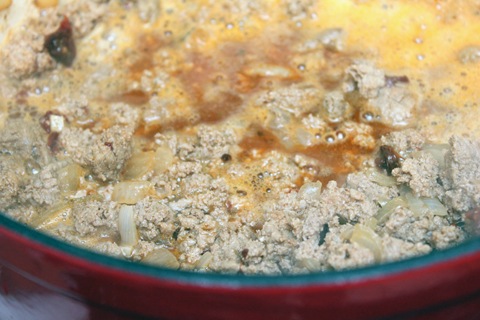 Then add the tomatoes. I used these wonderful Pomi Italian tomatoes that were sent to me a little while ago. The size of the container is a bit unconventional (26.46 oz.), but the tomatoes are pretty awesome. So, So fresh! I might even go so far as to say I'd eat these out of the container with a spoon.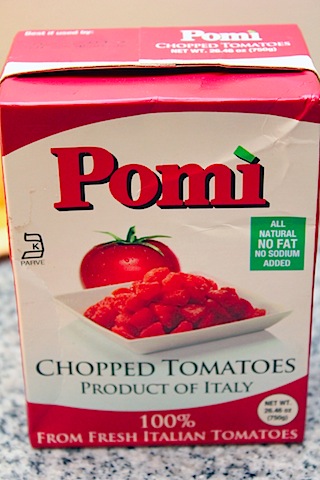 Add the black beans to the mixture, as well.
Stir the butternut squash in. Turn down the heat, cover, and simmer gently for about 30 minutes.
The mixture should thicken up during this time. A couple minutes before you're ready to serve, add in the swiss chard.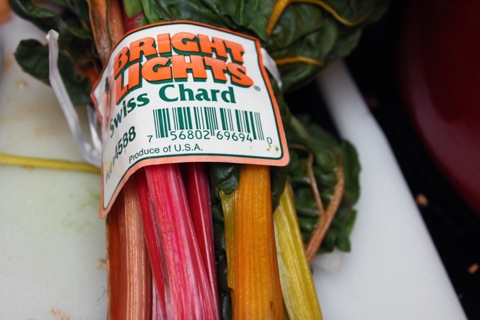 Bright Lights rainbow swiss chard is basically my favorite thing to purchase, ever.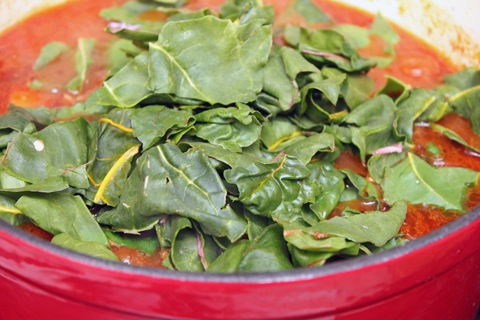 Stir it up and cook for another minute or so.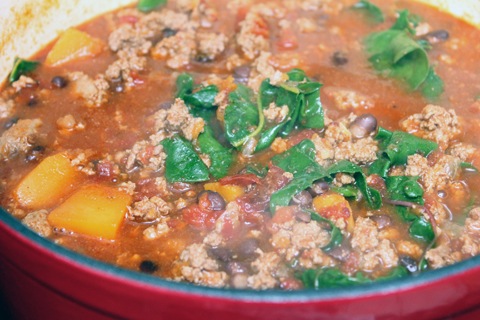 Top with Greek yogurt and some scallions. You can sprinkle some cheese on top, too, but to be honest, it doesn't even need it!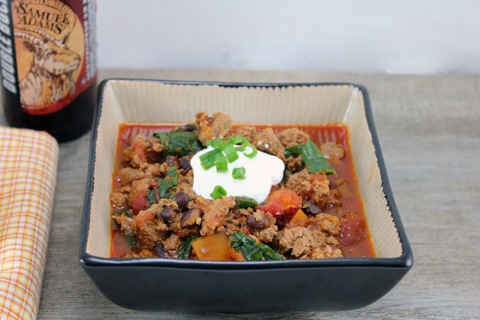 I served it with more Sam Adams Double Bock (duh!) and some jalapeño cornbread that I whipped up at the last minute. And which totally redeemed me for the failed loaf of bread I made earlier that day (that's what I get for trying to make a loaf of bread healthy myself).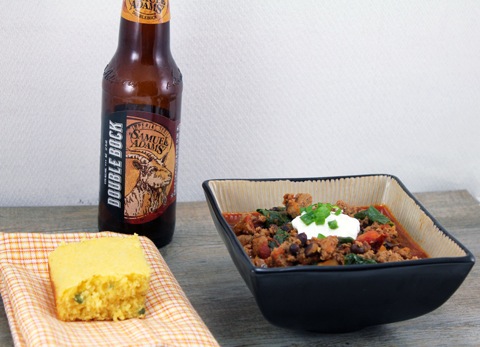 But the chili. This chili was really gooood. It had pretty much everything I could ever want in a chili. Lots of variety and a slightly spicy kick from the chipotle. If you haven't noticed, chipotle peppers are one of my favorite things in the universe.
And you know, next time I make it, I would probably consider just using 1 lb. of turkey and adding in extra squash and swiss chard. Since I was making a huge batch of chili and the veggies were kind of an afterthought, I figured 2 lbs. of turkey would be necessary. But I totally found myself digging around for the squash and greens. I wanted more!
Go me! I'm like a new person in 2012. Now, where's my cupcake for a reward??
P.S. Jalapeños make everything better. So, you should always add them to cornbread. If you're not a big fan of spice, scrape the seeds out and add them in for the flavor. You won't regret it. Just like you won't regret having that leftover beer with your chili.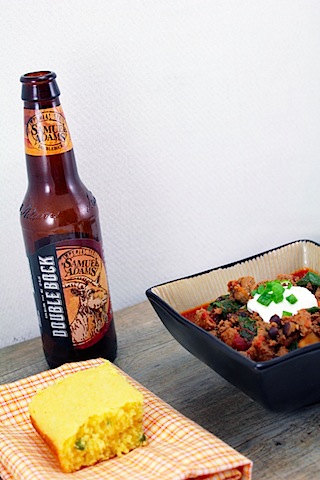 Now, if only we could get some snow up in this piece. I know I'm in the minority here in Boston, but if I have to live in 20 degree weather, I at least want a little snow once in a while. No, I'm not looking forward to commuting in it, but I'm very much looking forward to sitting snuggled up on the couch in my pajamas while a thick blanket of white snow falls outside. And when that day comes, I will most definitely be whipping up another batch of this chili!
Side note: I wrote this yesterday and when I woke up this morning… Snow on the ground! Just a dusting and nothing to write home about, but did I just commit myself to another batch of chili?? It is going to be 46 degrees later today...
Is it chili weather where you are? Or is it always chili weather in your mind?
[Sues]