These S'mores Cookie Bars have all the classic elements of s'mores, but are incredibly easy to make in your oven at home, no matter what time of year!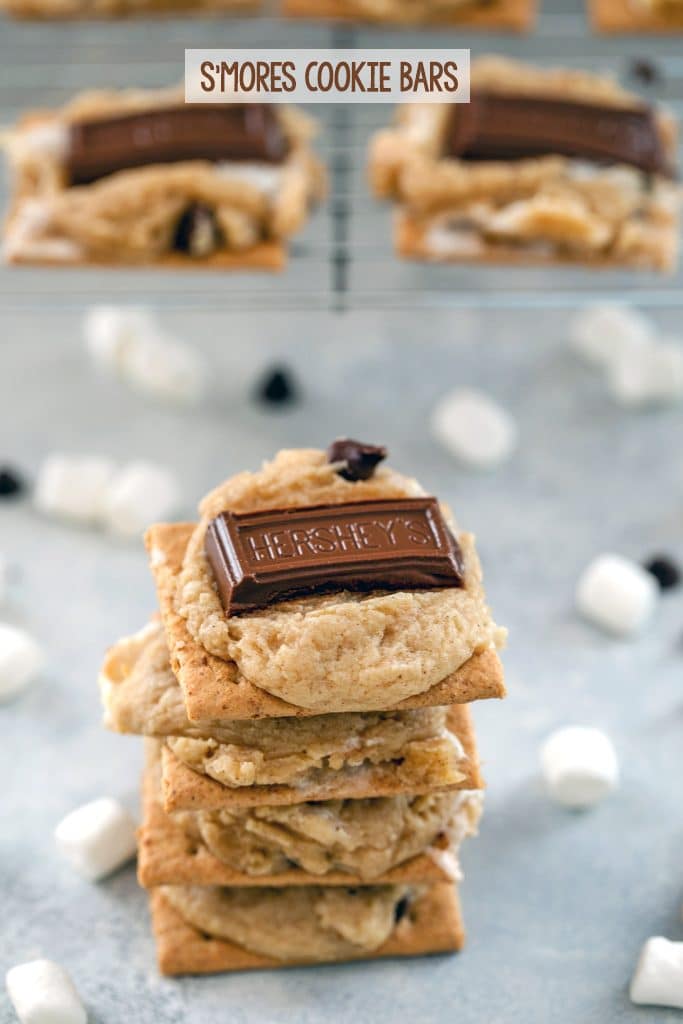 (This recipe for S'mores Cookie Bars was originally published in July 2011, but was updated with new photos and content in 2018).
Once upon a time, I made s'mores cookies. They were everything I dreamed they would be. But I still wanted more. Needed more.
So, I made s'mores pancakes. Again, they knocked my socks off. But you can only eat so many chocolate and marshmallow drenched pancakes before you start craving plain old classic s'mores again. It's a loop that goes around and around.
These s'mores cookie bars are a little more unique than the average s'more and are so perfect for when you're really craving s'mores, but don't have a campfire and are in the mood to make cookies.
They're my "cookie" of the summer and they've become one of the most requested things I make when it comes to parties and BBQs. Of course, they're a classic summer dessert, but since you don't need a campfire, they're a great winter treat, as well!
S'mores Cookie Bars Recipe
These cookies aren't actually so different from a typical s'mores cookie, aside from one thing. One very important thing. The base of the cookie is made from graham crackers.
It sounds so simple, but it makes for an amazing difference. You'll need to make the chocolate chip marshmallow-packed cookie dough and then line a baking pan with graham cracker squares.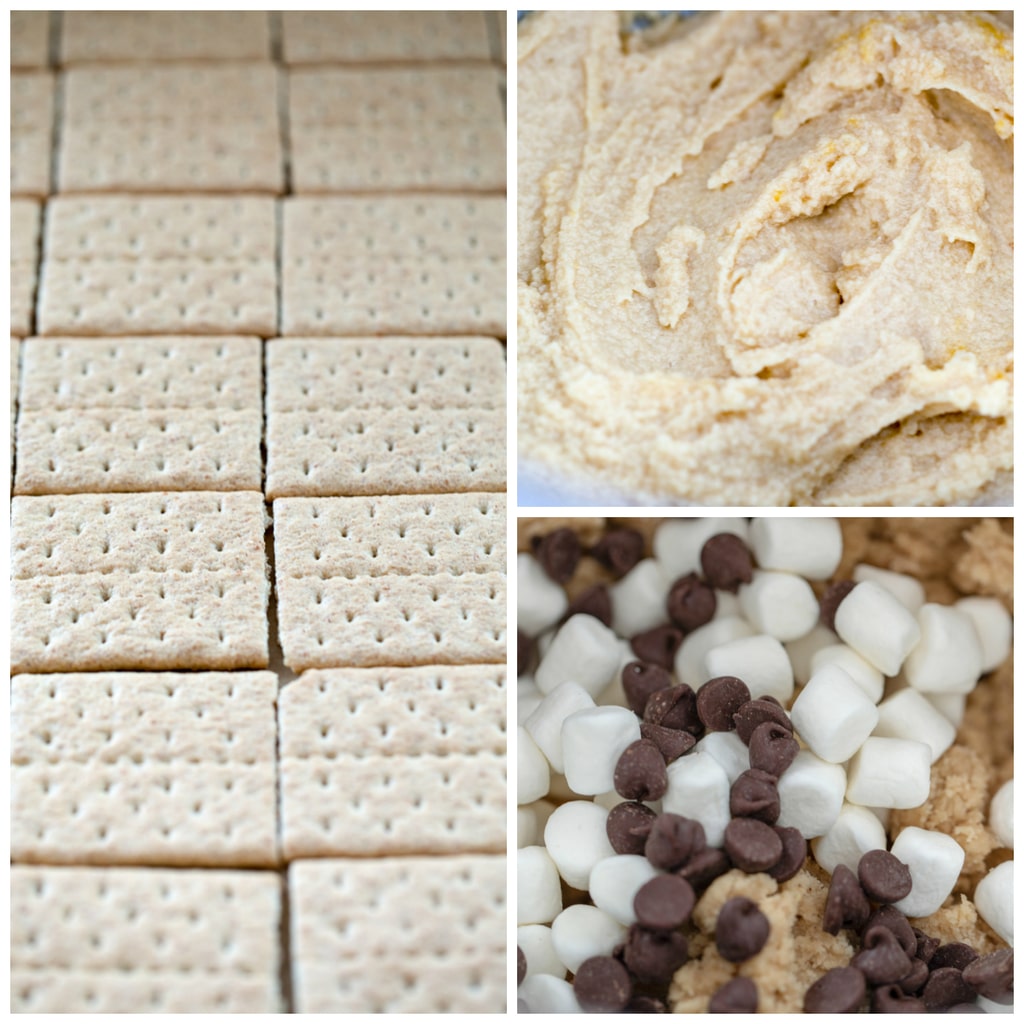 Then place a scoop of cookie dough on top of each graham cracker square.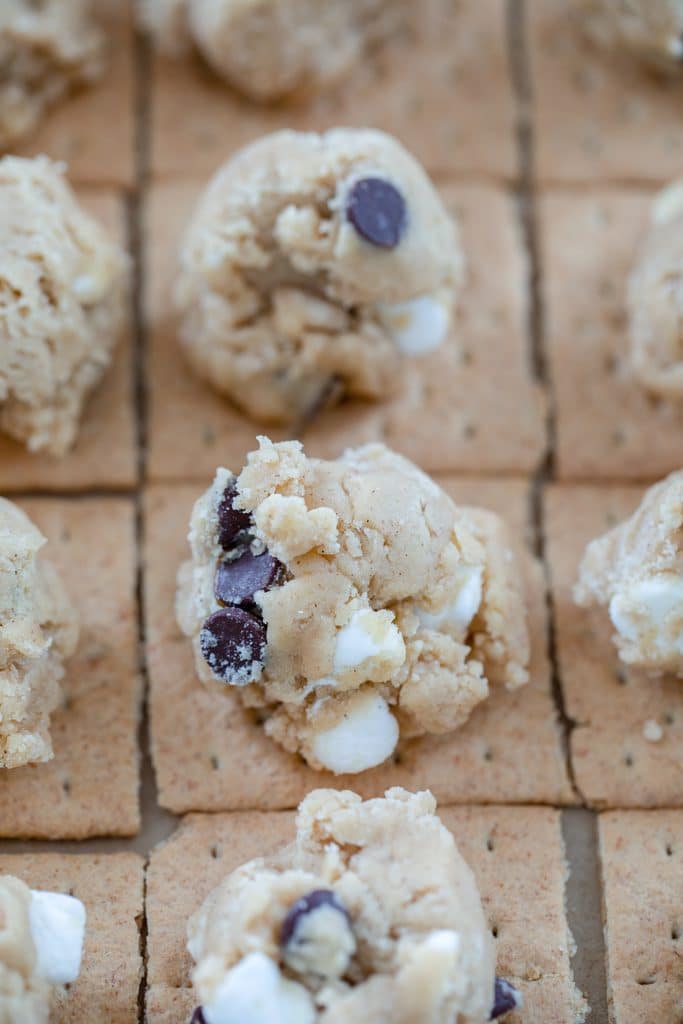 Pop them in the oven and then when they're partially baked, take them out and press down the Hershey's chocolate pieces.
Remember those little chocolate pieces are called "pips"? Hershey's made a commercial promoting this fact a while back, but I feel like it never took off. I had to Google what they were called and when I saw "pip," the commercial came back to me.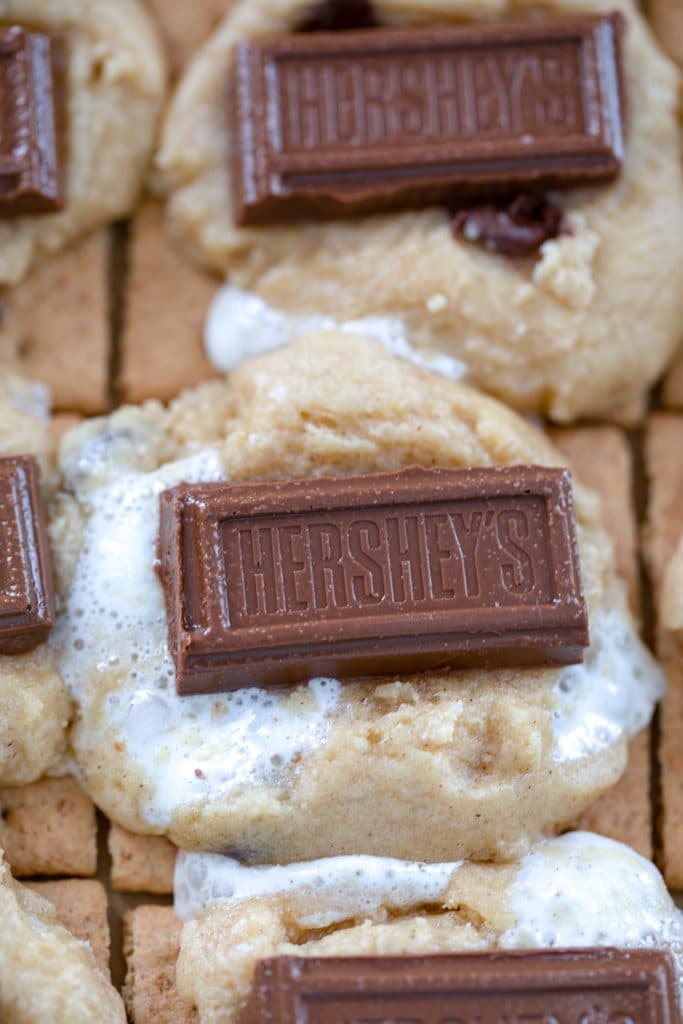 Anyway, then you'll put the cookies back in the oven for 5-7 more minutes. In any normal cookie baking experience, seeing cookies start baking together would be grounds for disaster… You never want your cookies to bake into each other, right??
Except for these s'mores cookie bars. In this case, it's A-OK because you can just split the cookies apart by their individual graham cracker squares.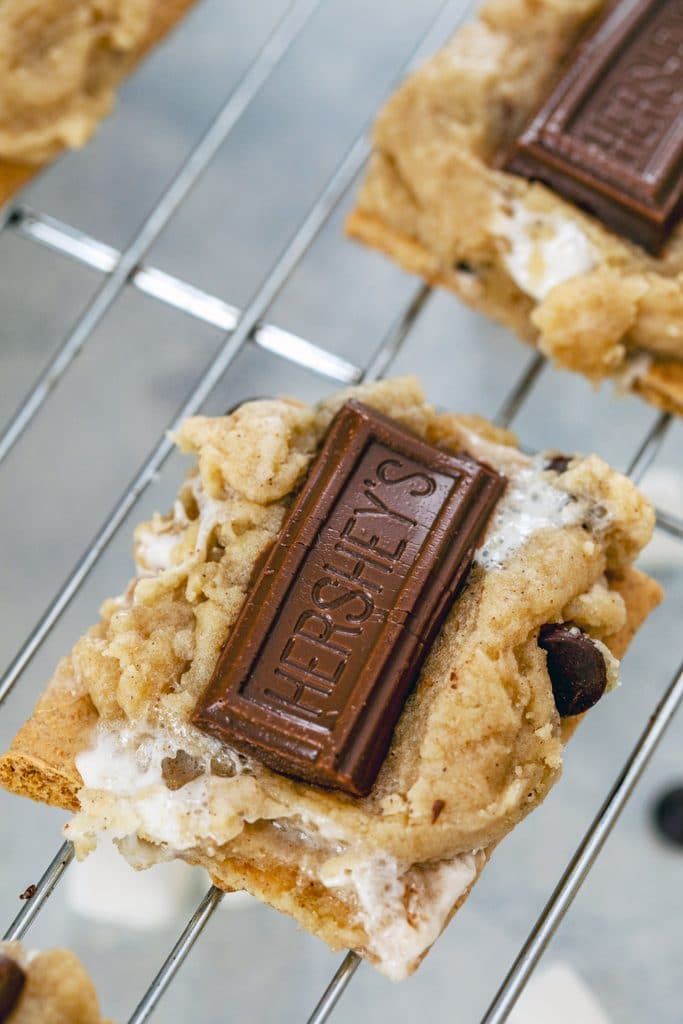 Hello, s'mores I didn't even need to start a campfire for. Let's be friends.
These are the kind of cookies you'll find yourself craving in the middle of the winter. So, you'll shut your shades and turn the heat up high. You'll put your fuzzy socks on (what? Just me?) and close your eyes as you warm your hands over the flame of your stove (be careful).
Take a bite of your freshly baked s'mores cookie bar and you'll almost, almost feel like you're back in the heat of the summer, sitting with your friends and family around a campfire. Summer all year round.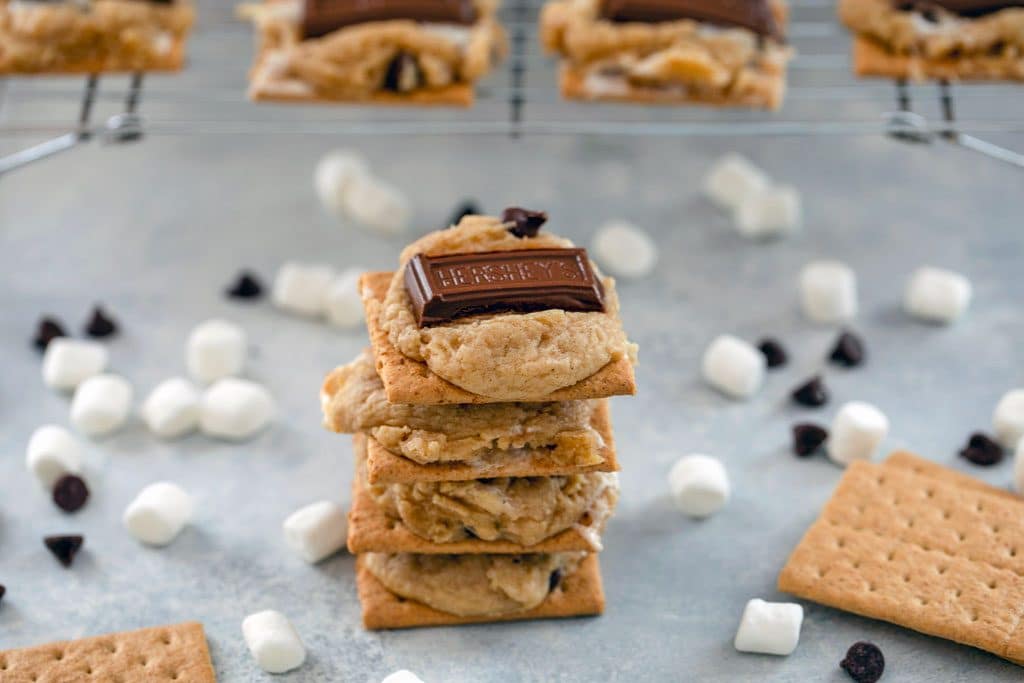 And that's the magic of food. And a really good heating system. Possibly a gas fireplace, as well.
Oh, and one of my favorite things about these cookies? The cookie is just a tad bit undercooked. It's incredibly soft and has the perfect contrast to the slight crunch of the graham cracker. The marshmallow is gooey and the chocolate is melty. All my favorite things.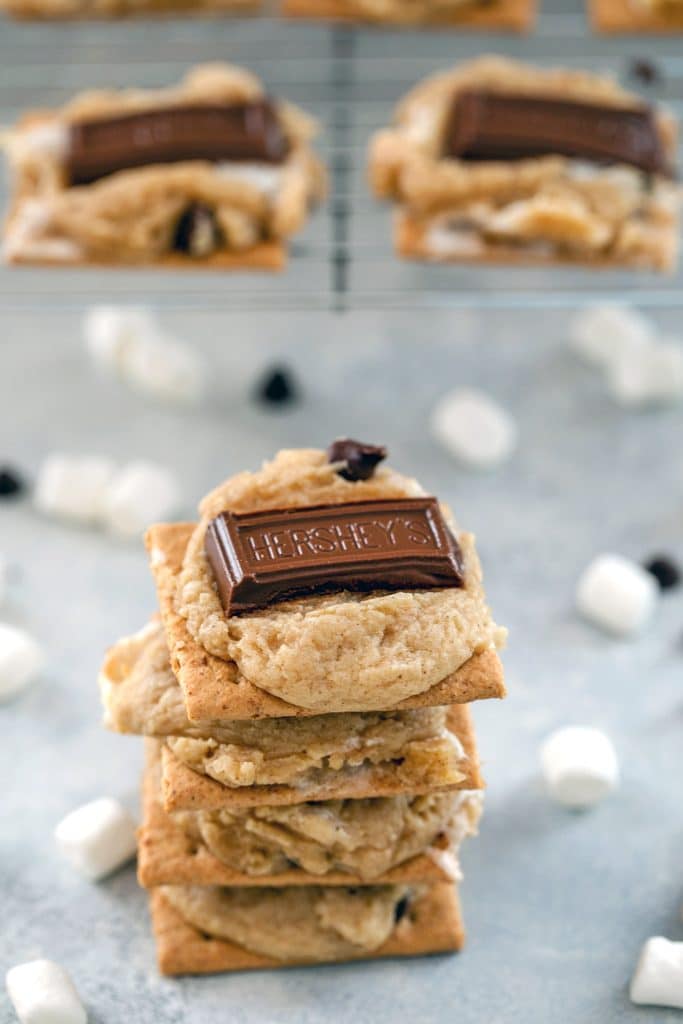 If I had more time on my hands, I might just have to start an all s'mores desserts, all the time blog. In the meantime, I'll keep on making these s'mores cookie bars for every single summer BBQ and party I go to. And I don't think I'll be hearing any complaints!
What typically summer food could you eat all year round?
If you like these s'mores cooke bars, be sure to check out my S'mores Pancakes and my S'mores Ice Cream! I'm also in love with these No Bake Mini S'mores Cheesecakes from Sugar Salt Magic!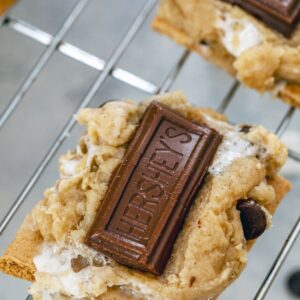 Print Recipe
S'mores Cookie Bars
These S'mores Cookie Bars have all the classic elements of s'mores, but are incredibly easy to make in your oven at home, no matter what time of year!
Cookie Dough Chilling Time
1
hr
Ingredients
2 1/2

cups

all purpose flour

1 1/2

tsp

baking powder

1/2

tsp

salt

1/2

tsp

cinnamon

11

Tbsp (1 stick + 3 Tbsp)

unsalted butter,

room temperature

1/2

cup

granulated sugar

1

cup

light brown sugar,

packed

2

large eggs

1 1/2

tsp

vanilla extract

1/3

cup

semi-sweet chocolate chips

1

cup

mini marshmallows

28

graham cracker squares

28

Hershey bar pieces

(from about 2.5 1.55-ounce Hershey Bars)
Instructions
In a medium bowl, whisk together flour, baking powder, salt, and cinnamon.


In the bowl of a mixer, cream together butter, granulated sugar, and brown sugar until the mixture is light and fluffy, about 3-4 minutes.

Add eggs and vanilla and mix until blended.

Slowly add the flour mixture to the wet mixture, with the mixer on low speed, until it's just combined, taking care not to over-mix.

Fold in the chocolate chips and mini marshmallows until just combined. Chill the dough in the fridge for at least an hour and up to overnight.

When ready to bake, pre-heat oven to 375 degrees.

Line a baking sheet with parchment paper and lay graham cracker squares side-by-side. You may need two baking sheets if one is not large enough

Place a scoop (a little more than 1 Tbsp) of cookie dough in the middle of each graham cracker and press down lightly with your finger. Put them in the oven for 5 minutes.

Remove from oven and gently place a Hershey's chocolate piece on top of each cookie.

Put the cookies back in the oven for another 5-7 minutes, until cookies are just turning golden brown at edges.

Let cool in pan a about 5 minutes and then remove to a wire rack to cool completely.