All the classic components of s'mores come together to form a decadent multi-layer pavlova. This S'mores Pavlova tastes just like a cake and is incredibly easy to put together. No campfire required.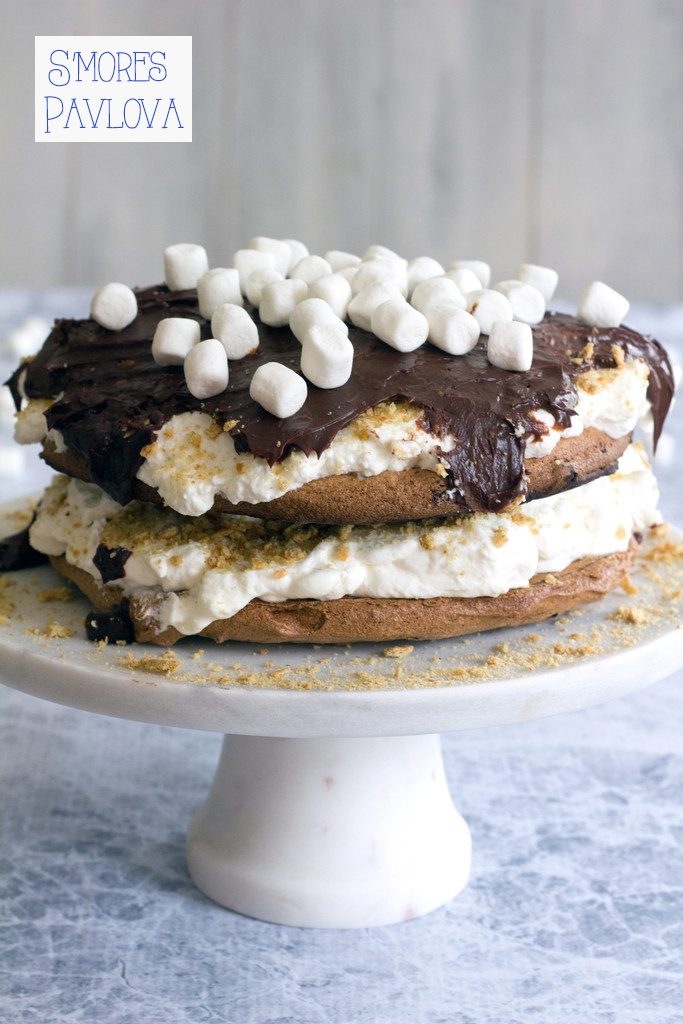 I'm pretty sure the only thing that could force me to keep my eyes open right now is s'mores. That's how tired I am. And you know, even s'mores might be too much work for me at the moment. I'm legitimately sitting on the couch, too tired to even drink a glass of wine. That's how you know it's bad. I'm almost contemplating turning off the Bachelorette's Men Tell All that I'm catching up on because my eyes will barely stay open (to be fair, this show is kind of a snooze fest right now, right??). I keep looking at my calendar because I can't really believe it's only Tuesday. Tuesday?? Tell me that's not true! If a day ever called for s'mores, this would be it. But the kind that don't require any assembling or work. Like a s'mores pavlova. Yup, I'd stay awake for that.
Have you noticed that my love for s'mores knows no bounds? I just think it's the most heavenly dessert combination in the world. Yes, better than strawberries and cream or chocolate chip cookies and ice cold milk or apple pie and vanilla ice cream. S'mores are everything.
S'MORES PAVLOVA RECIPE
But pavlova is pretty cool, too. And I've been making it like a madwoman lately. You know, the kind of madwoman who does things like make pavlova. I've made this chocolate one a few times now and decided I wanted to try something new and fun. Since s'mores are clearly on my mind a lot, I decided to combine my two loves into a s'mores pavlova cake. It involves lots of whipped egg whites and chopped chocolate and cocoa.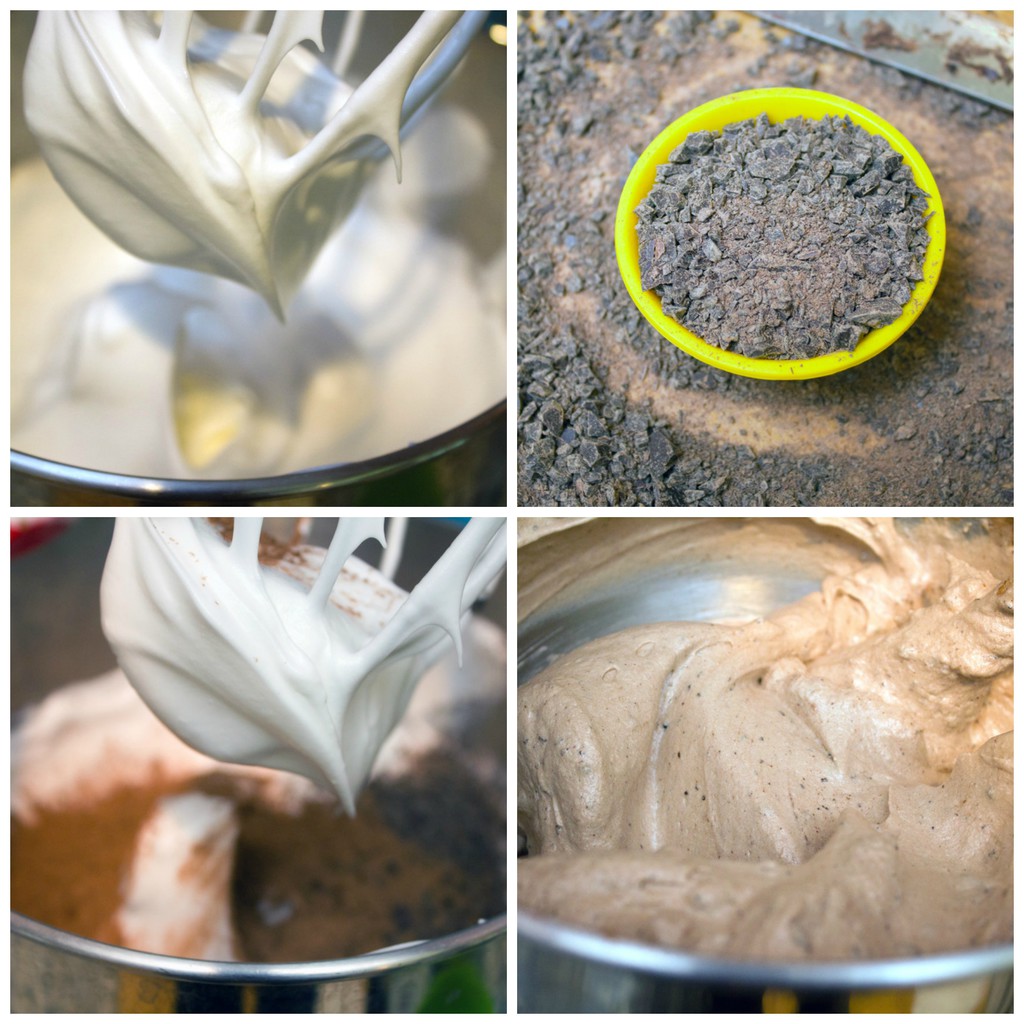 My pavlovas never look very pretty when I'm forming them, but the end result is always A-OK. Cracks in pavlovas are totally allowed! But if you want to avoid cracks as best as possible, once they're done baking, keep your pavlova in the oven with the door cracked for about 2 hours. This helps them cool down slowly so cracks are avoided.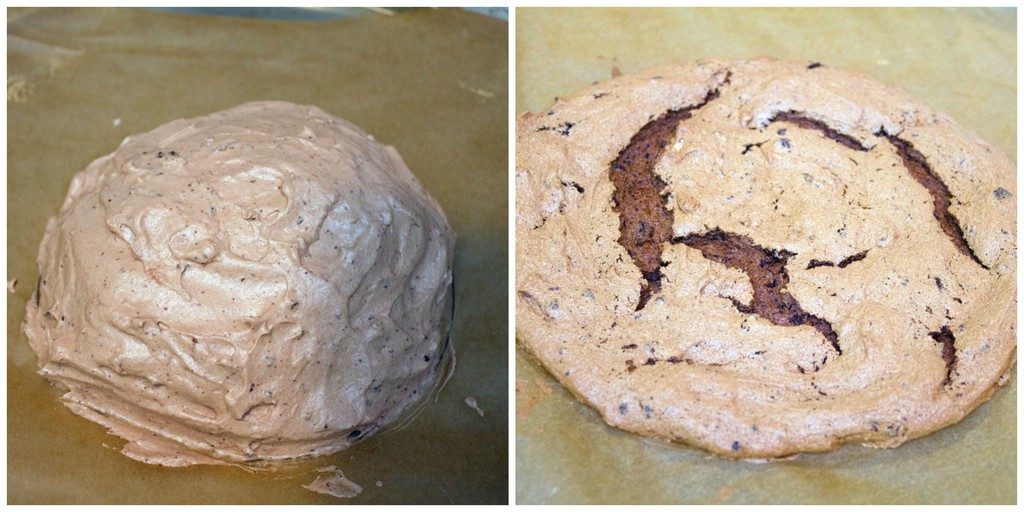 But when you're planning to cover the entire thing in a ton of whipped cream anyway, nobody will even see the imperfections! Also, you'll be mixing lots of mini marshmallows into the whipped cream. Which basically makes my dreams come true.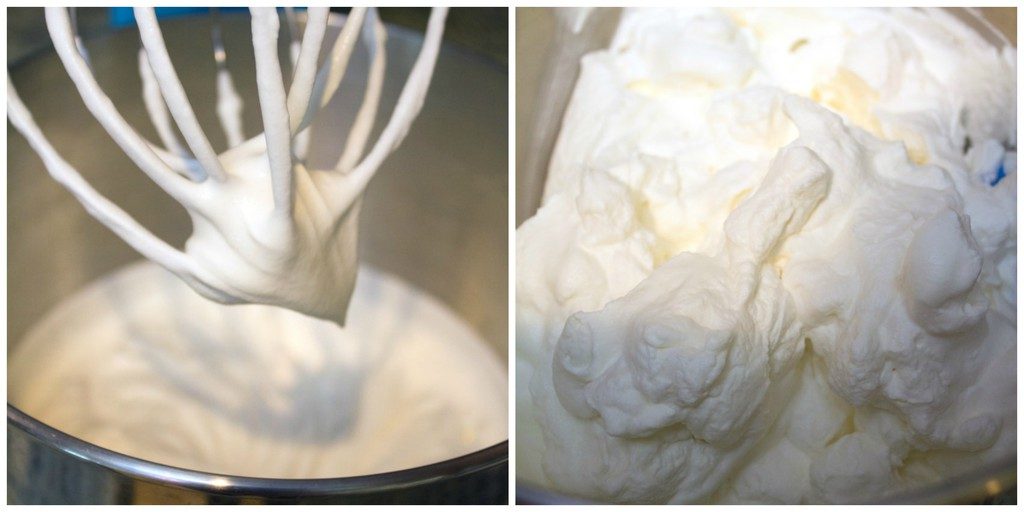 Once you slather one layer of pavlova with the marshmallow whipped cream, you'll crumble graham crackers on top. And then do the same thing with the second layer. This was my first layer pavlova.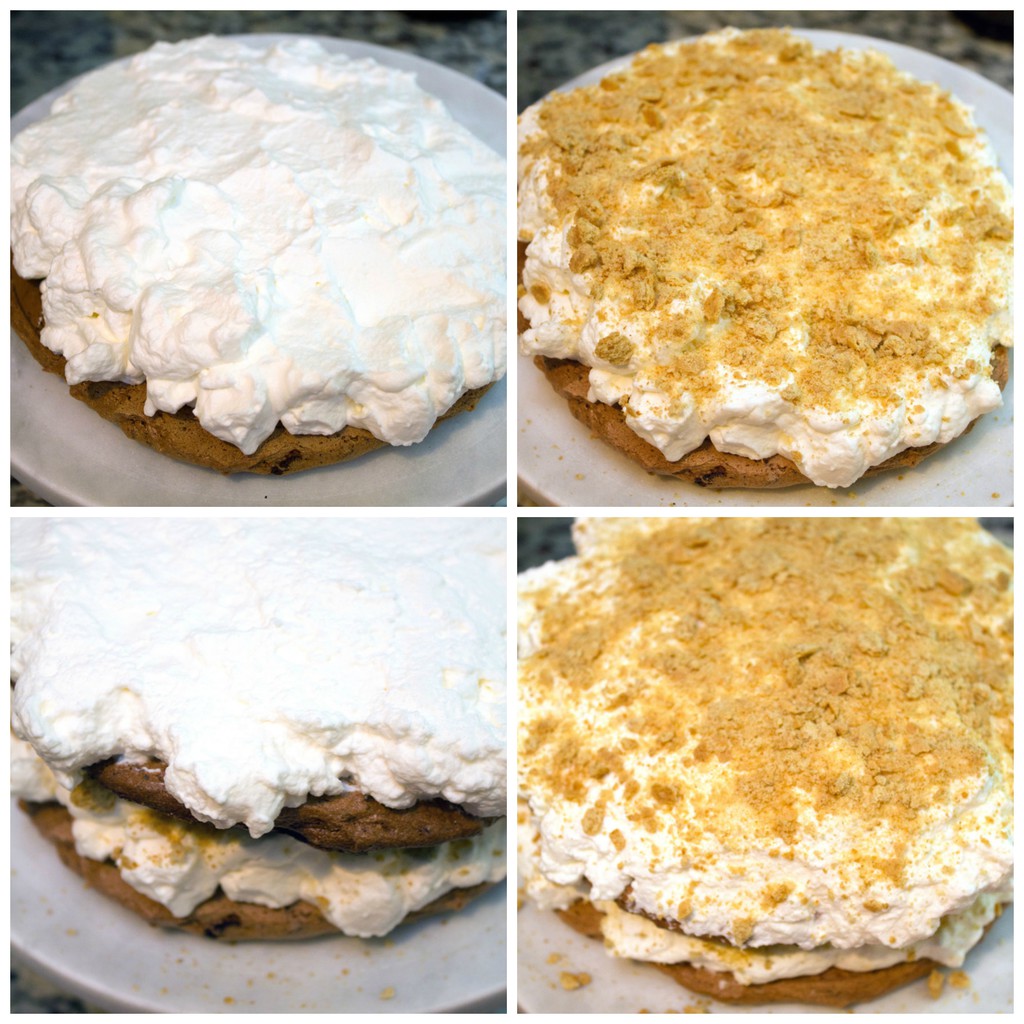 Even though the pavlova was a chocolate pavlova and made with chocolate and cocoa, I still didn't think that was enough chocolate. So, I made a quick ganache. Seriously, ganache is really quick and easy.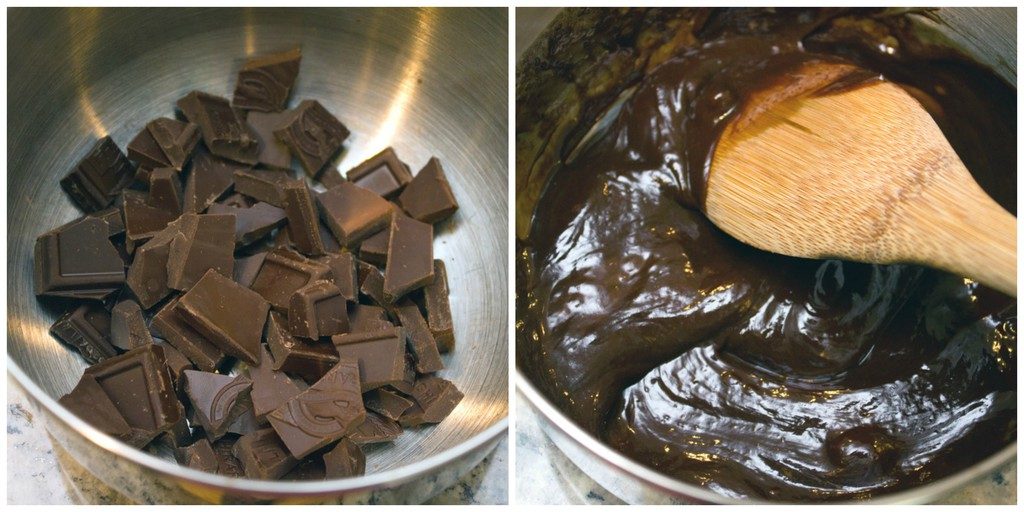 Just spread it all on top and add more marshmallows. As many as you want.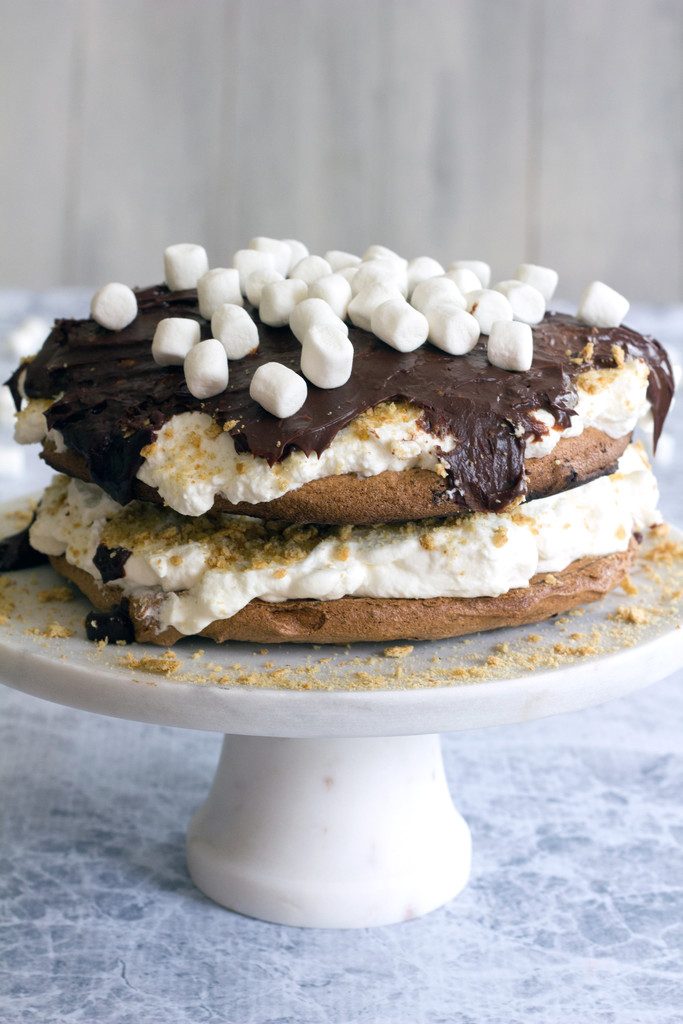 Hello, everything I love about s'mores in pavlova form. Or is it everything I love about pavlova in s'mores form? All I know is that once it's made, it's made and the marshmallow pavlova cake lasts a few days in the fridge. No assembly required.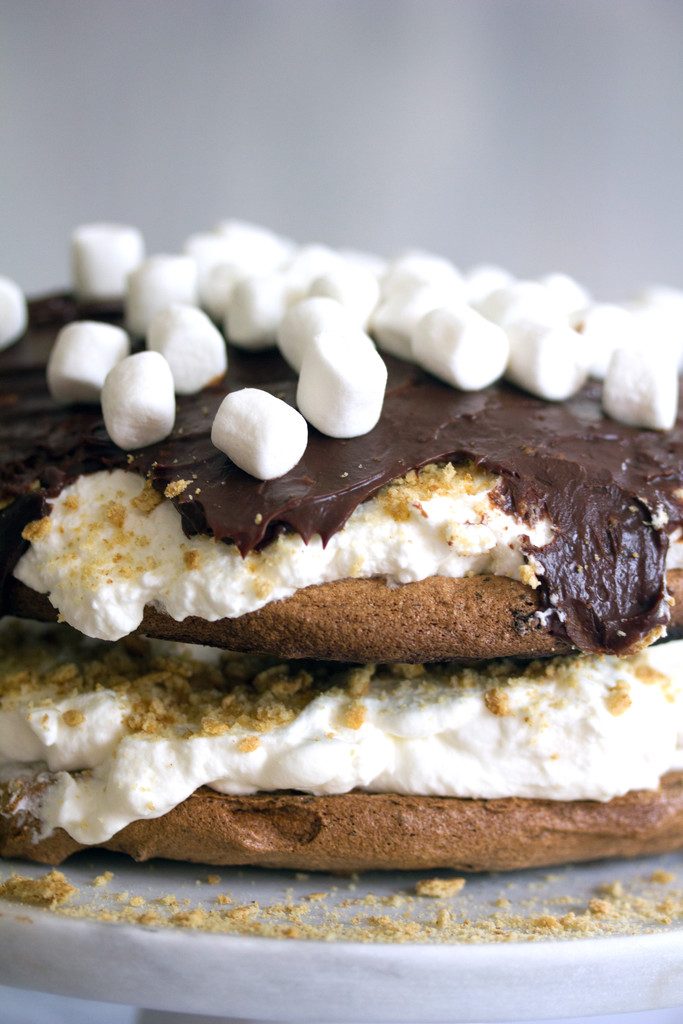 No campfire required, either. I recommend cutting yourself a gigantic slice.
And enjoying every single second of it. This s'mores pavlova really didn't do anything to put a stop to my pavlova obsession. Not that that's really a bad thing. Especially if you ask my husband who happens to reap many of the benefits.
If you haven't yet made a pavlova or meringue creation, I urge you to do it ASAP. Like now! Ugh, I forgot it's only Tuesday, but there's absolutely nothing wrong with a Wednesday night pavlova.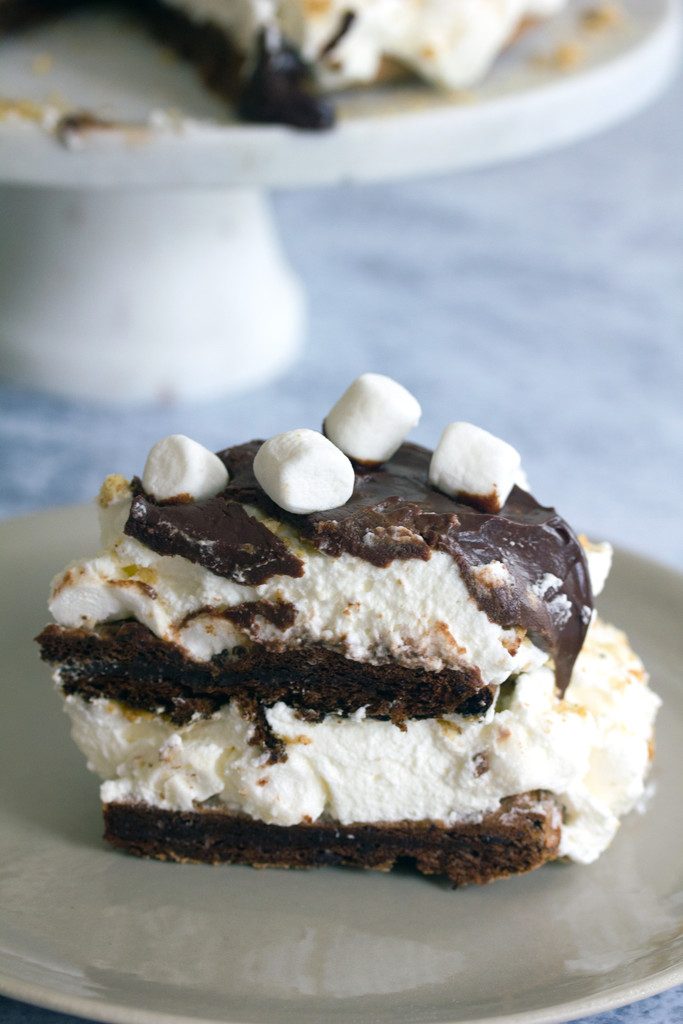 One of the best parts is that pavlovas aren't made in campfires. And they're best enjoyed on couches. I hear they go especially well with trashy reality television. Not that I'd know anything about that. I did hear a birdy say that once the Bachelorette ends, Bachelor in Paradise begins the next week. But I'm totally not interested in that. I'm just sitting here eating my pavlova, minding my own business.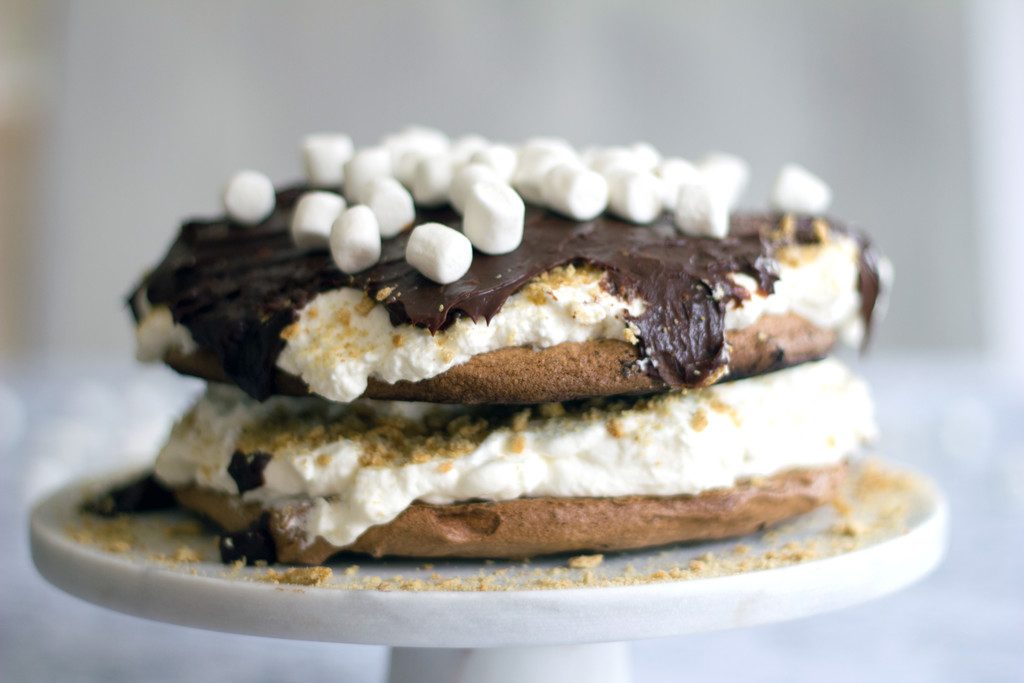 This is totally worth staying up late for. I might end up staying up even later just thinking about it. Is that weird? Probably. Do I care? Nope.
What's your favorite s'mores creation?
If you loved this pavlova recipe, be sure to check out my Peppermint Pavlova with White Chocolate Whipped Cream and my Mini Chocolate Swirl Pavlovas. I'm also obsessed with this Black Forest Pavlova from Clayton's Cookbook!
📖 Recipe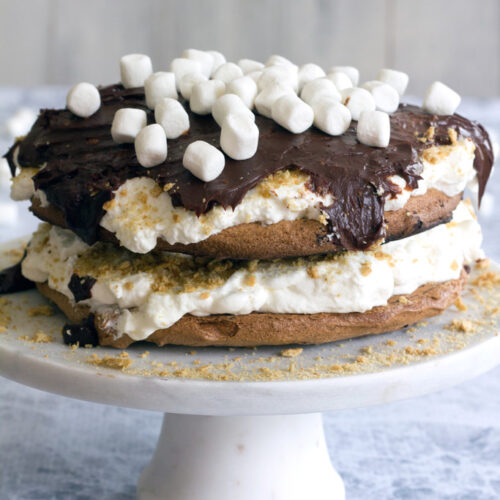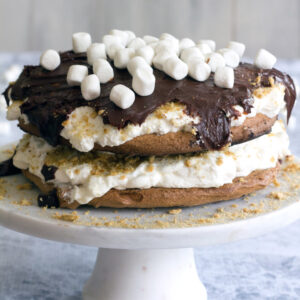 S'mores Pavlova
All the classic components of s'mores come together to form a decadent multi-layer pavlova. This S'mores Pavlova tastes just like a cake and is incredibly easy to put together. No campfire required.
Print
Pin
Rate
Ingredients
6

large egg whites

¾

cup

granulated sugar

¾

cup

finely chopped dark chocolate

3

Tbsp

unsweetened cocoa powder

Marshmallow whipped cream

(recipe below)

2

graham crackers,

crumbled

Chocolate ganache

(recipe below)
Marshmallow Whipped Cream:
2

cups

heavy cream

2

Tbsp

granulated sugar

1

tsp

vanilla

¾

cup

mini marshmallows,

plus more for topping
Chocolate Ganache:
3

oz.

finely chopped dark chocolate

¼

cup

heavy cream
Instructions
Preheat oven to 350 degrees.

On two pieces of parchment paper, draw circles 9 inches in diameter and place parchment paper upside-down on baking sheets.

In a stand mixer or in a large bowl with hand mixer, beat the egg whites until soft peaks begin to form, about 2 minutes. Beat in sugar slowly until egg whites turn shiny and stiff, about 6-8 minutes.

Fold chopped dark chocolate and cocoa gently into the egg whites until evenly dispersed.

Dab a small amount of meringue onto each corner of the parchment paper in order to secure papers to the pans.

Divide the meringue into two equal portions and form mounds within both of the circles on the parchment paper. Smooth sides and tops of meringue mounds with a spatula.

Put meringue in the oven at 350 degrees and then immediately turn oven temperature down to 300 degrees. Bake for about one hour, until meringues are crisp on top, but squishy underneath.

Turn oven off and open door a crack to let meringues cool completely for about two hours (you can remove it sooner but will have a higher risk of the pavlova cracking).

Once cooled, invert one meringue onto a cake plate and cover in marshmallow whipped cream. Sprinkle graham cracker crumbs on top.

Invert second meringue on over whipped cream and graham crackers and top with more whipped cream and graham cracker crumbs.

Pour chocolate ganache over the whipped cream and let drizzle down the sides. Top with additional mini marshmallows.
Marshmallow Whipped Cream
In a stand mixer or in a large bowl with a hand mixer, beat cream until soft peaks form.

Add sugar and vanilla to cream and continue to beat until soft peaks form once again.

Fold in mini marshmallows.

Keep whipped cream chilled until ready to use.
Chocolate Ganache
Place chopped dark chocolate in a medium bowl.

Heat cream in a small saucepan over medium-low heat.

When cream is very hot (but not boiling), pour over chopped chocolate. Let sit for one minute and then stir gently until smooth.

Allow to cool slightly before using.
Share a Photo of Your Finished Recipe!
Mention @wearenotmartha and share a photo if you've made the recipe!