I know I just posted about a family BBQ. But we've already had another. It's summer; what else are we supposed to do? This one was for Father's Day and took place at my apartment. We're lucky enough to have a community grill and patio area that we can book in advance. So, we snagged the grill for Father's Day and invited my dad over to grill. Hehe. Seriously though, he wanted to grill for Father's Day, I promise. All that was left for me and Chris to do was make an appetizer, whip up some sangria, and clean our apartment. Talk about easy entertaining.
I knew we were having ribs and some heavier side dishes, so I wanted to keep the appetizer nice and light. I pretty much immediately decided on shrimp and in thinking of summery marinades, tequila popped into my mind. Of course, being me (and being that I am my father's daughter), I wanted to add a touch of spice, too. Bring in the jalapeños. Throw in a windowsill mint plant that was rapidly flourishing and the citrus of limes. Done.
Tequila Jalapeño Shrimp (serves about 6 as an appetizer):
Print this recipe!
• 1 jalapeno, chopped
• 2 cloves garlic
• 1 T mint
• 1/2 C tequila
• 1/4 C orange juice
• Juice of 2 limes
• 1 lb. shrimp, peeled and deveined (I left the tails on)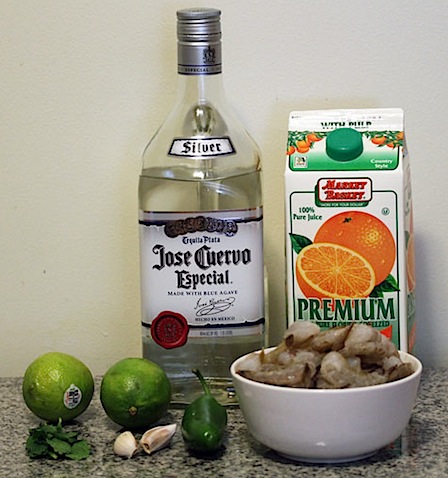 In your food processor, combine the jalapeño, garlic, and mint and process until minced. Then add in the tequila, orange juice, and lime juice and pulse to combine.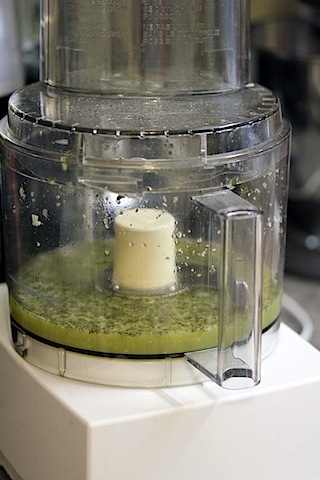 So easy! Then thread about 4 peeled and deveined shrimp onto a skewer. Repeat for all the shrimp. I got about 15 skewers. Place the skewers in a baking dish.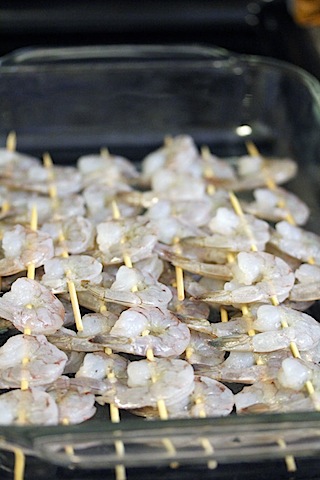 And pour the tequila jalapeño marinade over them. Sprinkle on some pepper, too, if you desire.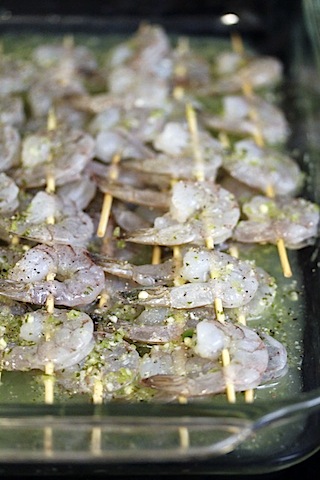 Let the skewers marinade in the fridge for about 40 minutes.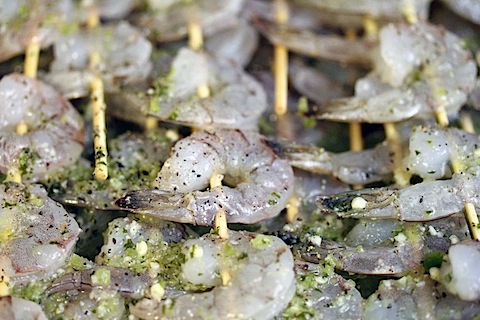 And then throw the shrimp on the barbie! (feel free to say that loudly and with an Australian accent). Also, if you don't have a barbie at your disposal, you can use a grill pan. Or probably any regular old pan. Grill the shrimp until just cooked through and pink.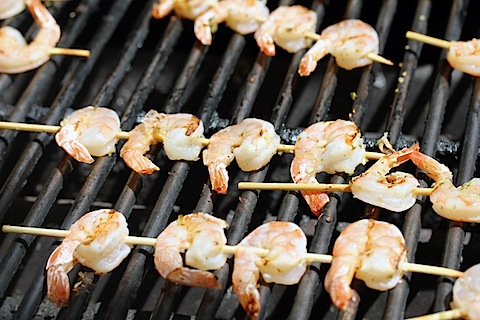 This is the part where I had Chris take over. Some day I will learn to BBQ! But am I the only one just a little bit scared by a giant hot grill powered by propane? Not to mention, these shrimp were marinated in TEQUILA. Knowing me, I would blow up my whole apartment building (I know I'm being unreasonable, but Chris offered to grill the shrimp so I let him).
Not without a little lighthearted laughter about the cupcake covered oven mitt he was wearing 🙂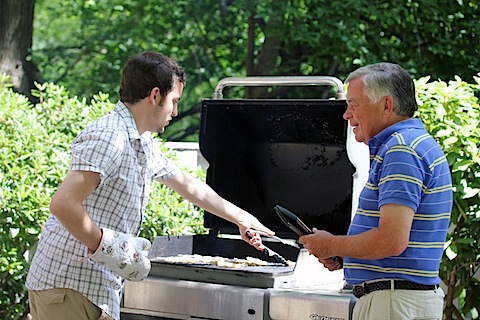 But he was drinking a beer while he grilled, so that negates the girly oven mitt (does it count if it was a WATERMELON beer??)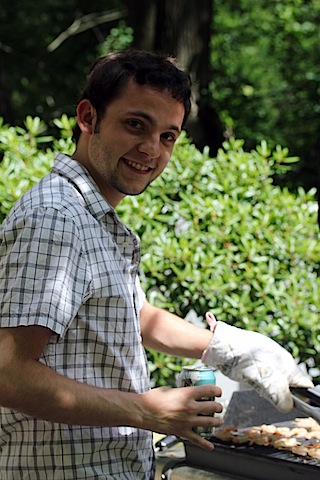 This was also about the time we started pouring the sangria (just kidding, we poured it right when my parents arrived, obviously).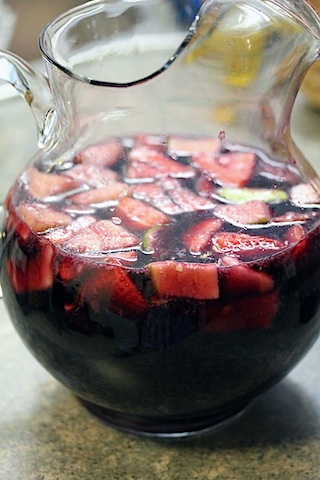 And then we dug into the shrimp appetizer.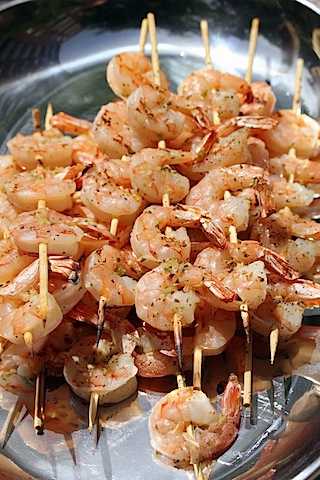 I loved these mainly because they were simple, but packed with flavor. I enjoy shrimp in most any form, but instead of being covered in sauce or something, these were actually light and delightful shrimp, with a touch of tequila lime flavor and spice.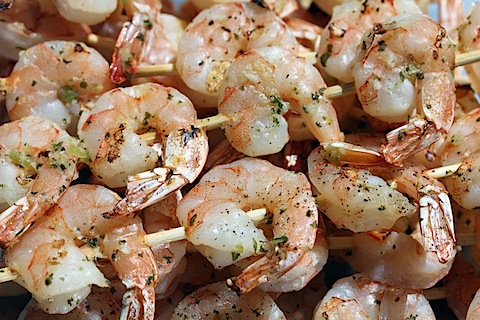 And they were definitely gobbled up pretty quickly.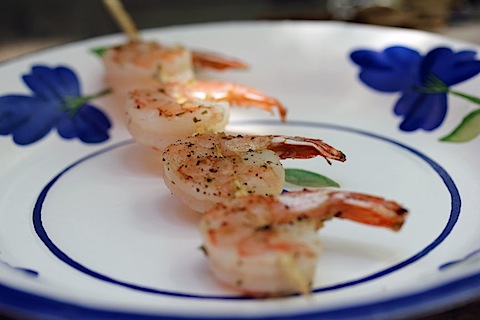 Then it was time for the man of the hour to get to work. Luckily he had some help.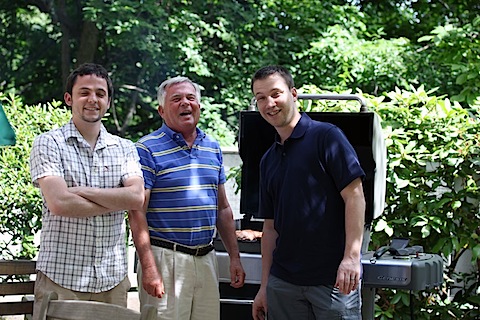 He put his famous and beautiful-looking ribs on the grill and let them cook.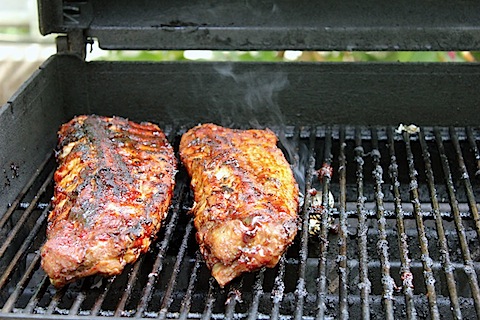 And then he carved them for all of us.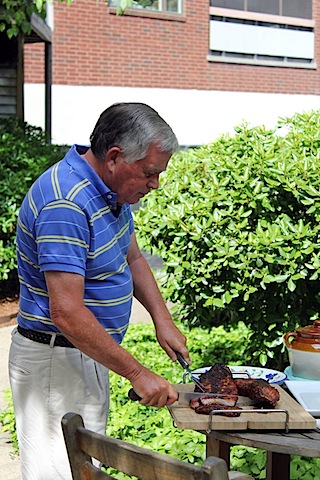 While he was working, we had some fun. Did I mention how perfect the weather was on Father's Day? It was basically the ideal temperature (for me, anyway) with lots of sun!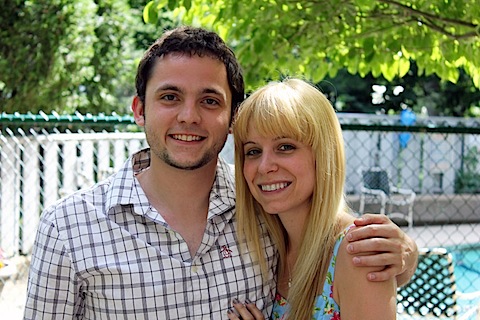 I don't know what happened. But I kind of like this photo.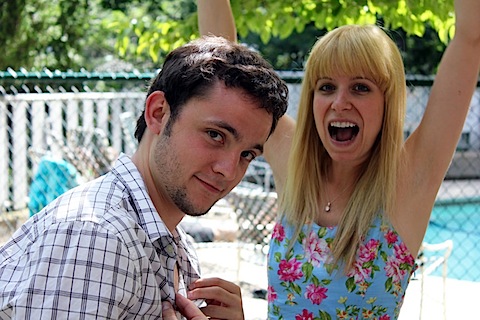 I do know what happened here. They were really excited when my dad said the ribs were ready!! OK, maybe I told them to look excited…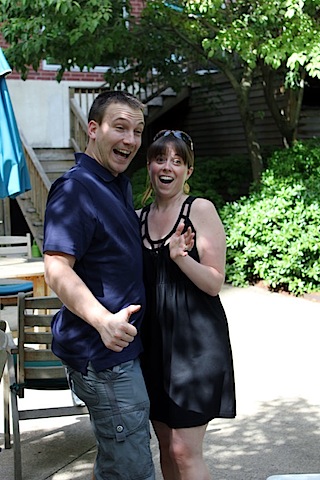 But wouldn't you get excited over these, too? OMG so good!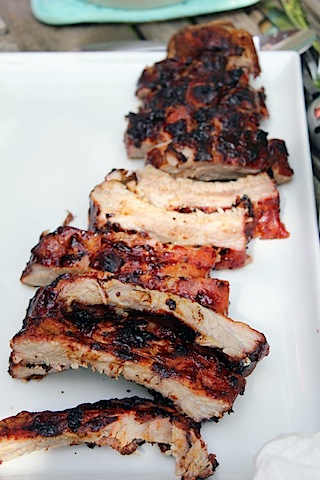 The rest of the food was fabulous, too. My dad also made his famous Grandma Wexler's baked beans.
And my mom her macaroni salad. I wish I had a big bowl of this in front of me right now.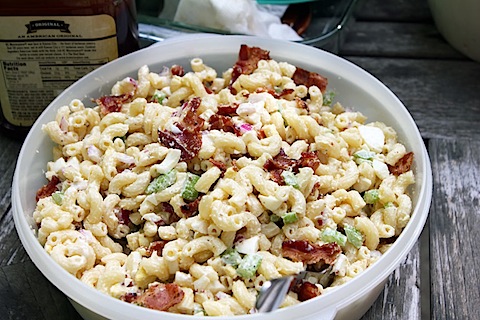 But again, the ribs. You can see why my dad wanted to make his own Father's Day meal. These ribs are actually probably my family's most-requested meal. Growing up, every birthday, I asked for this meal! Some day I'll have to learn the recipe, but I do know it has evolved to include Sam Adams beer AND Jack Daniels whiskey. Yup, definitely my family.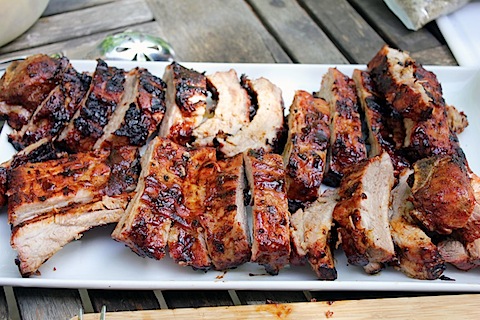 My sister brought dessert and took advantage of the fact that strawberry season is in full effect. She made the strawberry pie from Cook's Illustrated and it was out of this world good! The perfect summer dessert.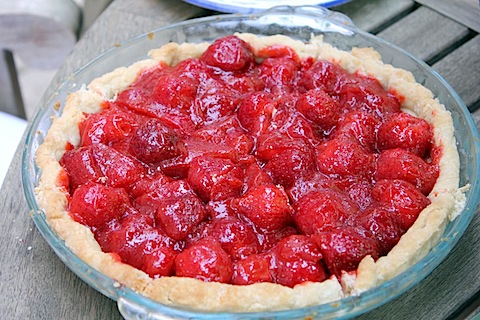 But wait, I should say my sister AND Adam made dessert. He actually made the crust from scratch all by himself. I was pretty impressed since I know first hand how difficult crust can be. My first crust definitely did not look this good (or make it to a pie dish at all).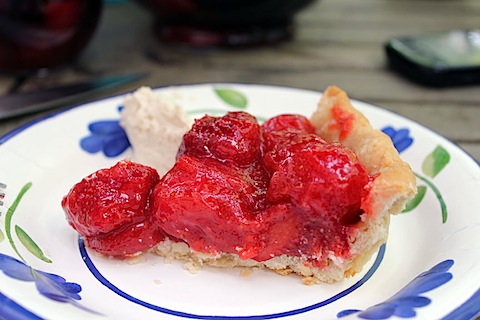 The ladies posed for a photo. In the bright, bright sun.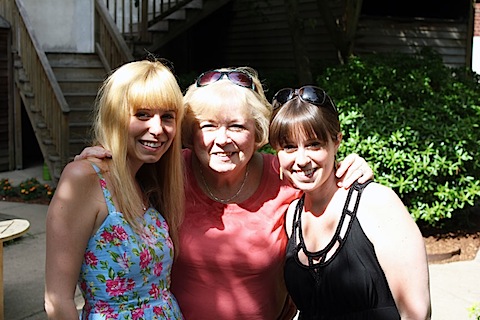 And then my dad and his daughters 🙂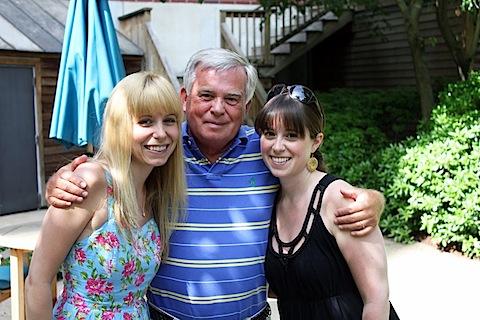 If it seems like I hang out with my family a lot, it's because I do! Though we've always been close, the older I get, the more I realize how much I love hanging out with them. I feel pretty lucky that I have such amazing parents. And that I have a sister who is also my best friend and lives around the corner from me. And that my fiance and her husband are like two peas in a pod (though I promise it's way manlier than peas in a pod). And that Chris and Adam give my dad the perfect dose of man time that he's likely been missing, living with 3 girls for the last 28+ years. Plus, we all like to make good food and enjoy it together. What could be better?!
I love that I can entertain my family at my apartment now!
Bostonians, don't forget to enter our giveaway for tickets to this year's Chowder Fest 🙂
What's your favorite food to enjoy on the grill? Are you a BBQer yourself?
[Sues]