This may not be a traditional panzanella salad, but Watermelon Panzanella Salad is packed with fresh summer ingredients (along with some carbs and cheese, of course) and is the perfect summer side dish!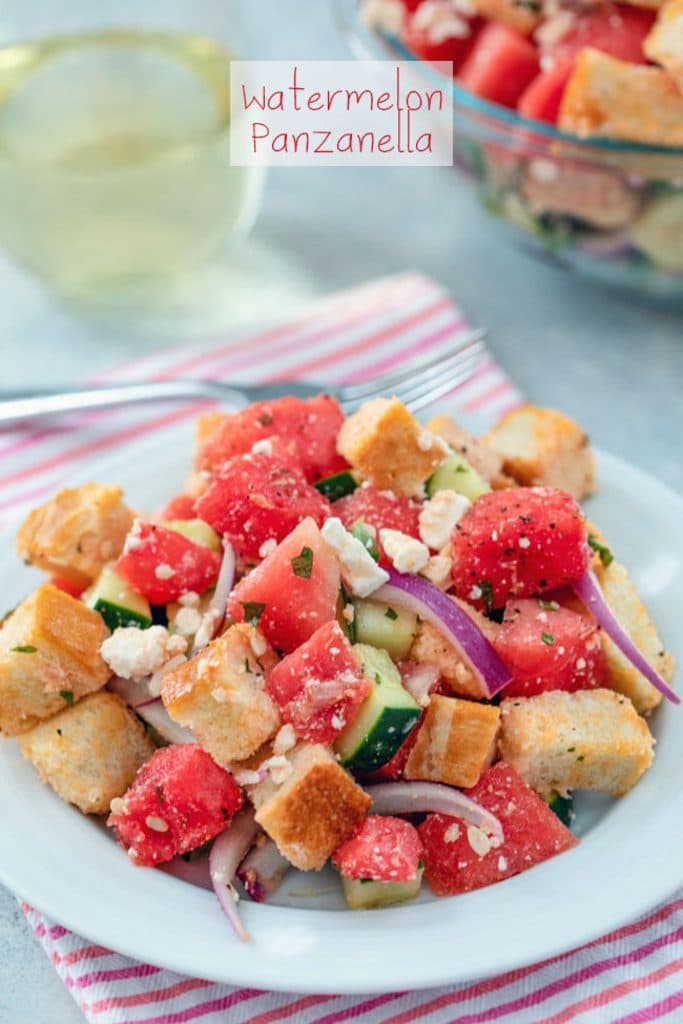 The other day, I was contemplating whether or not I drink too much caffeine and wondering if I should try to cut back. The thing is, I drink a lot of caffeine mainly because I love coffee and the act of drinking coffee and not because I'm all "give me all the caffeine!!"
I love to have an evening cup of coffee and never have trouble falling asleep no matter how late I drink it. However, I think I may be staying up later because of it and not actually trying to go to sleep when I should be.
I can be tired all day, but as soon as evening hits, I'm ready to go and often have to force myself to shut off my computer or put down my book when midnight hits. Easy solution... I can make a cup of decaf coffee at night and still enjoy my nightly sipping without the caffeine.
But that got me thinking about the fact that I've never really voluntarily forced myself to give up a food or food group. I've never decided I'm going to give up carbs for a week or cut cheese out of my life for a season; I've never even been on a diet that straight up eliminated food groups (I should note I'm incredibly lucky that I don't have any health-related issues to things like gluten, dairy, etc.).
And you know what? I don't think I have the willpower and I'm not really interested in testing it out. Carbs and cheese are in my life to stay.
I mean, I'm putting bread in salad, for goodness sake. So you know I'd have a heck of a hard time giving up carbs. And obviously, cheese, too. Because how much better are salads when they involve cheese??
Whoever invented panzanella is a freaking genius and my hero. But look at all the healthy ingredients in this watermelon panzanella salad, too. Watermelon, cucumbers, red onion, and lots of lime juice. So, I'm totally going to have my bread salad and eat it, too. And then I'll have my decaf coffee and attempt to get 7 hours of sleep.
What is Panzanella?
At first I thought even calling my salad watermelon panzanella was a bit of a misnomer since panzanella salads always seem to contain tomatoes. But I did a little digging into the history of panzanella and found that it was actually based on onions rather than tomatoes until the 20th century.
And since my panzanella has onions in it, I think I'm good to go. But really, these days, panzanella is most often known as a Tuscan salad containing stale bread, tomatoes, olive oil, and vinegar... And sometimes onions and basil. If you order panzanella, unless otherwise specified, this is likely what you'll get.
But I wanted to create a riff on this with some nontraditional panzanella ingredients.
In Italian "pane" means bread and "zanella" is the word for a deep plate on which salads are often served. My calling this salad a "panzanella salad" is actually a bit redundant since panzanella IS salad, but I included the word to make the recipe clear for anyone who doesn't immediately know what panzanella is.
WATERMELON PANZANELLA SALAD RECIPE
So yes, my version of panzanella is a bit nontraditional in that it uses watermelon instead of tomatoes. I also added cucumber, red onion, feta cheese, mint, and a little jalapeño pepper for some kick. I dressed it with a small amount of extra virgin olive oil and lime juice because I wanted to keep it pretty light and simple.
To start, I toasted my bread cubes, though if your bread is stale enough, you can skip this step. I wanted a little extra crunch, but note that after sitting for a while, your bread won't be very crunchy no matter what you do!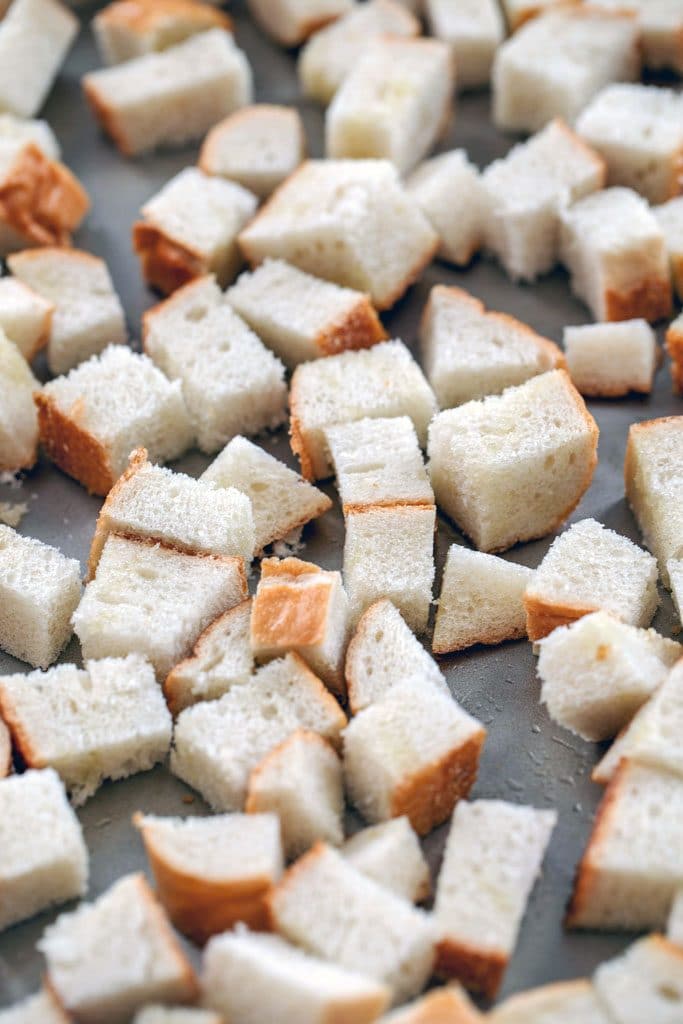 You'll want to cut all your ingredients into bite-sized pieces perfect for spearing with a fork. Add them all to a big bowl and toss with the bread cubes.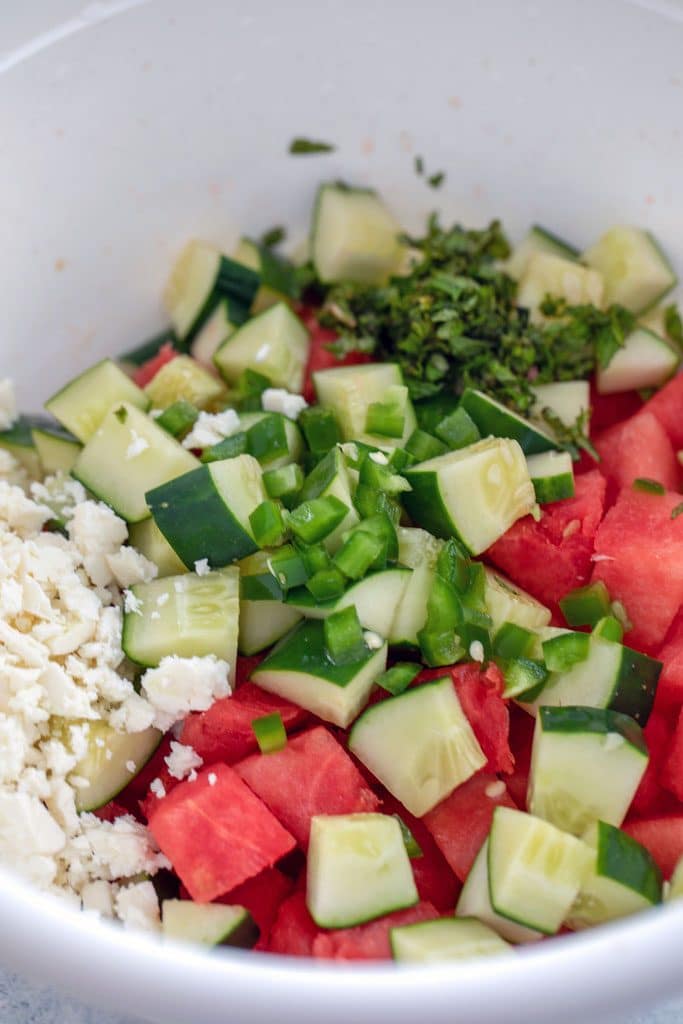 And then drizzle the extra virgin olive oil and lime juice over the top and toss to combine.
Yuppp this is 100% my kind of salad! Bread, fruit, and cheese. I am here for this. And not leaving until the bowl is empty. It's a pretty big salad, so I hope you don't mind waiting.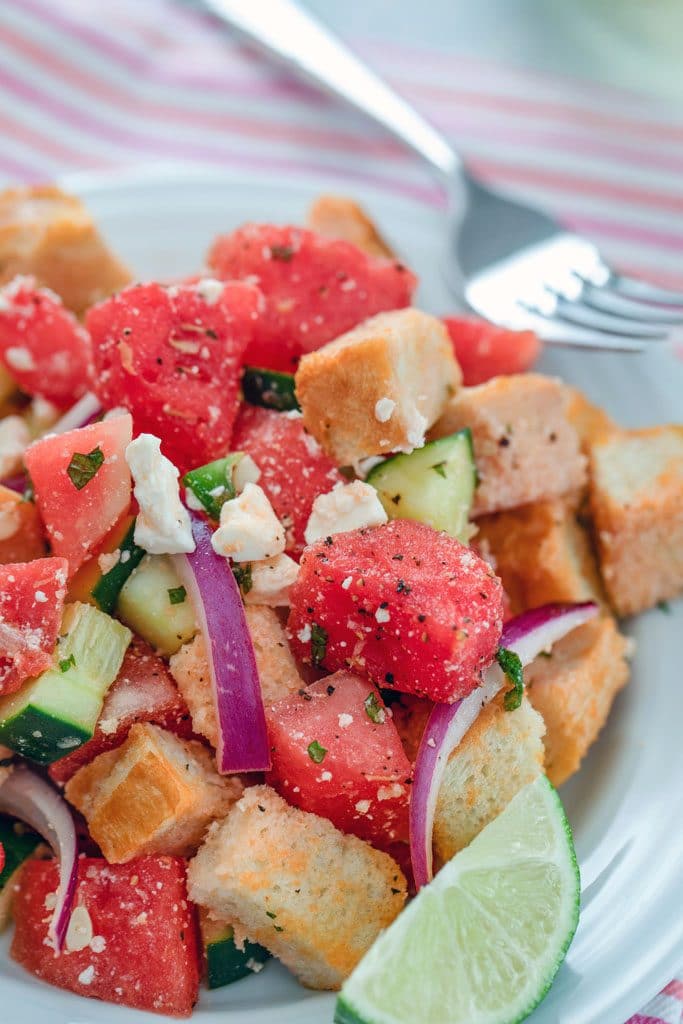 But for real, watermelon is a super healthy fruit and it actually has MORE lycopene than fresh tomatoes. So maybe I just made an even healthier panzanella with the addition of watermelon? Huh. Watermelon is also about 91% water, so it's the perfect summer hydrator and it contains plenty of fiber, Vitamin C, and Vitamin A.
Plus, it looks like summer in a bowl.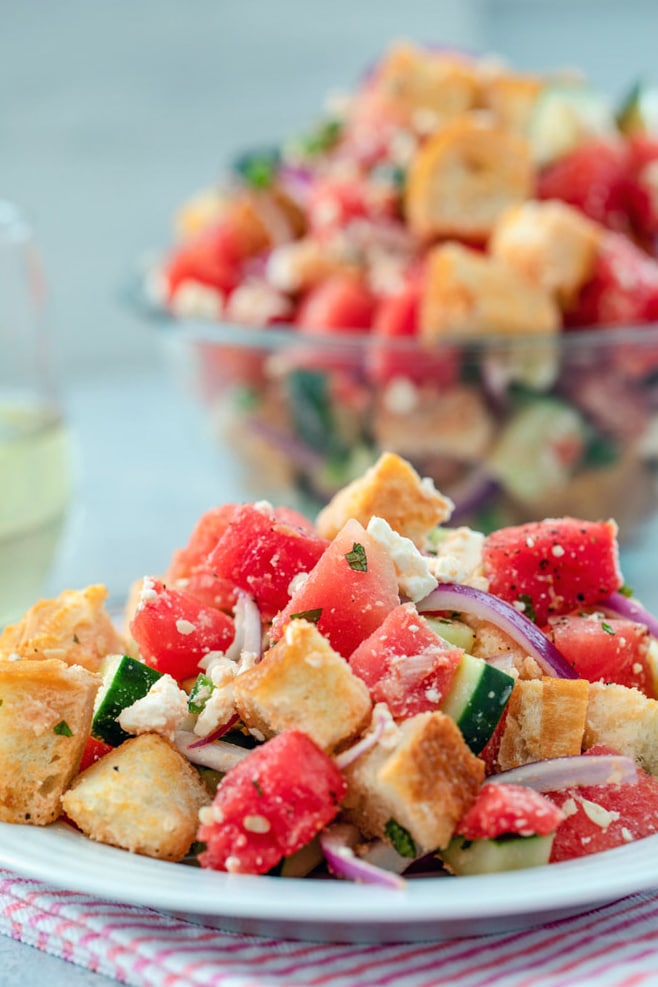 I made this watermelon panzanella as a side to pork tenderloin for dinner the other night, but I've been enjoying it for lunch the last couple days, as well. It also makes for the perfect salad to being to summer cookouts or that upcoming 4th of July party you need to bring something to. This is the kind of salad pretty much everyone will love... And it's obviously easy for people to pick out any ingredients they're not fans of.
But try to get a forkful with every single ingredient on it at the same time and your mouth will be in heaven.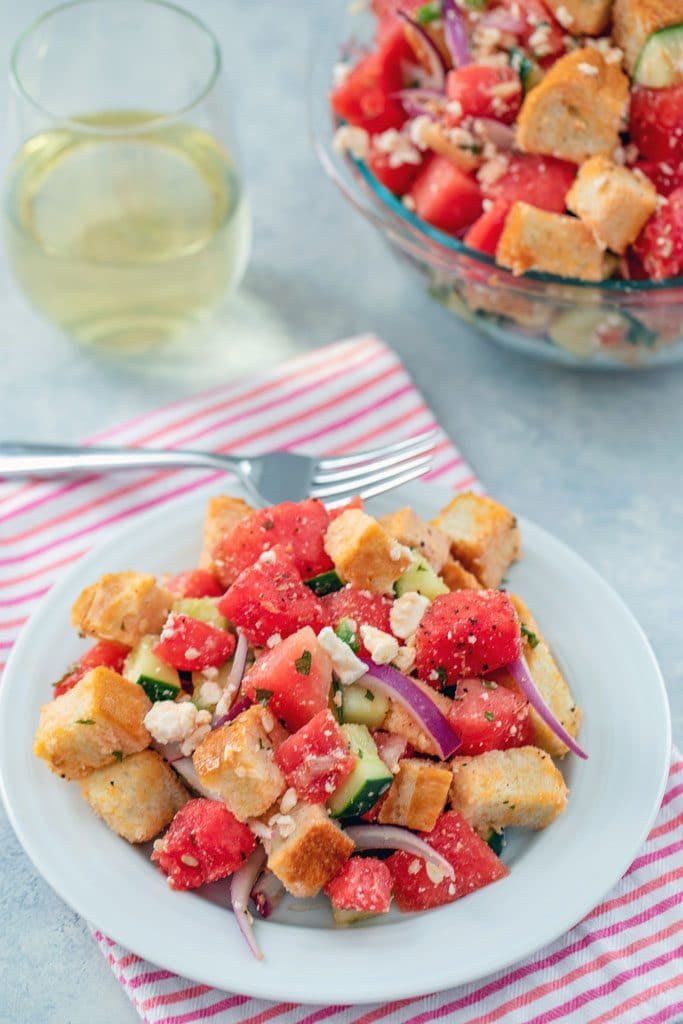 As if I needed any more convincing that giving up carbs isn't for me.
At least this salad won't encourage me to consume more caffeine since it doesn't really go with coffee... But a cold glass of white wine? Welp, is it OK if I swap that coffee for a glass of wine instead?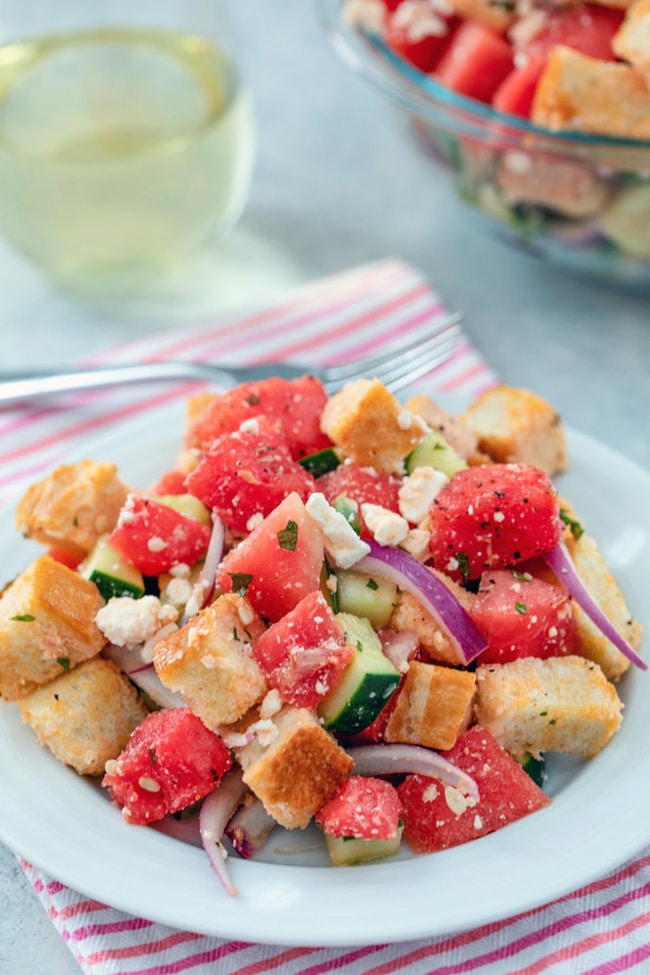 I'm not going to wait for an answer.
Have you had panzanella before?
If you're looking for more fabulous fruity summer dinner recipes, check out my Watermelon Beer Baby Back Ribs in the Instant Pot or my Strawberry Gazpacho! I also love these Feta and Watermelon Rounds from The Fit Foodie!
📖 Recipe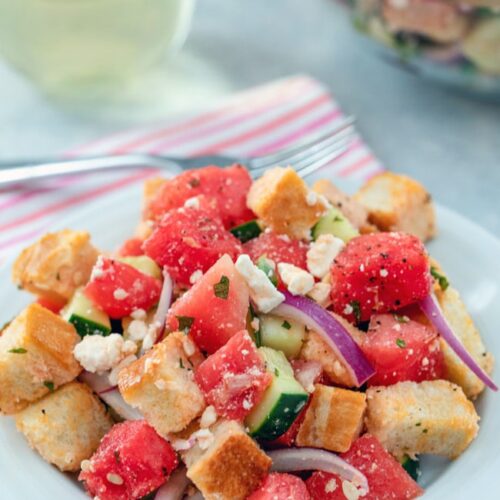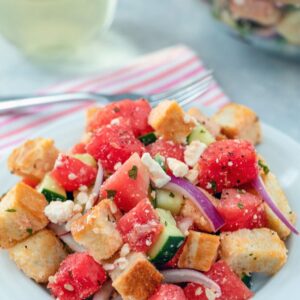 Watermelon Panzanella
This may not be a traditional panzanella salad, but Watermelon Panzanella is packed with fresh summer ingredients (along with some carbs and cheese, of course) and is the perfect summer side dish!

Print
Pin
Rate
Ingredients
9

cups

cubed Italian bread

(from about ¾ loaf)

4

Tbsp

olive oil,

divided

½

tsp

salt

6

cups

cubed watermelon

(from about ½ small watermelon)

2

cups

cubed cucumber

(from 1 medium cucumber)

¼

red onion,

sliced thinly

2

Tbsp

diced jalapeño pepper,

rib and seeds removed

⅓

cup

crumbled feta cheese

2

Tbsp

chopped fresh mint

(can substitute for basil if desired)

2

Tbsp

freshly squeezed lime juice

½

tsp

freshly ground pepper
Instructions
Pre-heat oven to 300 degrees.

Place cubed bread in a bowl and toss with 2 Tbsp olive oil and salt. Lay bread cubes on a baking sheet in a single layer and bake for about 15 minutes, until bread is crispy. Let cool.

Place watermelon, cucumber, red onion, jalapeño, feta cheese, and mint in a large bowl. Add in cooled bread cubes and toss until combined.

Drizzle remaining 2 Tbsp olive oil, lime juice, and pepper over salad and toss again to combine.
Notes
If your bread is stale and already crispy, you can feel free to skip baking it.
Share a Photo of Your Finished Recipe!
Mention @wearenotmartha and share a photo if you've made the recipe!