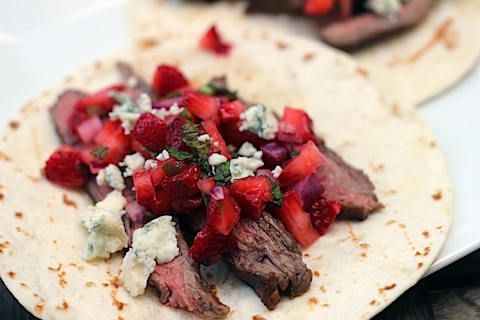 I love a good Monday that's really a Tuesday. You know what I mean. It feels like a Monday, but then you suddenly get that "omg it's really Tuesday" happy feeling throughout the entire day. Summer is unofficially over. Officially, we still have a couple weeks left. And strawberries have still been on non-stop sale at my grocery store. Thank goodness. I've been gobbling them up like no tomorrow while I can since I know I'm going to miss them like crazy this winter. So, when I saw that flank steak was also on sale at my grocery store, I was determined to combine the two. And thus was born Flank Steak Tacos with Strawberry Mint Salsa.
A marriage made in heaven. It really is. And marriage has totally been on my mind a lot this weekend, considering Chris and I finished our wedding website (yay!) and started our wedding registering. My gosh, registering for gifts is completely and totally overwhelming. We basically stood in Macy's and Crate and Barrel and just stared at everything. Too many wonderful knives. Too much incredible All-Clad. Only about a billion different types of flatware (all of which we held multiple times). And don't even get me started on the china and everyday dishes. How are we supposed to decide?
I'm tempted to simply create an all Le Creuset and Chef'n registry… With some Martha Stewart thrown in for good measure.
Flank Steak Tacos with Strawberry Mint Salsa (serves about 2):
Print this recipe!
Chili lime flank steak (recipe below)
4 flour tortillas (lightly grilled)
4 oz. gorgonzola cheese
Chili Lime Flank Steak:
Juice from 2 limes
1 t chili powder
1/4 t cumin
2 T chopped red onion
2 cloves garlic, minced
1 T extra virgin olive oil
1/2 lb.-3/4 lb. flank steak
Strawberry Mint Salsa:
1 C chopped strawberries (about 8-10 strawberries)
1/4 C chopped red onion
2 T chopped mint
2 t chopped jalapeño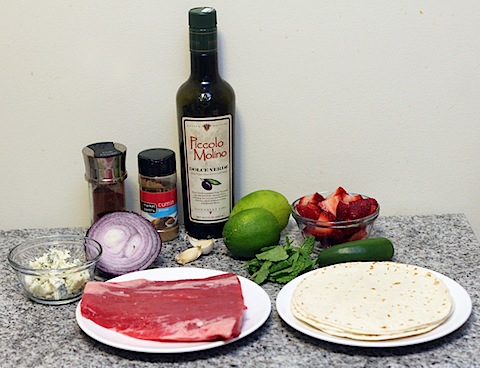 Start by making the marinade for your steak. In a small bowl, mix lime juice, chili powder, cumin, chopped onion, minced garlic, and extra virgin olive oil.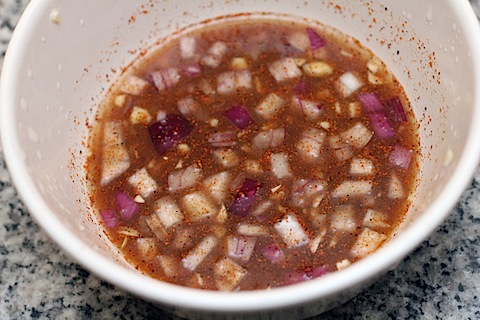 Set the flank steak in a baking dish (or other shallow dish) and pour the marinade over. Flip the steak over to make sure the marinade gets everywhere. Put the steak in the fridge for about an hour.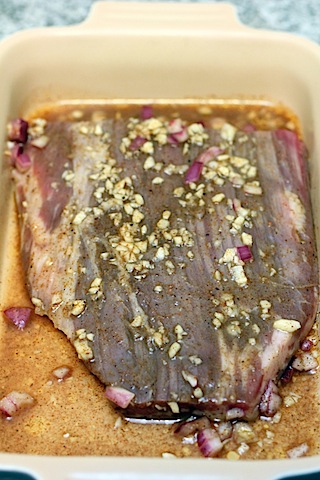 While the steak is marinating, you can feel free to whip up the strawberry mint salsa.
It's easy. Really. All you need to do is mix together the strawberries, red onion, chopped mint, and jalapeño. Pop the bowl in the fridge while you finish the steak, so the flavors can meld together. Yum.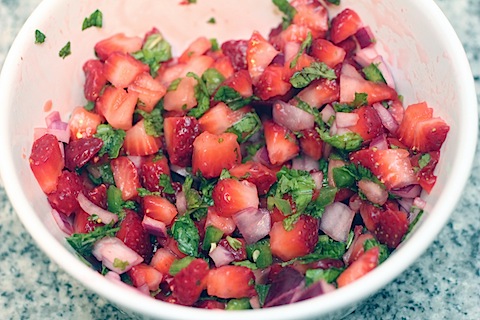 When the steak is done marinating, cook it in a grill pan (or on the grill… Or in a regular pan) to the temperature of your liking.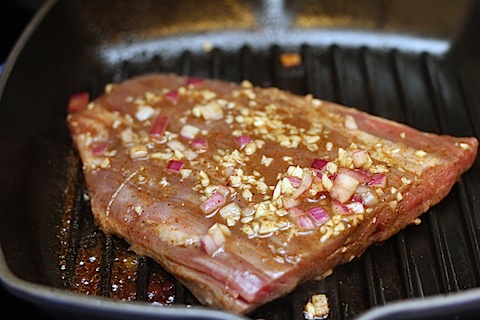 I cooked the steak for a few minutes on each side, since we like it a bit pink around here.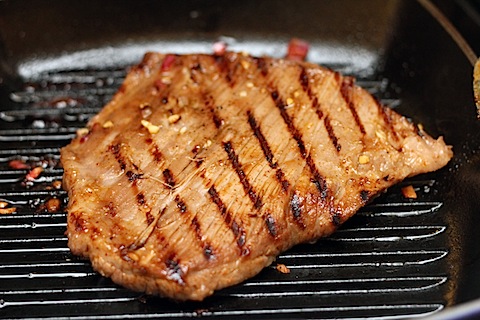 Love those grill marks! When the steak is done grilling, place it on a cutting board.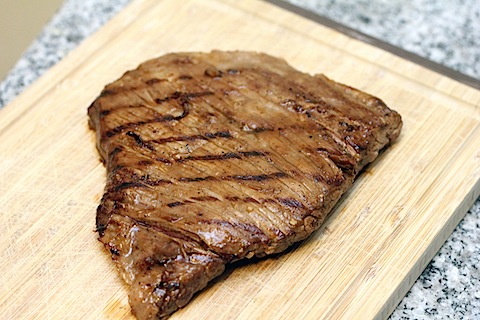 And slice it into thin strips. You may end up with some leftover steak, depending on how much you get and how much you eat, of course. But this flank steak makes great leftovers, so no problem!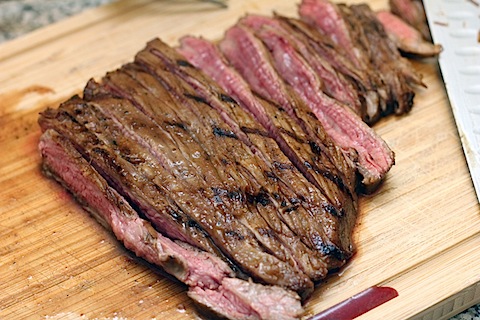 Take one of the lightly grilled tortillas and lay a few strips of steak down. Top with the strawberry mint salsa and sprinkle with gorgonzola.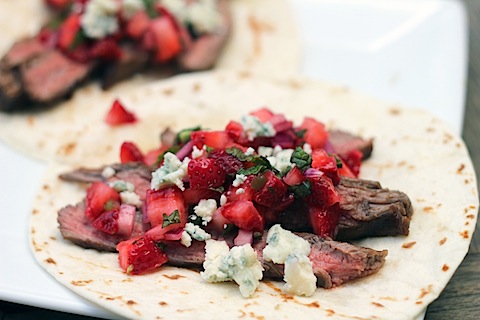 Yup. Still tastes like summer.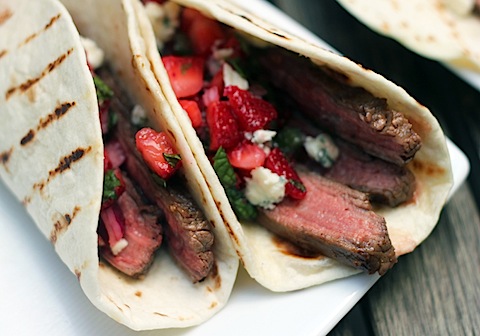 At first I was a little uncertain about how strawberries and gorgonzola would go together. But let me tell you, it's incredible. You have the sweet flavor of the strawberries combined with the creamy aggressive sharpness of the gorgonzola and you're in heaven. Or at least I was. But that also could have had something to do with the fact that there was steak involved.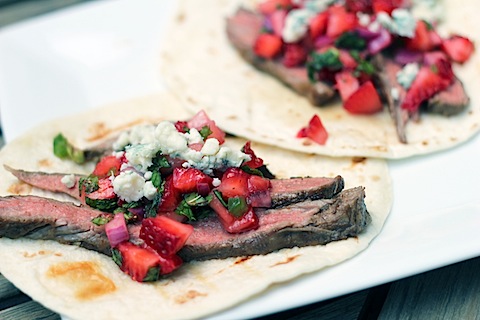 And just as an FYI: You should probably serve these with those Gin Lime Rickeys with Cilantro I blogged about the other day. Because it was the absolute best flavor combination ever.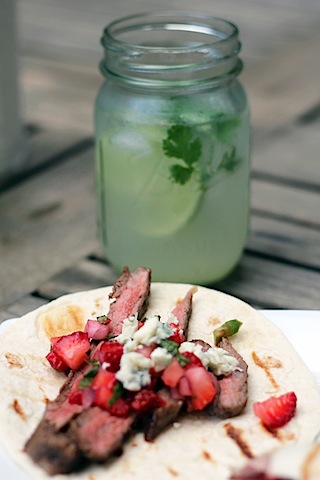 By the way, you can still enter the Gap jeans giveaway until 11:59 p.m. tonight!
Sadly, it's super rainy and slightly chilly here in Boston today and will likely be for the rest of the week. Chris and I are headed to the TV on the Radio concert (outside!) tonight, which will be interesting 🙂
How are you trying to get the most out of the remaining summer fruits and veggies?
[Sues]