Have you ever thought that maybe America's colors are red, white, and blue because we celebrate our country's birthday during strawberry and blueberry season? I have. And now you probably have, too. Well, it's not just coincidence that Chels and I are posting blueberry recipes one after the other. I mean, blueberries are ridiculously fresh right now and a ridiculously good price. And I cannot resist buying at least two packages of them every time I'm at the grocery store. Sometimes I fear I'll turn into Violet Beauregarde from Charlie and the Chocolate Factory. But I really wouldn't mind.
I knew I wanted to make a blueberry ice cream, but when I spotted a Cooking Light recipe for Blueberry Cheesecake Ice Cream, I was sold. I was more than sold. I was, "I'll empty out my purse and my pockets right here in the street and give you every last piece of gum and lint I've got." Oh, my gum and pocket lint aren't worth anything? What about a lipgloss or chapstick? I've got about 13 of those in my purse.
Not only is this one of the best homemade ice creams I've ever had, but it is, get this, better for you than a typical ice cream. Seriously. Making it with 2% milk and half-and-half instead of whole milk and cream cuts down on the fat in a major way (which means, ahem, you can have two servings). Also, blueberries have tons and tons of antioxidants, so I'd argue this ice cream is actually healthy. And suitable for breakfast. Amen. I obviously had to include some graham cracker crumbles in the mix because, honestly, what's a cheesecake without a graham cracker crust?
Blueberry Cheesecake Ice Cream (makes 1 quart):
Adapted from Cooking Light
Print this recipe!
• 3/4 C sugar
• 3 oz. 1/3-less-fat cream cheese (also known as neufchatel)
• 2 large egg yolks
• 1 1/2 C 2% milk
• 1 C half-and-half
• 1 1/2 C fresh blueberries, coarsely chopped
• 1/8 C powdered sugar
• 1/8 C water
• 6 graham crackers, crumbled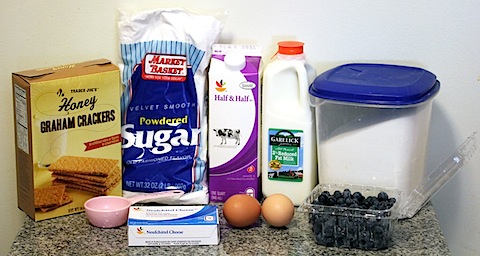 You might want to consider starting this recipe the day before you want to indulge. Only because there's lots of waiting time. And it's not fun to wait when all you want to do is stick your spoon into a big scoop of homemade ice cream.
Start off by combining the sugar, cream cheese, and egg yolks into a large bowl.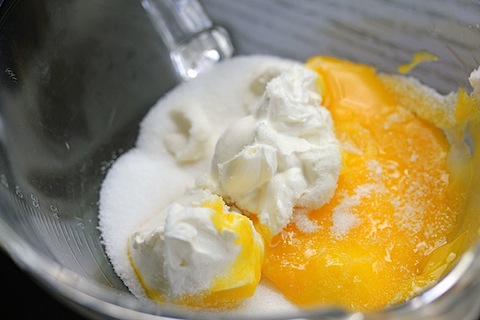 Beat them with a mixer (I used a hand mixer) at a high speed until they're nice and smooth.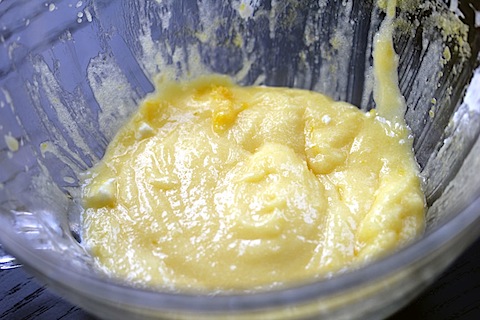 Now, in a medium heavy saucepan, combine the milk and half-and-half. Bring the mixture a boil. Remove the pan from the heat.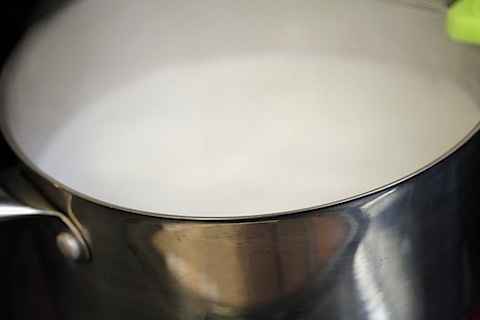 Add half of the hot milk mixture to the sugar/cream cheese/egg mixture, while stirring constantly with a whisk to combine.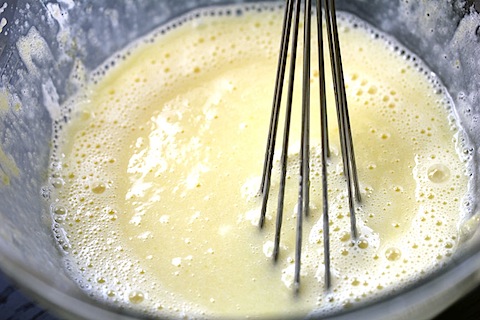 Now return this milk/sugar/cream cheese/egg mixture back to the saucepan with the remaining milk in it.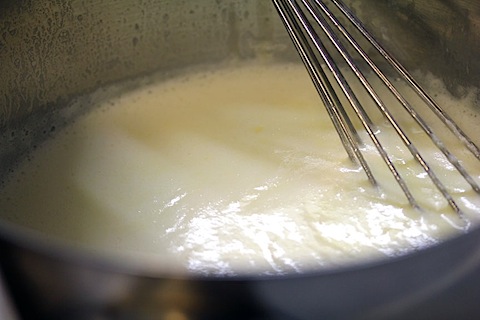 Cook over medium-low heat for about 5 minutes, until the mixture reaches 160 degree when tested with a thermometer. Make sure you're stirring the whole time.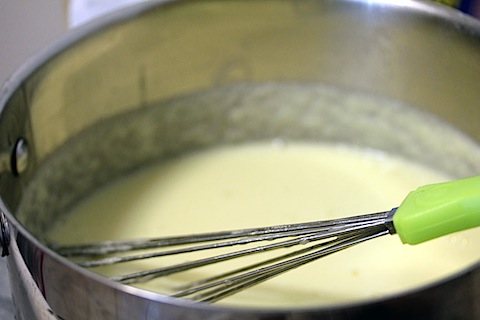 Now you'll want to cool the mixture by putting the pan in an ice-filled bowl (I used ice packs in my bowl, too, and made sure the pan was surrounded). Stir occasionally.
While the mixture is cooling, make sure your beautiful blueberries are all chopped.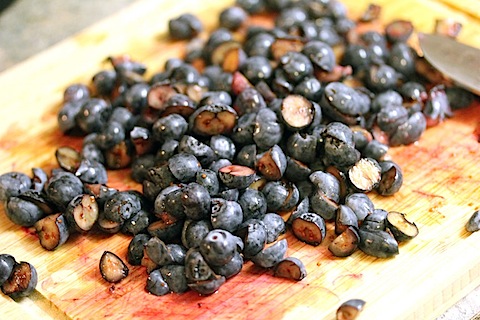 Now, in a small saucepan, combine the blueberries, powdered sugar, and water.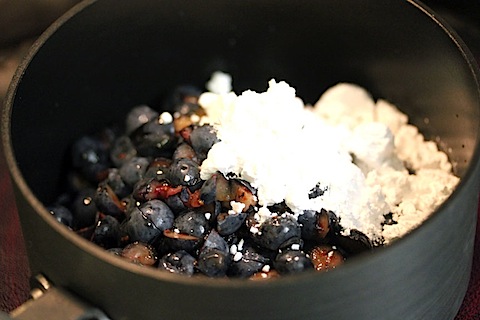 Bring to a boil and then reduce the heat and simmer for about 10 minutes.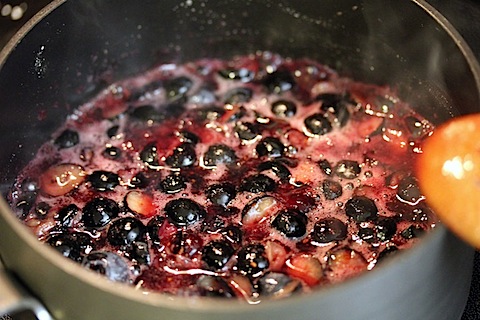 Let the mixture thicken a bit and stir frequently. Now set this mixture aside to cool as well.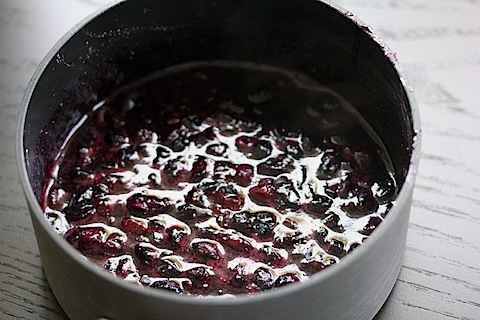 Once both of your mixtures are completely cooled, you can stir the blueberry mixture into the milk mixture.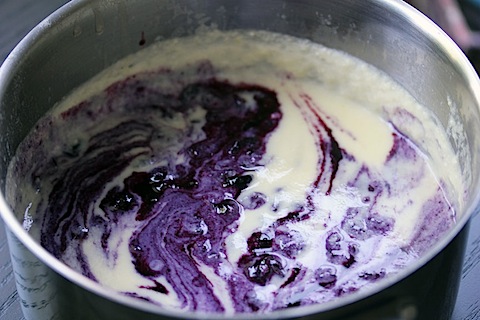 Mix it all up and then chill in your fridge for a bit. The longer you can chill the mixture, the better; but try to chill it for at least 3 hours. If you want to keep it in the fridge overnight, that's great, too.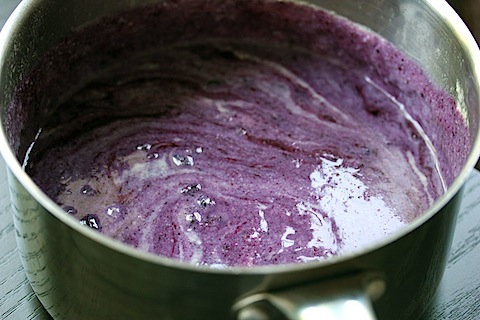 When it's nice and cold, process it in your ice cream maker according to the manufacturer's instructions.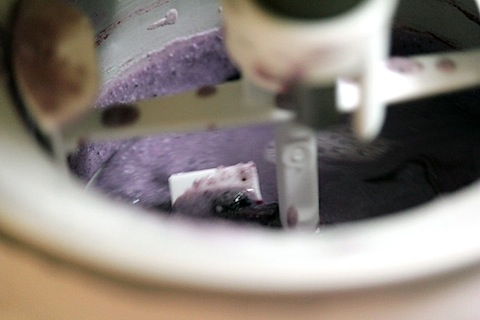 When the ice cream is almost done processing, add the graham cracker pieces in.
Then put it in a separate container and pop it in the freezer, for at least 3-4 more hours. Again, overnight would be great, too.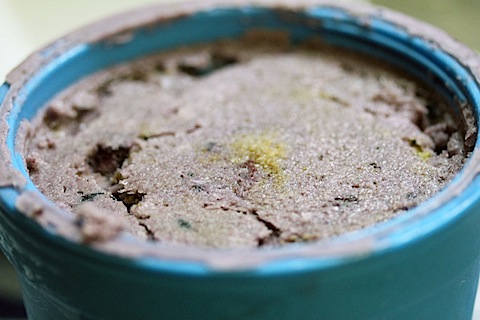 And you're ready to indulge. In semi-healthyish ice cream. That is basically the prettiest color ever ever. And doesn't taste lower-fat in any way, shape, or form.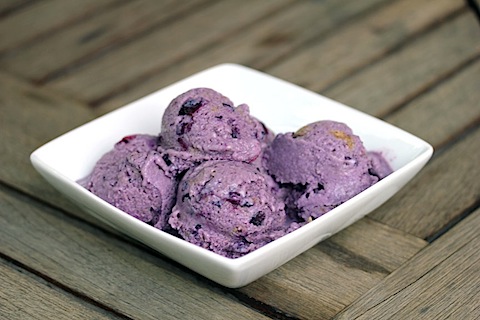 The flavor of the ice cream wasn't overly cheesecake-y but the creaminess was all there. What I'm trying to say is that even if you're not a cheesecake lover, you'll still swoon for this. But if you are a cheesecake lover, you might die over it. In a good way.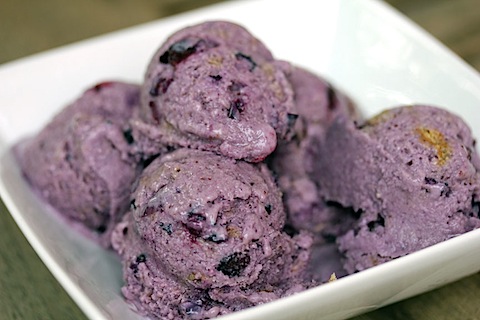 Though the graham cracker pieces weren't in the original recipe, I kinda feel like they're crucial. They add an extra bit of sweetness and a little bit more substance to the dessert.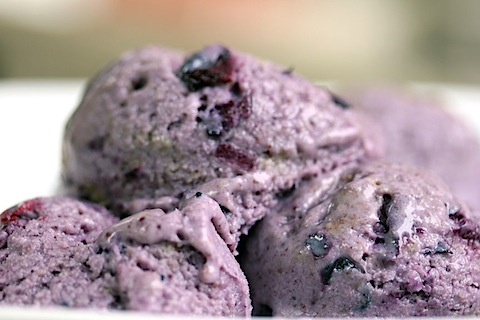 And the blueberries? Oh my, the blueberries. While I generally always opt for fresh blueberries plain and unadulterated right from the carton, I would eat blueberries in this form every day if I could. Who wouldn't?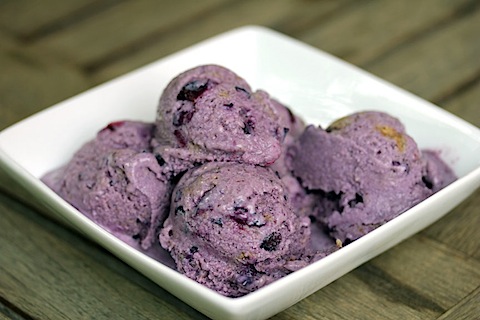 The moral of this story is, make this ice cream. Make it for the 4th of July if you can because it's filled with summer and blue. Though the blue does look a bit more like purple. But who's keeping score? Celebrate blueberry season while you can because it's going by much too soon. And if for some (outrageously crazy) reason you don't like blueberries, try it with strawberries instead.
Or make both and be the most popular person at your 4th of July cookout. Red, white, and blue, represent 🙂
What are your 4th of July plans? Will ice cream be involved?
[Sues]