These no-bake Lemon Cookie Dough Bars have a lemon Oreo crust, a lemon cookie dough middle, and a buttercream frosting topping. They're packed with bright lemon flavors and are a melt-in-your-mouth delectable treat!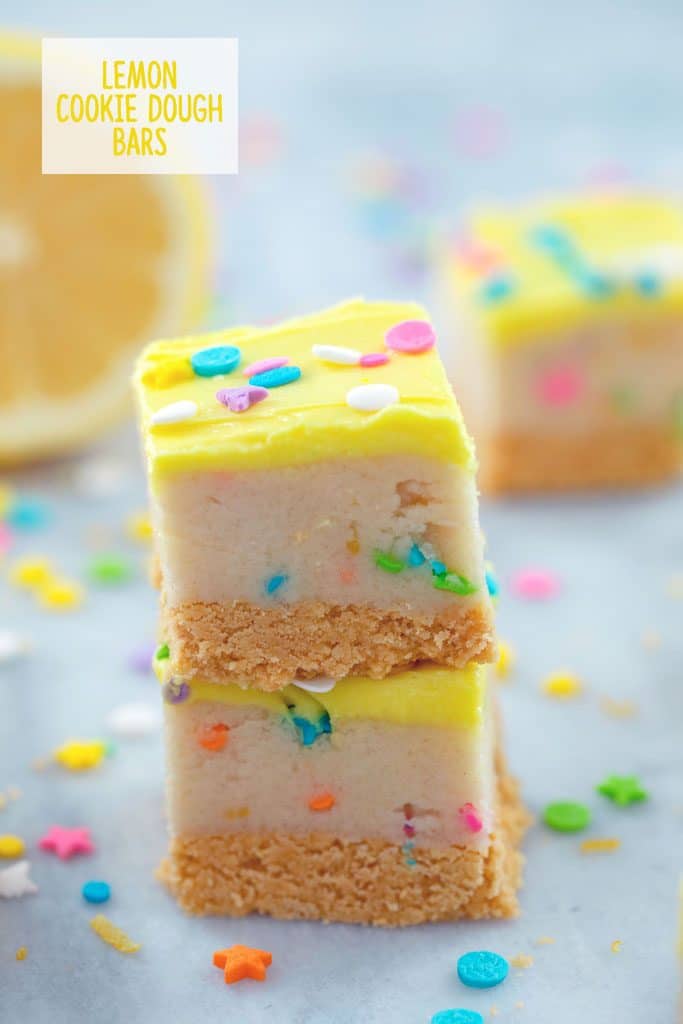 Happy July!! I can now safely say it officially feels like summer... From the heat to the long days to the food I've been eating (and dinner on the deck every night!!) to the rosé I've been drinking (um, not every night. I swear). And I'm feeling quite hopeful that this summer will go slowly and leisurely and that fall will not rush itself.
Because this. is. heavenly. Of course, when you have a food blog, you have to work a bit ahead of schedule, which means I should probably already be getting my fall content all ready to go and then immediately jump into holiday (ahh!). But I'm not ready to let summer recipes go yet.
I made this summer dessert last week and despite the fact that it wasn't in my editorial calendar, knew I had to post about it right away. Because you need to make these Lemon Cookie Dough Bars. In fact, if you're still looking for a recipe to bring to a 4th of July gathering, I'm pretty sure I just made the decision for you.
I've had a weird thing with lemon desserts lately, which is strange because I'm not usually super into them. But I'm pretty sure it has something to do with these extremely hot summer days we're currently experiencing. After I made lemon cookies last week and sneaking a few bites of the cookie dough, I decided I needed to make an edible version of lemon cookie dough.
But since I wasn't just going to make a big bowl of cookie dough and gobble it up, I figured I should make an actual dessert out of them... Which is how these lemon cookie dough bars were born.
One important note? These dessert bars are no-bake!! So no need to turn on your oven... Which should be the best news ever if you too are experiencing weather in the 90s+.
Lemon Cookie Dough Bars Recipe
There are three components to these cookie dough bars:
Base: the base of these bars is made with Lemon Oreo Cookies.
Middle: The middle consists of the homemade lemon cookie dough.
Top: And the top of the bars is covered in vanilla buttercream.
I almost made a lemon buttercream, but then I decided to chill out on the lemon and add a simple light vanilla flavor for the topping.
If I showed you my snack cabinet, you'd probably be appalled by the amount of Oreo Cookies it contains. I can't help it. Every time a new flavor comes out, I must try it. Plus I love baking with Oreo Cookies, especially the birthday cake and golden varieties. But I had actually never bought the lemon variety before because, like I said, I'm just not that into lemon desserts. But omg they are so good. The lemon cookie with the vanilla cream is heavenly and I knew they'd make the perfect crust for this summer dessert.
The cookie crust is just Lemon Oreo Cookies and butter. All you need in life, right? Or is that just me? Just process them together in a food processor or blender. Or if you have neither, crush the cookies in a plastic bag and mix in a bowl with the butter.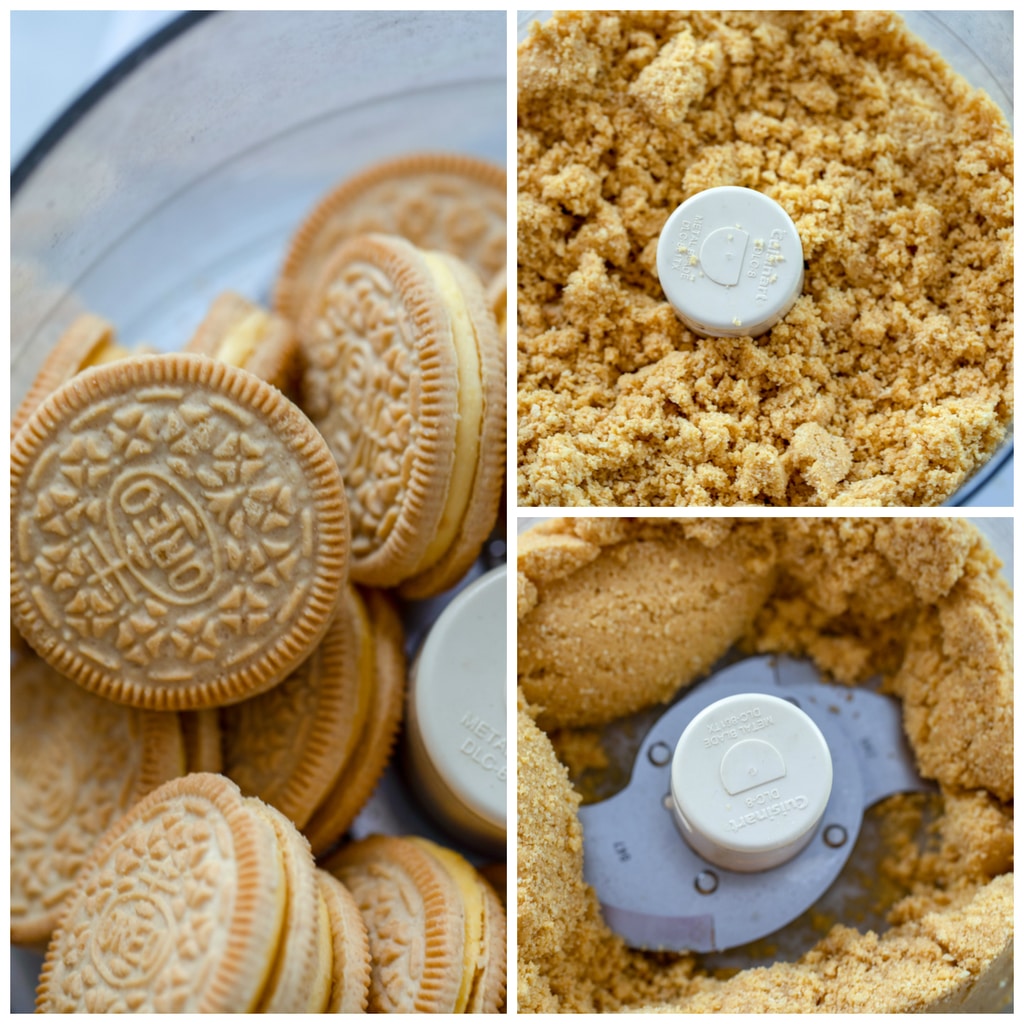 The lemon cookie dough is also extremely easy to make and is basically like a regular cookie dough, but without eggs. If you're worried about food-borne illness from the flour (lots of people don't realize it's often the raw flour in cookie dough that causes illness over the eggs!), you can certainly bake it. I recommend spreading it on a baking sheet and baking for 5 minutes at 350 degrees.
Make sure to add some sprinkles into the cookie dough for some extra fun.I almost added white chocolate chips, but then I decided these cookie dough bars would be sweet enough as is (I was right!).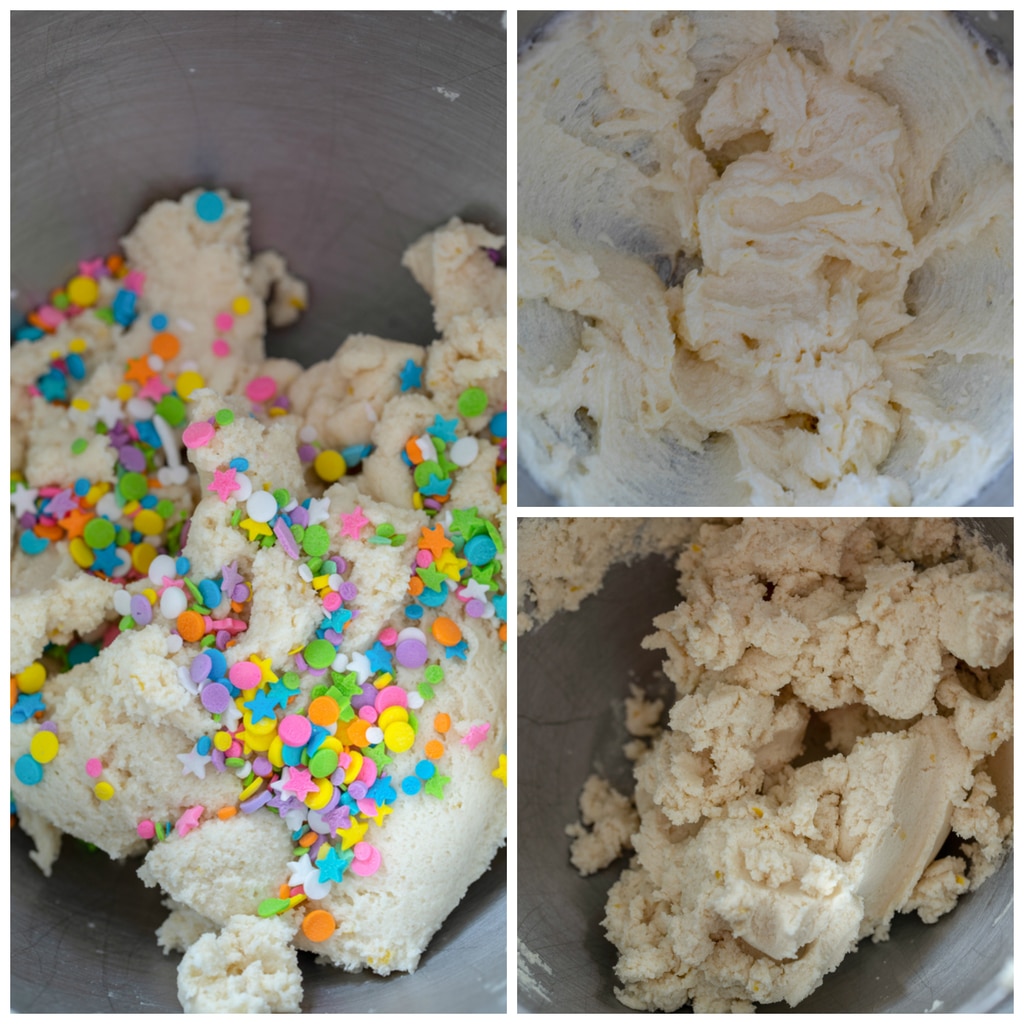 And then everything gets layered into an 8x8 baking pan. First the cookie crust gets pressed into the pan and then popped in the freezer for 30 minutes or so.
Then the lemon cookie dough gets pressed over the cookie crust. And then the vanilla buttercream gets spread on top and more sprinkles are added.
The whole pan should go into the fridge for about 45 minutes before you slice it. And then I recommend keeping the bars in the fridge after slicing because they are so good cold!
Chris came home right after I finished making these and I said to him, "you need to try these; they're so good!" He looked at me and said, "wow, you never say your food is good, so they must be!"
I realized he's right.... Obviously I only post recipes here that I think are great, but I rarely rave about anything I make in person. Luckily, Chris tried them and agreed! He actually stuck a few in the freezer and has been just grabbing one when he's in the mood for something sweet.
I think they taste so good cold because they're kind of like an icy lemon treat.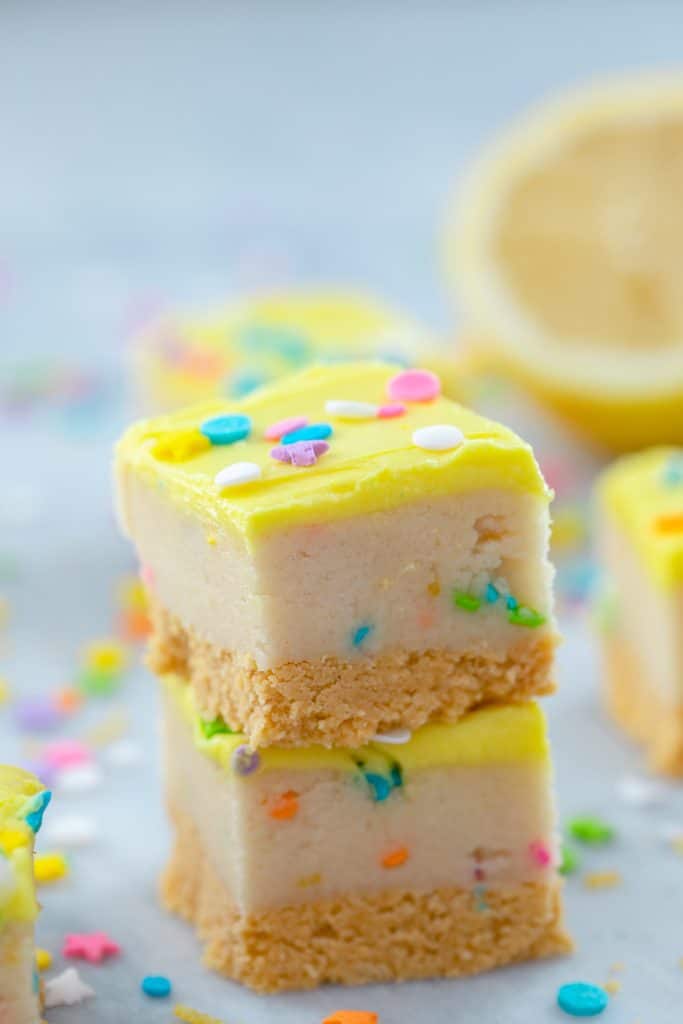 It's been so hot out the past couple days that the thought of turning on the oven is almost unbearable. I turned on the grill the other day and thought I was going to die immediately.
So, I'm very thankful for a no bake summer-treat that doesn't feel just thrown together. The cookie bottom gets a little crumbly, but as you can see, everything holds together really well.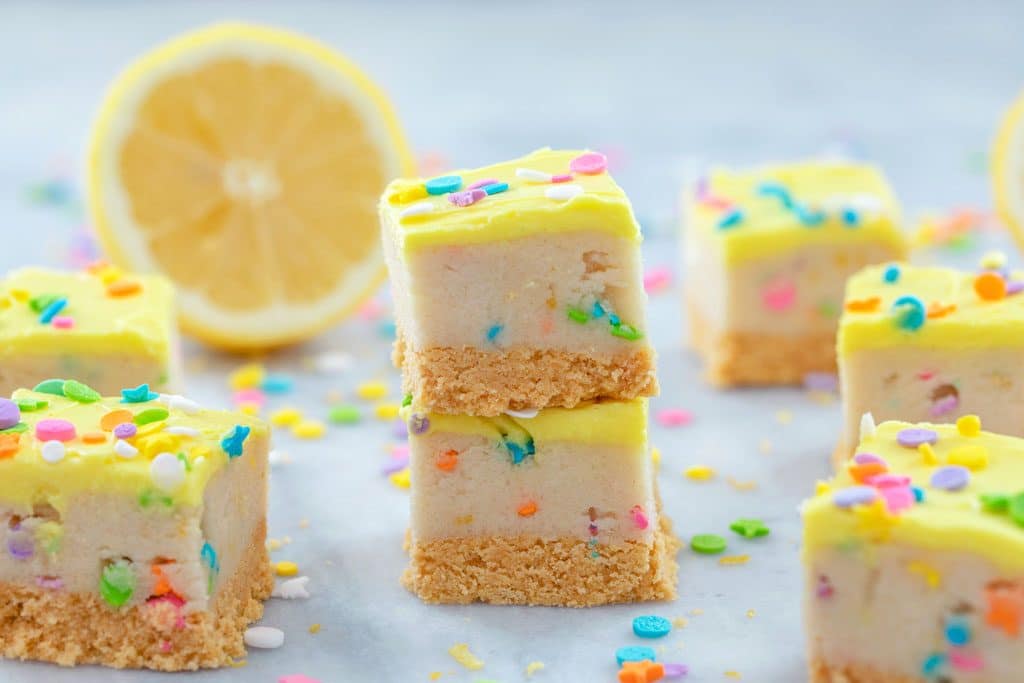 I like to cut the bars small because they're super sweet and dense and you don't need a huge slice to be satisfied. Unless you're my husband and you eat three at a time. But I'm just happy to take that as a major compliment.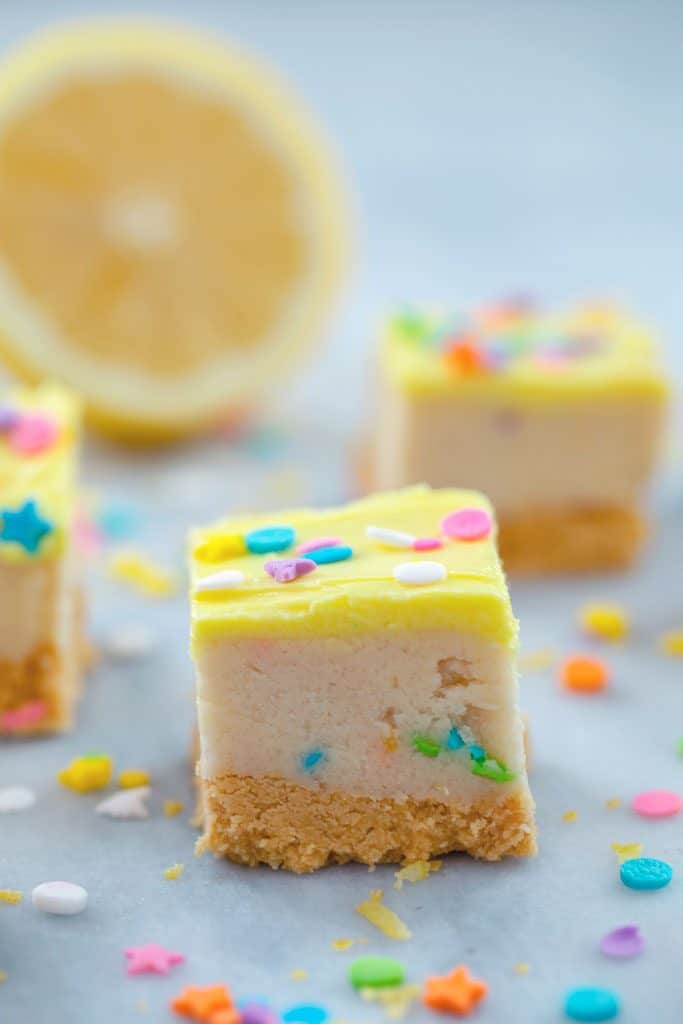 These lemon cookie dough bars are the perfect way to end a summer meal. A little bit of tartness, a lot of sweetness all in a cold little bite or two. I think I'm going to make another batch ASAP and just keep them in the freezer for summer emergencies.
The definition of summer emergency being, "omg we just finished dinner and I NEED something sweet ASAP!" Trust me, we have them all the time.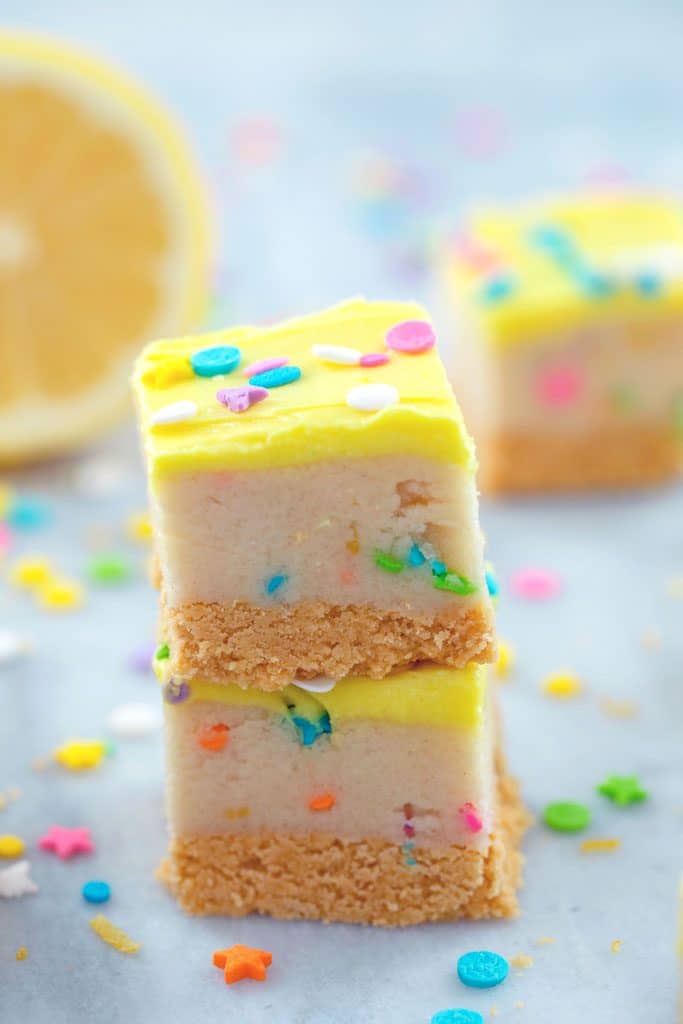 I'm pretty sure these types of emergencies are exactly why edible cookie dough was invented. Probably Oreo Cookies, too. And definitely buttercream frosting and sprinkles.
No matter what kinds of sweet treats you'll be enjoying for the 4th of July, I hope you have a wonderful holiday filled with good food and lots of love. And hopefully some relief from ridiculously hot weather.
What's your ideal summer dessert?
If you're looking for other delightful summer dessert recipes, check out my Sweet Tea Vodka Cupcakes or my Lemon Blueberry Cheesecake Cups. I also love these Strawberry Lemon Blondies from View from Great Island!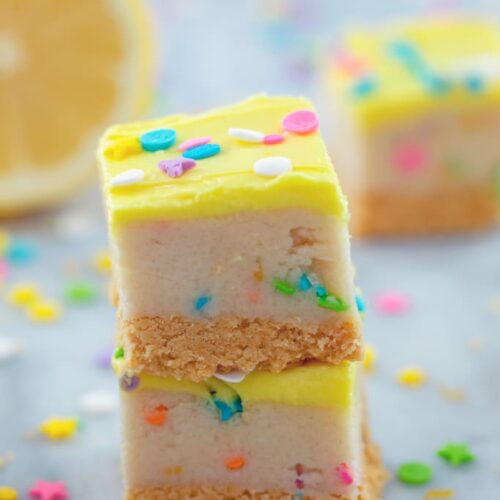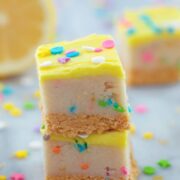 Print Recipe
Lemon Cookie Dough Bars
These no-bake Lemon Cookie Dough Bars have a lemon Oreo crust, a lemon cookie dough middle, and a buttercream frosting topping. They're packed with bright lemon flavors and are a melt-in-your-mouth delectable treat!
Servings:
36
small squares
Ingredients
Lemon Cookie Crust
26

Lemon Oreo Cookies

4

Tbsp

unsalted butter,

melted
Lemon Cookie Dough
1 ½

sticks

unsalted butter,

room temperature

1

cup

granulated sugar

2

tsp

vanilla extract

2

tsp

lemon zest

¼

tsp

salt

3

Tbsp

sprinkles,

plus more for topping

2

cups

all-purpose flour

2

Tbsp

lemon juice

3

Tbsp

whole milk
Buttercream frosting
4

Tbsp

unsalted butter,

room temperature

1

cup

confectioners' sugar

2

tsp

vanilla extract

⅛

tsp

salt

1-2

drops

yellow food coloring
Instructions
Lemon Cookie Crust
Put Oreo Cookies in a food processor and blend until they turn into fine crumbs. Pour in melted butter and pulse a few times until well blended.

Line an 8x8 baking pan with foil and lightly coat with cooking spray. Pour cookie crumbs into baking pan and press down into even layer on bottom of pan.

Place pan in freezer for 30 minutes while you prepare the cookie dough.
Lemon Cookie Dough and Assembly
In the bowl of a mixer or in a large bowl with a hand mixer, cream butter and sugar on medium speed until light and fluffy, 3-4 minutes.

Add vanilla, lemon zest, and salt and blend until combined. Mix in 3 Tbsp sprinkles.

With mixer on low, slowly add flour to bowl until well combined.

Keep mixer on low and add lemon juice to combine. Then add milk in until dough comes together.

Remove pan with cookie crust from freezer and press cookie dough into an even layer over cookie crust.

Spread buttercream frosting over the top of the cookie dough and smooth evenly with a spatula. Sprinkle additional sprinkles over the top.

Place pan in fridge chill for at least 45 minutes. Once chilled, remove bars from pan by lifting foil. Using a sharp knife, slice into squares.
Buttercream Frosting
In the bowl of an electric mixer or in a large bowl with a hand mixer or whisk, beat together butter and confectioners's sugar.

Mix in vanilla extract and salt. Add a drop of yellow food coloring and mix to combine. If darker color is desired, add another drop.
Notes
If you are wary of eating raw flour, you can toast it. Just spread flour on a baking sheet and bake at 350 degrees for about 5 minutes.
I recommend keeping these bars in the fridge in an airtight container.