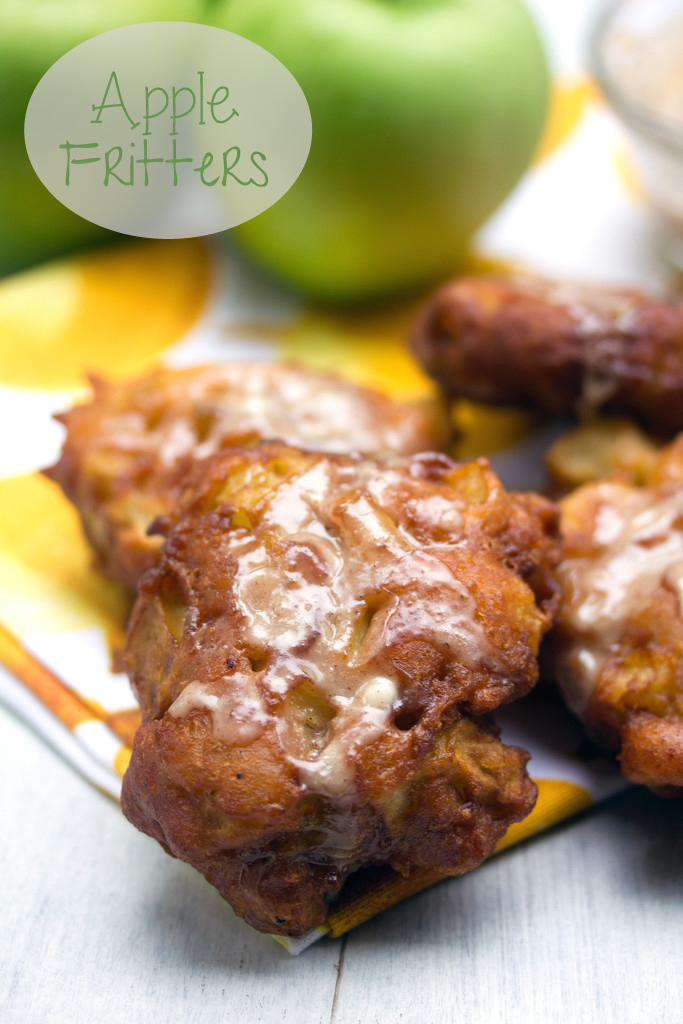 Guys, I've been craving apple fritters since last year. LAST YEAR. An entire year spent imagining myself biting into a sugary, slightly crispy, fall-flavor filled pastry. Like, multiple times a week. I almost caught myself drooling at my desk a few times. I think about apple fritters way more than is probably normal and it was starting to scare me a little bit. To the point where I finally sucked it up and just made my own. 100% worth it and way easier than I thought they'd be. Maybe even too easy? As in, whenever the craving hits, I might find myself back in the kitchen making more.
When I started chopping the apples for these bad boys, Chris walked by me in the kitchen and said, "wow, you're like obsessed with apples or something right now, huh?" And the answer is yes. I cannot get enough of apple-based desserts, salads, and more. Plus, an apple sliced with peanut butter has been my snack of the moment. September is my favorite month in life and this Boston September has been one of the best yet. Seriously amazing. I was walking to my friends' house after work last night and couldn't get over how perfect the temperature was. I want to bottle this month up and carry it with me forever!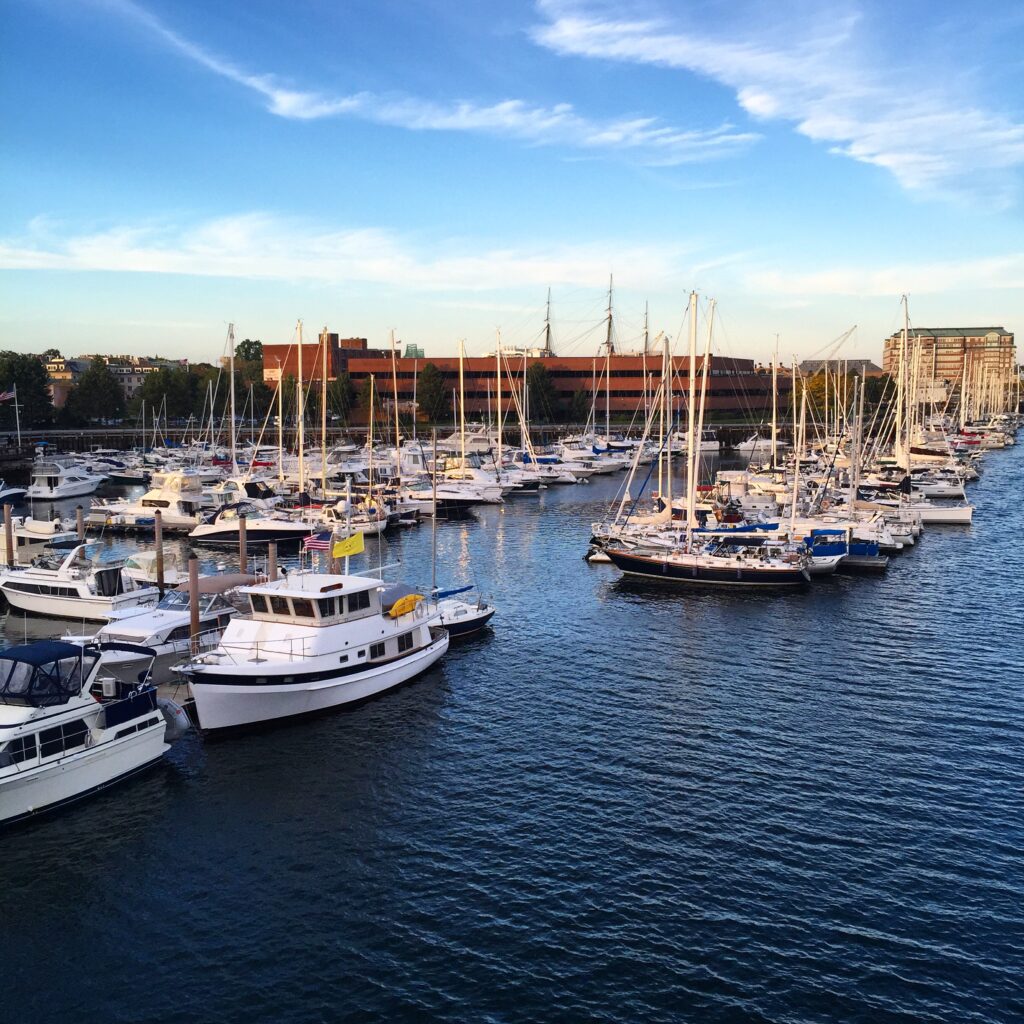 It is the PERFECT apple fritter weather and I suggest whipping these up with the windows open in your kitchen, so you can feel a cool breeze blowing in. If you don't have windows in your kitchen, just step outside a couple times. When you come back in, you'll be hit with an apple spice fragrance so lovely that you will want to bottle that up, too.
The recipe I used is from Cook's Country… I wasn't about to attempt my own version before I mastered the basic recipe and I figured that if anyone could teach me, it would be America's Test Kitchen.
Apple Fritters (makes 12):
adapted from Cook's Country
Print this recipe!
2 granny smith apples, peeled, cored and chopped into 1/4-inch pieces
2 C all-purpose flour
1/3 C granulated sugar
1 T baking powder
1 t salt
1 t ground cinnamon
1/4 t ground nutmeg
3/4 C apple cider
2 large eggs, lightly beaten
2 T unsalted butter, melted
1 t vanilla
3 C vegetable or peanut oil
1 batch apple fritter glaze (see below)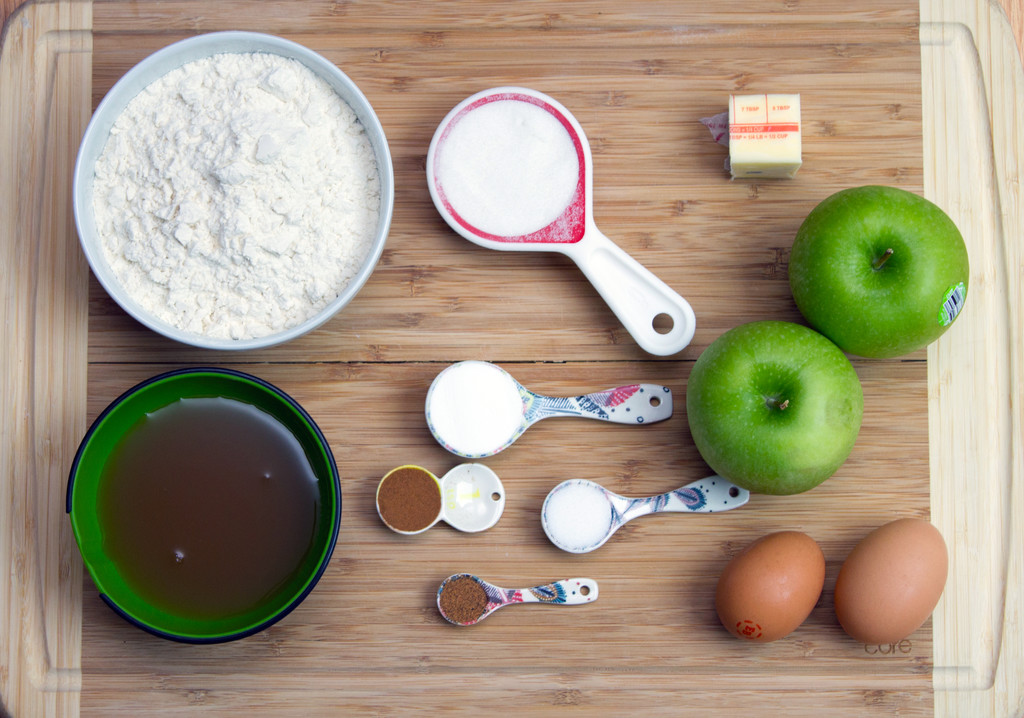 Any time a recipe involves frying, I feel like it sounds a whole lot more intimidating than it might be. When I'm telling you this recipe was pretty easy, I mean it!
Peeling and chopping the apples was maybe the most difficult part.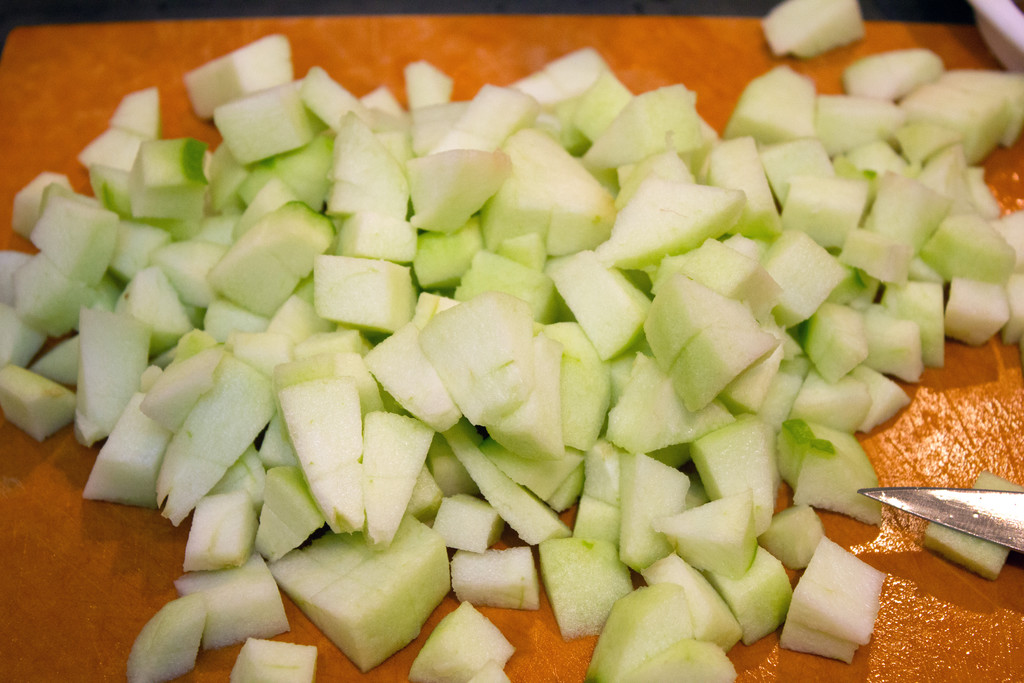 Here's an important step that Cook's Country called out, which most other recipes don't. Place your chopped apples on a paper towel lined baking sheet and pat dry with paper towels. This will remove excess moisture from the apples, which could cause fritters do get soggy.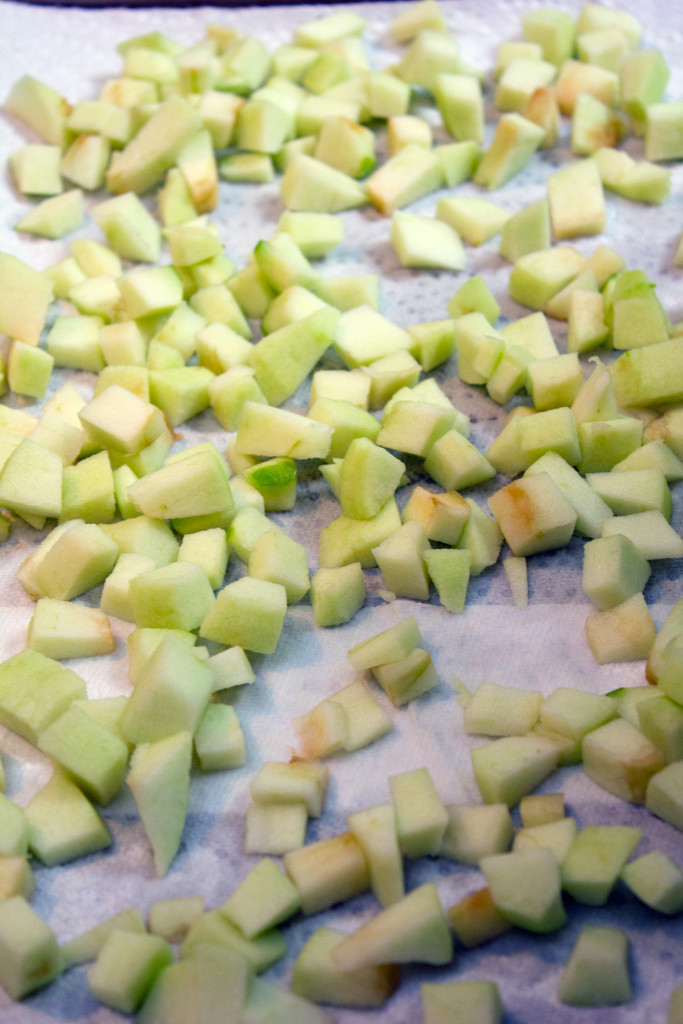 In a large bowl, whisk together flour, granulated sugar, baking powder, salt, cinnamon, and nutmeg.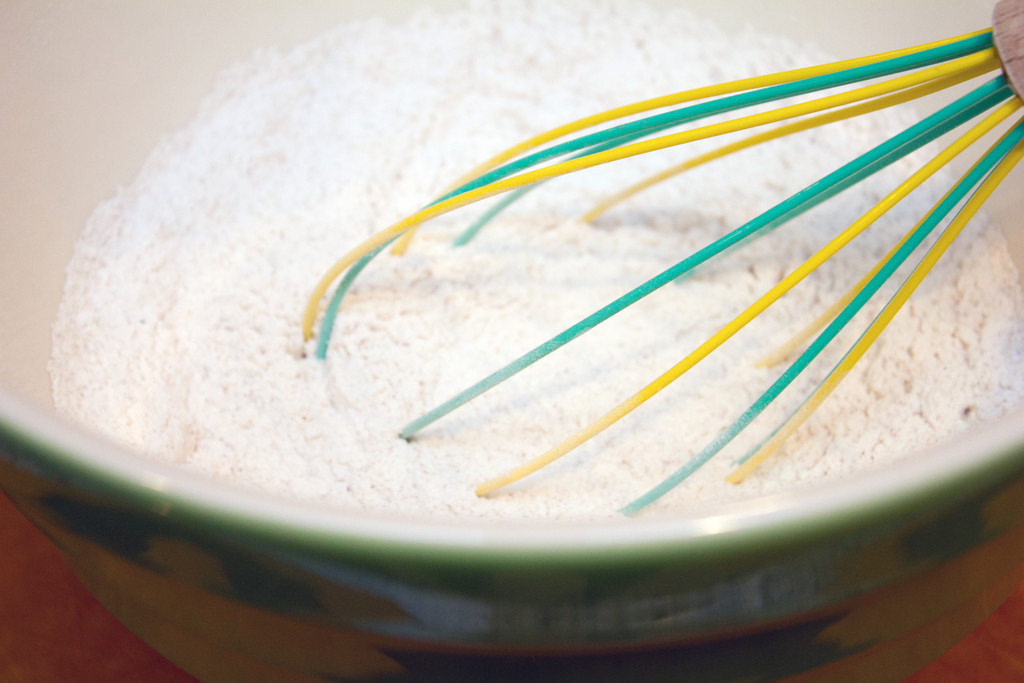 In a separate medium-sized bowl, whisk together cider, eggs, melted butter, and vanilla.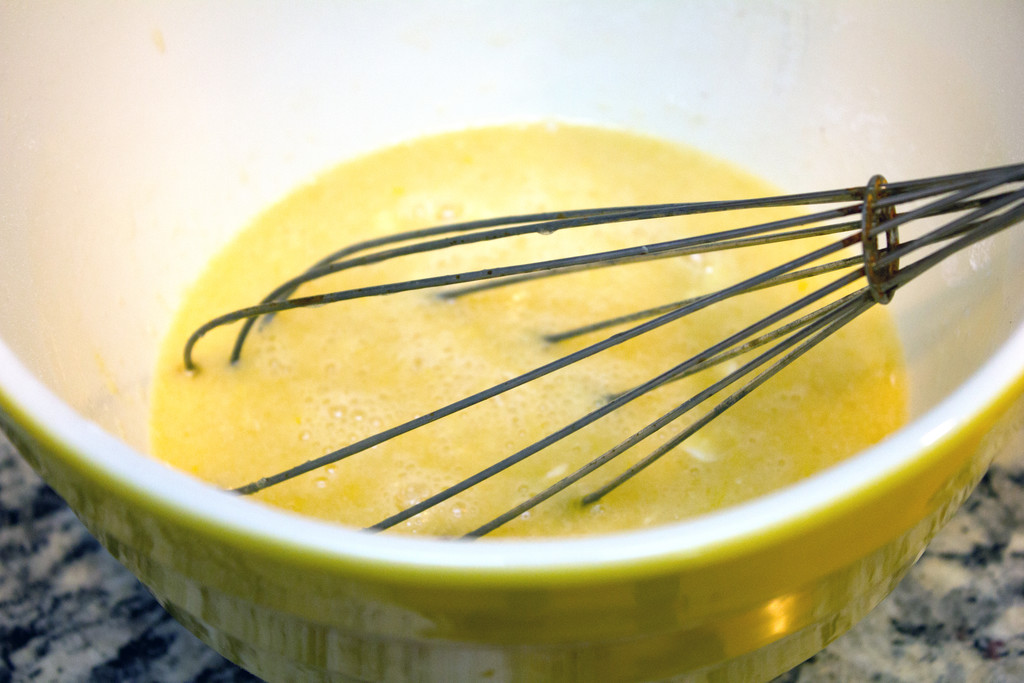 Stir apples into the flour mixture until they're well-coated.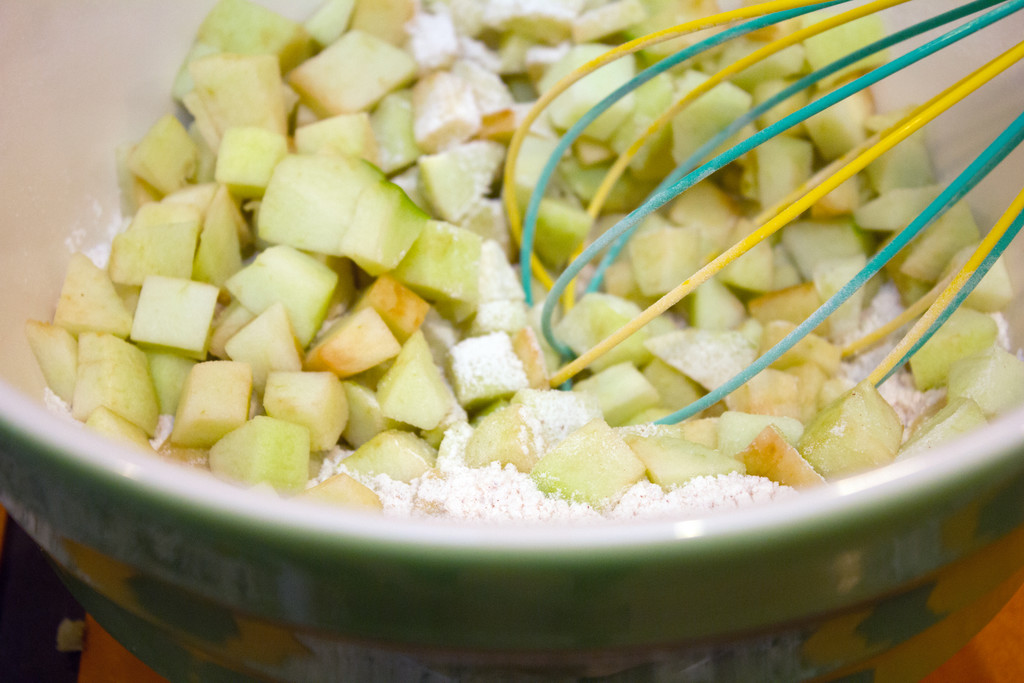 Then stir the cider mixture into the flour/apple mixture until just incorporated.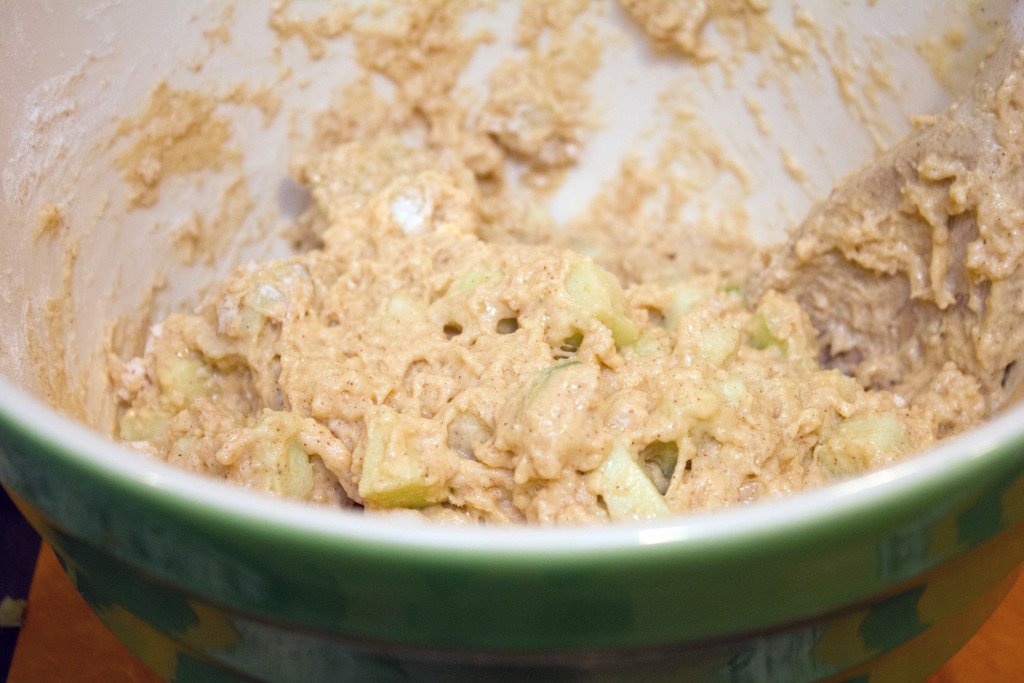 Now you're ready to get your frying on! In a dutch oven, heat oil (I used canola oil) over medium-high heat until the oil temperature reaches 350 degrees F.
Using a 1/3-cup, scoop batter and transfer into the oil. The recipe recommends doing 5 at a time, but I did 3 since I was nervous about them all touching each other and sticking together. Once the batter is in the oil, press down on it lightly with the back of a spoon to flatten. I probably should have done this more.
Fry the fritters, trying your best to keep the oil at 350 degrees, and no lower than 325 degrees. You should flip the fritters after 2-3 minutes and let them fry an additional 2-3 minutes on the other side.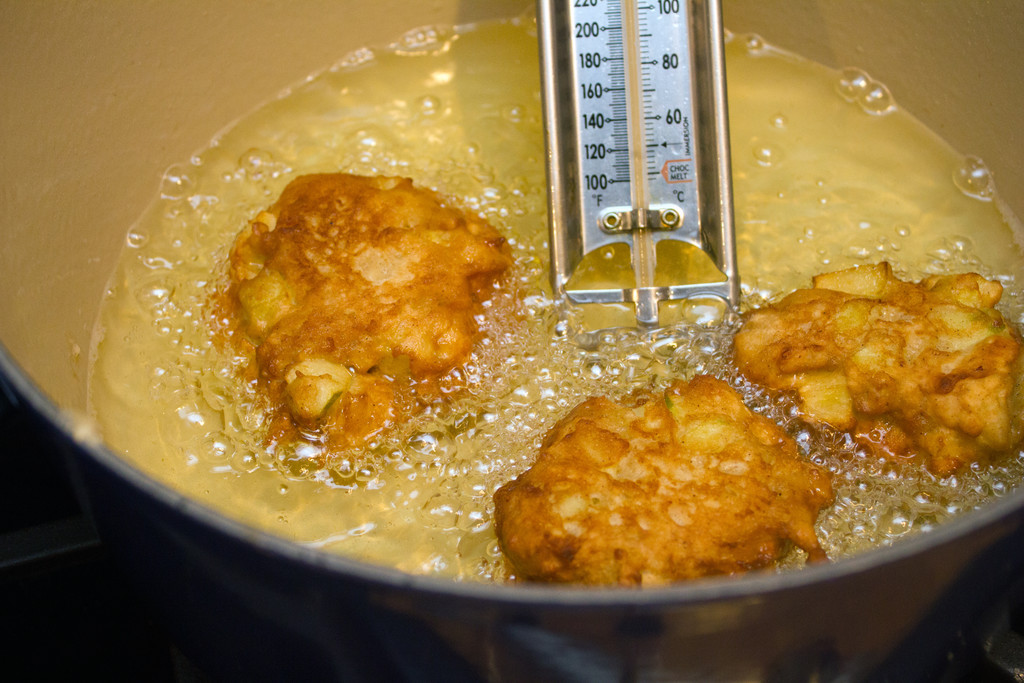 Once golden, transfer the fritters to a wire rack on a rimmed baking sheet. Make sure you bring the oil temperature back up to 350 degrees before adding the remaining batter to it. Let the fritters cool a bit before icing.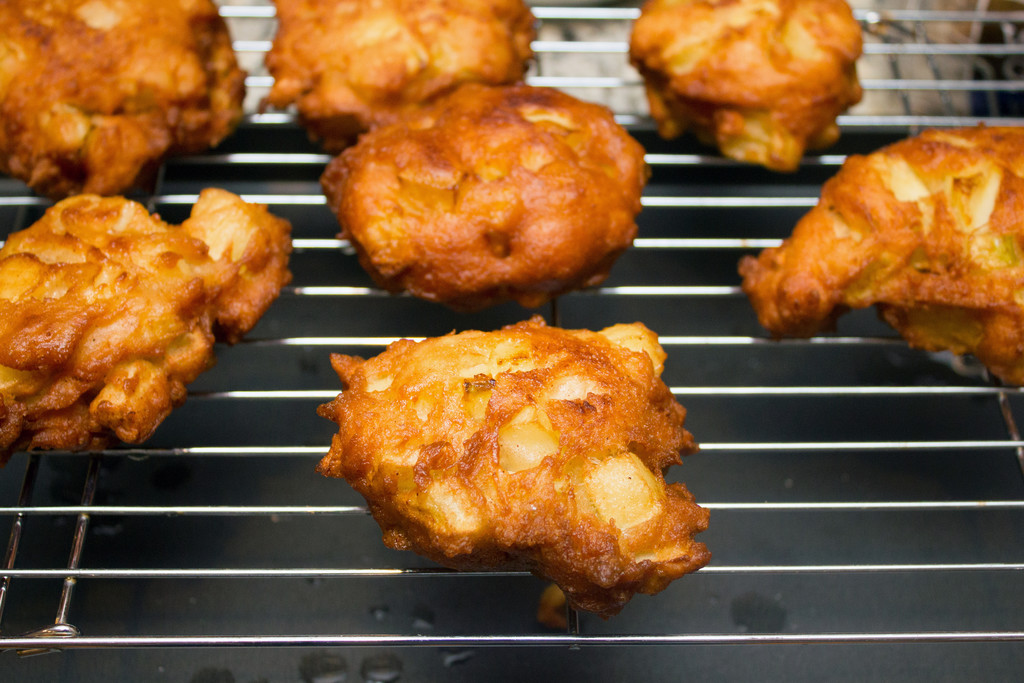 I should mention that Chris walked into the kitchen at this point and said "ooh, fried fish?" UM. I wanted to yell, "DO YOU NOT SMELL THE DELICIOUS APPLE SPICE FRAGRANCE THROUGHOUT THIS HOUSE?!"
OK, so admittedly, these did look a little like fried fish at first… they totally need some icing.
Apple Fritter Icing:
adapted from Cook's Country
Print this recipe! 
 2 C confectioner sugar
1/4 C apple cider
1/2 t ground cinnamon
1/4 t groud nutmeg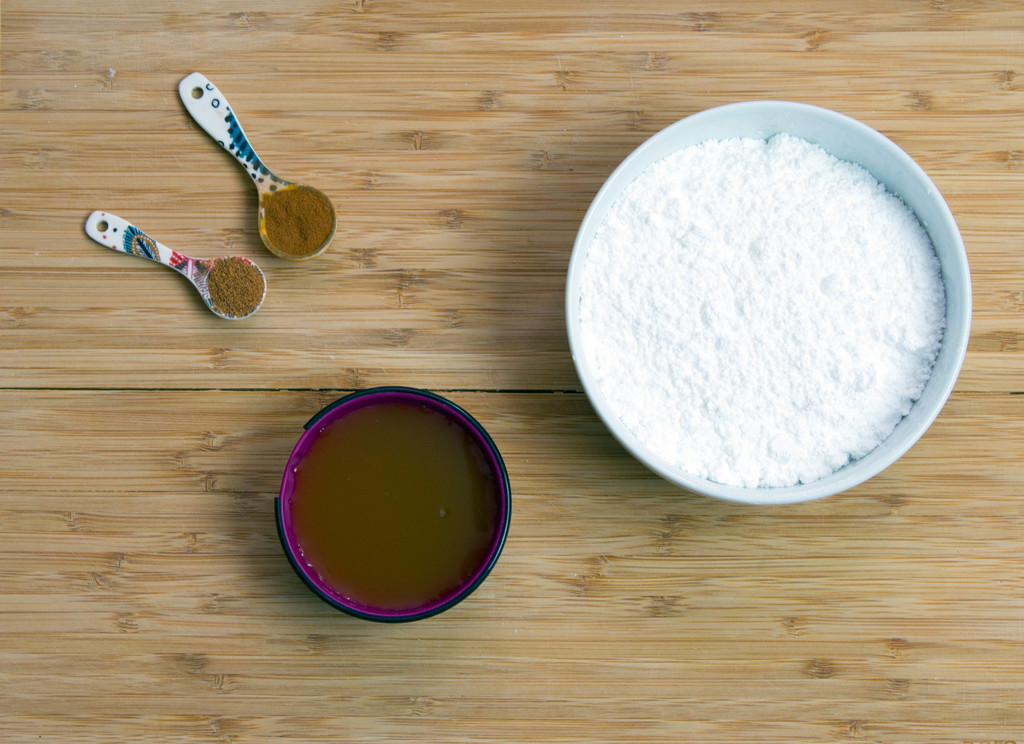 Whisk all of the ingredients together in a medium-sized bowl until smooth.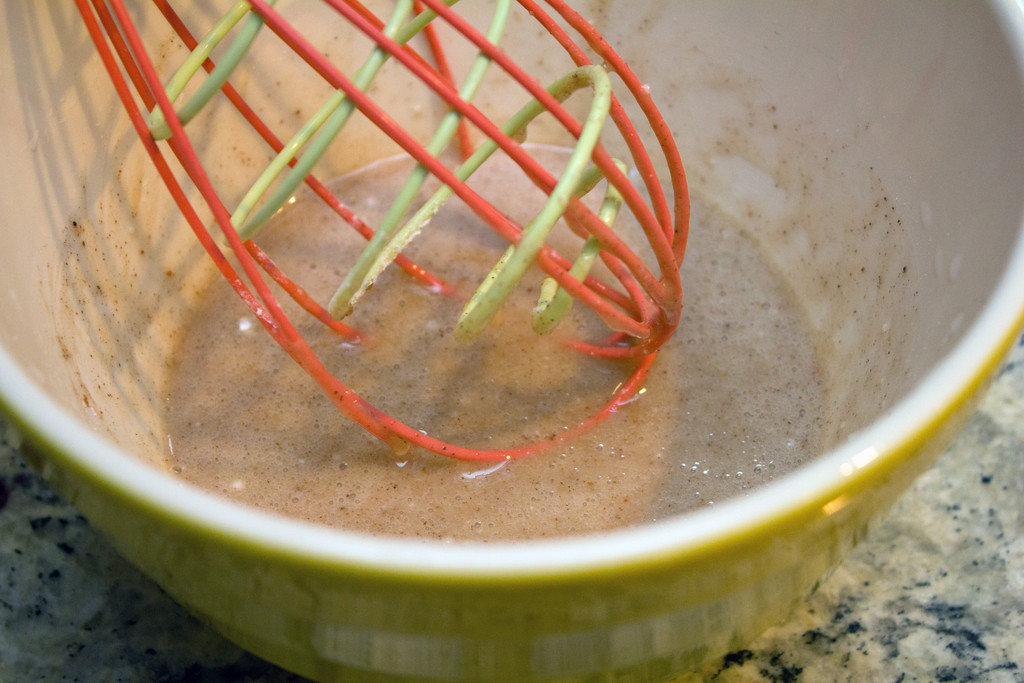 Drizzle each fritter with about a tablespoon of glaze. Let glaze set for at least 10 minutes. I prefer to chill the fritters because for some reason, I love my apple fritters nice and cold!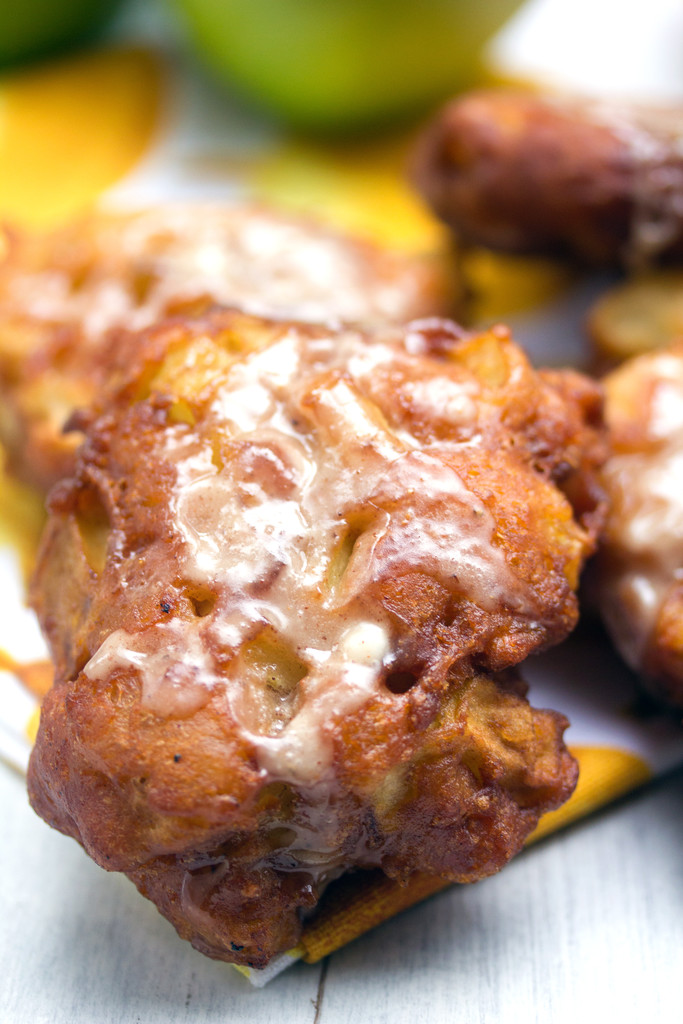 These were EXACTLY what I wanted and completely satisfied my year-long craving!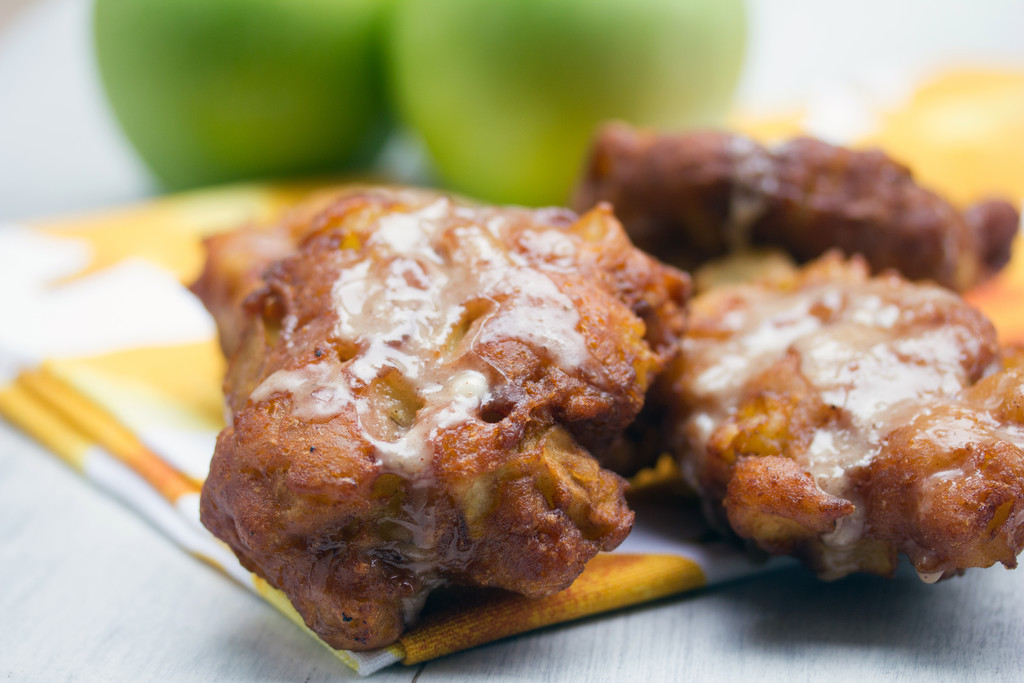 Obviously this was my first time making apple fritters, but I'm really glad I chose the Cook's Country recipe since these were so fantastic.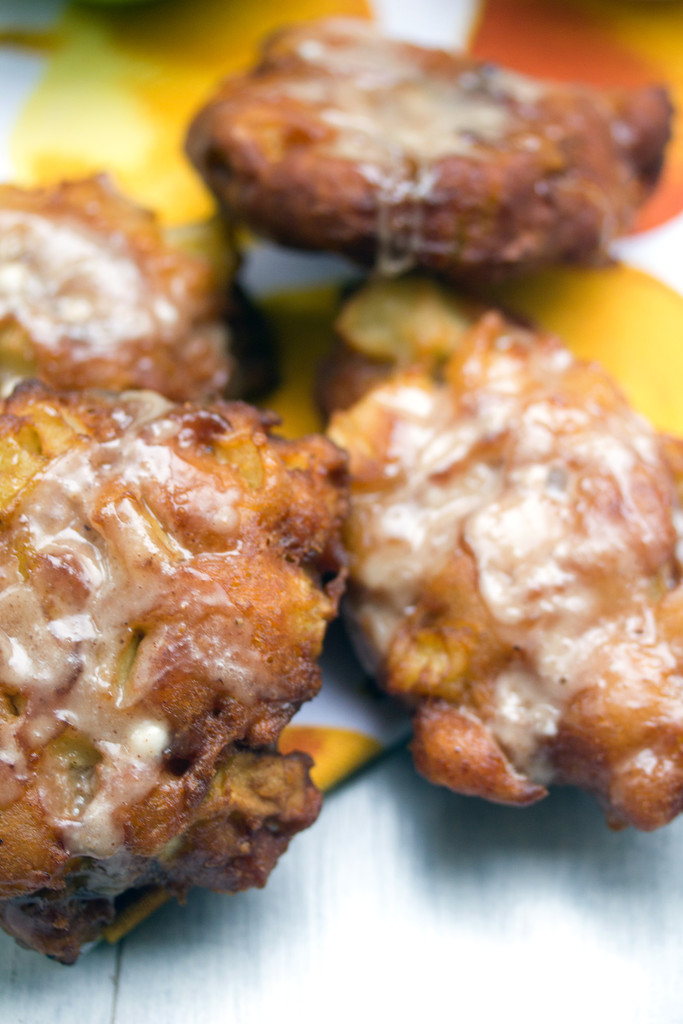 My favorite thing about them is that they were FULLY loaded with apples.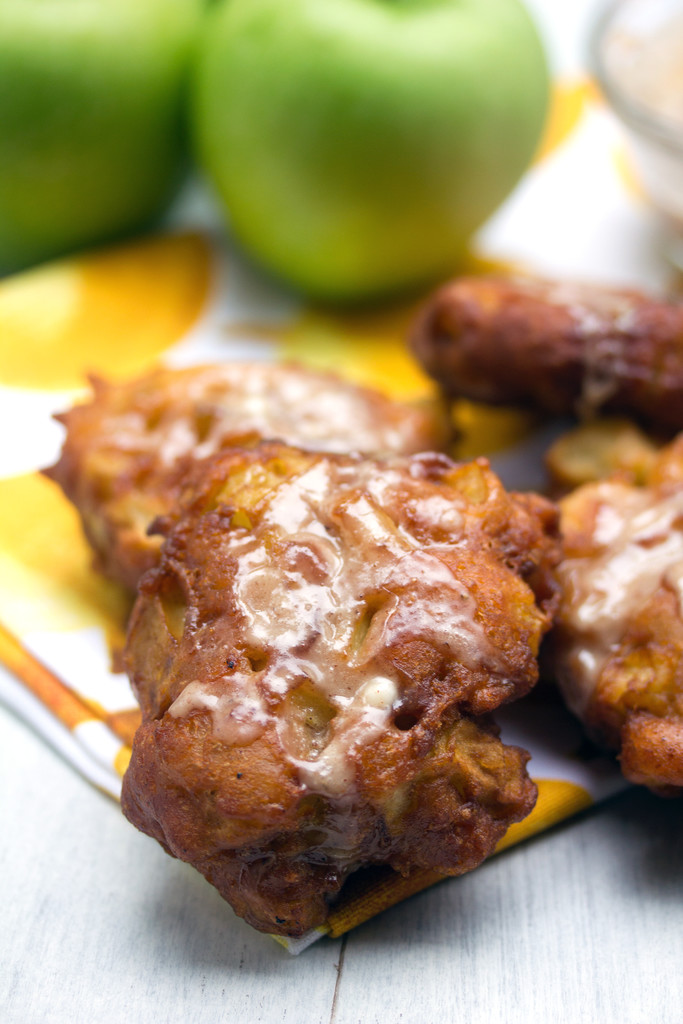 And the fact that the icing sunk into all the crevices of the fritters before it hardened. Nooks and crannies, if you will.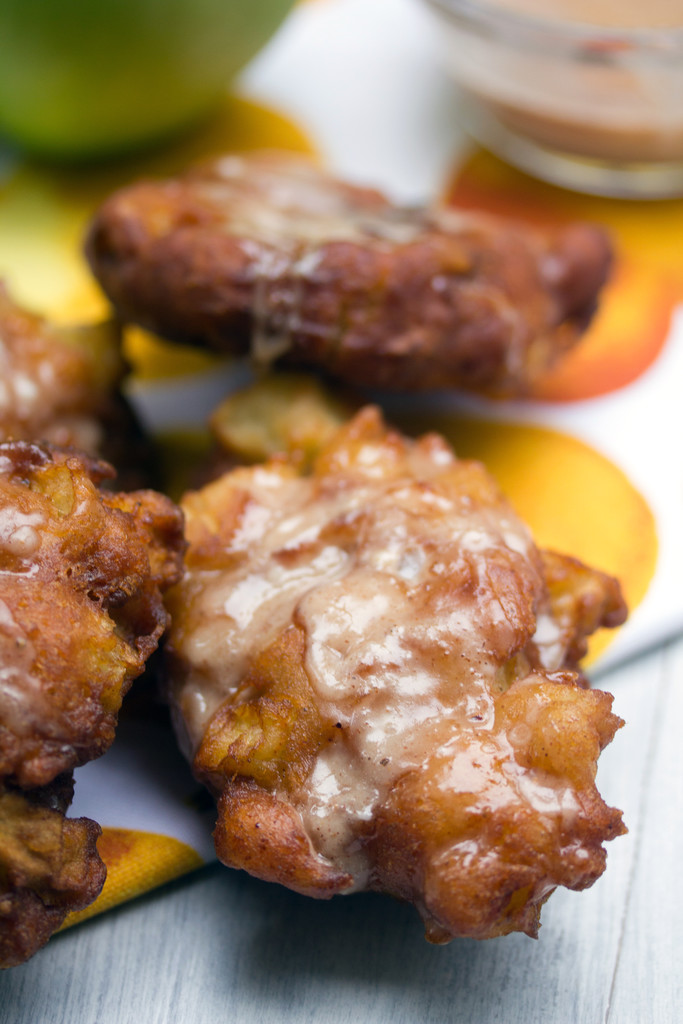 When it comes to apples, I'm very much a mac girl. But for baking, I do think granny smiths often work best. They have a knack at being sweet and tart at the same time.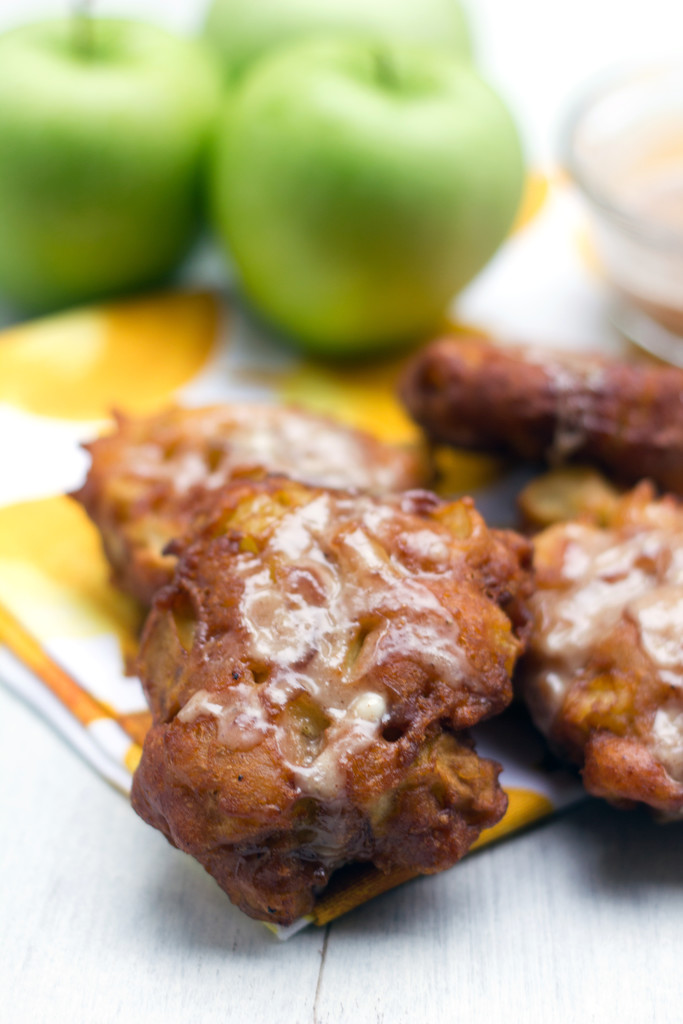 It is SO dangerous that I now have this recipe in my repertoire. SO SO dangerous. Next time I make them, I'm thinking about some sort of caramel drizzle? But then I think I might miss the icing too much. Ahhh, such a struggle.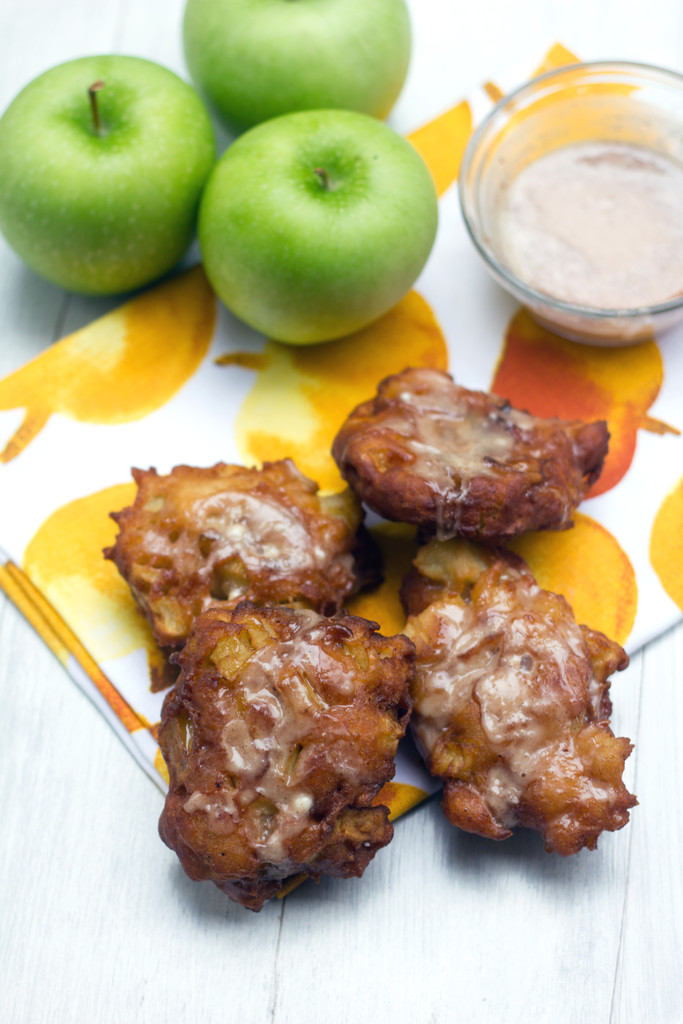 These might be my new favorite thing about fall. But honestly, there's not much about fall food I don't love. Apple cider doughnuts?? I need to get my hands on some of those STAT. Even candy apples make me insanely happy (my teeth? not so much).
Also, I'd like to start a petition making September last for two months. Please?
What's your favorite fall treat?
[Sues]