Packed with deliciously satisfying ingredients, this Steak and Strawberry Salad is the ultimate summer salad and requires minimal time standing over a hot stove or grill.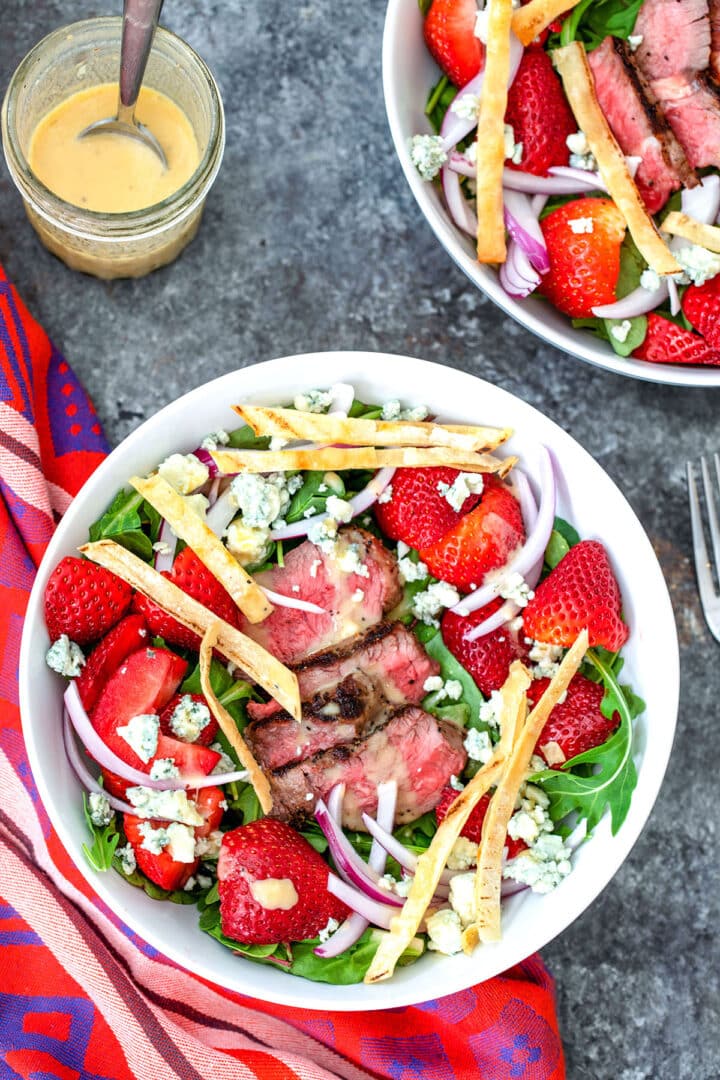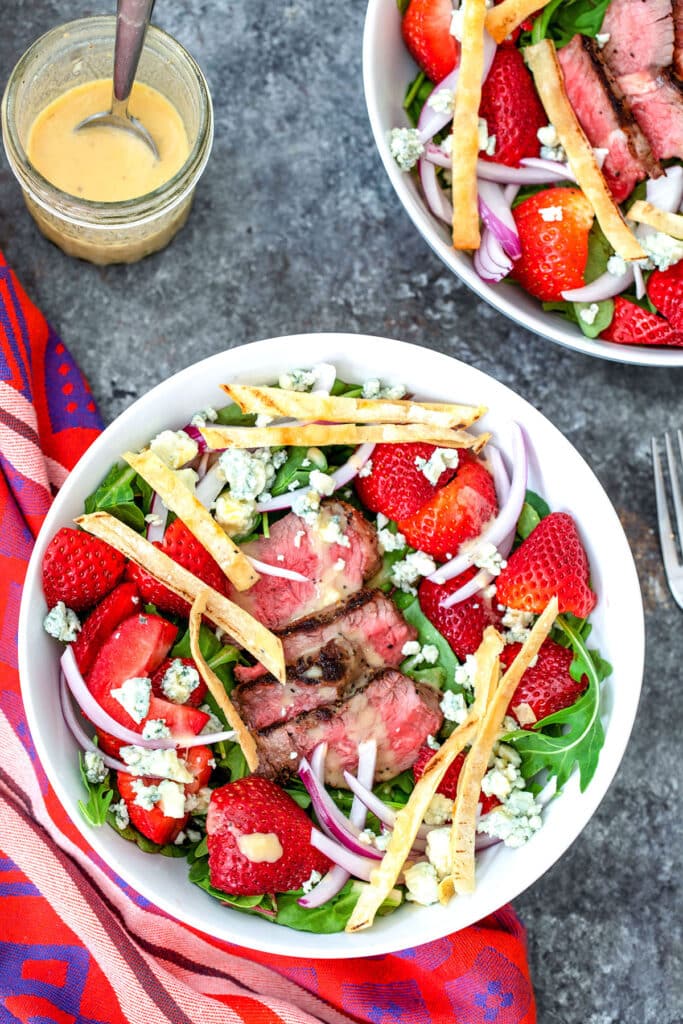 Jump to:
When it's 98 degrees out, chances are you don't want to spend a ton of time in the kitchen standing over the stove or oven. On these nights, simple is generally best when it comes to dinnertime. And what's simpler than a salad?
But wait! Before you say you're gonna need more than a salad for dinner, take a gander at this one. It involves so much goodness and flavor that you may not even realize you're eating a salad for dinner.
In fact, the idea for this steak and strawberry salad was born from a previous recipe of mine: flank steak tacos with strawberry mint salsa. In a way, this salad is actually a deconstructed taco. If you have trouble making sense of eating salad for dinner then by all means, think of this as a deconstructed taco. Better?
❤️ Why you'll love this recipe
You'll absolutely love this steak strawberry salad if you're in the mood for a lighter dinner, but still want to feel satisfied. The combination of perfectly cooked steak and sweet strawberries is just so good!
It's such an ideal summer recipe as you can cook the steak on the grill (though you can also do it in the house in a grill pan) and easily toss the rest of the ingredients together in a big bowl.
This salad also makes for great leftovers and you'll be so happy to enjoy it for lunch the day after you make it.
🗒 Ingredients
You can feel free to add or omit any ingredients I used in this salad based on what you have on hand or what your preferences are.
But I should note that this is a pretty fantastic combination and is the kind of salad that should be able to satisfy anyone! Here's what I included (be sure to view the recipe card at the bottom of this post for ingredient amounts and full recipe instructions):
Steak: I used sirloin for my steak, but you can use whatever kind you want and either grill it or cook it in a grill pan.
Greens: I like using a spring green mix, but you can use spinach, romaine, or any combination of lettuce/greens you desire.
Strawberries: I mean, these are kinda key in a steak and strawberry salad, but you can obviously use any kind of fruit you love.
Red Onion: I love using just a little sliced red onion for some bite and additional color.
Blue Cheese: Because steak and blue cheese is probably one of my favorite combos ever. But if you're not a fan of blue cheese, you can use any kind of cheese.
Crispy Tortilla Strips: These aren't totally necessary, but I love adding a little crunch to my salad and these are perfect. You can even use store-bought ones if you want or you can substitute with croutons.
Lemon Dressing: You can use any kind of dressing you like (even a store-bought one), but I think this quick and simple lemon dressing works well with the other salad ingredients.
🥩 Best steak to use
You can use any cut of steak you like best for this steak strawberry salad! I often use sirloin because it's tender, lean, and easy to cook.
But you could also use flank steak, ribeye, New York strip steak, or even filet mignon if you want to make a fancy steak salad!
The salad is also a great option if you have leftover steak and are looking for a delicious use for it.
🍓 How to make steak and strawberry salad
Like most salads, this steak and strawberry salad is super easy to put together. All you need to do is cook the steak, fry the tortilla strips (if you're making your own) and assemble everything in an entree-sized bowl.
Before cooking my steak, I rub some olive oil and salt and black pepper on it.
Cook to your desired doneness either on your grill or in a grill or cast-iron skillet. I like a nice medium rare!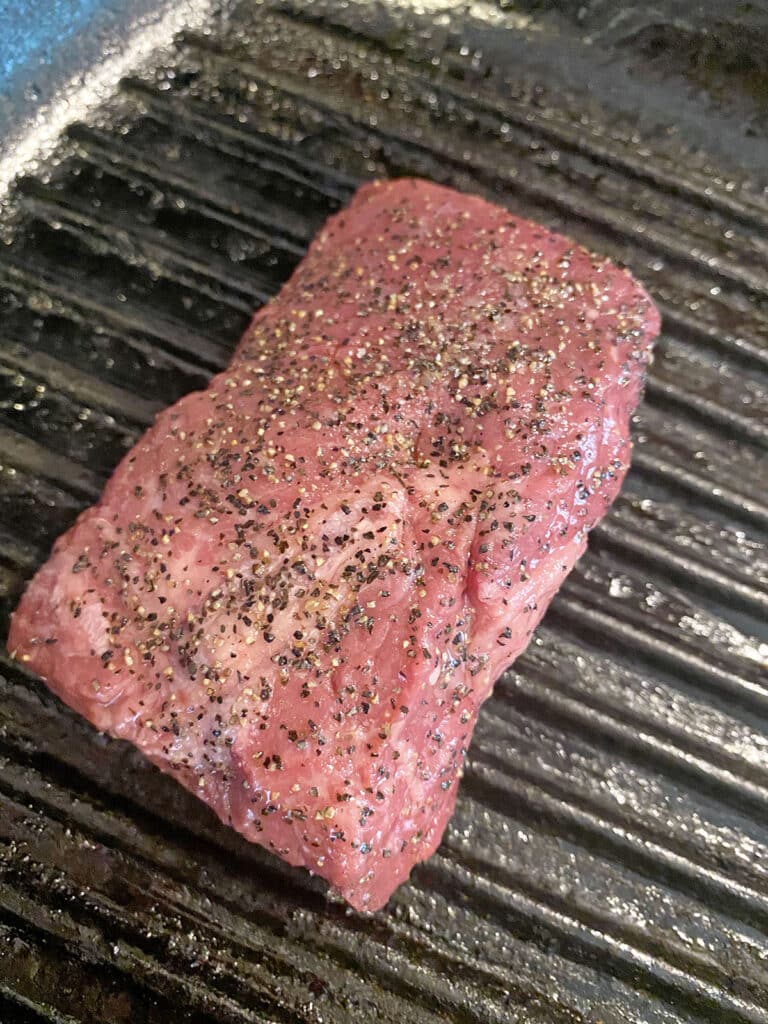 If you're making your own crispy tortilla strips, simply place corn tortilla strips in a skillet with hot oil and let them crisp up.
The lemon dressing just requires putting all the ingredients in a jar, closing the jar, and shaking it up. If you don't have a jar, you can put them in a bowl and whisk together.
Slice steak and put greens in a big bowl with steak, strawberries, onion, blue cheese, and tortilla strips.
Drizzle lemon dressing over the top.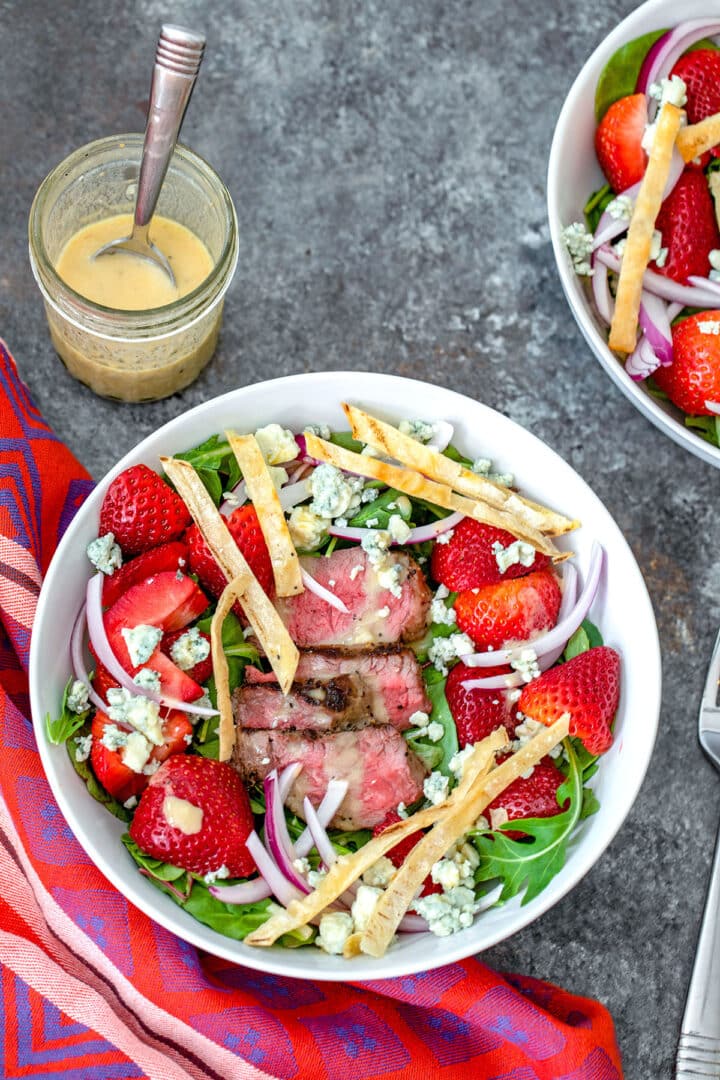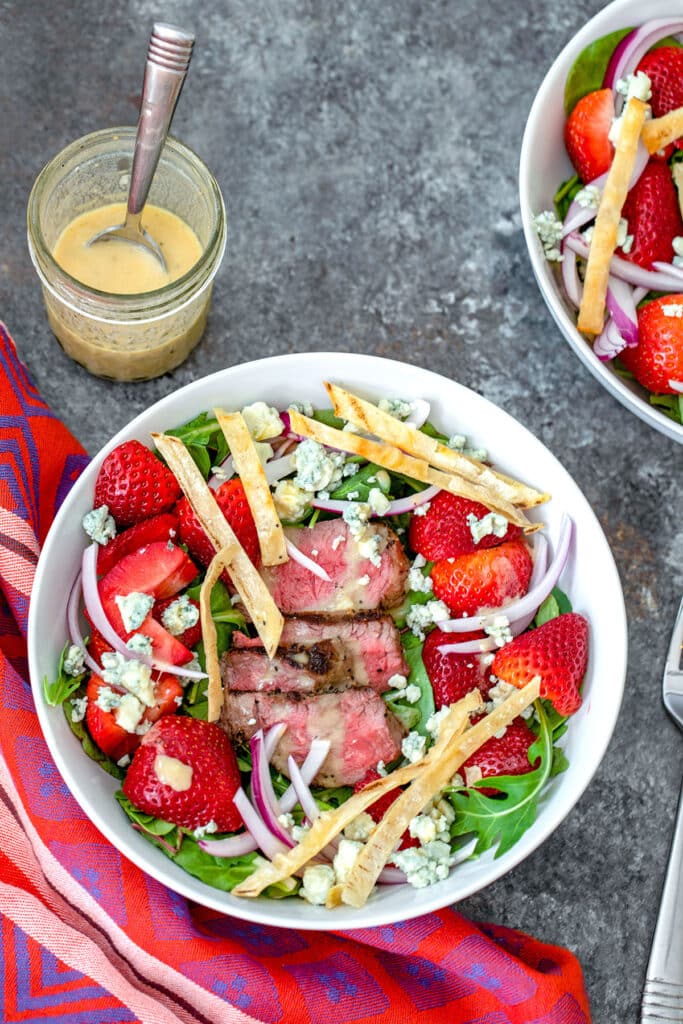 And enjoy a super low-key summertime dinner that isn't lacking in flavor or goodness.
Sure you could take these same basic ingredients and make tacos. But as someone who sometimes wants to eat a different kind of taco every night of the week for dinner, I recommend switching it up from time to time.
Plus, I love all those fresh greens!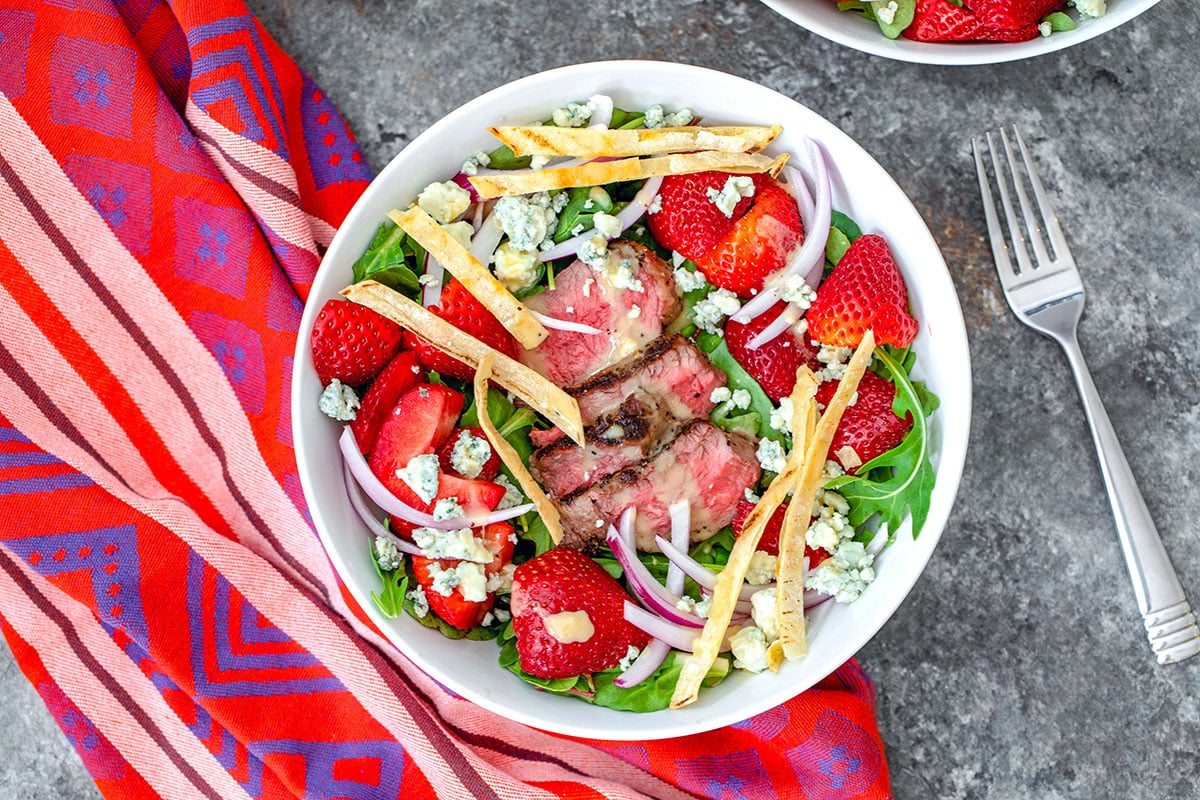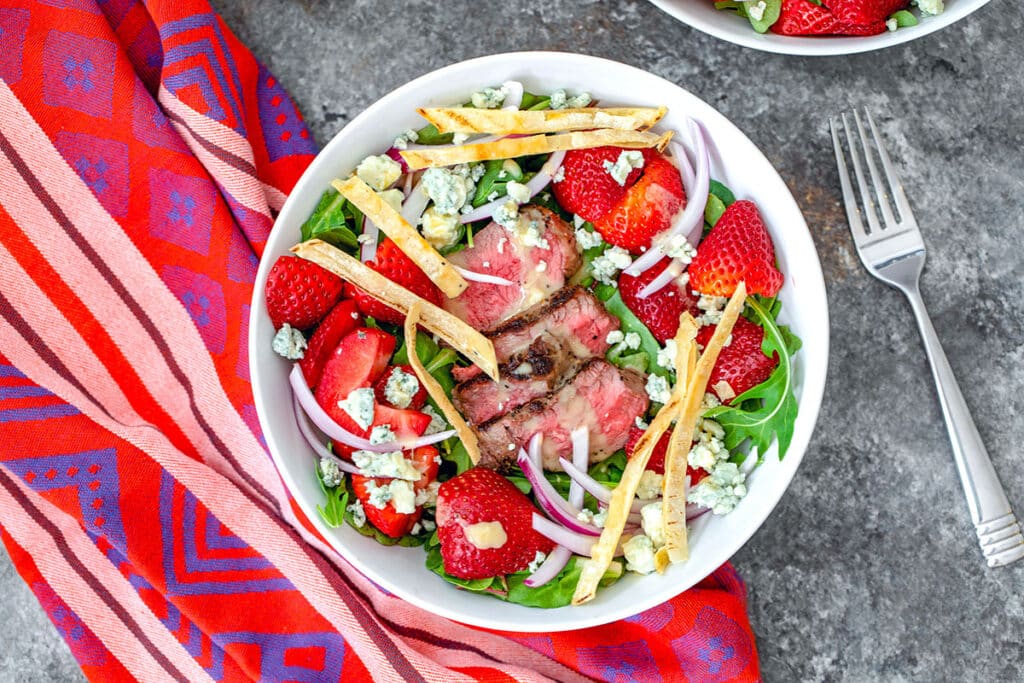 If the weather is sweltering hot where you are, I promise this steak and strawberry salad will hit the spot for dinner tonight.
Heck, even if it's not hot where you are, this salad will be delicious. As long as you can get good steak and fresh strawberries, you're in business.
⏲️ How to store leftovers
I love making this salad for inner and then eating the leftovers for lunch the next day!
Ideally, you would store the various components of the salad separately, but of course, that's not always possible. If you know you're going to be keeping leftovers, I recommend at least keeping the tortilla strips and salad dressing on the side and just adding to the portion you're eating.
You can store the leftover salad in an airtight container in the fridge for a couple days. When you're ready to enjoy the leftovers, toss with dressing and top with tortilla strips.
The salad may become soggy if stored with dressing and tortilla strips will likely get soggy in the fridge.
🎉 Variations on recipe
I think this steak and strawberry salad is the perfect combination of ingredients, but, of course, there is so much you can do to switch the ingredients up and suit it to your precise tastes. Here are some ideas:
Add additional fruit: If you can't get strawberries or you just want to add more fruity deliciousness to this salad, you can add sliced peaches, blueberries, pears, apples, cherries, or other fresh berries and other fruit. You can also use dried fruit if you prefer.
Add more veggies: This salad uses a fresh spring greens mix and red onion, but you can also add bell peppers, cucumber, tomatoes, fresh asparagus, mushrooms, and more.
Switch up the cheese: If you don't like blue cheese or gorgonzola, you can use the cheese of your choice. Goat cheese would be my next favorite choice, but you can also use feta cheese, shredded cheddar, grated parmesan, or whatever your favorite cheese is.
Change up the greens: I use a spring mix for this salad, but you could use a bunch of romaine or iceberg lettuce, baby spinach, or peppery arugula.
Add toppings of choice: If you don't want to use tortilla chips, you can add croutons, nuts, seeds, crispy onions, poppy seeds, or whatever you like to top your salads with! I love anything that adds crunchy textures.
Add grains: If you want to add additional protein and nutrition, try adding quinoa to the salad. You can also add farro, barley, rice, or couscous.
Use the dressing of your choice: If you don't want to make my lemon dressing, you can make the homemade dressing of your choice. Or you can even use your favorite store-bought dressing! Raspberry vinaigrette, blue cheese dressing, green goddess dressing, or honey mustard dressing would all be delicious options. You can also just top with some balsamic vinegar and olive oil.
🥗 More summer salad recipes
I love salad year-round, but it can make the best meal on a hot summer evening. Here are some of my favorite summer salads:
I also can't wait to make this Roasted Chickpea Salad from This Healthy Table!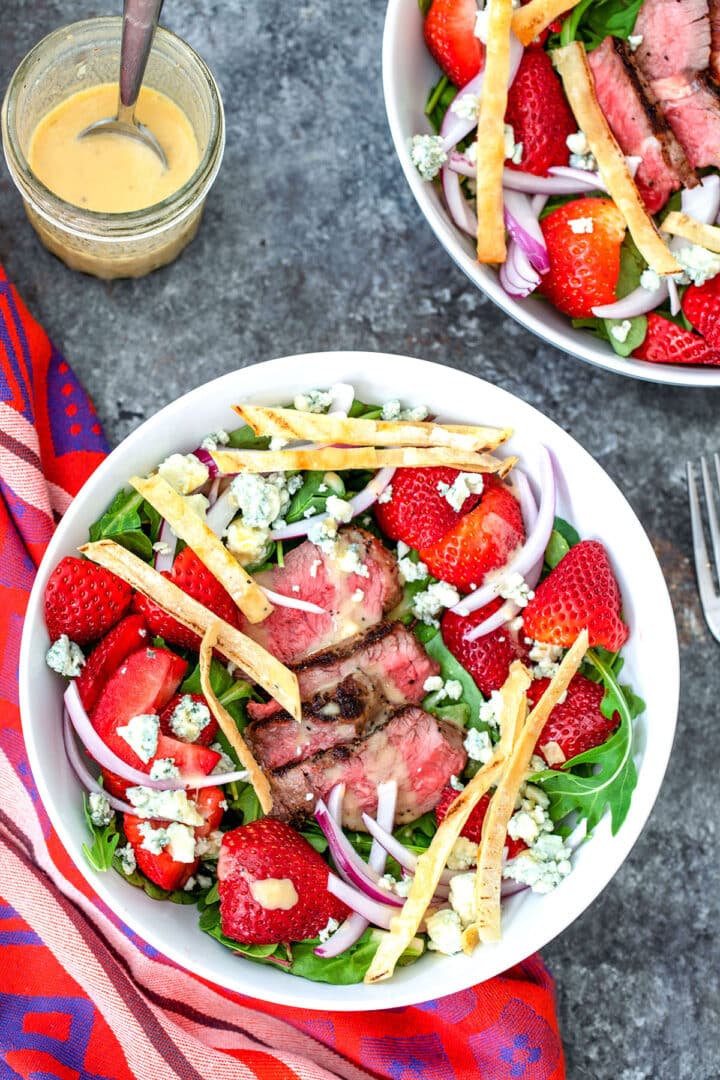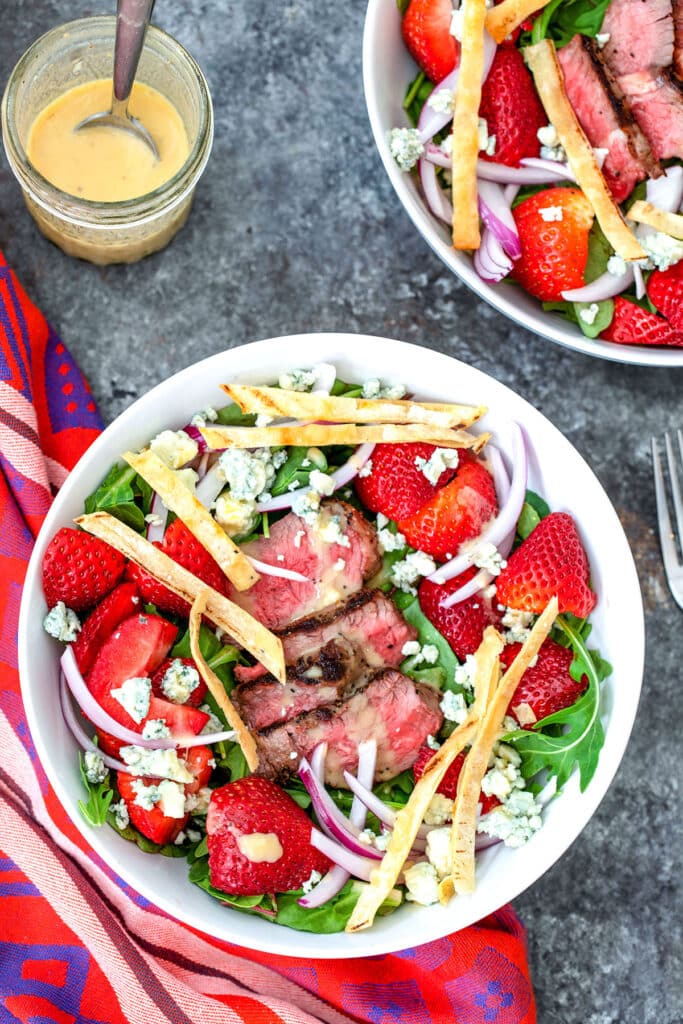 This strawberry steak salad is my favorite summer meal, especially on a busy weeknight. The warmer weather just calls for a big salad and when you add some juicy steak on top, I don't think you'll get any complaints from your family!
What's your favorite summer salad?
📖 Recipe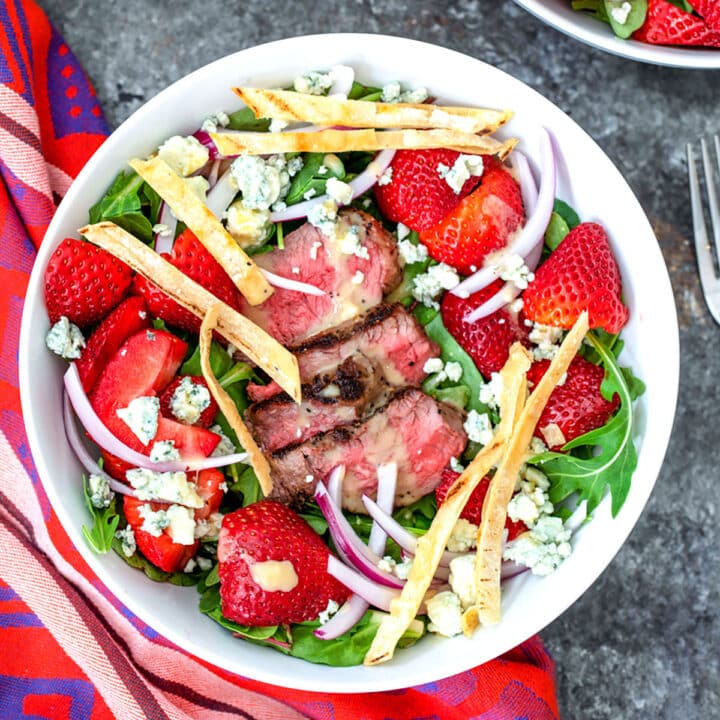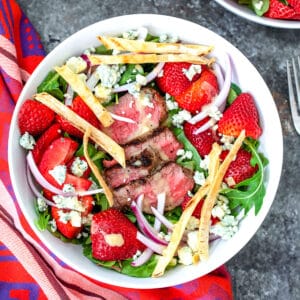 Steak and Strawberry Salad
Packed with deliciously satisfying ingredients, this Steak and Strawberry Salad is the ultimate summer salad and requires minimal time standing over a hot stove or grill.
Print
Pin
Rate
Makes:
2
servings (entree sized)
Ingredients
¾

lb.

sirloin steak

(or cut of your choice)

1 ½

Tbsp

olive oil,

divided

¾

tsp

salt,

divided

½

tsp

pepper

2

corn tortillas,

cut into strips*

4

cups

spring greens or lettuce mix of your choice

1

cup

sliced strawberries

½

small red onion,

sliced thinly

⅓

cup

crumbled blue cheese

Lemon dressing

(recipe below), or dressing of your choice
Lemon Dressing
¼

cup

extra-virgin olive oil

¼

cup

freshly squeezed lemon juice

1

clove

garlic,

minced

¼

tsp

salt

¼

tsp

pepper
Instructions
Preheat grill or grill pan to medium-high heat. Rub ½ Tbsp olive oil on both sides of steak and sprinkle and rub ½ tsp salt and ½ tsp pepper onto both sides.

Place steak on grill or grill pan and cook for about 4 minutes on each side until desired degree of doneness (I like to cook to medium rare, which should register at 140 degrees on a meat thermometer).

Remove steak from grill or pan and let stand for 5 minutes. Slice steak against the grain into thin slices.

While steak is resting, add remaining 1 Tbsp oil to a medium skillet over medium-high heat. Once hot, add tortilla strips and let cook for about 2 minutes before flipping and cooking for another minute, until golden and crispy. Sprinkle with remaining ¼ tsp salt.

Divide greens between two large salad bowls. Divide strawberries, sliced onions, and blue cheese between bowls and toss together. Top salads with steak, tortilla strips, and lemon dressing.
Lemon Dressing
Put all ingredients in a small mason jar and shake well.
Notes
*If you prefer, you can use store-bought  crispy tortilla strips instead of making homemade
Share a Photo of Your Finished Recipe!
Mention @wearenotmartha and share a photo if you've made the recipe!