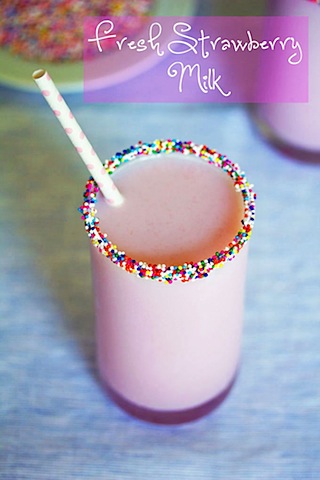 Happy Monday! Wait, is that a thing? I guess it all depends. I'm pretty sure pink milk and sprinkles make any day, hour, or second happy, so that's why I'm choosing to post this on a Monday. I'm correct about that, right? Perhaps you think pink milk is child's play, but if it helps you get through the day then I don't think age should matter. Delicious is delicious and rainbow sprinkles are acceptable at any age. In fact, sometimes I wish it would be acceptable to carry around rainbow sprinkles in my purse and bring them out when the occasion called for it. Like during a particularly long meeting. Or a morning commute where your train has to "stand by" at every stop. I'd legit pull them out of my pockets and throw them in the air. And then I'd probably get in trouble because sprinkles are really tough to clean up. And have you ever spilled rainbow sprinkles and then accidentally dribbled water on them? Because, let me tell you, whatever surface they're on? Will never be the same again. But worth it. So, so worth it.
I'll admit I'm not a big milk drinker these days. But sometimes I crave an ice cold glass. And flavored is just more fun for me. I'll always be a kid at heart and love chocolate milk. But this time, I decided to take advantage of the beautiful strawberries in my refrigerator and make a homemade strawberry milk. With fresh strawberries. And lots of rainbow sprinkles.
Fresh Strawberry Milk (serves 4):
Print this recipe!
2 C hulled and sliced strawberries
1/2 C granulated sugar
1/2 C water
1 T freshly squeezed lemon juice
4 C skim milk
Sprinkles for glass rim (optional)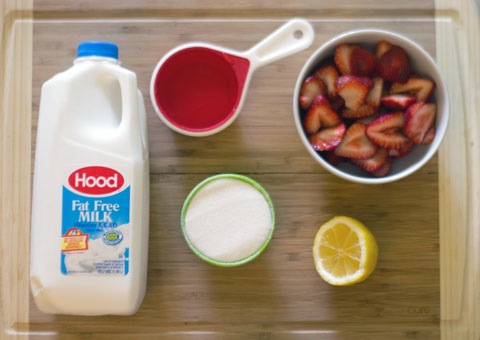 Place the strawberries, sugar, and water in a medium size saucepan over medium high heat and bring to a boil.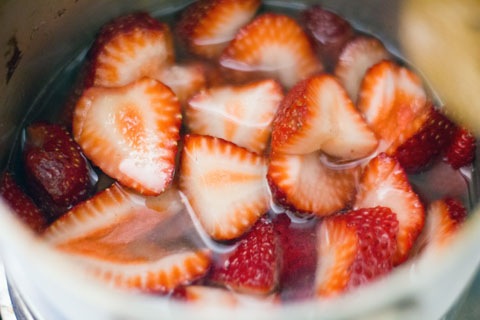 Lower heat a bit to medium-low and let simmer, stirring occasionally, until sugar dissolves and mixture thickens into a syrup, about 10 minutes.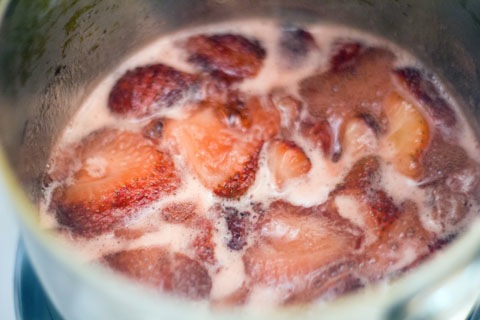 Strain liquid into a bowl, pressing with the back of a wooden spoon to extract as much juice as possible. Discard solids…. or use them for something amazing like ice cream toppings. Add 1 T freshly squeezed lemon juice. Chill strawberry syrup.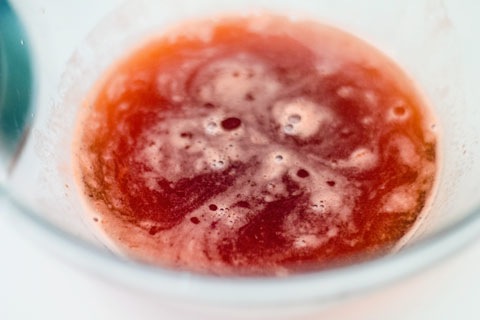 For a little extra fun… especially on a Monday, rim your glasses with rainbow sprinkles. I brushed a little corn syrup on the glass to make them stick.
Pour a cup of milk into a glass and mix in strawberry syrup until combined. I used about 3 T of strawberry syrup for cup of milk. But you can add more or less, determined by taste.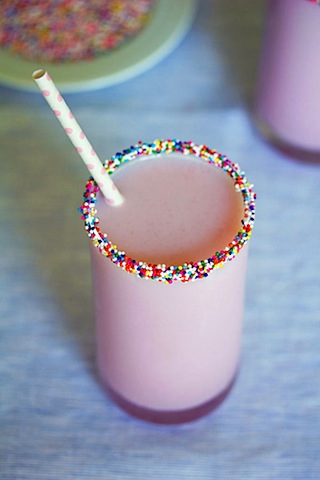 And milk is exciting again! Seriously though, this strawberry syrup was one of the best things I've had in a long time. And it made the milk absolutely heavenly.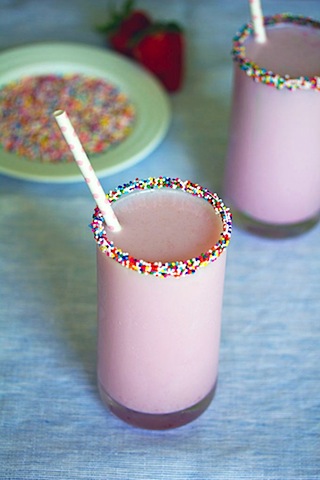 Maybe you grew up with strawberry milk? I think Yoohoo has one? I never really had it much as a kid, but I can assure you this tastes nothing like it. In a good way. This tastes like real strawberries. Because it's made from real strawberries. At least I'm assuming that's why. It would be weird if it wasn't.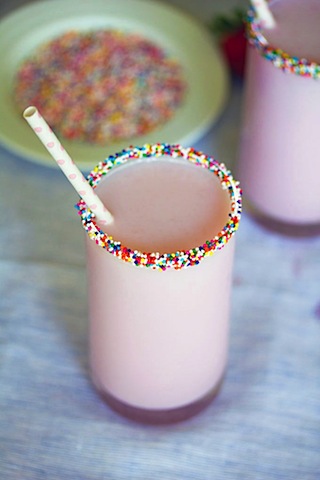 As an adult, I probably wouldn't add milk into my daily diet. But for a special treat, I'm all over this. And yes, my 6-year-old self would wonder how on Earth my adult self was calling milk a treat.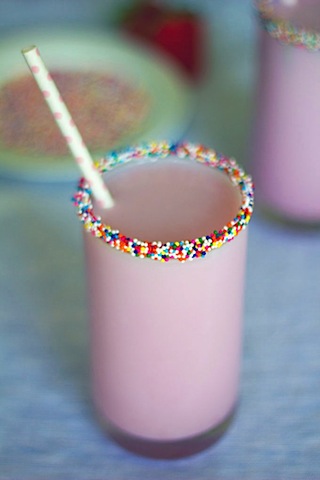 My, how time changes.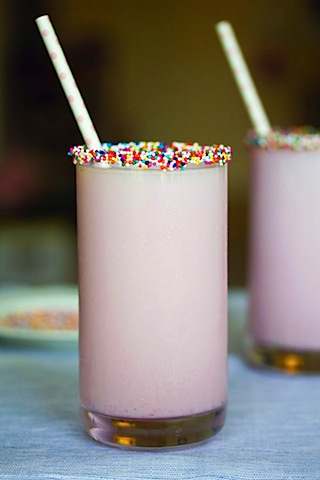 It may be Monday, but I'm hoping pink milk with sprinkles will urge you to think happy thoughts…
Also, be proud I made a drink and didn't add vodka, gin, rum, scotch, Kahlua, etc. to it. Not even a trace of wine. And on a Monday, too. I'm telling you; it's that fabulous! But still, I'll probably need a glass of wine tonight as I watch The Bachelorette. As glorious as pink milk and sprinkles are sometimes adults need wine. That's real life.
What food or drink can make your Monday better?
[Sues]
Honest Tea Honest Fizz Giveaway Winner!
Congratulations to Anie for winning my Honest Fizz giveaway! You've won 30 days of Honest Tea! I'll email you ASAP so we can ship you your fabulous prize 🙂