While shopping in Trader Joe's with my mom the other day, I decided that I wanted to make Greek chicken. So I figured I'd buy all the ingredients and find a recipe when I got home. But when I got home, I couldn't find a recipe that made me happy, so I decided to just make something up on my own with the ingredients I had. And I made Greek-stuffed chicken.
I basically threw all my ingredients in a bowl. They included:
half of a red onion, chopped

a bunch of sun-dried tomatoes, chopped

a lot of feta cheese, crumbled

a bunch of kalamata olives, halved

a huge handful of parsley, chopped

a splash of balsamic vinaigrette

some pepper
So scientific, right? But I was just experimenting and I figured I'd throw it all in a bowl and mix it up.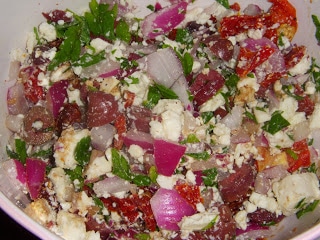 Then I cut slits into the chicken breasts and stuffed them full of the mixture. I put A LOT of the mixture in the chicken because I wanted to, but you can do as much or as little as you'd like.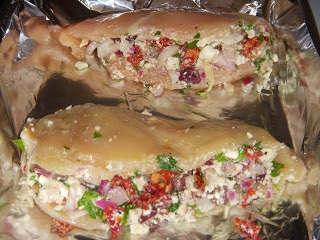 I made a little spinach salad with some fresh tomatoes and served it. I probably could have cooked the chicken for a bit less time, but I really liked how some of the filling got a little crispy. And the chicken was still nice and tender.