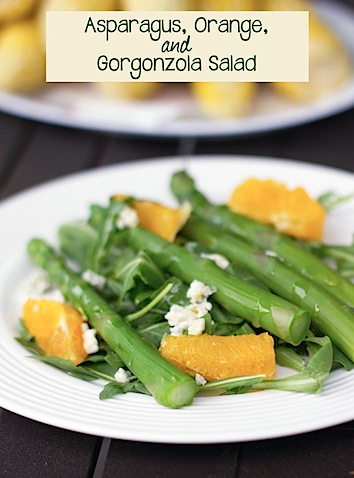 April showers bring May… wait. Isn't it June right now? Yup. And it's been raining for 40 days and 40 nights straight. Well, practically. Maybe more like four. All I know is that I'm totally sick of it. This isn't what June is supposed to be all about. I do, however, have to admit that there's nothing quite so awesome as falling asleep with the windows open, a cool breeze blowing in, and the rain pouring down. Can anyone explain to me why the sound of rain is so relaxing? I just wish that darn rain would quit it come 6:00 a.m. Why hasn't Mother Nature picked up on mankind's schedule just yet? Come on, lady.
I profess my love for summer fruits quite often here. But I sometimes neglect the vegetable. Well, those days are done and today I'm recognizing spring asparagus. Its season is short, but joyous. And while people often serve asparagus as a side dish; they often don't remember to add it to spring salads. It adds a little kick of nutrition and a whole boost of flavor wherever it goes. Go on my salad and then get in my belly
When I took a brunch class at Stonewall Kitchen (my happy place!) several months back, this is one of the salads we made. We loved it and so, when it came time to celebrate my brother-in-law, Adam's birthday, I decided to make it again, with a few adaptions in place. He's not a big "salad person," but still likes his vegetables. So, we can simply call this recipe "platter of vegetables," instead of a homemade salad with fresh produce! Nobody will be any wiser. Right??
Asparagus, Orange, and Gorgonzola Salad (serves 6):
Print this recipe!
Coarse salt
2 pounds asparagus, tough ends trimmed
4 oranges (Valencia are best)
1/4 C extra-virgin olive oil
1 t honey
Freshly ground black pepper
1 C crumbled gorgonzola cheese
4 C arugula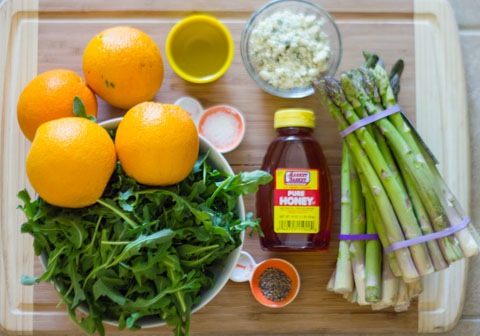 You want to blanch your asparagus, so start by bringing a large pot of salted water to a boil.
Cook asparagus for about 4 minutes, until "crisp-tender."
Remove pot from heat and immediately put asparagus spears into a bowl of ice water to stop cooking. Drain and set aside.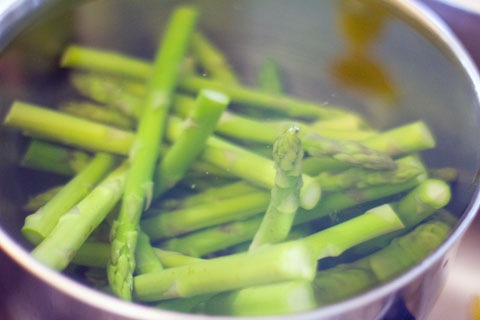 Here comes the tough part, since I'm the worst orange sectioned ever. I mean, can you tell? But you do want to peel the oranges and cut the underlying white pith out. Then cut in between the orange's membranes to release the segments. I guess kind of like this, but nicer.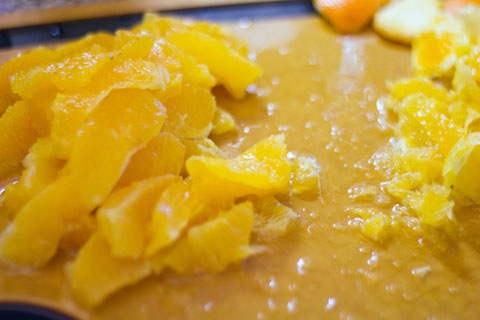 For the dressing, you'll want to squeeze about 3 T of that juice from that membrane into a bowl or a little dressing maker (yes, that's the technical term). Mix together the orange juice with the honey, olive oil, and black pepper.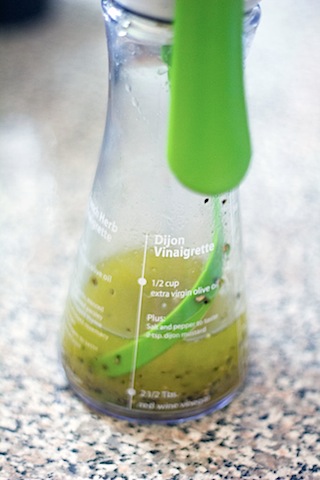 Now you're ready to arrange your salad. I think it's best to serve these as individual salads. But don't take my word for it. Except do.
Place a bed of asparagus on a plate. And then top with asparagus and orange segments. Sprinkle with arugula, drizzle with some dressing, and then add a little sea salt for good measure.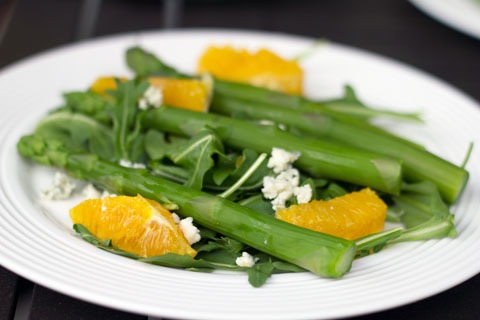 If you're feeling uber healthy, you could eat this as a meal and feel really good about yourself after. We didn't.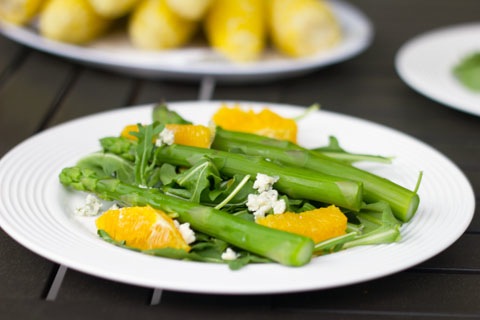 We had a quadrillion other things with this salad to the point where some people didn't even eat their salad. Ahem, not pointing any fingers or naming any names here.
It may be down pouring for the hundredth day in June, but it's still lobster season. And rain or not, I'm taking advantage of it.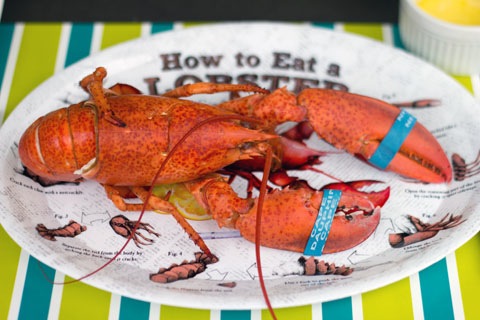 In case you're curious, there were also ribs And corn. And there may or may not have been a cheese plate to start. There's no evidence left and you can't prove it.
You can, however, prove this salad. Lots of salad evidence is underway here.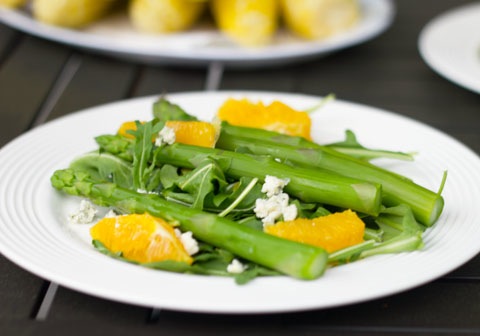 See? Look how healthy I am! Really, though, I think I could eat this salad for lunch or dinner and be quite happy. And there are not many non-grain based salads I can say that about. Especially after spending 4 days in Austin, eating myself to death. And no, that is absolutely not a complaint.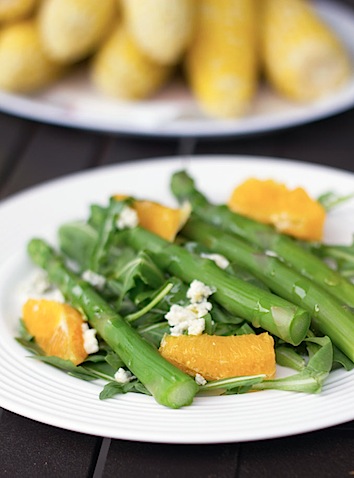 Thanks, Stonewall Kitchen, for teaching me another glorious recipe that I can actually go home and recreate. And one with so many favorite things that I can't pick just one. We can't ignore the peppery bite of the arugula or the creamy fullness of the gorgonzola. The flavors in this dish are all so unique, but work just perfectly together.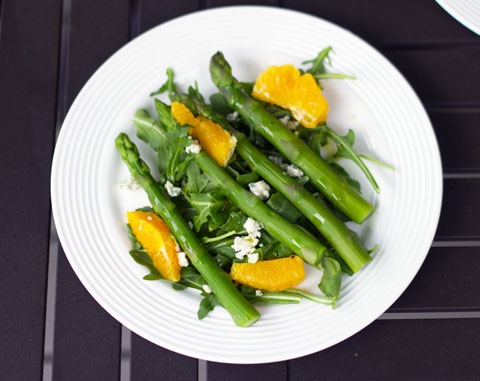 The more I stare at these photos, the less I care that it's raining outside. Rain Schmain; I've got a delightful spring salad on my hands 😉 And the sweet sound of rain as I sleep. Also? Tomorrow is Friday. Amen.
What's your favorite way to eat asparagus?
[Sues]