This Blackberry and Turmeric Lemonade is not only the prettiest drink around, but it's incredibly tasty and refreshing and perfect for a backyard party.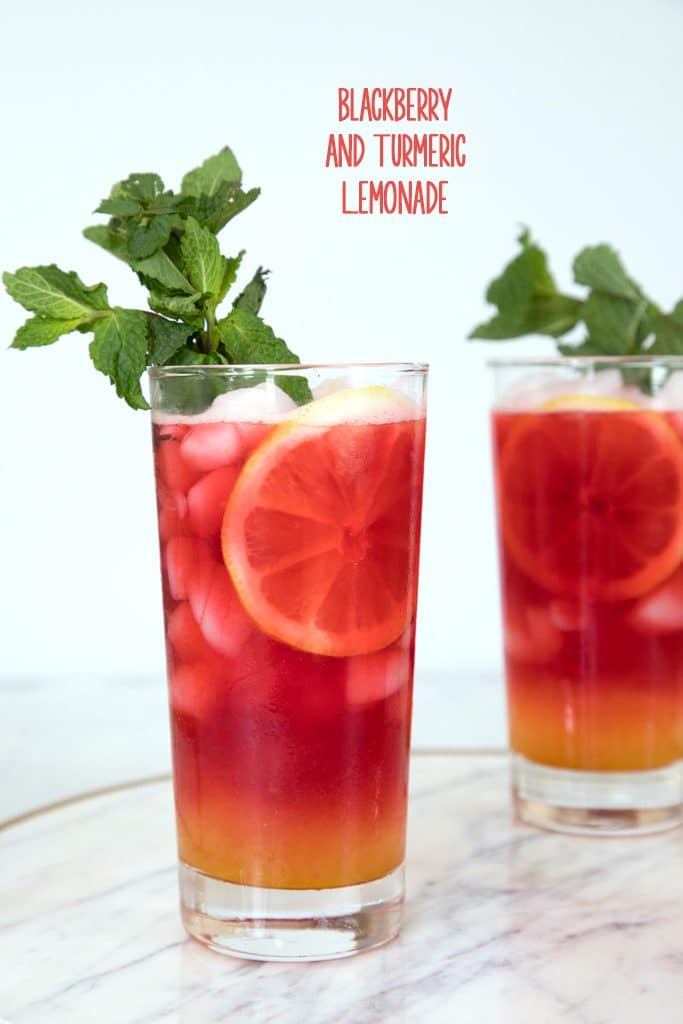 Happy September!! Which, while not the official end of summer, obviously means it's officially pumpkin season. You know what blows my mind? Ten years ago, pumpkin spice wasn't really a thing. Like, pumpkin made for a great pie and was sometimes an ingredient in savory dishes or some other sweet treats, but it wasn't a wild craze that people waited all year to freak out over and enjoy. Or even though about adding to coffee. How did we get here?? And furthermore, will this same crazy phenomenon ever happen with eggnog? Or is eggnog just too polarizing to become the stuff of widespread obsessions, memes, and product takeovers? Though at this point, I'm pretty sure pumpkin spice is just as polarizing... There are so many haters out there! I'm still a lover and sometimes act a bit like a pumpkin spice hipster. Like, "I was totally one of the first people to be into pumpkin spice," which obviously isn't true... But it does feel like it sometimes.
But today's post isn't even about pumpkin at all. Nope. Just because it's September doesn't mean I'm in full-on pumpkin mode. I'm still in summer mode... At LEAST until this Labor Day weekend is over. The weather hasn't really been cooperating with me, but I know it's ridiculously hot in other parts of the country and I'm still holding out hope that we'll land in the 80s a few more times in the coming weeks. Mostly because I feel like I'm just getting started on summer food and drink. Enter this Blackberry and Turmeric Lemonade. I spotted the recipe a couple months ago in Food & Wine magazine and immediately decided to make it, just from the photos alone.
I mean... check out the ombre coloring! And it was so easy to do.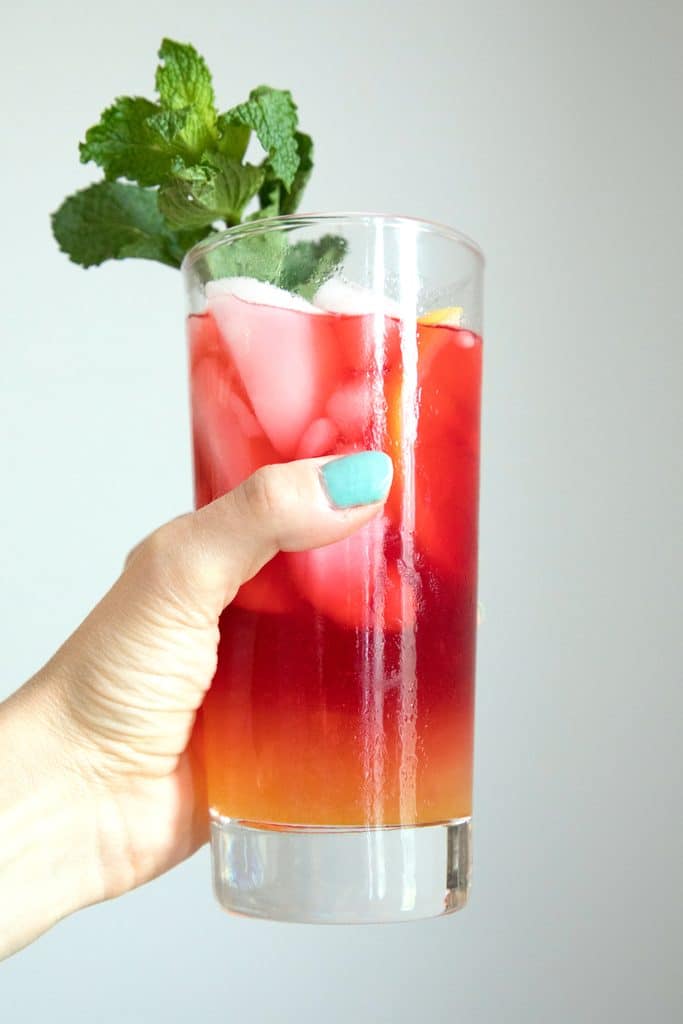 I've been a turmeric fan since I learned about all the supposed health benefits it has... Though news is now coming out that it may not be as miracle-inducing as some say, but hey, I like the way it tastes and it's pretty, so that's good enough for me. And it's especially pretty when mixed into lemonade and blended with blackberry simple syrup.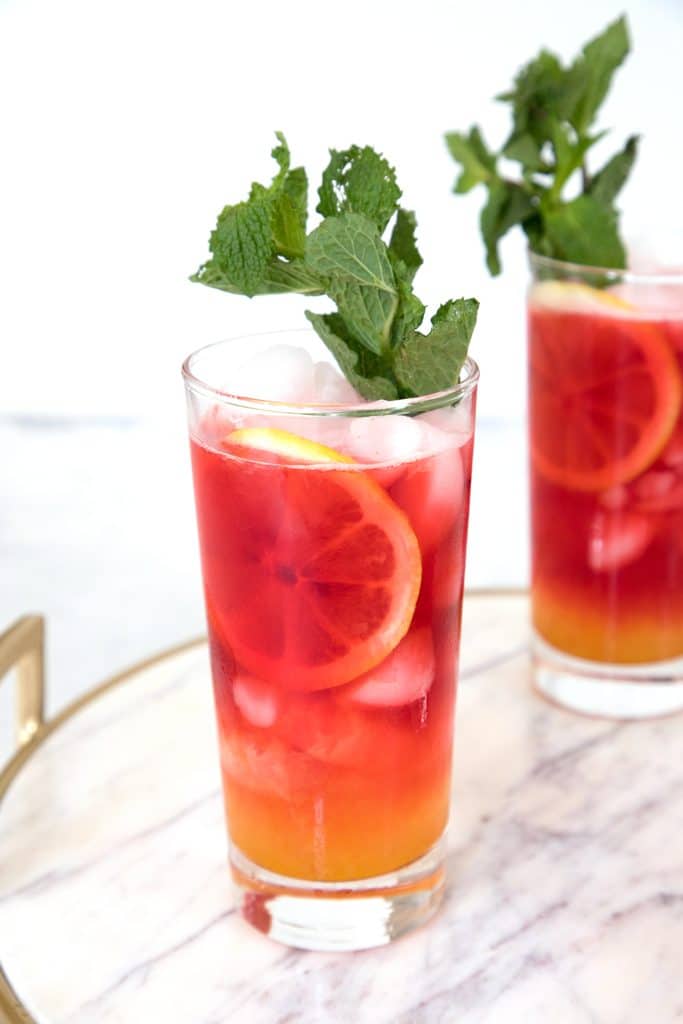 This Blackberry Turmeric Lemonade would be perfect for an end of summer party. I didn't experiment with adding vodka to it (surprising, right?), so I don't know how that would change the color layering, but I do think it would be delicious and would amp your party up a bit. Nobody likes a party where all of the lemonade is alcohol-free.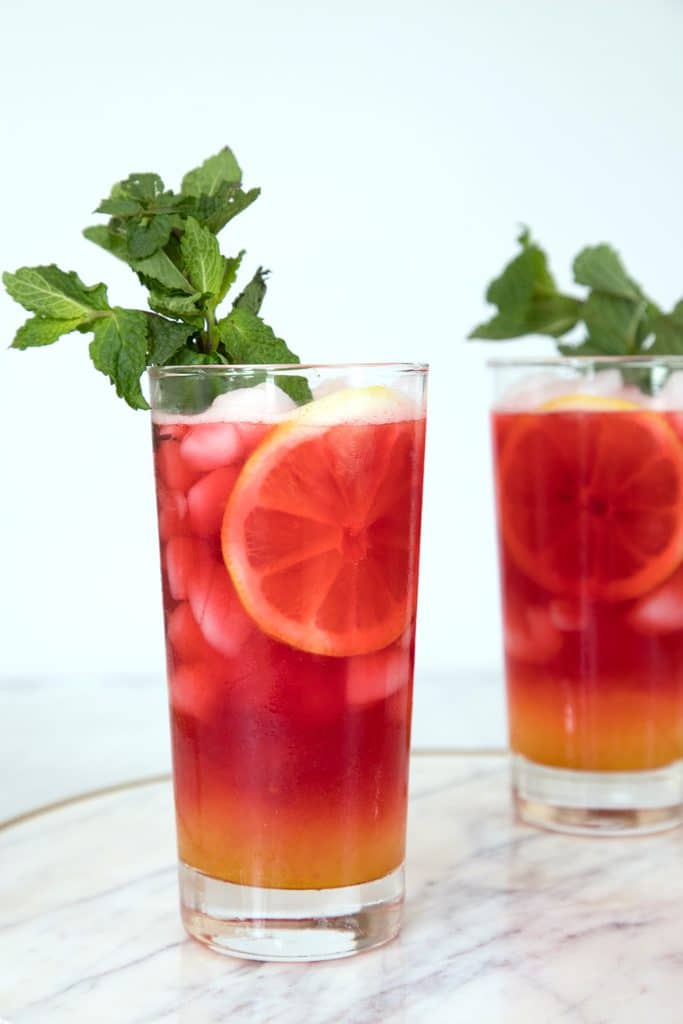 Trust me, I will have plenty of pumpkin and fall-themed recipes for you very shortly. But try to enjoy the remains of summer while it's still here! Sip on some turmeric lemonade in the sunshine and take it all in. That is where you'll find me next weekend!
Are you a turmeric fan? Have you ever tried turmeric lemonade or are you into golden milk?
📖 Recipe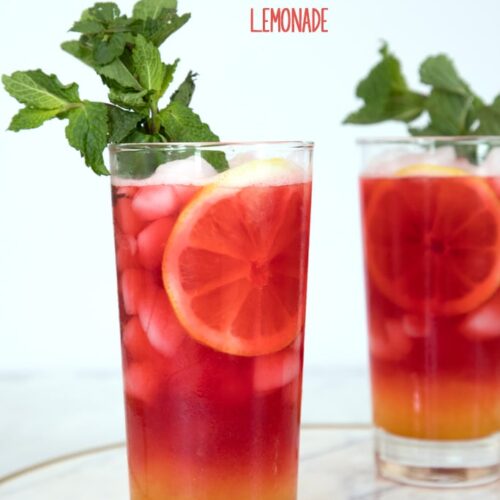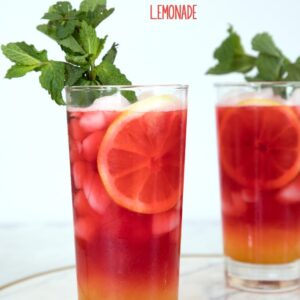 Blackberry and Turmeric Lemonade
This Blackberry and Turmeric Lemonade is not only the prettiest drink around, but it's incredibly tasty and refreshing and perfect for a backyard party.
Print
Pin
Rate
Ingredients
⅔

cup

granulated sugar
,

divided

½

cup

freshly squeezed lemon 
juice,

plus sliced lemon rounds for garnish

½

tsp

ground turmeric

1

cup

(4 oz) blackberries

Ice

12

oz

seltzer

Thai basil, regular basil, or mint


for garnish (optional)
Instructions
Add 
⅓ cup of sugar and ⅓ cup of water to a small saucepan and bring to a boil, stirring to 
dissolve the sugar.

Lower heat to a simmer and let cook for about 5 minutes.

Pour simple syrup into a heatproof quart-size jar or large container and place in fridge to chill, about 30 minutes.

Mix in lemon juice, turmeric and 
1 cup of water. Cover and shake to blend.

Add blackberries and remaining ⅓ cup sugar and ½ cup water to a small saucepan and gently simmer for 10 minutes. Press berries with the back of a wooden spoon to break them up.

Strain blackberry syrup through a fine mesh sieve set over 
a small pitcher or bowl. Cover and place in fridge to chill, about 30 minutes.

Fill 4 collins glasses or other tall glasses with ice.

Shake turmeric lemonade again and divide it amongst the glasses.

Stir seltzer into the blackberry syrup and pour it over the lemonade.

Make sure you don't stir the mixture. Garnish with lemon rounds and basil or mint, if desired and serve immediately.
Share a Photo of Your Finished Recipe!
Mention @wearenotmartha and share a photo if you've made the recipe!