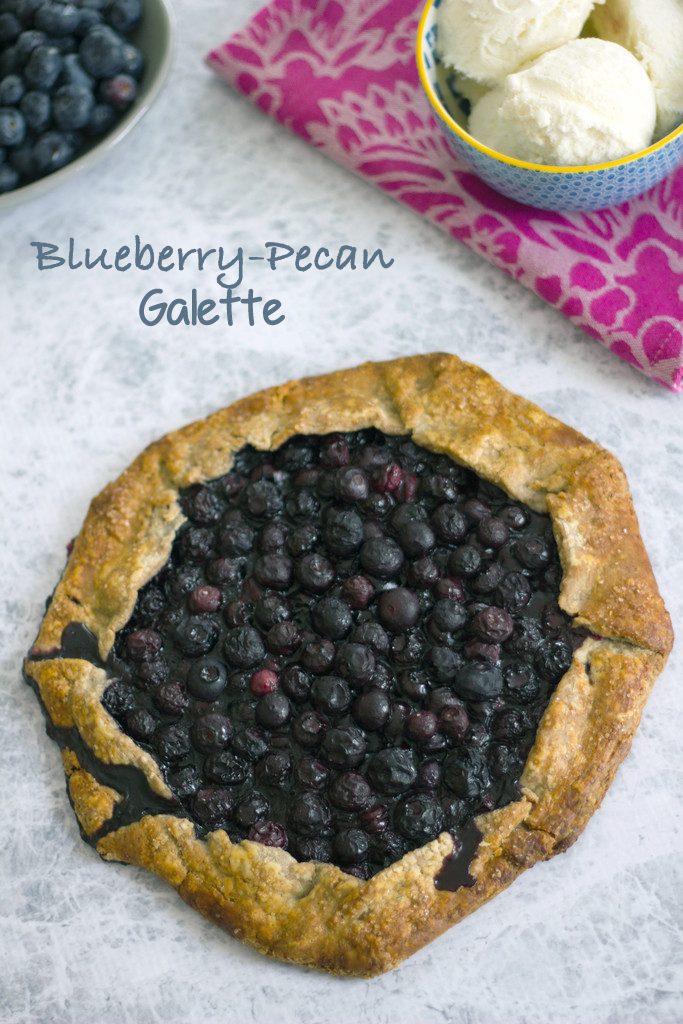 I just really like the word galette. It's so French and fancy-sounding and every time I hear it, I attempt to speak with a French accent and then start singing. For some reason, I always sing "Alouette," but probably only because it's also French and kind of sounds a little bit like galette…. Right? Usually "Alouette" quickly turns into "If all the raindrops were lemon drops and gumdrops" because let's be honest, I don't know any of the lyrics to "Alouette."
And the only French I know is what I learned in the 3 months I took it in 6th grade. I basically remember three things from that class: 1) doing a report on Chartres, 2) writing notes back and forth with my friend Libby, and 3) Watching Téléfrançais, a kids' show from the 80s about a talking pineapple, Ananas. Ananas will always be my favorite French word. Also, please tell me someone else watched Téléfrançais back in the day and that the theme song gets seriously stuck in your head, too??
Anyway, back to galettes. When I got the August issue of Bon Appétit magazine in the mail, Chris immediately pointed to the cover and said, "you should make that." I said, "OK." I made it the next day. And then again, two days later.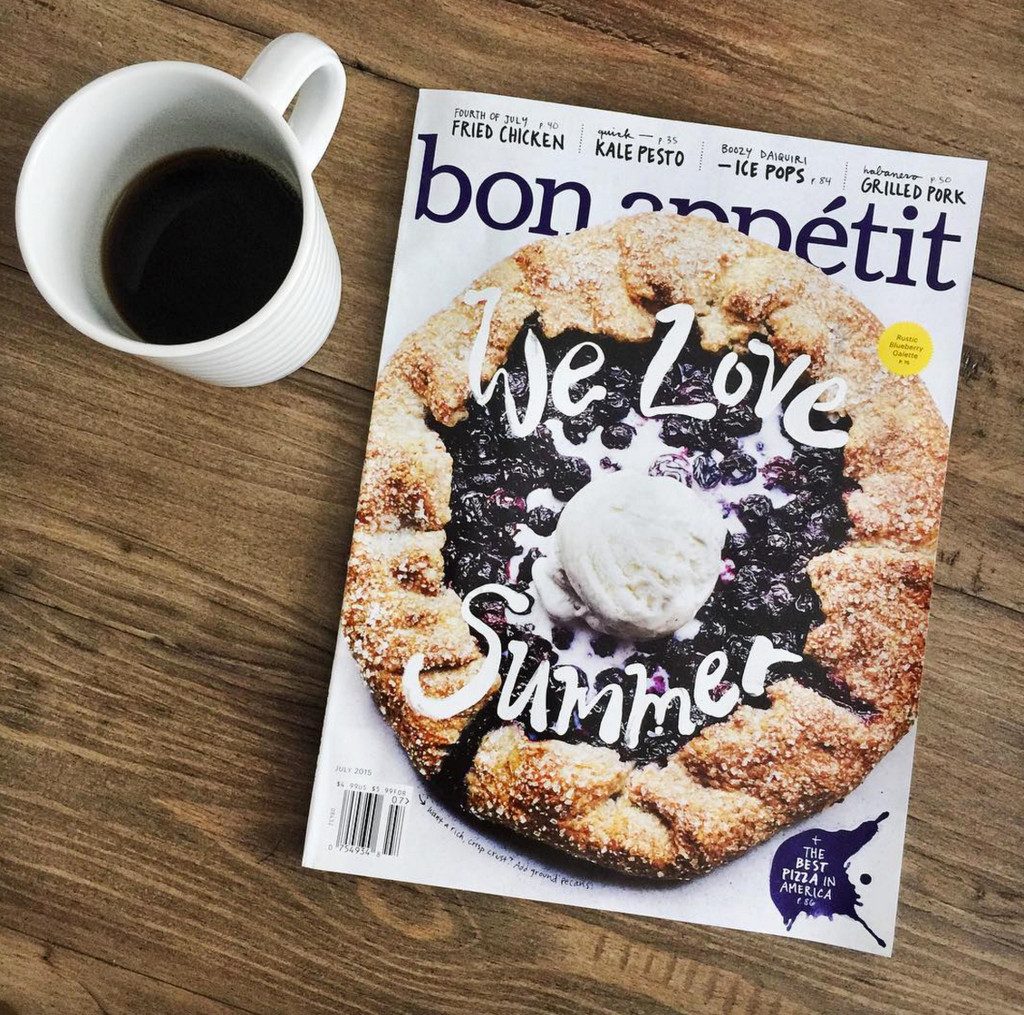 And now I want to make it a million more times and probably all winter long because it will remind me of happier summer times. I obviously prefer to use fresh blueberries, but I'll take what I can get during long Boston winters.
OK, so this is way better than the average galette crust because it involves a healthy dose of pecans, which totally amp up the flavor. Other than the pecans, it's a pretty typical galette crust with flour, sugar, salt, and cinnamon.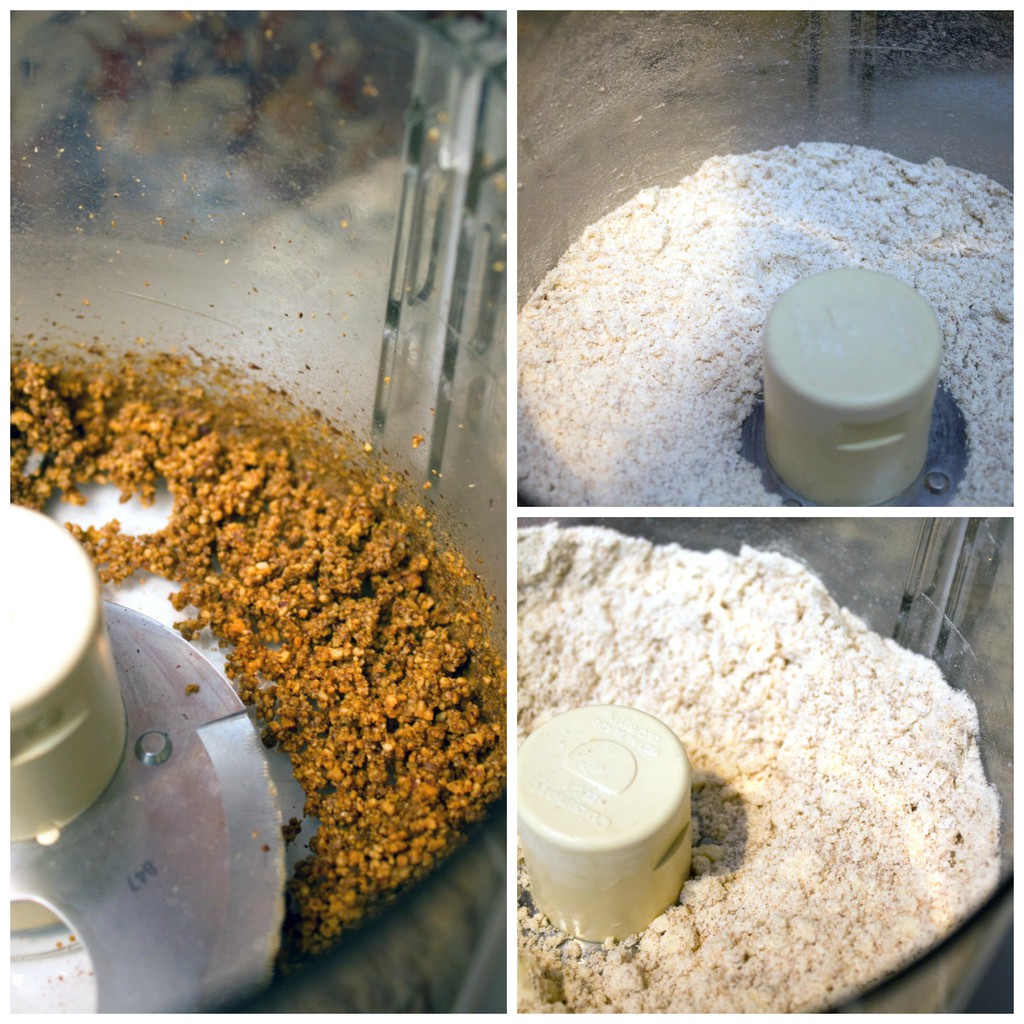 Plus butter, of course. Whenever you make a crust like this, you always need to make sure the butter is super chilled. I always cut it into pieces right out of the fridge and then I pop it in the freezer for a few minutes to re-chill since it tends to get pretty soft during the time it takes to cut it.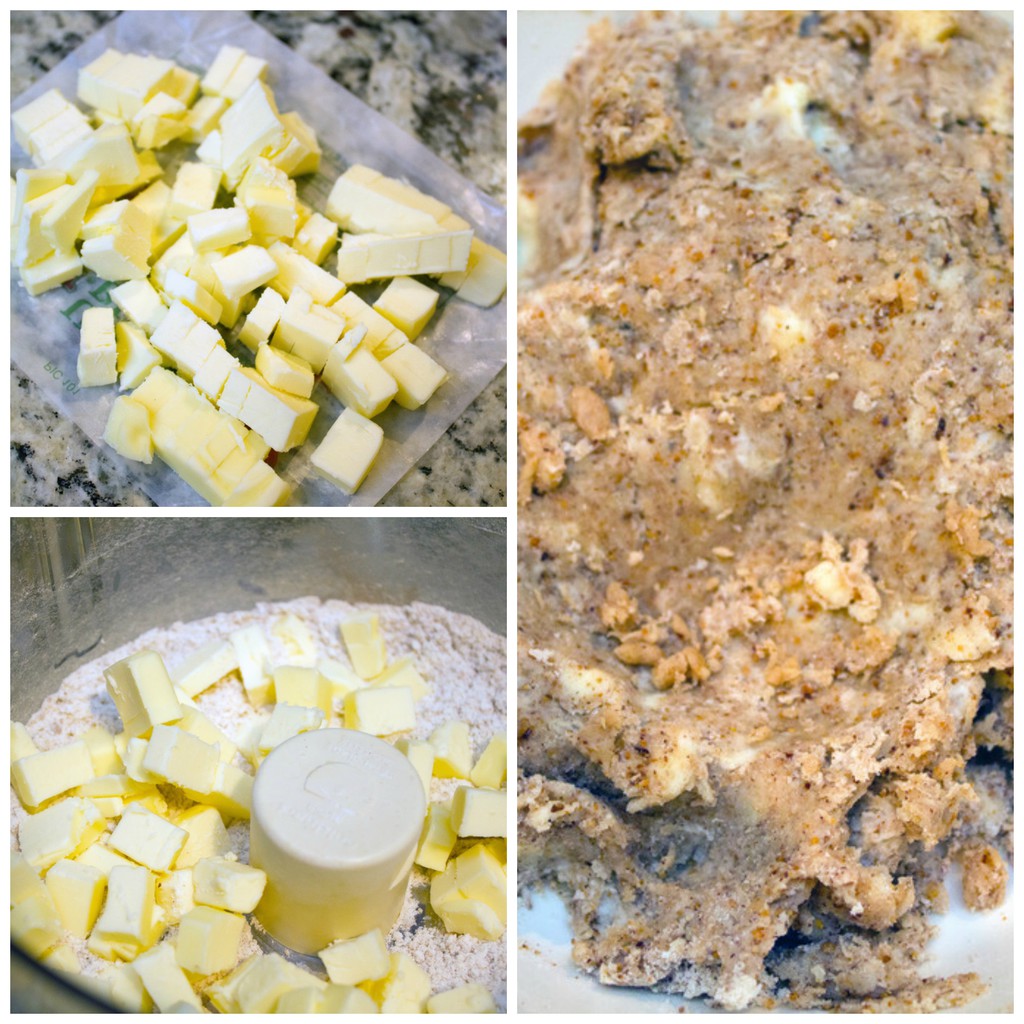 You'll need to make the crust a bit of time since the dough takes about an hour to chill.
Blueberries are sooo good for you. Perhaps the health value goes down just a little bit when you add in the sugar and cornstarch, but I'm still calling this a dessert I don't feel too guilty about eating.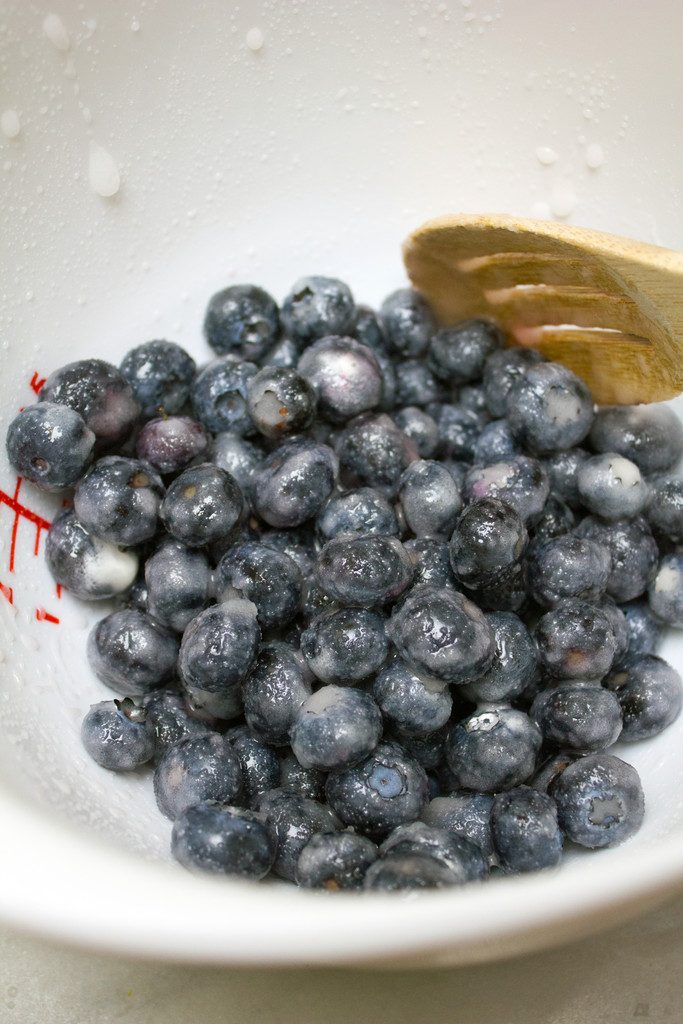 I remember when I was so scared of rolling dough out. I still am not a pro by any means, but my skills have improved tenfold. All you need is a little counter space and a whole lot of flour.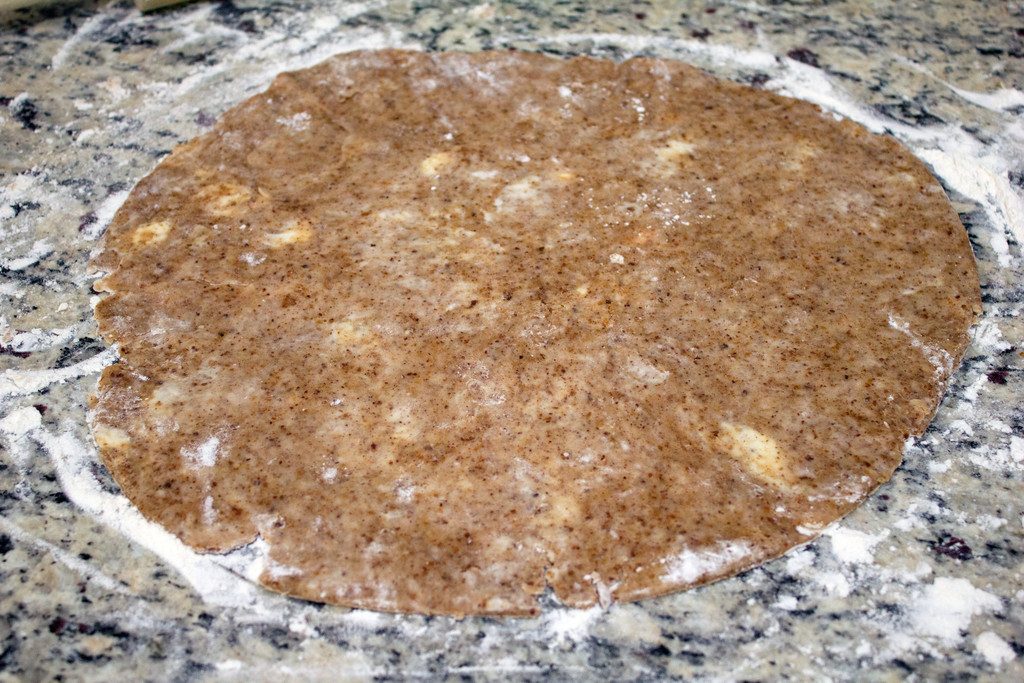 All you need to do once you roll out the dough, is put the blueberry mixture in the middle.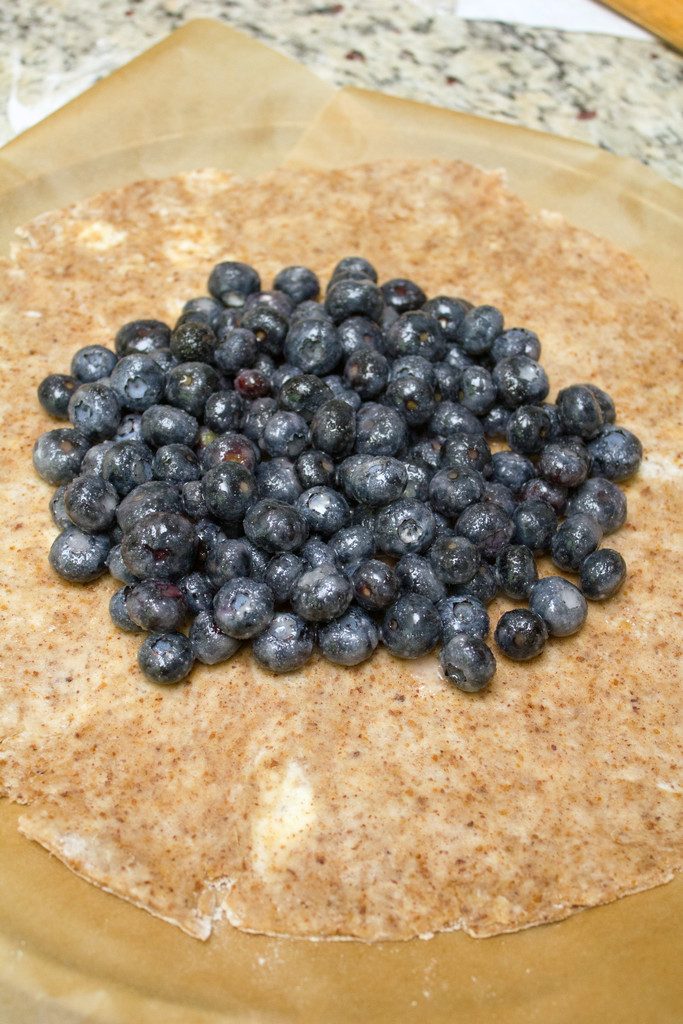 And then fold the edges up and brush with a little milk and sprinkle with sugar.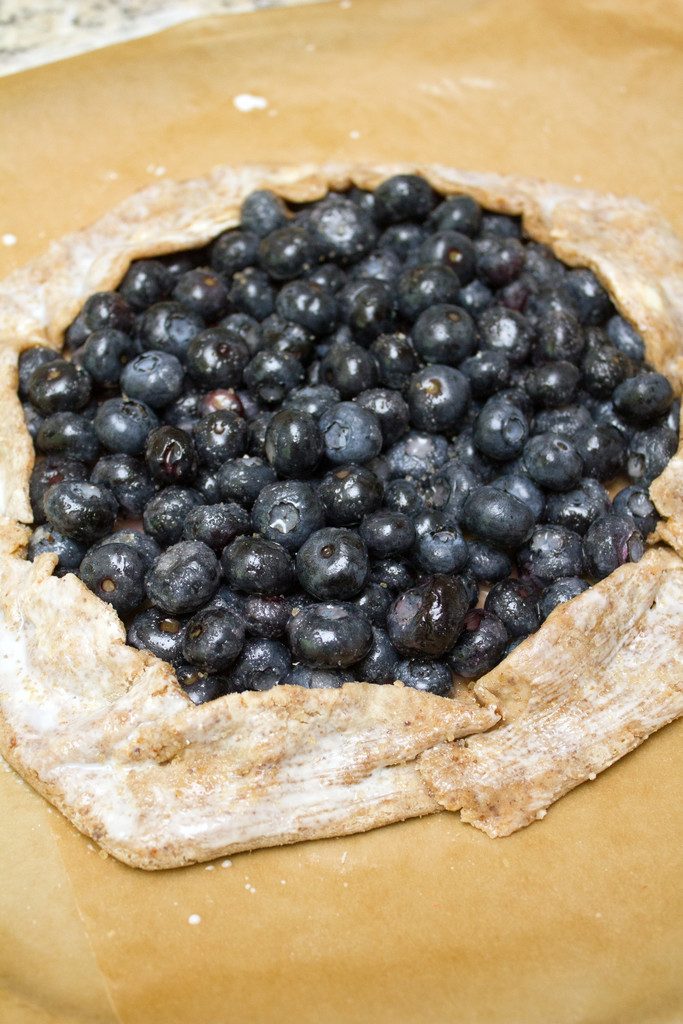 It takes 45-50 minutes in the oven and then technically, you're supposed to let it cool. But I won't tell if you don't tell.
The photo on the cover of the magazine was so beautiful in part because of the scoops of vanilla ice cream on top. I served my ice cream on the side mainly because I'm a horrible food blogger and pretty much only make food that I'm actually going to eat. And since I brought one of these galettes to my parents' house and one to my friends' house, I couldn't scoop the ice cream onto it ahead of time.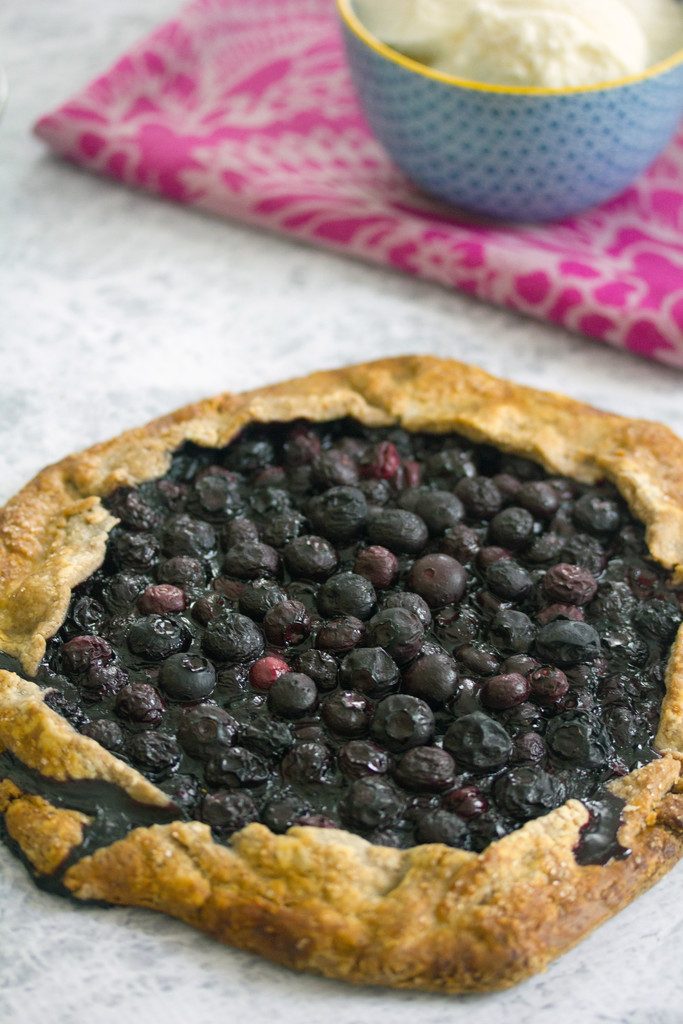 Also, I am not an à la mode type of person. I honestly have very few food aversions, but I really don't like ice cream on my dessert. I love ice cream WITH my dessert, but putting it on pie or cake? No thanks; it just makes my dessert soggy.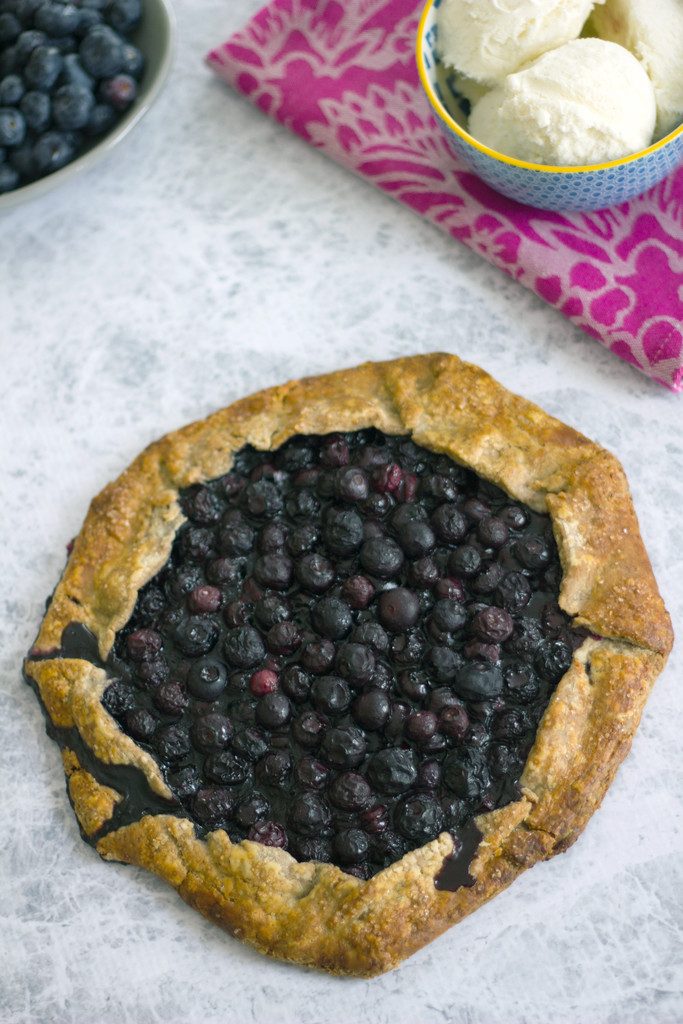 But if you're into the whole à la mode thing, a big scoop of ice cream would be delightful on this. Otherwise, serve it on the side.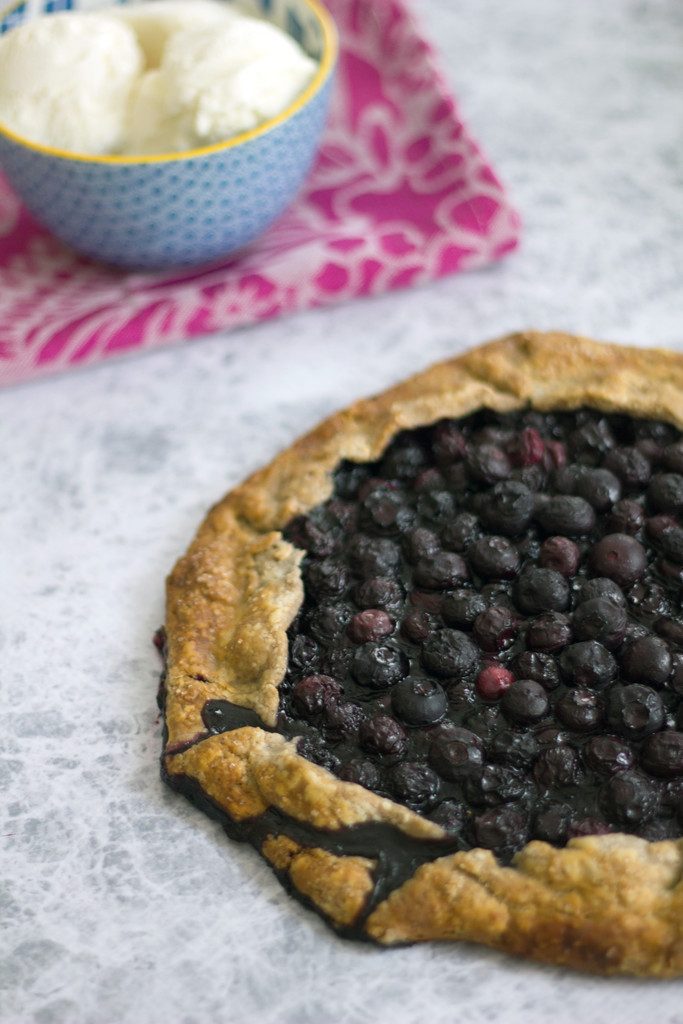 If Thanksgiving is to pie, summer is totally to galettes. They're a little bit lighter than a pie and can take full advantage of all kinds of summer berries. Plus, it's a fun word to say.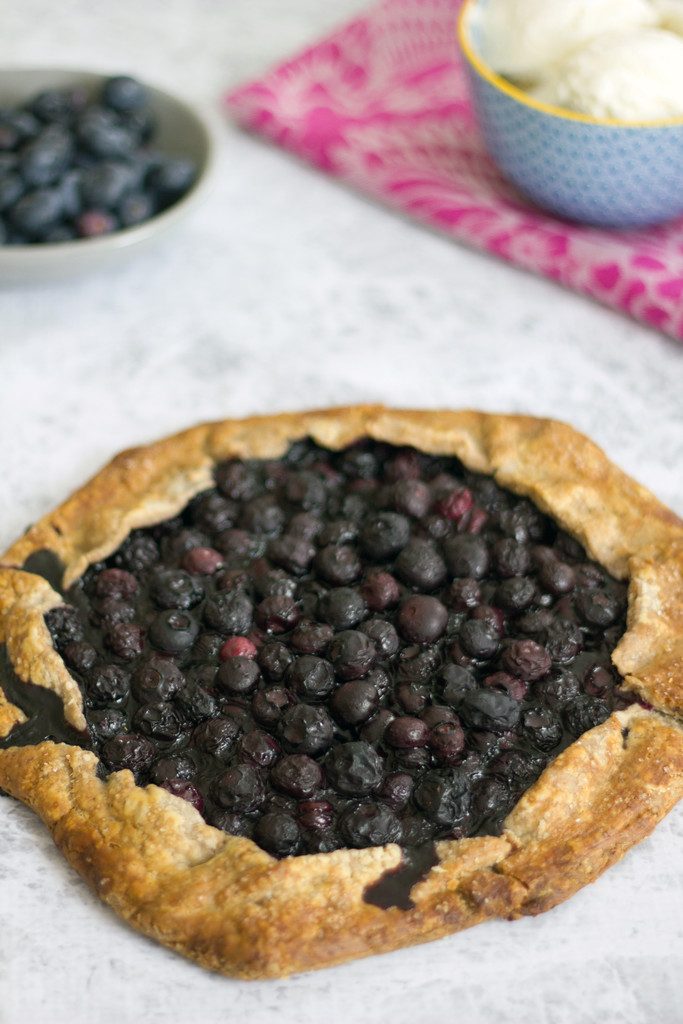 Thank you for this super delightful recipe, Bon Appetit! And guess what? I now want to make the entire cover of the September issue, too. Can you even blame me?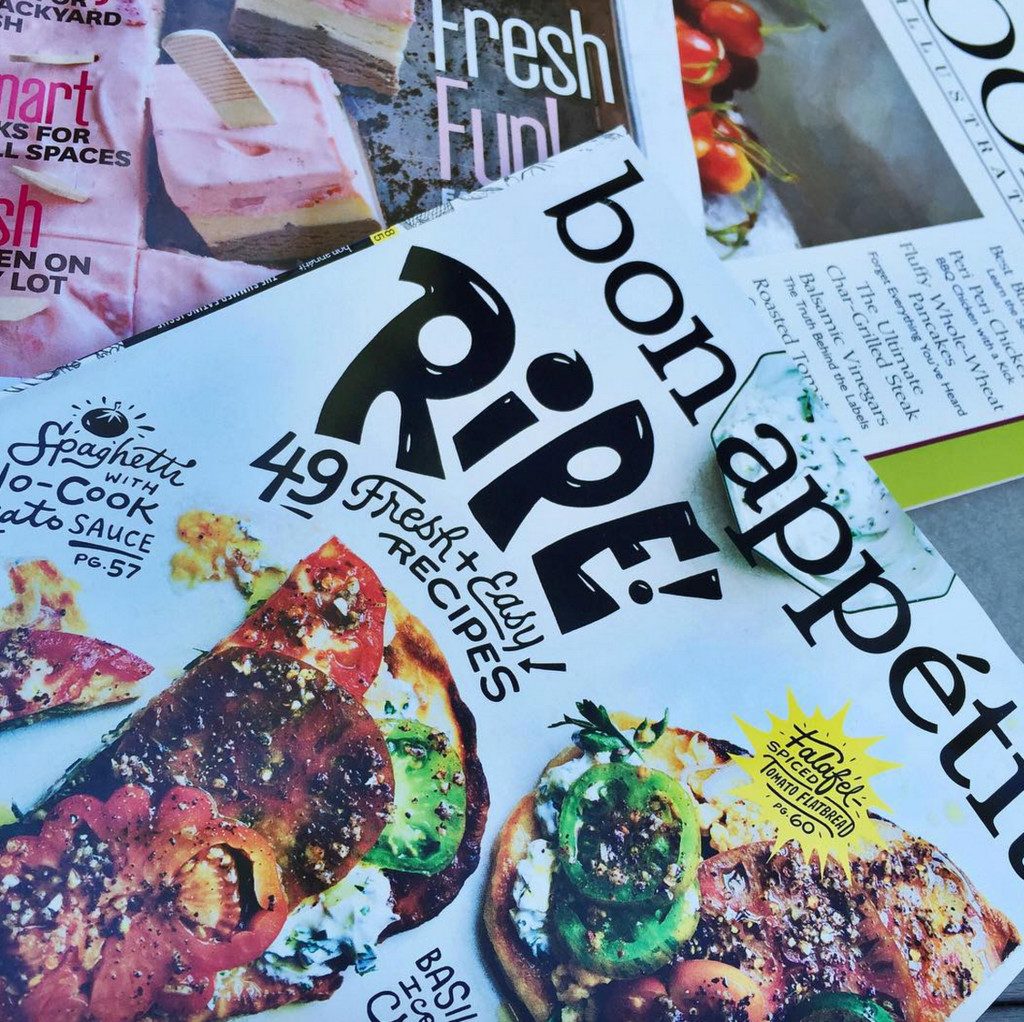 But first? An insanely busy week ahead. I wrote out my Monday to-do list before I left work on Friday and let's just say I'm going to need a bit of a miracle to get to Friday. Somebody's going to need to entice me with the promise of cocktails and my bed.
What are your go-to food magazines?
📖 Recipe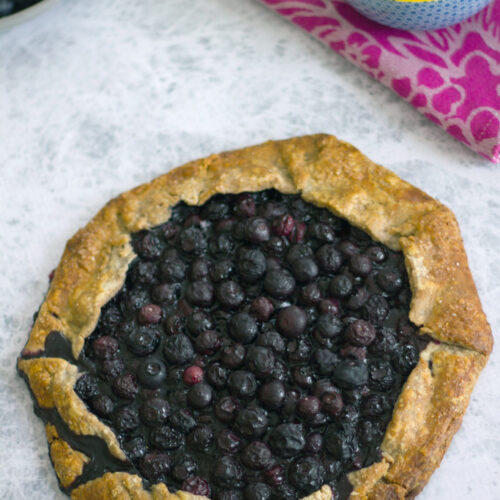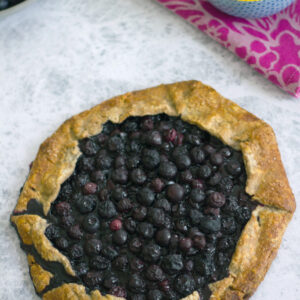 Blueberry-Pecan Galette
With an extra nutty and flavorful crust, this blueberry galette is everything you could dream of for the summer. Serve with ice cream on top or on the side and you'll find yourself making it over and over this summer.
Print
Pin
Rate
Ingredients
Crust:
½

C

pecans

1

C

plus 2 T all-purpose flour

2

t

sugar

½

t

kosher salt

¼

t

ground cinnamon

½

C

1 stick unsalted butter, cut into pieces and chiled
Filling And Assembly:
12

oz.

blueberries

about 2 C

1

T

cornstarch

1½

t

fresh lemon juice

¼

C

sugar

plus more for sprinkling

All-purpose flour

for surface

2

T

milk

half-and-half, or heavy cream
Instructions
Crust:
Pre-heat oven to 350 degrees.

On a baking sheet, toast pecans for about 10 minutes at 350 degrees, until fragrant and just beginning to darken, tossing once. Let cool.

In a food processor, process pecans until they're the consistency of coarse meal. Add flour, sugar, salt, and cinnamon to the food processor and pulse just to combine.

Add chilled butter pieces and pulse until the mixture resembles coarse meal with a few pea-size pieces.

Transfer dough mixture to a large bowl and drizzle 4 T of ice water over the Dough. Mix, adding another tablespoonful of water if needed, just until mixture comes together.

Form the dough into a 6"-diameter disk. Wrap the disc in plastic and place in the refrigerator to chill for at least 1 hour.

Do Ahead: Dough can be made 2 days ahead. Keep chilled, or freeze up to 1 month.
Filling And Assembly:
Preheat oven to 375 degrees.

In a large bowl, toss together blueberries, cornstarch, lemon juice, and ¼ C sugar.

Lightly flour a surface and roll out dough into a 12" round. Carefully transfer dough round to a parchment-lined baking sheet.

Mound blueberries in the center of dough, making sure to leave a 2" border.

Fold edges over of the crust over, overlapping slightly onto the blueberries.

Brush edges dough with milk and sprinkle with sugar.

Bake galette at 375 degrees until the crust is dark golden brown and the filling is bubbling, about 45–50 minutes.

Let cool before serving.

Make Ahead: Dough can be made 2 days ahead and kept chilled (or in freezer for one month). Galette can be baked 1 day ahead, so long as it's tightly wrapped and kept at room temperature.
Share a Photo of Your Finished Recipe!
Mention @wearenotmartha and share a photo if you've made the recipe!