Over the weekend, my dad threw a little BBQ. Actually, he called it a slider degustation. Fancy menu brochure and all.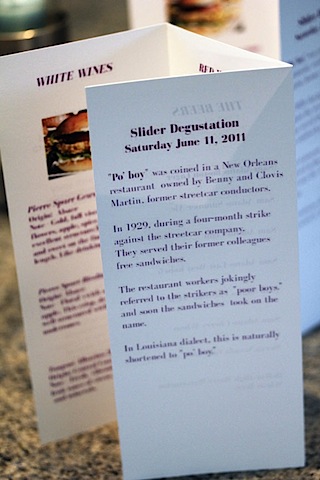 What's a slider degustation you ask? Well, a degustation is the "careful, appreciative tasting of various foods" and well, you likely know what a slider is. You know, a little burger? Any little sandwich, really. And in addition to little burgers, my dad made fried oyster po' boys.
My sister brought the appetizer, which was her award-winning pesto hummus (really, she won a hummus-off contest at work). It was out of this world and I'm definitely going to have her do a guest post soon. You need to try this.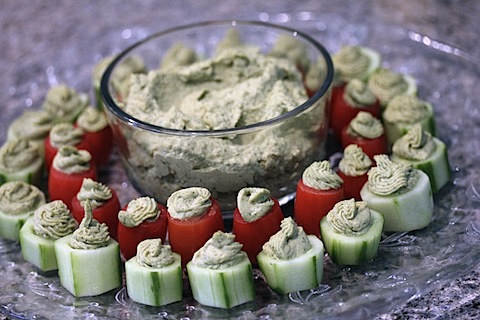 My dad invited his friends Steve and Kelly over and our neighbors Joan and Jim also stopped by to say hi.
We sipped on some gewurztraminer with our appetizer.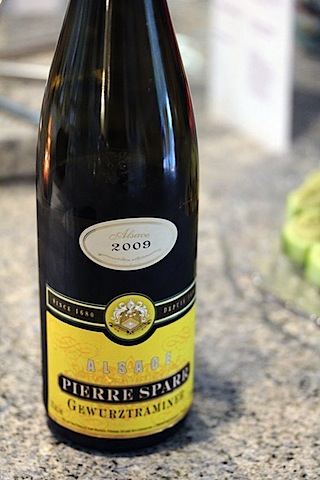 It was perfectly dry and a great way to start the evening.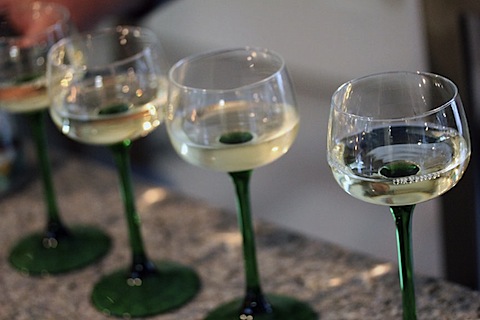 It would also appear that Sam Adams sponsored the event.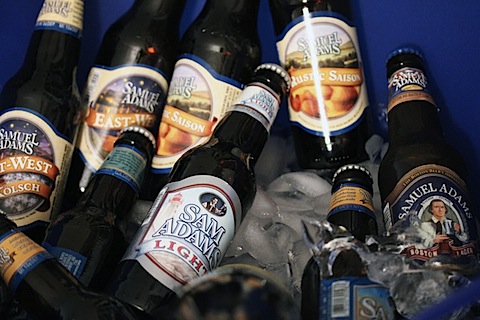 The boys manned the grill.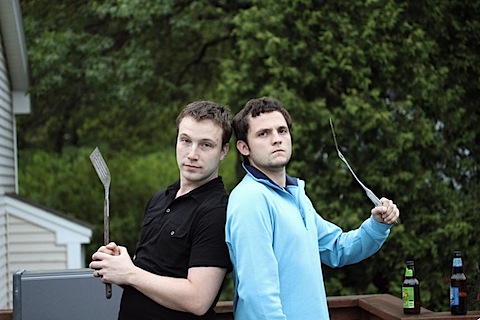 And we lamented over the fact that it was quite chilly (and rainy) outside. The BBQ was more of an indoor event due to the icky weather. But it was nice to step into the cool evening mist when the kitchen got warm.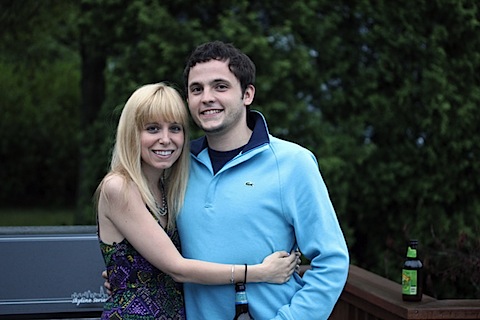 The little burgers were adorable.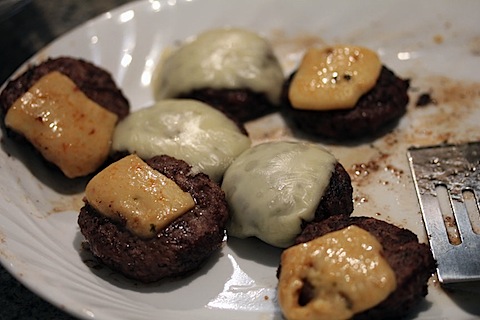 As were the fried oysters. I don't get to enjoy oysters of the fried variety very often as I most usually eat them raw when I do eat them. These were fried in cornmeal, which added a nice crunch.
I obviously made a po' boy with my fried oysters.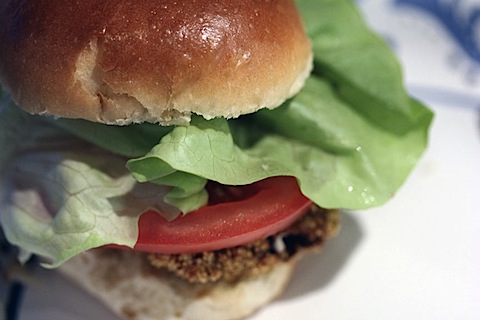 My mom made homemade potato chips: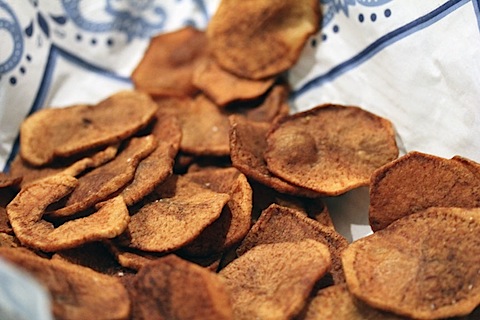 And Steve and Kelly brought these beautiful greens complete with edible flowers. I've had nasturtiums before, but these flowers had an amazingly sweet kick to them, rather than the usual peppery taste I'm accustomed to. I'd totally eat a whole garden of these. I kind of think edible flowers should be involved in every salad.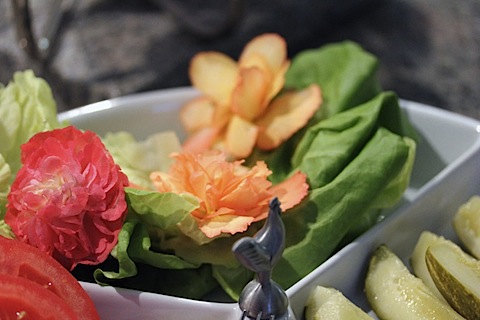 After dinner, we enjoyed ice cream sandwiches, courtesy of moi. My dad asked me to make them, remembering my Valentine's Day ice cream sandwiches. Well, this time I decided instead of buying the ice cream, I'd make my own. But then in true Susie "I try to do way too much" fashion (I swear over-extending myself will be the death of me), I decided to make two kinds of ice cream. And two kinds of cookies. FYI making two kinds of ice cream in less than 24 hours with one ice cream attachment for your Kitchen Aid is not a good idea. But still, I did it.
My dad suggested Ben & Jerry's Cherry Garcia ice cream and when I realized Ben and Jerry had the recipe in their cookbook, I knew I had to try it. I changed a few things (like adding more cherries and chocolate, duh), but it tasted almost just like the store bought stuff!
Cherry Garcia Ice Cream (makes a little more than a quart):
Adapted from Ben & Jerry's
Print the recipe!
• 2 large eggs
• ¾ C sugar
• 2 C heavy or whipping cream
• 1 C milk
• ½ C fresh bing cherries, pitted and halved or quartered
• ½ C small dark chocolate chunks/shavings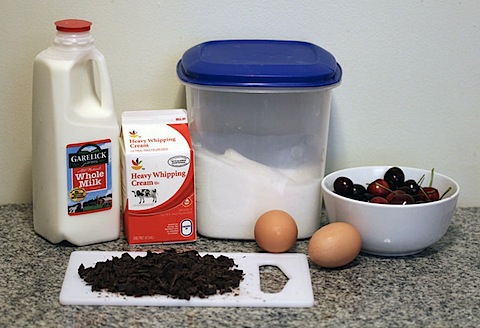 Make sure your cherries are all chopped up. I love the nice big chunks of cherries in Cherry Garica, but if you don't, you can chop them smaller.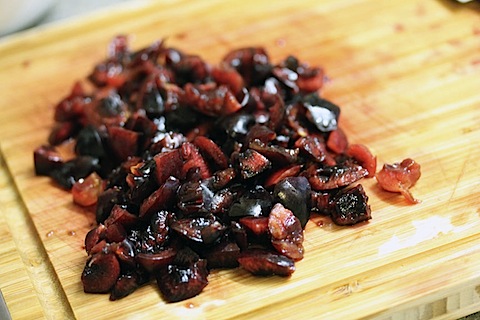 Chop or shave your chocolate, too. I shaved mine, but left lots of nice chunks. Place the ingredients in separate bowls and stick them in the freezer.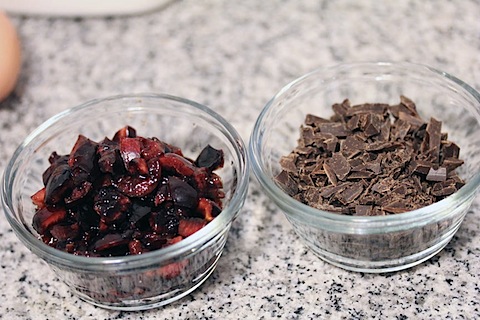 Whisk the two eggs in a large mixing bowl, until light and frothy, 1-2 minutes.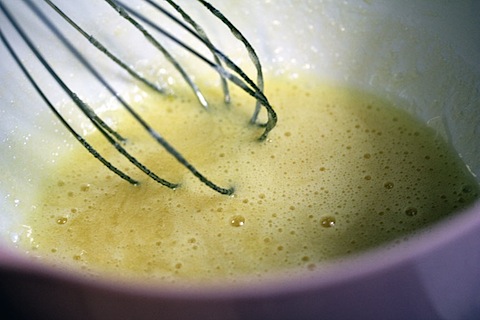 Then mix in the sugar a little at a time, while continuing to whisk until it's all blended.
Pour the cream and the milk into the mixture and whisk until blended.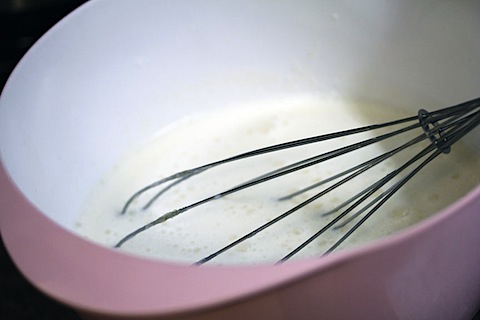 Now, follow the manufacturer's instructions for your ice cream machine. I recommend chilling the mixture for at least 2-3 hours before processing in your ice cream maker. My fatal flaw here was that my ice cream bowl hadn't been in my freezer long enough (I ALWAYS keep it in my freezer, but took it out a few weeks ago to fit a bunch of leftovers in and didn't return it... And didn't realize it until I started ice cream making).
Because my bowl wasn't chilled enough (I guess 4 hours in the freezer isn't even close to 15), my ice cream took forever to firm up. Once it started thickening, I just added the chocolate and cherries and poured it in a container to freezer overnight.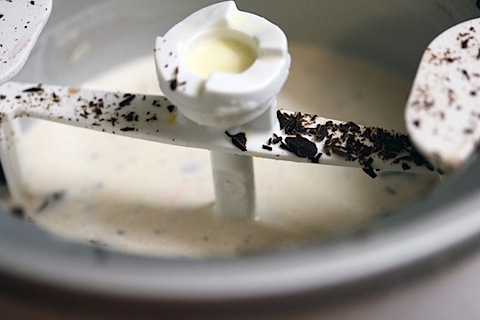 I took it out every so often to stir it. And it actually came out pretty good.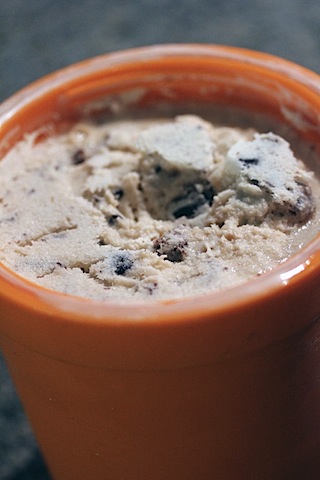 It was slightly icy, but not horrible at all. And furthermore, it tasted just like Ben & Jerry's Cherry Garcia. This will definitely be a new go-to flavor of mine.
Next up, I decided to go for something with peanut butter. Because peanut butter, chocolate, and ice cream is one of the all-time greatest combinations. This recipe is pretty much exactly the same as the one above, except with peanut butter and peanut butter cups, instead of cherries and chocolate.
Peanut Butter Cup Ice Cream (makes a little over a quart):
Adapted from Ben & Jerry's
Print the recipe!
• 2 large eggs
• ¾ C sugar
• 2 C whipping cream
• 1 C milk
• ⅓ C smooth peanut butter
• 8 Reese's peanut butter cups, chopped into large bites
But you must hurry and work quickly or else this will happen: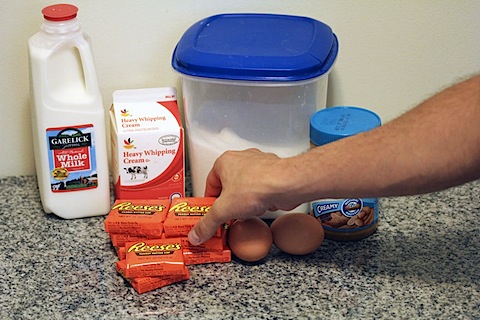 And since you only bought an 8-pack of Reese's Peanut Butter Cups, you need every bit of that peanut buttery chocolate. Next time I'll buy double.
First chop your Reese's cups and put them in the freezer.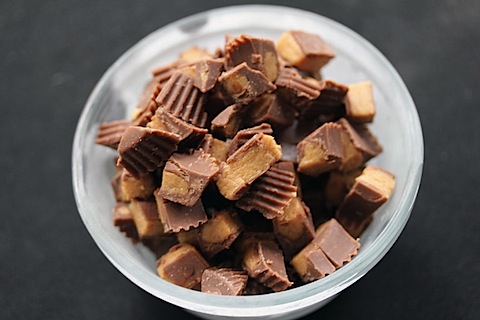 Whisk your two eggs in a large bowl until light and frothy, 1-2 minutes.
Then whisk in the sugar a little at a time, while continuing to whisk until it's all blended.
Pour the cream and the milk into the mixture and whisk until blended.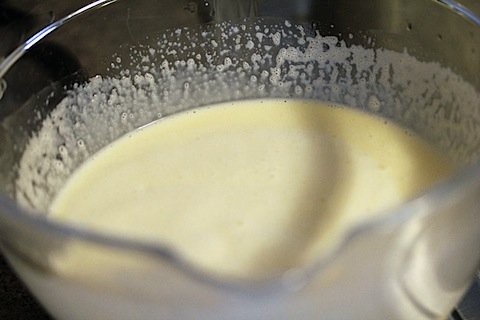 Pour one cup of the mixture into a separate bowl and whisk peanut butter into that mixture until smooth. Then pour the peanut butter mixture back into the cream mixture. Whisk everything together.
Follow the manufacturer's instructions for your ice cream machine.
This time I let my cream mixture chill a bit and made sure my ice cream bowl got 13 hours in the freezer and that seemed to make much creamier (less icy) ice cream. It was pretty much perfection.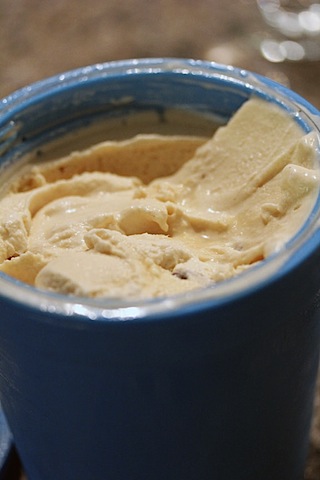 I made the same chocolate cookies I made for my Valentine's Day ice cream sandwiches.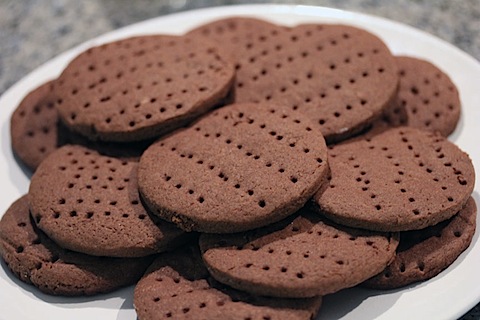 And also made a vanilla variation.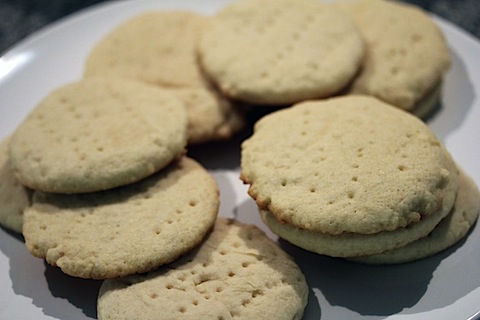 And we ended our meal with various combinations of ice cream sandwiches.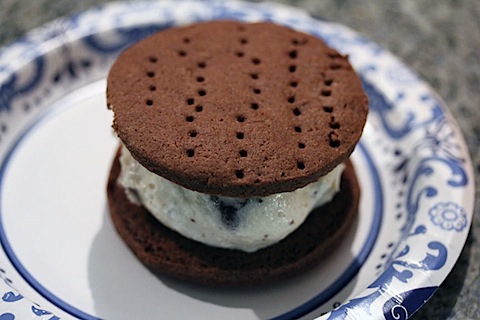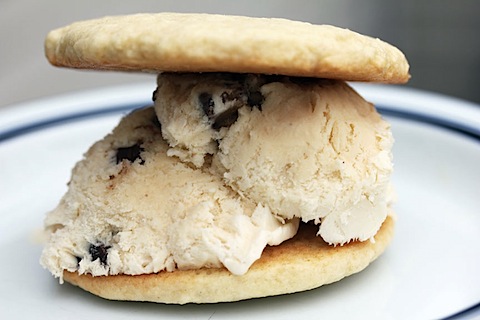 Of course, there was plenty of ice cream left over and I fell into Cherry Garcia heaven.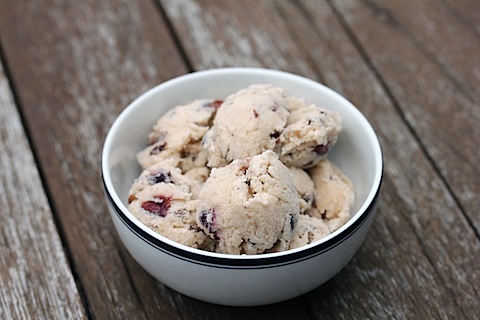 Speaking of, if you're in the Boston area, did you know J.P. Licks still makes Cherry Garciaparra ice cream in honor of Nomar Garciaparra. I still love that no matter where Nomar was playing baseball, we still think of him as a member of the Red Sox. He was just a true sport.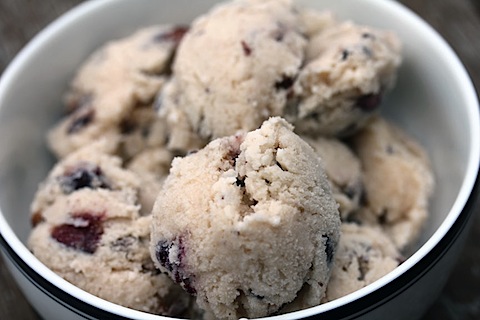 So, what was my favorite flavor of ice cream? Well, peanut butter anything will always be my one true love. But there's something about Cherry Garica (and I honestly don't usually like fruit in my desserts) that makes me swoon. And this did it for me.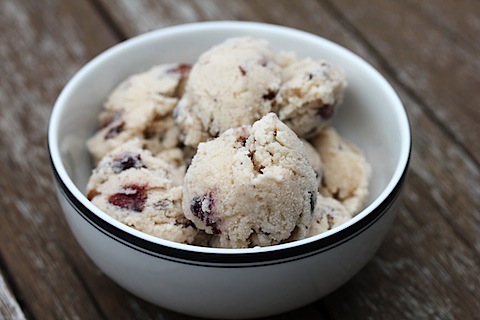 This is only the start of what is sure to be a very full ice cream season. Anybody know where I can buy heavy cream in bulk? It's so freaking expensive and I go through so much of it in the summer. I did head to Demoulas (Market Basket) while I was at my parents' this weekend and while I spent a fortune, I majorly stocked up and spent a whole lot less than I would have at Stop and Shop in the city. Demoulas is my favorite.
Is there anything better than having a fully stocked fridge and pantry (and freezer with ice cream)? It pretty much guarantees your week isn't going to be all that bad.
OK now, what kind of ice cream should I tackle next? Really, my very favorite Ben and Jerry's ice cream is Phish Food. But that would require making all those pesky (but delicious!) dark chocolate fish. Hmmm.
What's your favorite flavor of Ben and Jerry's?
[Sues]