There's something about a big pot of soup simmering on the stove that makes me feel totally at home. My favorite soups are the ones that take hours to cook, that quietly permeate my apartment with their warm savory scents. I'm actually looking forward to a nice cold winter here in Boston, so I can do my freelance work in the living room, while taking breaks dancing to the kitchen to stir a big pot of soup.
But let's be clear on something. I don't like wimpy soups. My soups need to have serious substance to them. But I also need to face the fact that I can probably use something a bit lighter after this past weekend that was Thanksgiving. Let's just say I still have not stopped eating bowls full of stuffing and gravy and plates covered in apple pie and pumpkin cheesecake since Thursday. So yes, my body is seriously welcoming soup. Especially since this one packs in TONS of flavor, in the form of jalapenos (both fresh and pickled). There's nothing worse than a bland, tasteless soup, and this is anything but. And you can totally control the level of spiciness, depending on how much jalapeno and juice you add in. I like a lot.
BUT I obviously had to add some homemade croutons to this healthy soup. Because soup isn't really a meal until you add some carbohydrates, whether it be buttered bread, croutons, or cornbread. Am I right or am I right? The croutons really do add a perfect touch to the soup, so I highly encourage you to make them. I got the soup and crouton recipe from No Tea After 12, an absolutely delightful blog I just discovered. I made a bunch of alterations, but LOVED the basic idea of chicken soup with jalapeno and croutons.
Yes, this soup requires a couple hours of cooking (plus bean soaking), but it's really worth it. Especially when you realize you have soup for a week, plus plenty in your freezer for later in the winter when you're way too lazy to cook.
Chicken Jalapeno Soup:
• 1 lb. dried great northern beans (or navy or cannellini)
• 3 large chicken breasts
• 6 cloves garlic, (3 whole, 2 minced)
• 2 T olive oil
• 1 large onion, diced
• 2 large carrots, diced
• 3 stalks celery, diced
• 2 jalapeno peppers, diced (leave seeds in for extra spice)
• ⅓ C pickled jalapenos, diced (plus some juice)
• 32 oz. low-sodium chicken stock
• 2 T Worcestershire sauce
• 2 t dried cumin
• 2 t dried oregano
• 2 bay leaves
• 4 T fresh parsley, chopped
• Salt and pepper to taste
Before I went to bed the night before I wanted to make my soup, I started soaking my beans.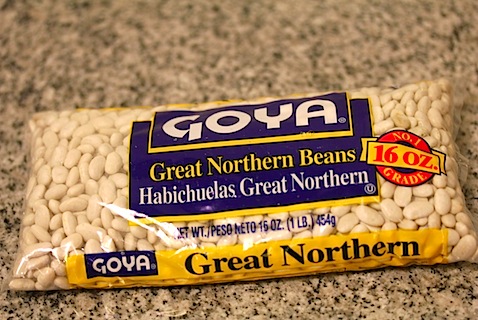 Put them in a large bowl covered with about 3 inches of water. Leave them there overnight and they will expand.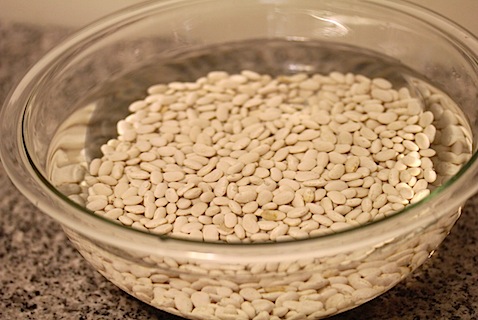 And the next day, gather the rest of your ingredients together.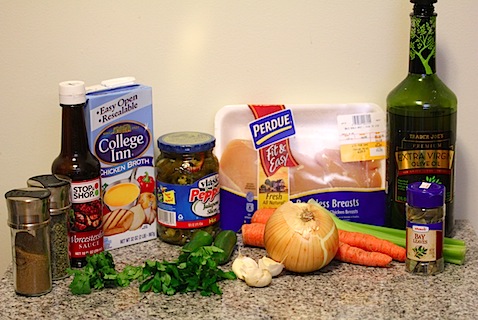 If you want to make the garlic croutons, too (and you really should), you can start making them while you're making the soup.
Garlic Croutons:
• 3 C day old bread (I used a french baguette)
• 1 whole head of garlic
• ¼ C + 1 T olive oil
• 3 T unsalted butter
• Salt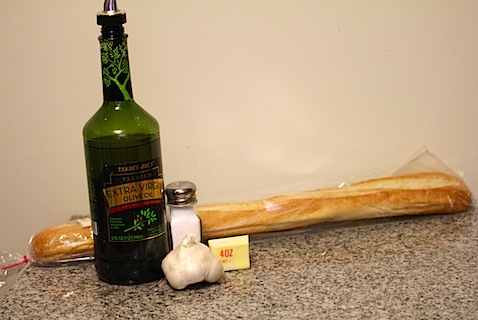 First things first, drain the beans and put them in a large pot. Cover them with water. Peel 3 cloves of garlic and put them in the pot, too.
Bring the beans to a boil, slowly. And when they've reached a rolling boil, turn the heat down to low and simmer until the beans are tender. This could take anywhere between an hour to an hour and a half. Mine were tender after an hour.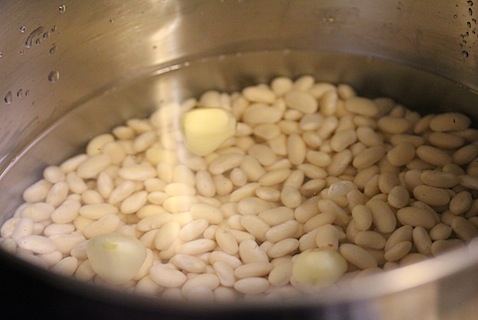 Once the beans are just cooked, remove the garlic cloves and drain the beans.
You'll want to rinse the pot you used, so you can continue using it.
Now is a good time to start poaching your chicken, too.
Put the chicken breasts in cold water in a medium saucepan. Bring the water to a boil and let boil for about 2 minutes uncovered. Then put the lid on and turn off the heat. You can let them continue poaching like this.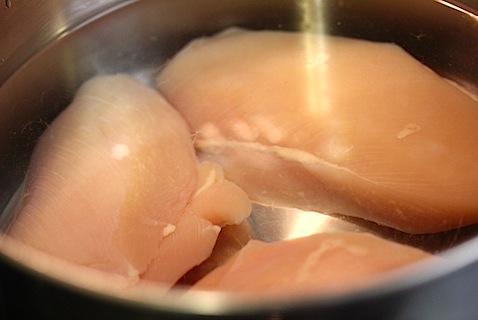 Now you should get started on the croutons if you're planning on making those. Preheat the oven to 400 degrees. Peel away the outer layers of the garlic skin, leaving the individual cloves still in tact. Then cut off about ½ inch from the top of the cloves, to expose the individual cloves.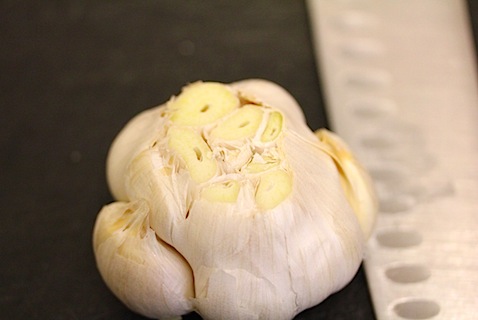 Put the garlic bulb in a bowl and drizzle 1 tablespoon of olive oil over it.
Then wrap the garlic in foil and stick it in the oven for about 45 minutes-an hour, until golden brown and squishy. Take the garlic out and turn the oven down to 350 degrees.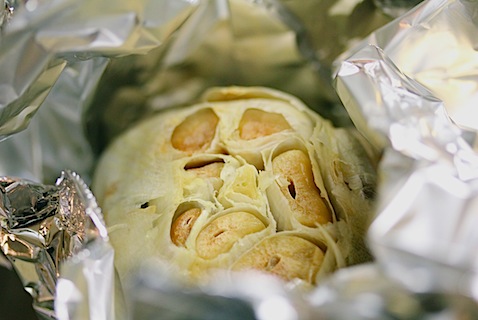 While the garlic is cooking, you'll want to get chopping all those veggies!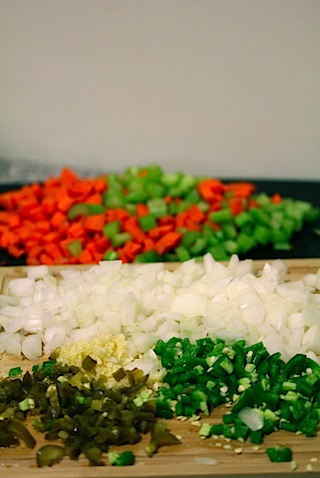 Put 2 tablespoons of olive oil in the pot and soften the onion, celery, and carrots for about 10 minutes.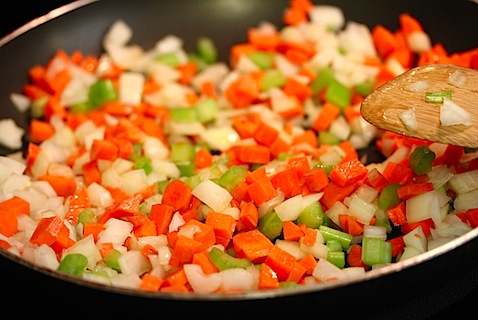 Add the minced garlic, fresh jalapenos, pickled jalapenos. I used about ⅓ C of pickled jalapenos, but add more if you want even more heat, or less if you don't.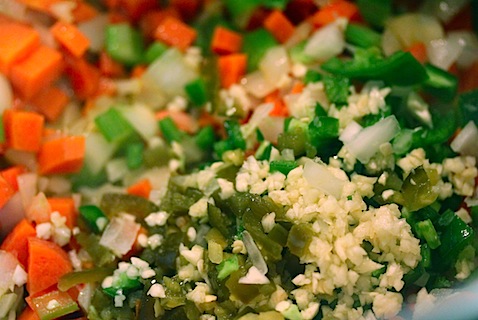 Add the dried spices, too.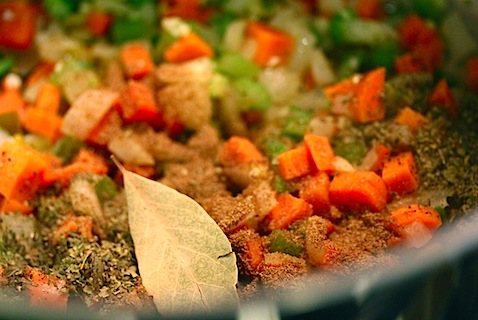 Add the drained beans to the pot and pour in the chicken stock. Add in the worcestershire sauce and jalapeno juice (if you want). Bring the soup to a boil and then let simmer for about an hour, until the vegetables are tender.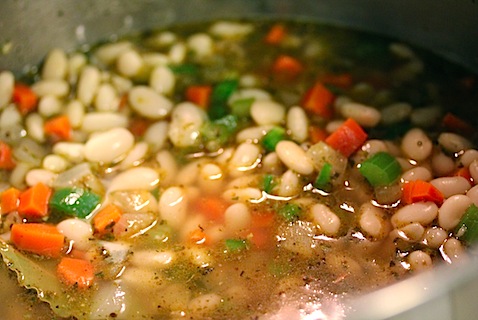 While the soup is cooking, you can take the chicken out of its pot and shred it.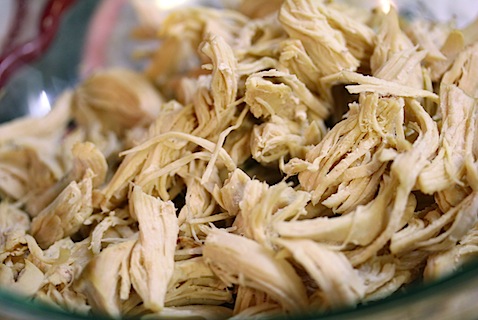 You'll want to add the chicken to the soup during the last ten minutes of cooking. Season with salt and pepper.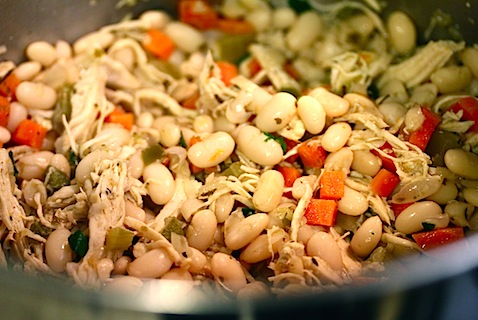 And, of course, while the soup is cooking, finish your croutons. Heat ¼ C olive oil and 3 T butter over medium heat. While it's heating, rip the bread into bite-sized, crouton-like pieces.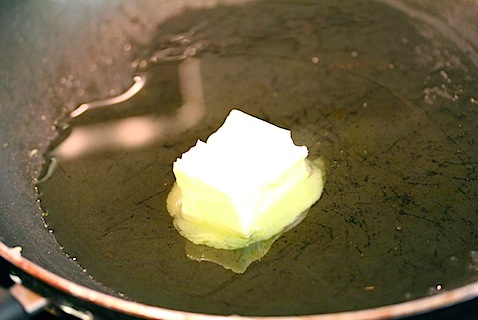 Now for the fun part! Squeeze all the roasted garlic into the pan and squash it down with the back of a spatula or spoon. When it's heated through, turn the heat up to high and get the oil really hot without burning the garlic.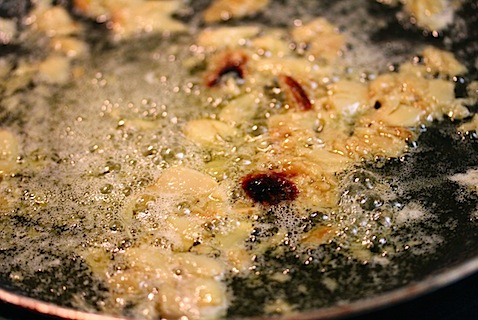 Then put the bread into the pan and let it soak up the garlic oil/butter. Continue stirring the bread for about a minute, to let it toast.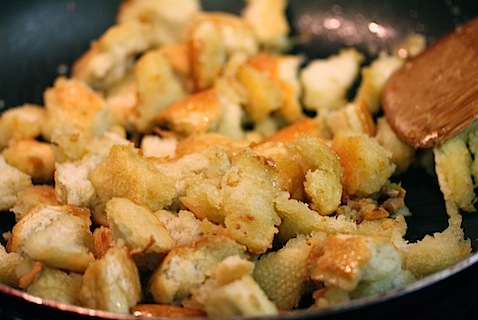 Then put it into a baking tray.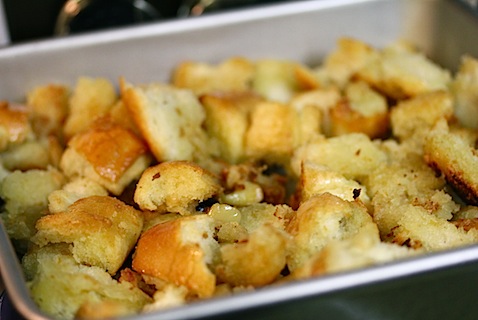 Pop it into the oven for about 15-20 minutes, until deeply golden brown. Your kitchen will smell like heaven and you will NOT be able to resist eating one of these the second they come out of the oven. Just try.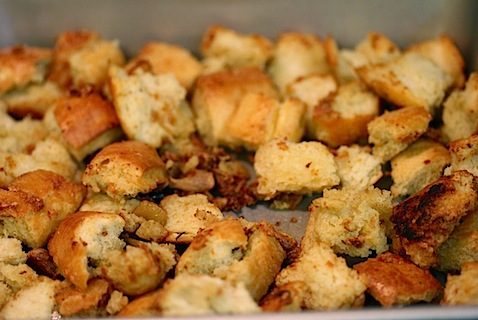 Serve up a nice big bowl of the soup, with some parsley on top. And plenty o' croutons.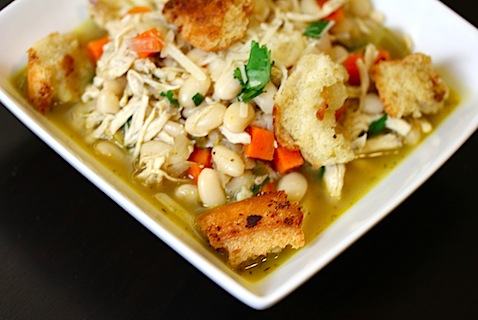 This soup is absolutely perfect for the week after Thanksgiving because a) it doesn't involve turkey b) it's pretty light and healthy, and c) it's getting pretty darn cold up in these parts.
But also, if you do happen to have plenty of Thanksgiving leftovers, you can use turkey in place of the chicken in this soup.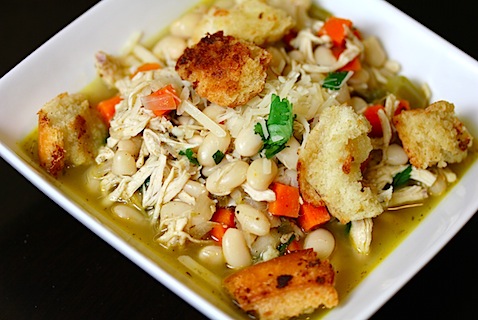 And if you are still in major pig-out mode, you can just sit on your couch with a bowl of the croutons and snack on those. Much like I've been doing with stuffing and gravy the past couple days. Has anyone ever tried adding croutons to stuffing? Because that could really be worth something.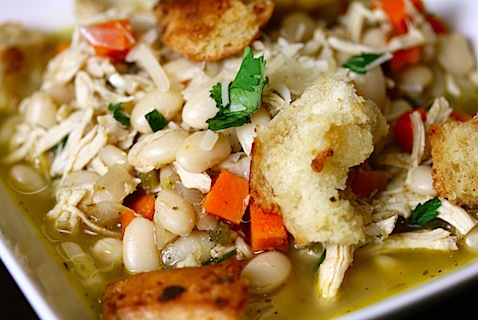 I loved the spicy kick of this soup and happily slurped up all my leftover broth. But there was also more than enough sustenance to the soup. It was chock full of chicken, beans, and veggies. Perfect all around.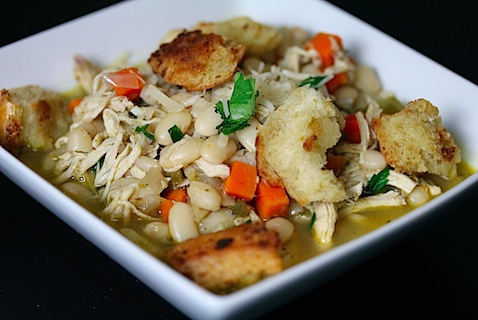 Sadly, Thanksgiving can't be every single day of the year. But this soup is making things a little bit better for me!
What are you eating this week after Thanksgiving?
[Sues]