These Cinnamon Bun Oreo Cheesecake Bars use Cinnamon Bun Oreo Cookies in the cookie crust and and the cheesecake filling for a delicious dessert cheesecake bar.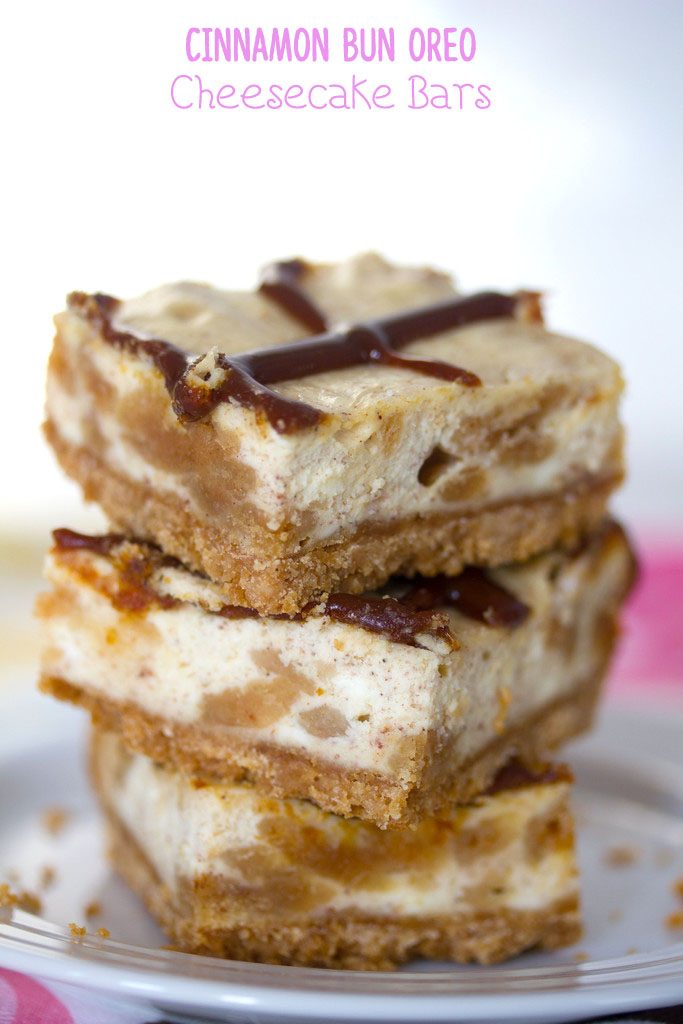 You need to make these cheesecake bars right now. Like, put down whatever you're doing and start making them. They need to bake for 40 minutes, rest for an hour, and chill for another hour, so if you don't get started now, you're going to regret it....... Soooo, are you making them yet? Is my peer pressure breaking you?!
Once upon a time, long long ago, I worked in a popular mall clothing store (ahem, American Eagle). It was my first "real" job, aside from things like babysitting and it most definitely taught me a lot. Like the fact that I am a really, really bad salesperson. I'd happily find customers anything they desired and could put together an outfit like a pro if needed (I was also really good at spending my whole paycheck on clothing), but if the customer didn't want help, I had a really hard time being pushy. One time, a guy went into the fitting room and my boss handed me a pair of jeans and told me to knock on the door and tell him they would look good on him. I wanted to crawl under the denim table and never come out. But what I actually did is walk over to the fitting rooms, stand there for a minute and then come back and tell my boss he wasn't interested. I just could not bring myself to knock on the door.
However, I have no qualms about pushing these Cinnamon Bun Oreo Cheesecake Bars on you. Maybe it's because unlike those American Eagle jeans, I truly believe in these. And think they will look really amazingly good on you. Well, maybe that's a lie... If you eat too many, they make not look great on you. But the pure joy you feel as you're indulging will radiate off of you, which is totally worth it.
Have you tried these new cookies yet? Cinnamon Bun Oreos. I'm addicted. In a bad way.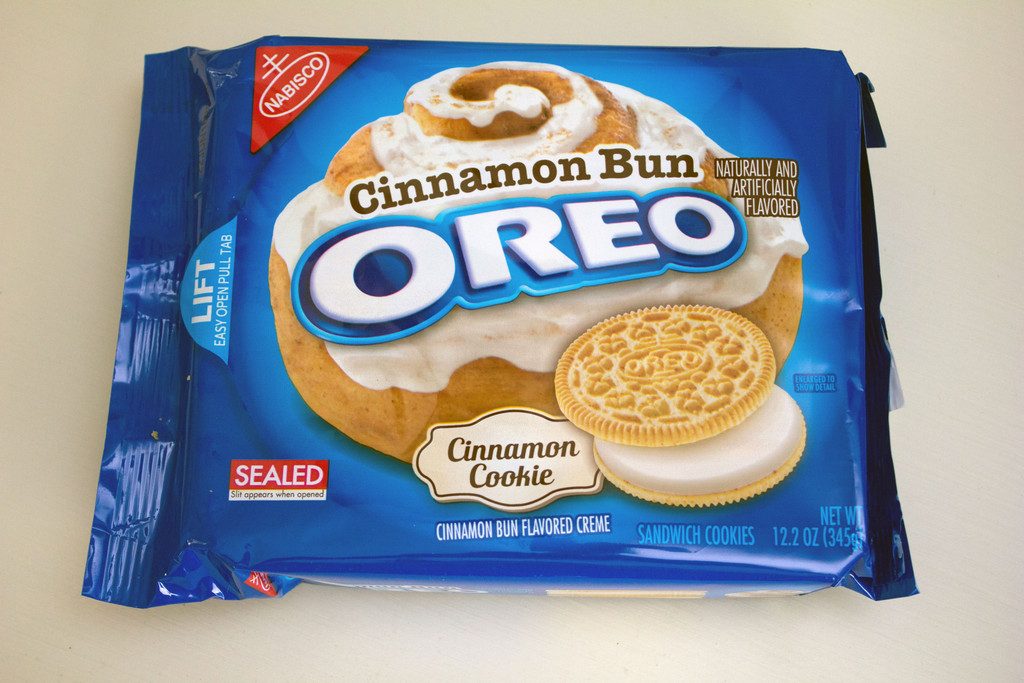 Don't get me wrong, I'm a total chocolate lover, but there's just something about a sugary vanilla cookie with a touch of cinnamon. Sugar, sugar, sugar! Have I mentioned I'm not doing so well with consuming less sugar so far in 2016? Oh well?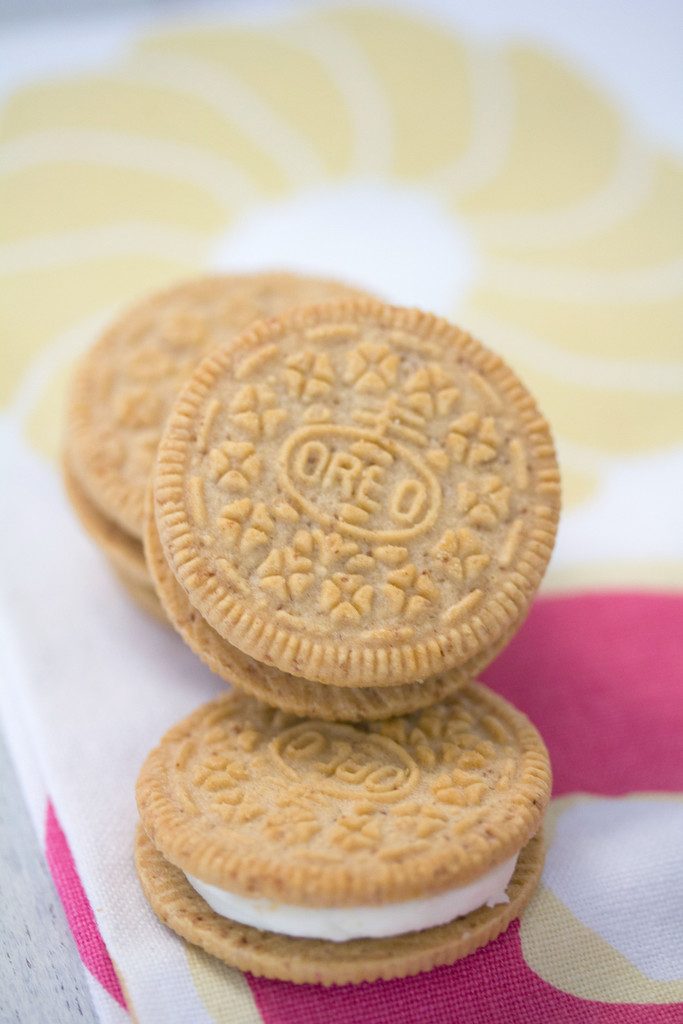 I went through many, many years of life not being very impressed by cheesecake. It was totally meh in my opinion. But for some reason, I've recently fallen in love with it. I would still never choose a plain cheesecake for dessert, but one fully loaded with chocolate, candy, or cookies? Give it to me now. I recently made Shugary Sweets' Salted Caramel Chocolate Cheesecake Cake and dipped quite a bit deeper into love. After I tried the new Cinnamon Bun Oreo Cookies, I knew Cinnamon Bun Oreo Cheesecake Bars had to happen!
These cheesecake bars obviously have a cookie crust.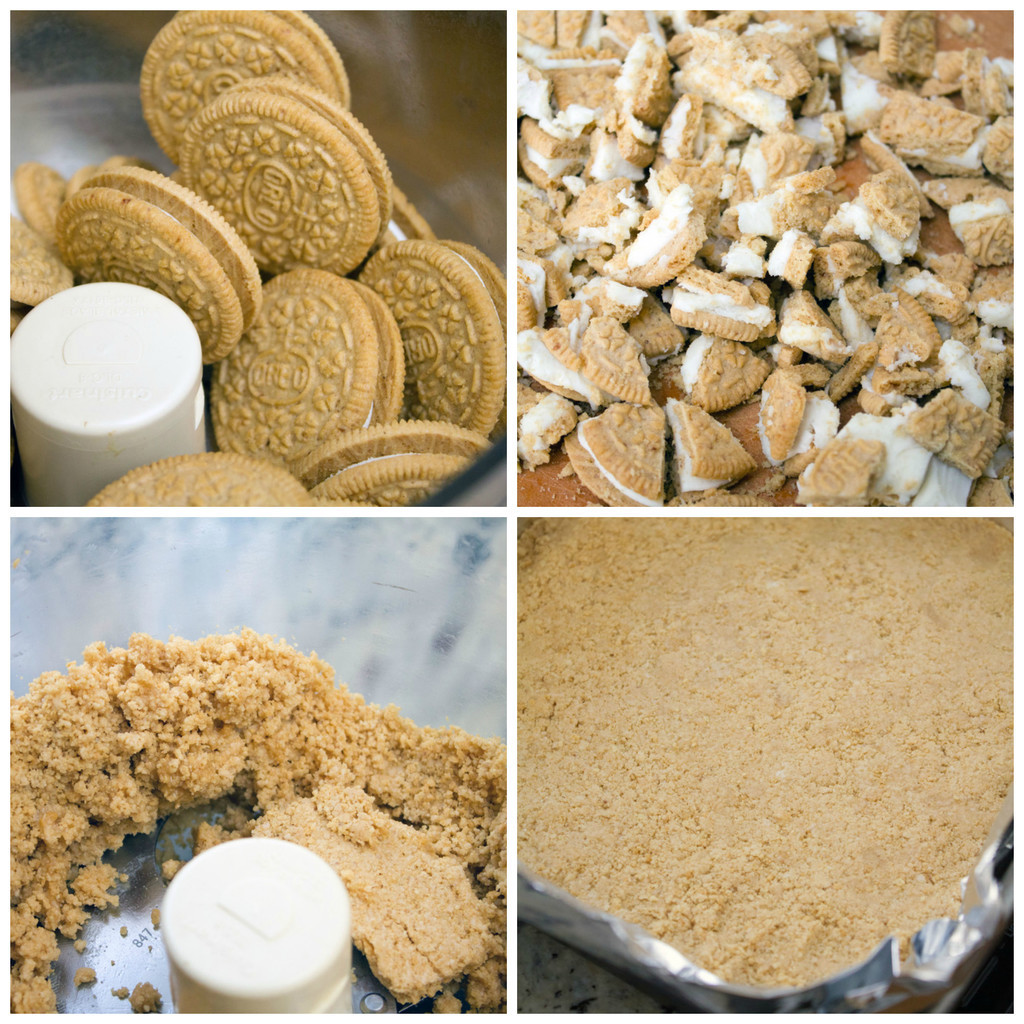 And a cream cheese filling... With lots more cookie mixed in. Yes, I bought two packages of these Oreos at the grocery store. And yes, I wish I bought three because after making these cheesecake bars, I don't have enough left to just stuff my face with.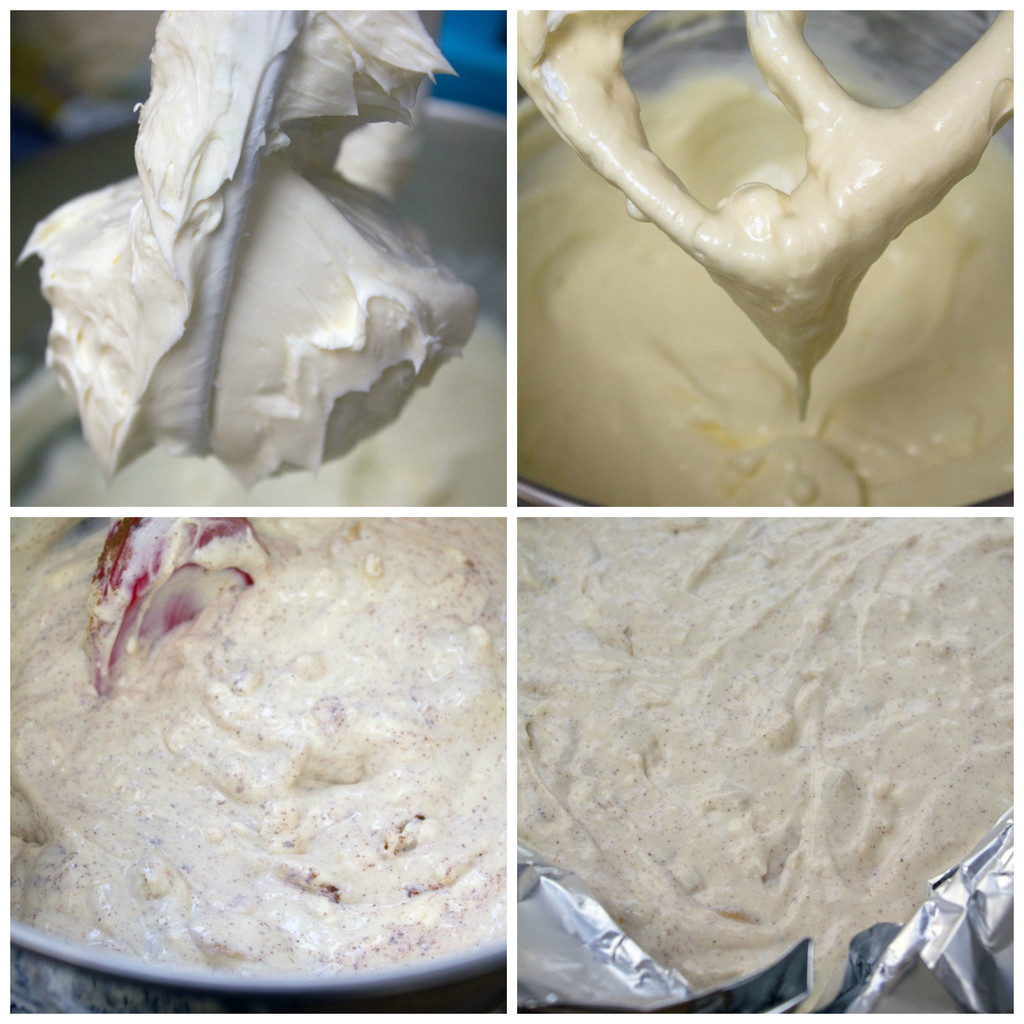 I also whipped up a super quick cinnamon caramel sauce to drizzle over the top. Once you realize how easy caramel is to make, you will never want to buy it from the store again. I promise I'm not just saying that- it really is easy!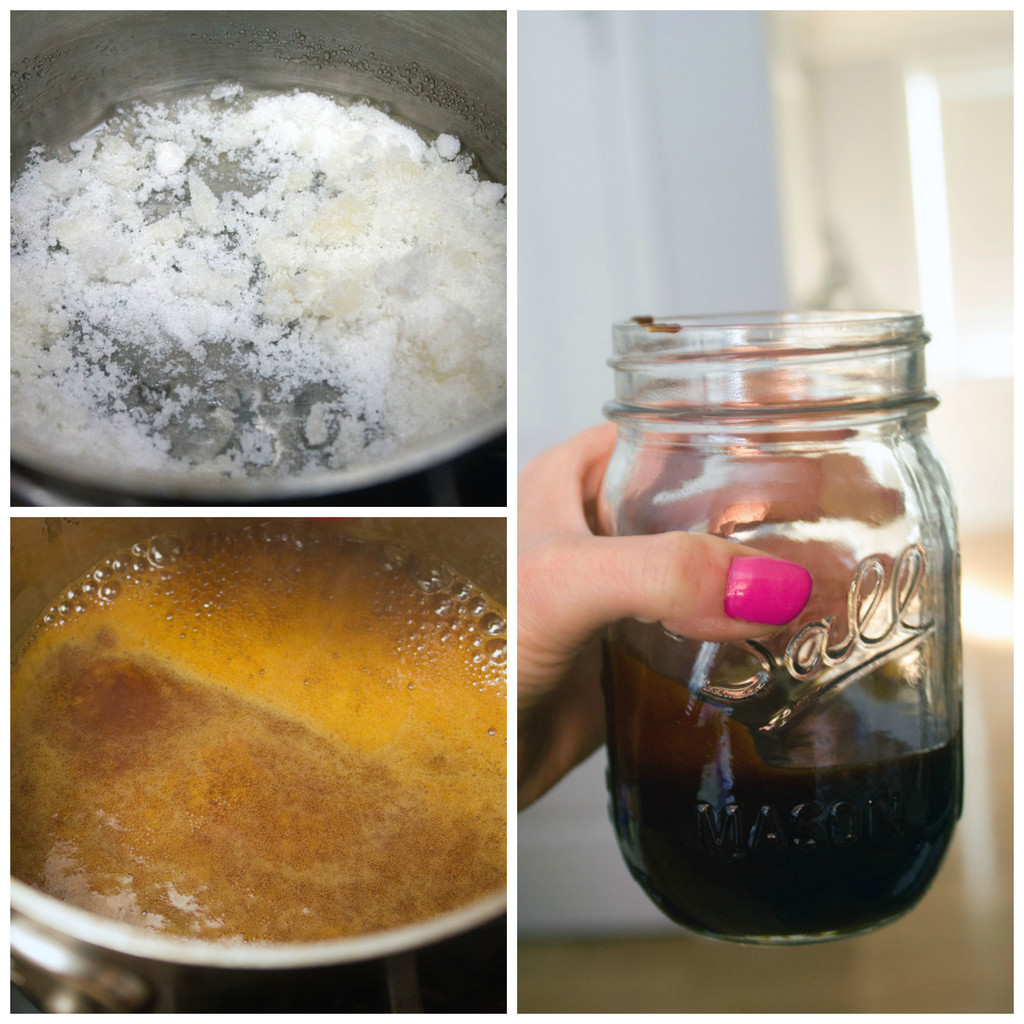 The Cinnamon Bun Oreo Cheesecake Bars bake for just 40 minutes. Then they have to rest for an hour. And then chill for at least an hour. But then the caramel gets drizzled on top and the indulging can begin!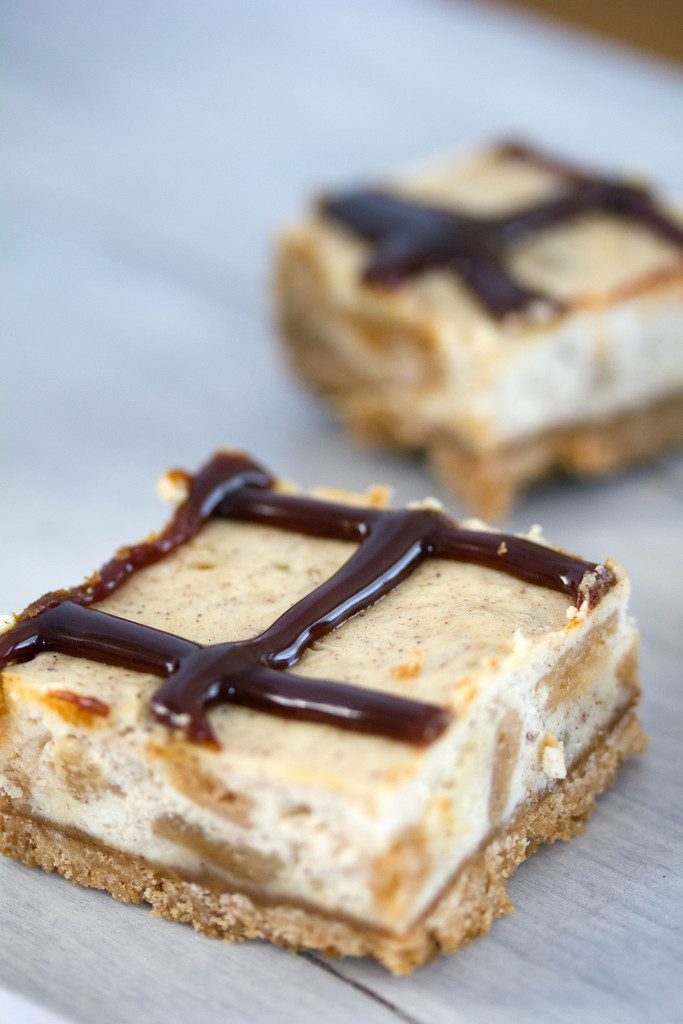 OMG there are so many cookies baked into these bars, you'll get a little in every bite.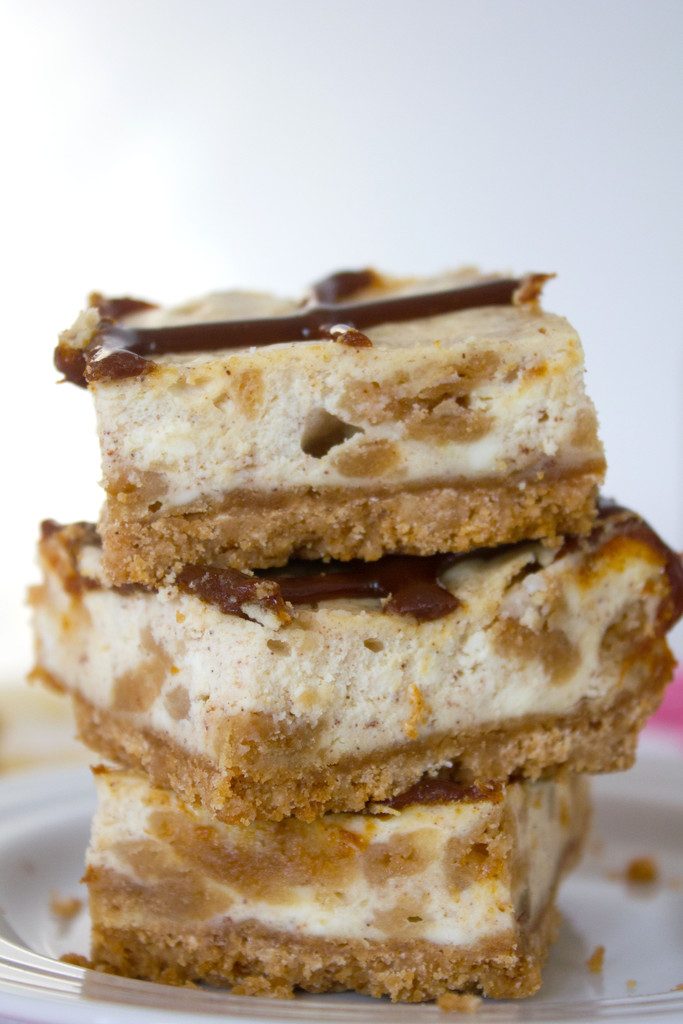 This is my ideal kind of cheesecake because there is plenty of action going on. There's the cookie packed crust, the cookie-packed cinnamon-flavored cheesecake filling, and caramel drizzle.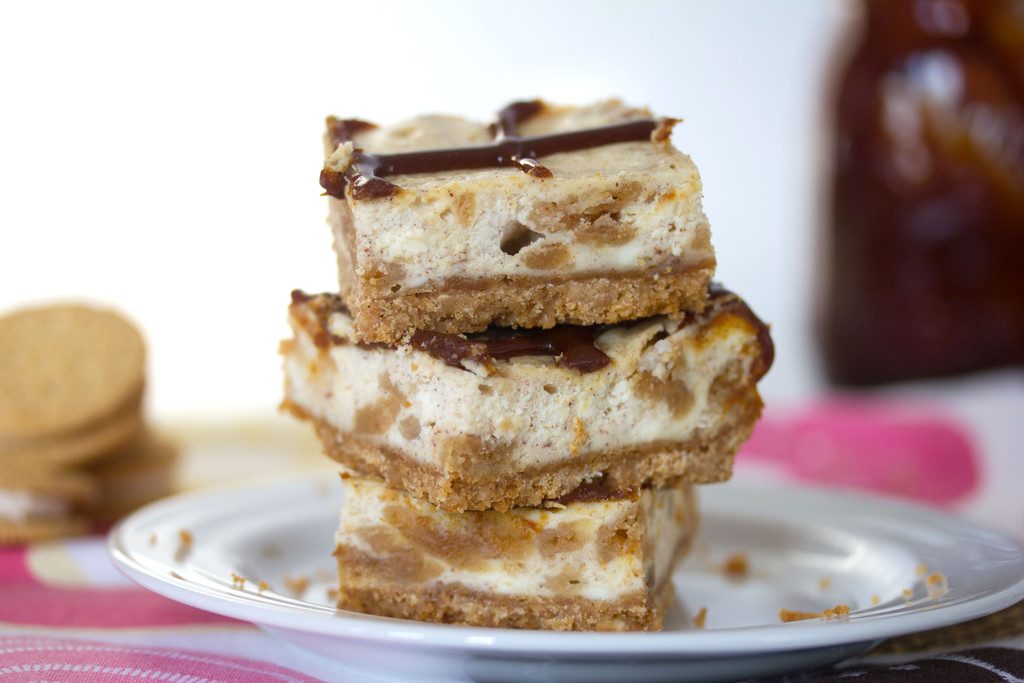 Last week I had the problem of eating too many cookies after dinner. This week, my problem is eating too many cheesecake bars packed with cookies after dinner. Leave it to me to compound my issue. And do you want to know the saddest part? I just had what I thought was a brilliant idea to turn these cheesecake bars into milkshakes.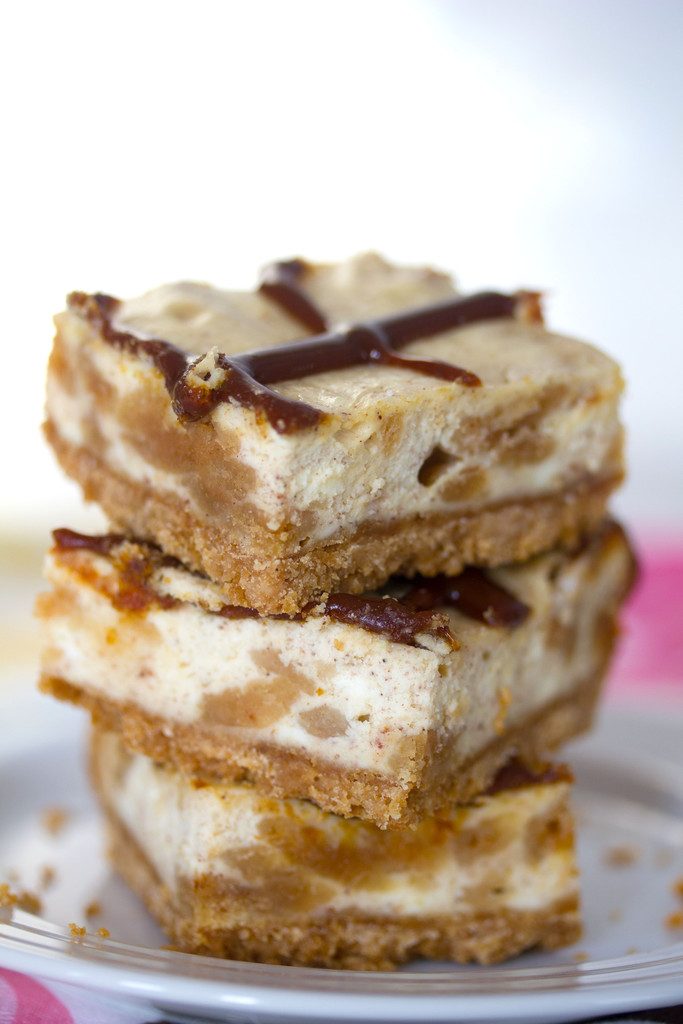 Somebody needs to stop me because this is going to get very, very dangerous.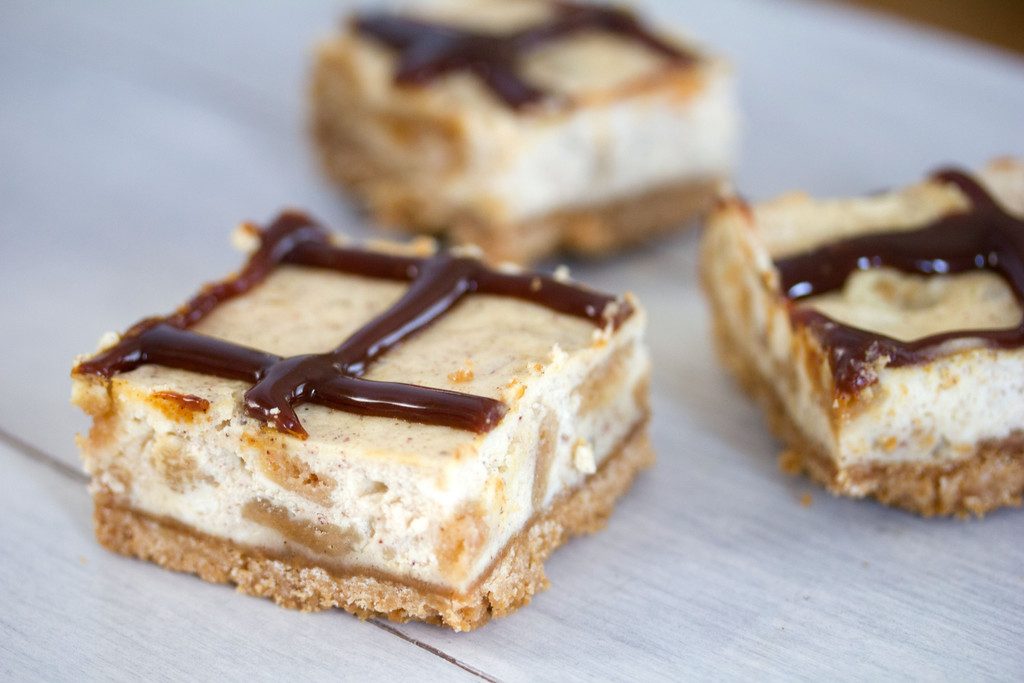 But anyway, will you please make these now? I'll knock on your door and pester you until you do! Or... until you never come back to this blog again because I'm so freaking annoying.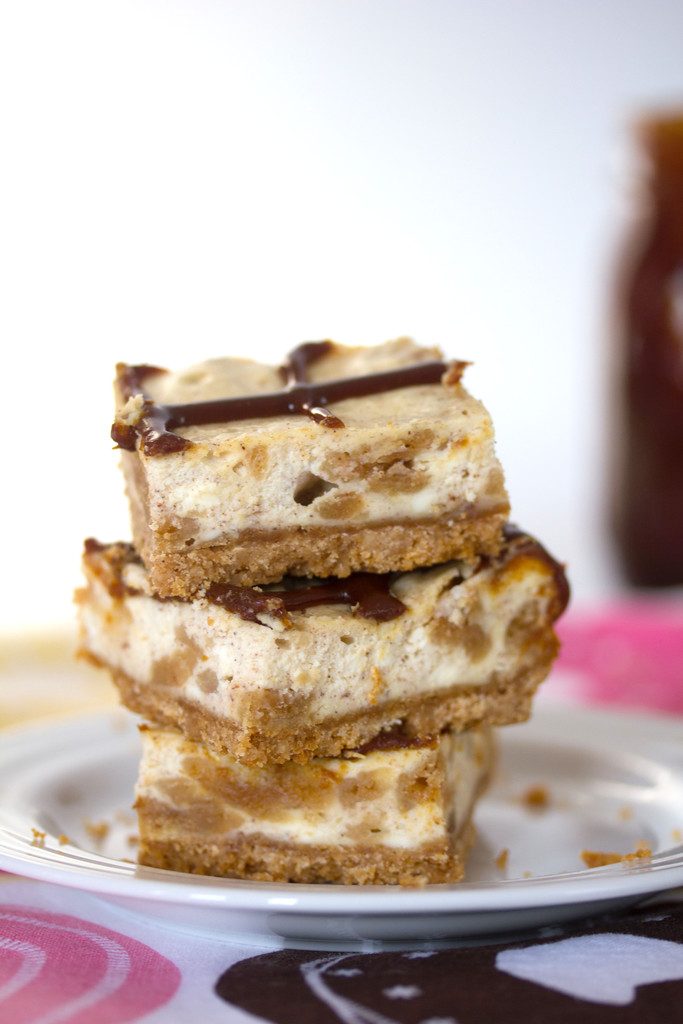 Clearly, my place in life is not selling clothing at American Eagle, but pushing food on anyone I can attract to this little blog. It's good to have life goals.
Are you a cheesecake person? And more importantly, have you tried the Cinnamon Bun Oreos yet??
📖 Recipe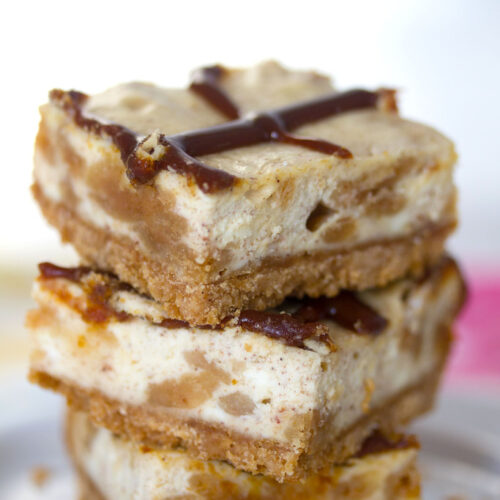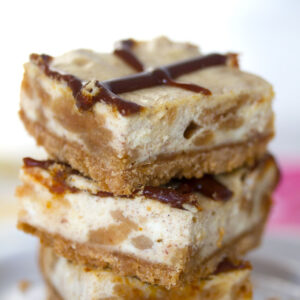 Cinnamon Bun Oreo Cheesecake Bars
Cinnamon Bun Oreo Cheesecake Bars combine two glorious treats into one bite-sized decadent dessert bar. With a cookie crust and cookie-loaded filling, these cheesecake bars will make any limited edition Oreo fan happy!
Print
Pin
Rate
Ingredients
Cookie Crust
26

Cinnamon Bun Oreo cookies

2

Tbsp

unsalted butter,

melted
Cheesecake Filling
16

oz.

cream cheese,

room temperature

¼

cup

sour cream

¼

cup

granulated sugar

2

large eggs

1

tsp

vanilla extract

1

tsp

ground cinnamon

¼

tsp

salt

10

Cinnamon Bun Oreo cookies,

roughly chopped
Cinnamon Caramel Sauce
½

cup

granulated sugar

3

Tbsp

unsalted butter,

cut into pieces

¼

C

heavy cream

1

tsp

cinnamon

¼

tsp

salt
Instructions
Cookie Crust
Pre-heat oven to 325 degrees and line a 8- or 9-inch square baking pan with aluminum foil so foil is overhanging on two sides.

Lightly coat foil with cooking spray.

Place Cinnamon Bun Oreo cookies a food processor and pulse until they're finely ground.

Add melted butter and pulse until combined.

Pour cookie crumbs into baking pan and press down into even layer on bottom of pan.

Bake at 325 degrees for 10 minutes and then remove from oven.
Cheesecake Filling
In the bowl of a stand mixer fitted with paddle attachment, beat cream cheese on medium speed for 2-3 minutes, until fluffy.

Add sour cream, sugar, eggs, vanilla, cinnamon, and salt to bowl and beat until mixture is smooth.

Fold in chopped Cinnamon Bun Oreo cookies.

Pour batter into pre-baked cookie crust and smooth the top with a spatula.

Place back in oven for 35-40 minutes, until filling is set.

Remove from oven and let cool for about 30 minutes.

Place in fridge to chill for at least two hours.

Use foil overhang to take bars out of pan. Remove foil from bottom and set on cutting board.

Drizzle cinnamon caramel sauce over the top and slice into squares.
Cinnamon Caramel Sauce
In a medium saucepan, heat granulated sugar over medium heat. Stir frequently with a rubber spatula until sugar turns into a smooth amber-color liquid.

Stir butter into sugar. The mixture will bubble quite a bit. Stir for about 1 minute, until the butter is completely melted.

Stir the cream into the mixture and let it come to a boil.

Remove the saucepan from the heat and stir in cinnamon and salt. Pour the mixture into an airtight container like a mason jar or bowl. Store in fridge until ready to use.
Share a Photo of Your Finished Recipe!
Mention @wearenotmartha and share a photo if you've made the recipe!