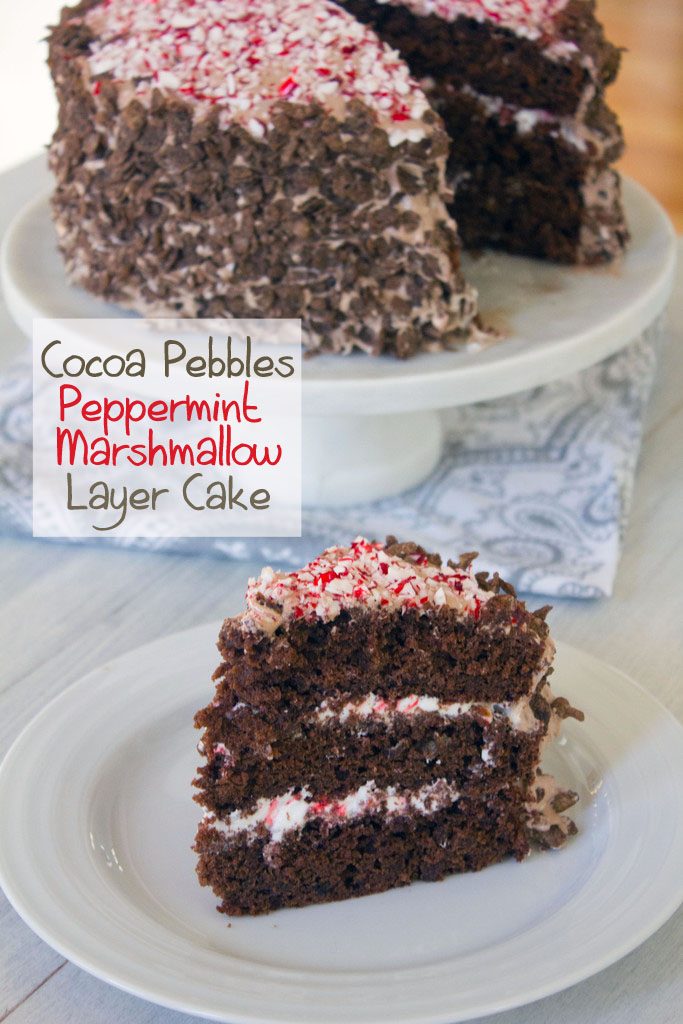 This post was sponsored by Post Cereal, but as always, all opinions are my own (and I've been baking with Fruity Pebbles for years!). Thank you for supporting my blog 🙂
Things I have not done so far this holiday season:
Written out a single Christmas card

Finished my shopping

Wrapped any gifts

Planned holiday menus

Made any holiday cocktails
Things I have done that I'm giving myself way too much credit for:
Bought and decorated the tree

Did a little bit of holiday shopping

Drank a large glass of eggnog

Lit a holiday candle
Basically, I am not in the holiday spirit at all and that makes me incredibly sad. Christmas is just 11 days away and for all I know, it could be the middle of September. Even the weather has been surprisingly mild. I guess I need to take this next week and just completely immerse myself in the season. I mean, in between the 10 hour workdays and a zillion other life things that are happening now. Simple, right? I think I'm most excited to get a new new planner for Christmas so I can plan on making 2016 a little bit better. And maybe if I start planning for those holidays now, I'll be all up in the holiday spirit by this time next year!
OK, so I do have one more thing to add to the second list. I baked a holiday cake. It's chocolatey and pepperminty and all things holiday-ish and I think I need to bake another one ASAP so I can face plant into it and force myself into the holiday spirit.
I worked with Post Cereals on this post and so, this cake is chocolate peppermint with Cocoa Pebbles mixed in. And obviously all along the side of the cake, too. If you've been reading this blog for a while, you've probably noticed that I love baking with Fruity Pebbles… This was my first time incorporating Cocoa Pebbles into a recipe, but most certainly won't be my last.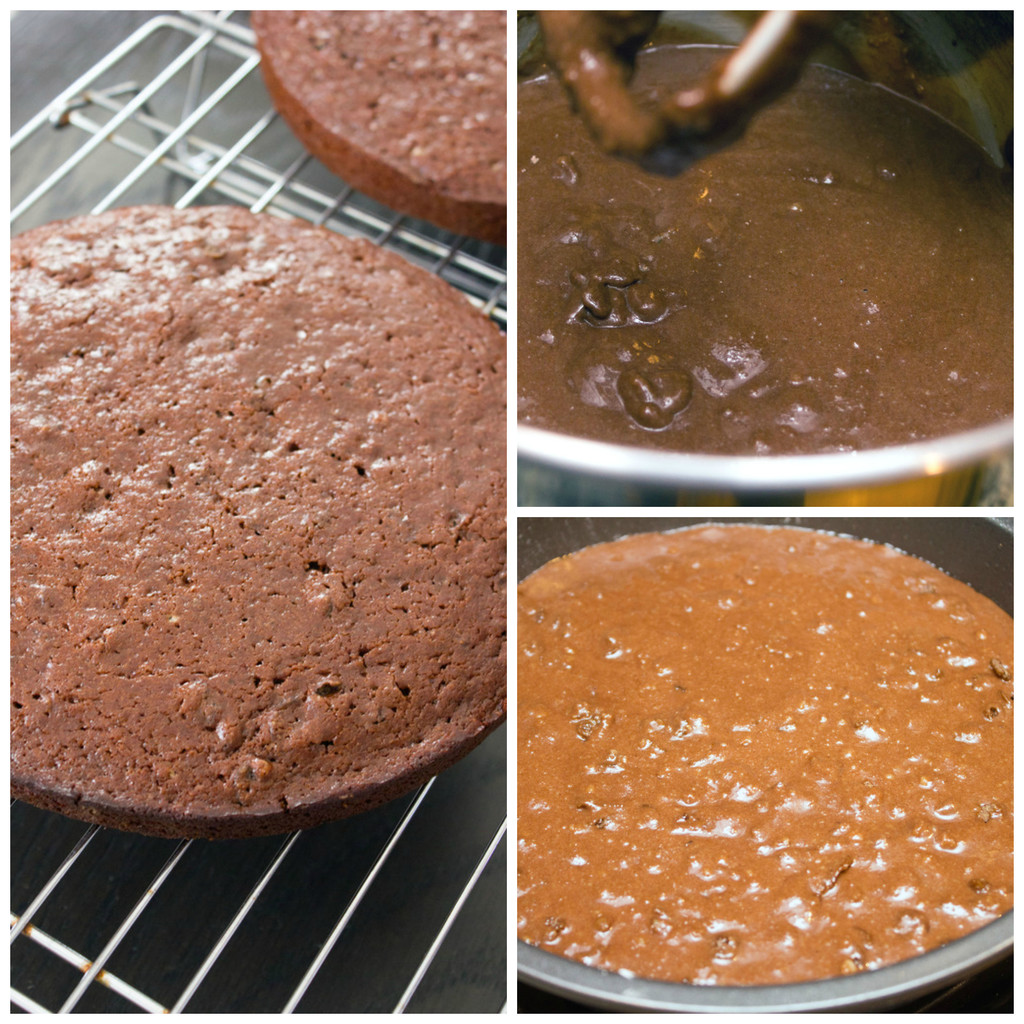 I made a marshmallow frosting, too, because Cocoa Pebbles and marshmallow just go together. I used the marshmallow frosting between each layer of cake and then added some cocoa powder to the frosting before frosting the entire thing.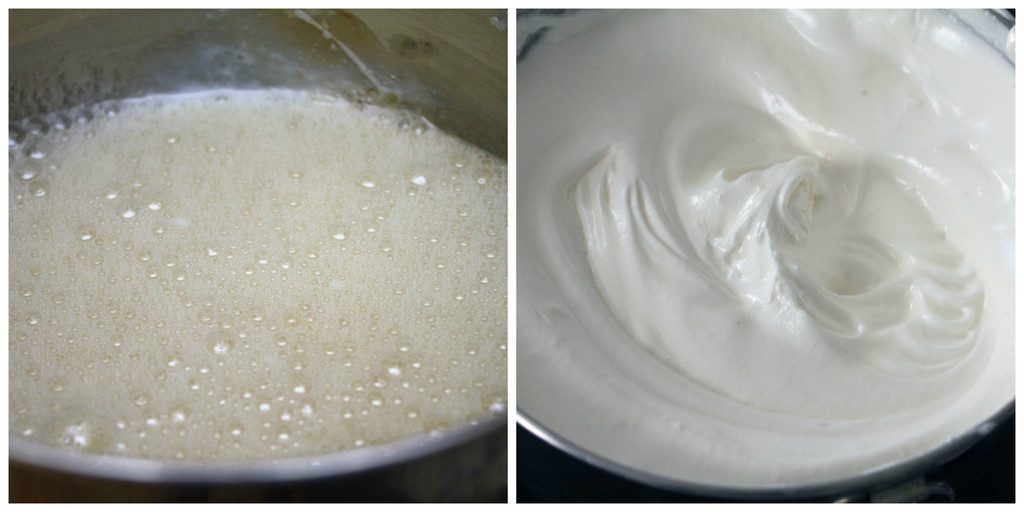 Peppermint ties everything all together with a nice big holiday bow (I wish it would wrap my presents, too). Also note that I definitely didn't spend my precious time crushing candy canes by hand. I used Wilton's Peppermint Crunch, which is quickly becoming my all-time favorite Wilton product.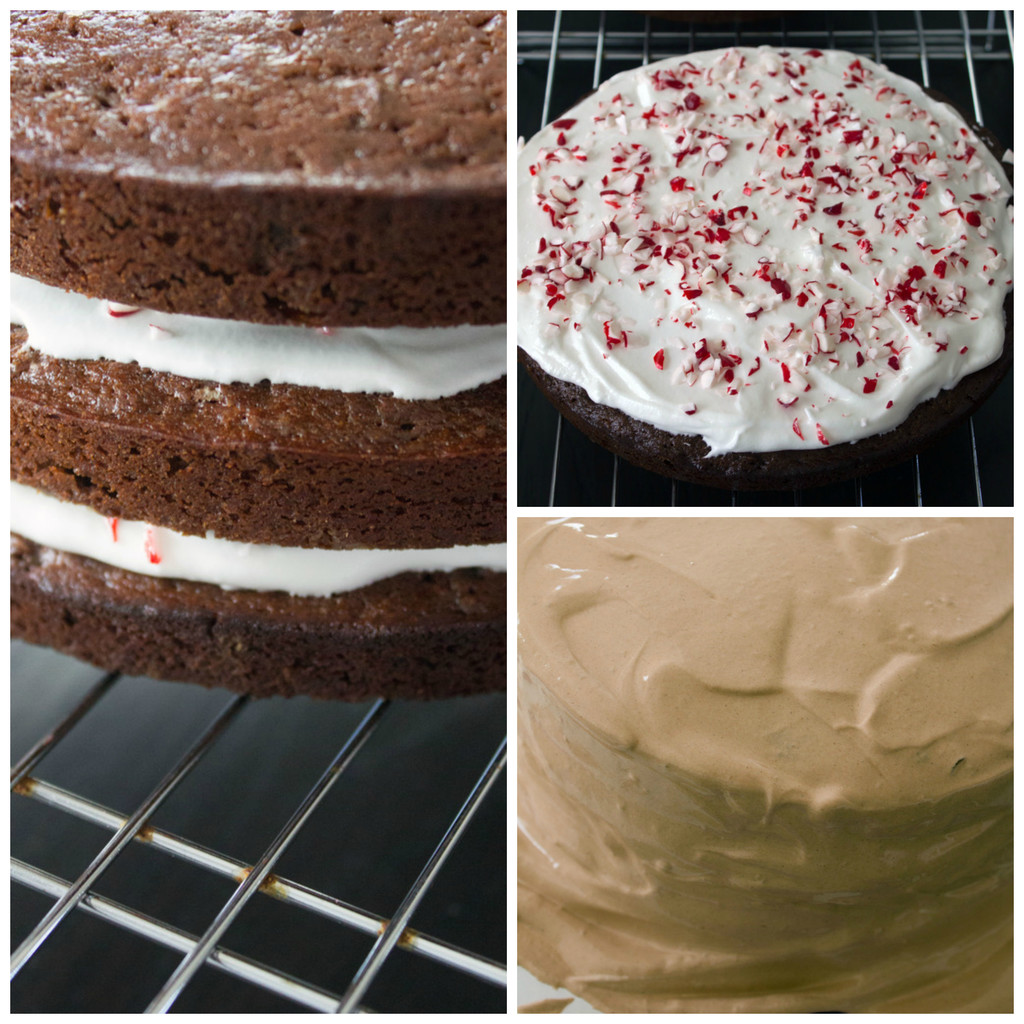 Yes, you already know I'm going to make some sly comment about eating this for breakfast. I would normally say it's acceptable since the cake is made with cereal. But this time I'll say it's acceptable because it's the holiday season and life is crazy right now.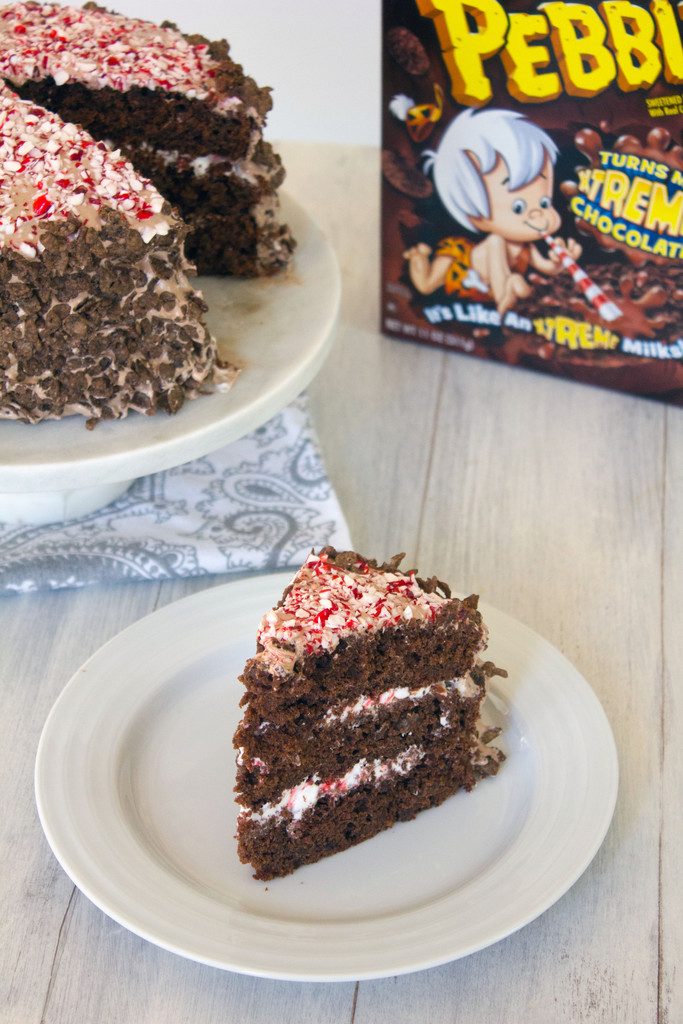 I immediately ate an extra-large slice of this cake.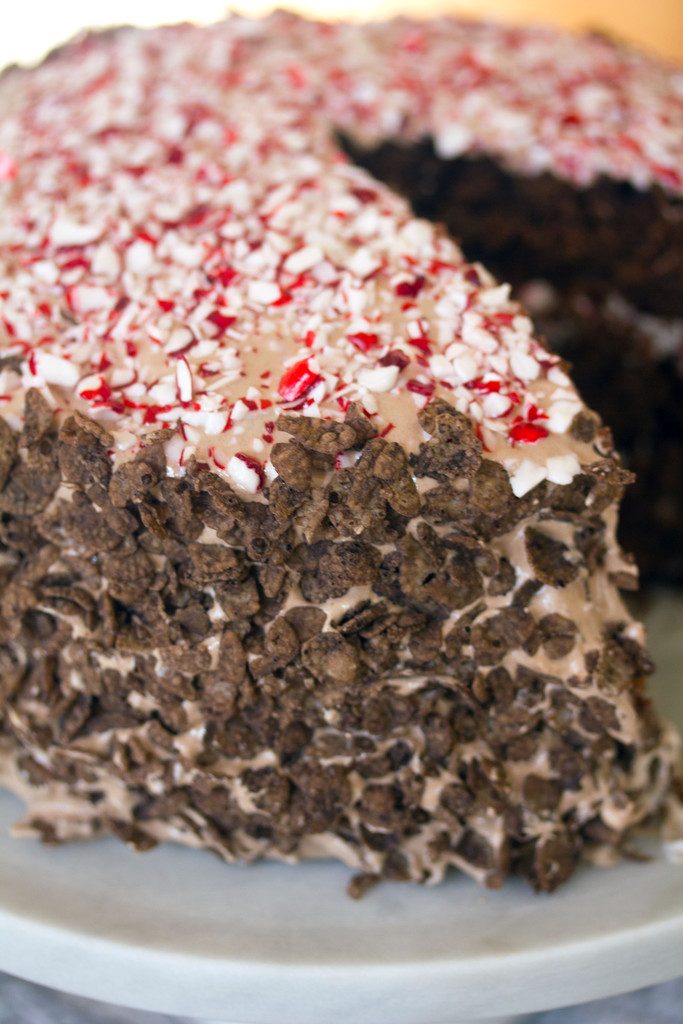 And to be fair, it did put me in the holiday spirit for a moment. But I made this before the holiday season really kicked off and the feeling was only fleeting.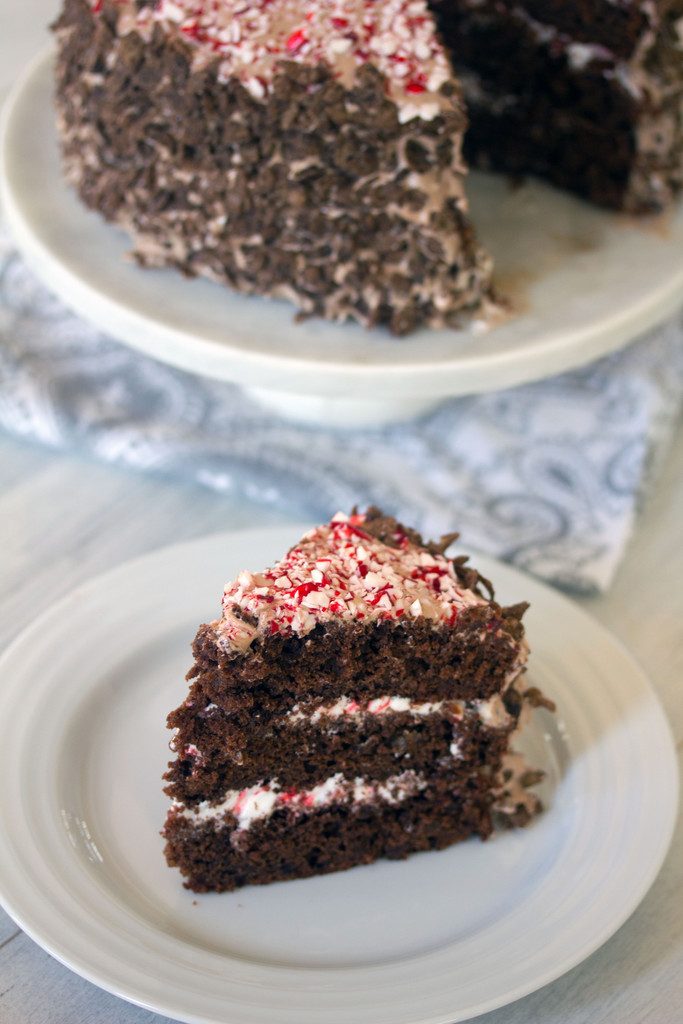 I do recommend making this cake right before you serve it and storing it in a cool place. If you let it sit too long, the frosting gets droopy and the candy cane gets melty.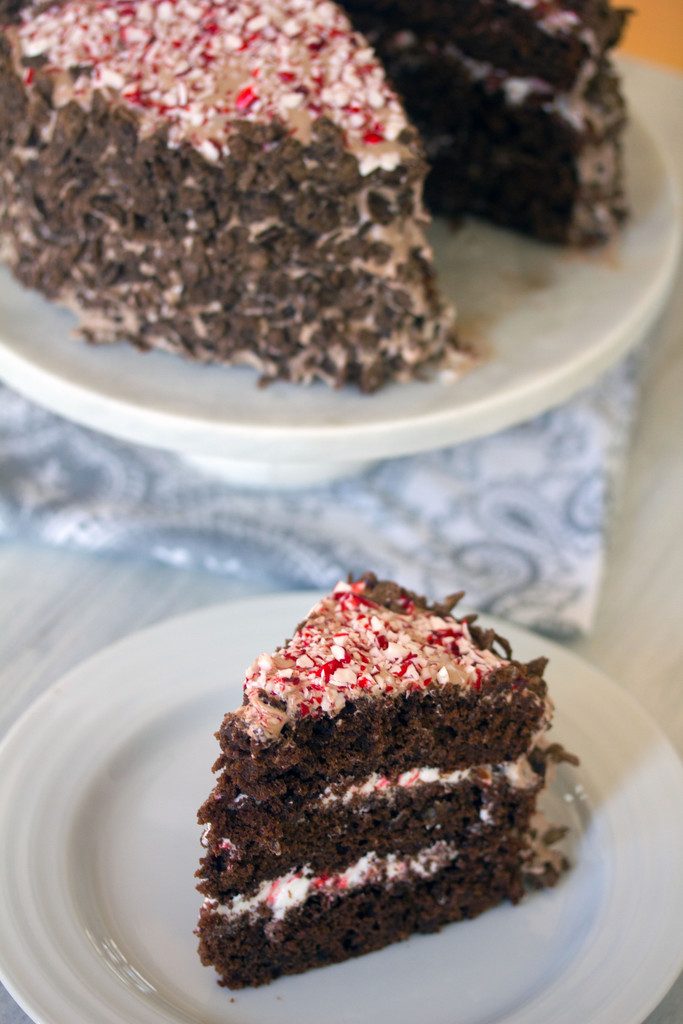 I vote for just digging in and not stopping until it's gone.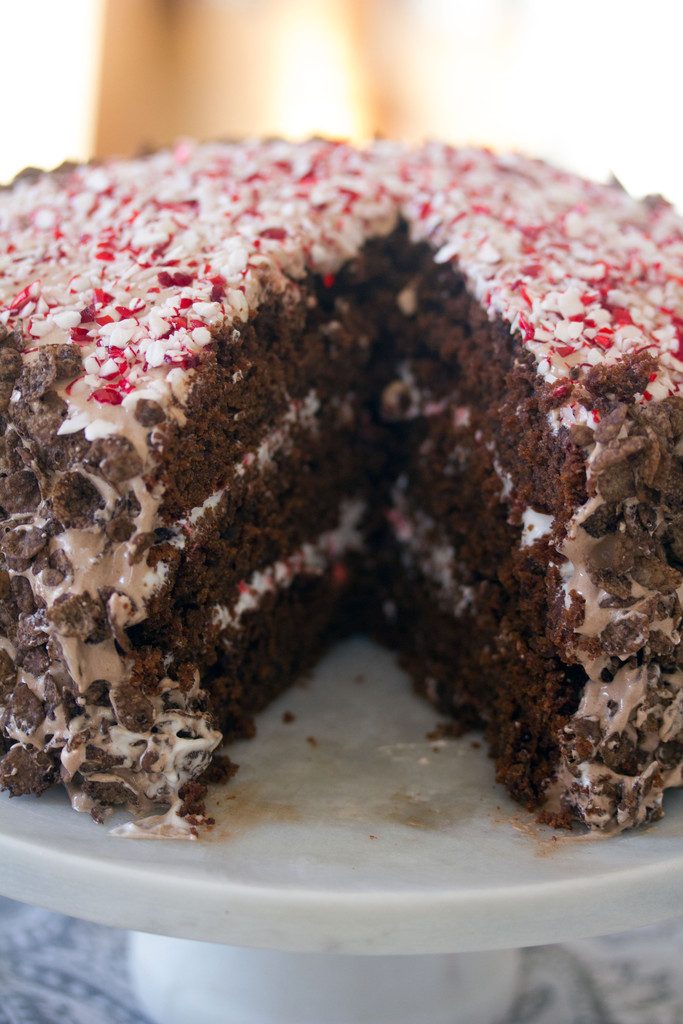 But maybe not alone. Unless you want to just spend the rest of the holiday season curled up under your Christmas tree. Which actually sounds quite lovely right now. Minus any illness of any kind.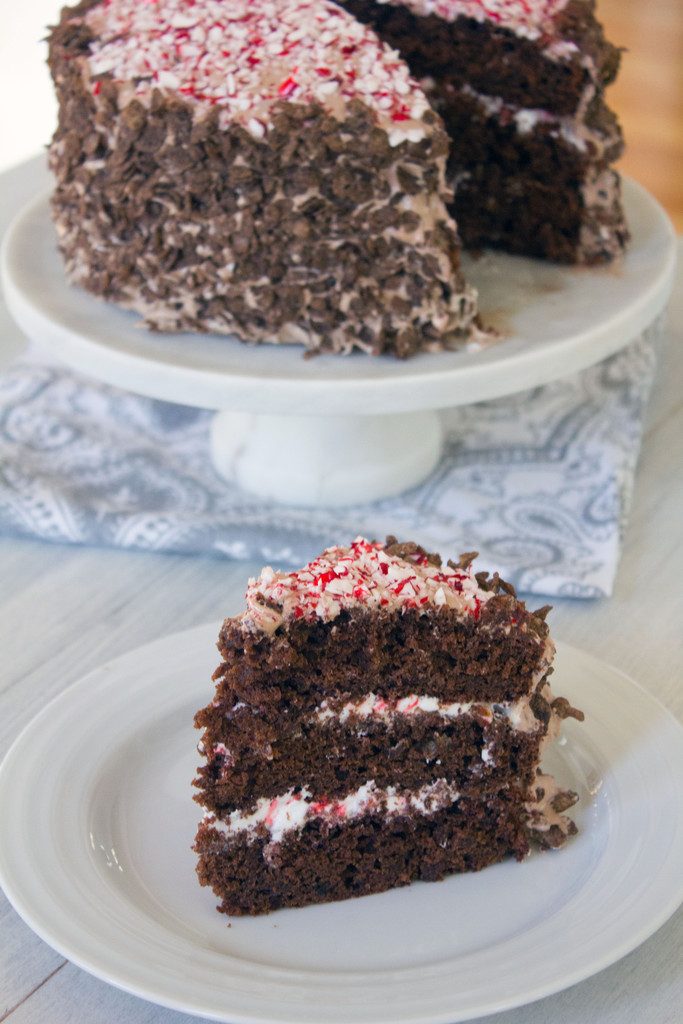 I love baking with Cocoa and Fruity Pebbles because they can be incorporated into just about anything and look so fun. Of course, Fruity Pebbles are my favorite for the bright and fun colors, but Cocoa Pebbles and peppermint are a match made in heaven.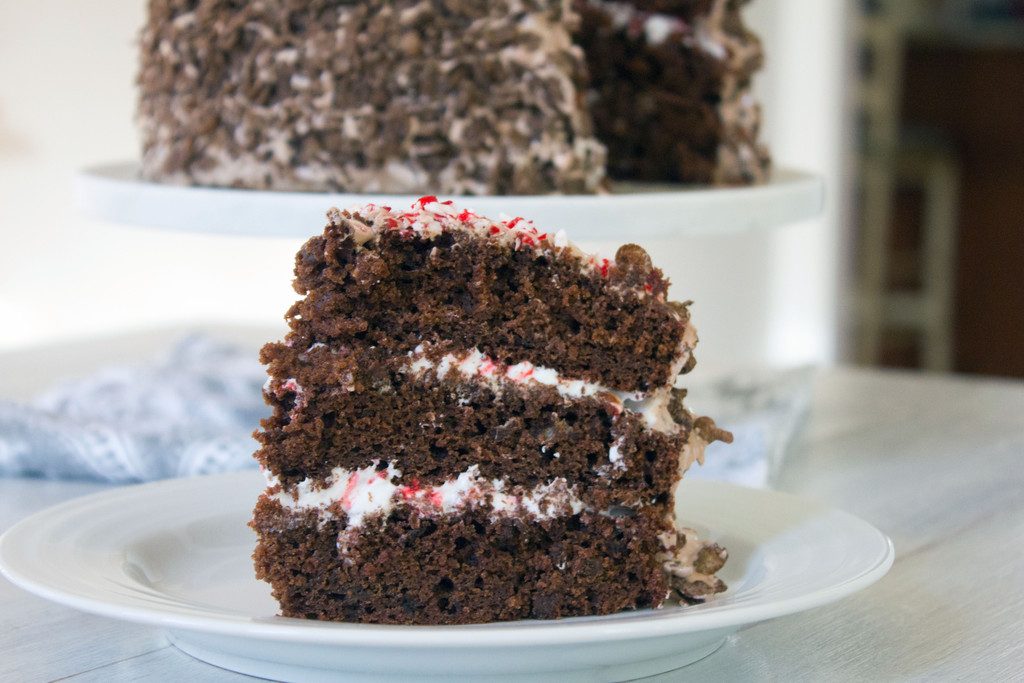 Let's just hope this cake is the perfect shopping/wrapping/decorating/planning food. Because I'm going to need a little extra energy over the next week!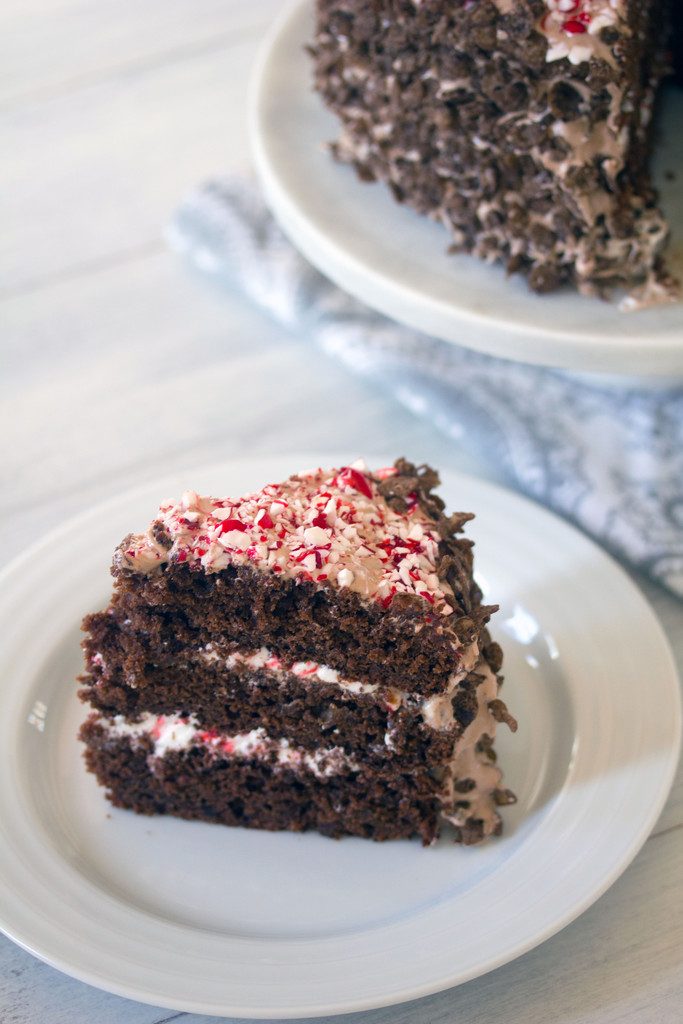 How are you doing on your holiday to-dos?
Hopefully you've at least drank a glass of eggnog? If you're into eggnog. Which you should be. I promise it will bring you a little holiday cheer. Especially when mixed with rum… Not that I know anything about that.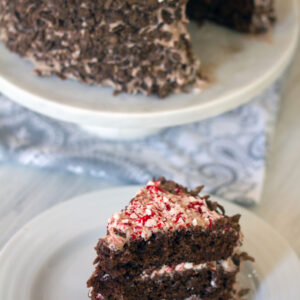 Print Recipe
Cocoa Pebbles Peppermint Marshmallow Layer Cake
Get in the holiday spirit with this Cocoa Pebbles Peppermint Marshmallow Layer Cake. With layers of chocolate, peppermint, and marshmallow frosting, this cake is perfect for all your holiday gatherings.
Ingredients
Chocolate Peppermint Cake:
1

cup

butter

room temperature

1 1/2

cup

packed brown sugar

1/2

cup

granulated sugar

3

large eggs

1

tsp

peppermint extract

2

cup

all-purpose flour

2

tsp

baking powder

3/4

cup

unsweetened cocoa powder

¼

tsp

salt

1 1/4

cup

milk

1

cup

Cocoa Pebbles
Marshmallow Frosting:
5

large egg whites

1 1/4

cup

sugar

1/2

cup

light corn syrup

2

Tbsp

water

1

Tbsp

pure vanilla extract

1/8

tsp

salt
Assembly:
2

Tbsp

cocoa powder

6

crushed candy canes

or Wilton Peppermint Crunch

2 1/2

cups

Cocoa Pebbles
Instructions
Chocolate Peppermint Cake:
Pre-heat oven to 350 degrees.

Grease and flour 3 8-inch cake pans.

In the bowl of a stand mixer or a large bowl with a hand mixer, beat butter and sugars until light and fluffy.

Mix in eggs and peppermint extract until just combined.

In a separate bowl, whisk together flour, baking powder, cocoa powder, and salt.

Mix flour mixture into batter, alternating with milk, until just combined.

Fold in Cocoa Pebbles cereal.

Pour batter evenly between prepared pans. Bake at 350 degrees for about 22 to 25 minutes, until toothpick inserted in center comes out clean.

Cool the cakes in their pans on a wire rack for about 10-15 minutes. Then, invert cakes onto wire racks (use a knife if necessary to loosen cakes from pan). Cool completely.
Marshmallow Frosting:
In a large heatproof bowl set over a saucepan of gently simmering water, combine egg whites, sugar, light corn syrup, vanilla, and salt.

Beat ingredients with a hand mixer until frosting thickens, about 8 minutes.

Remove bowl from heat and let cool to room temperature.
Assembly:
Place one cake layer on cake plate and spread about 1/2 cup of marshmallow frosting on top. Sprinkle 1/3 of the crushed candy canes over the top.

Top with second layer of cake and repeat with marshmallow frosting and crushed candy canes.

Top with final cake layer.

Stir cocoa powder into remaining marshmallow frosting.

Spread remaining marshmallow frosting over the top and sides of cake until smooth.

Sprinkle remaining crushed candy canes over the top of the cake.

Press Cocoa Pebbles cereal all along the sides of the cake.