These Crispy Kale Turkey and Ham Sandwiches with Beet Mayo contain all the components of a perfect sandwich: Great bread, a delicious spread, a little crunch, and really good natural deli meat.
This post is sponsored by McKenzie Natural Artisan Deli (available at Shaw's), but as usual, all opinions are 100% my own. Thank you for supporting We are not Martha!
I'm the kind of person who gets really, really excited about a good sandwich. But I also need to acknowledge how disappointing it can be to be subjected to a not-so-great sandwich. Ugh like you know, probably every sandwich you've ever had in an airport ever (I cringe any time a sandwich is wrapped in plastic wrap due to so many bad sandwich experiences at airports). The way I see it, there are several components that are very important to any good sandwich:
Good, grainy bread. Don't give me any of those weak thin slices of bread that flop over when you pick them up. The bread needs to be strong and solid and gets bonus points for being covered in seeds and grains. Oh, and said sandwich bread must be toasted. Do a side-by-side comparison of a sandwich made with un-toasted bread vs. toasted bread and tell me I'm wrong.
A spread. If you eat sandwiches without some sort of mayo/mustard/pesto/etc. you're basically a monster.
A little crunch. Allegedly, it's not socially acceptable to put potato chips in your sandwich after age 12. But I'm not going to pretend I don't miss it every single time I eat a sandwich. Can I get an amen for sandwich crunch?
Really good meat. Deli counter anxiety is a thing and I totally have it. But if you just order the first thing you lay eyes on because the deli counter person is looking at you all annoyed and there are 80 billion people waiting behind you, you will get home and make your sandwich and be disappointed. I promise.
But really, the deli counter can be seriously overwhelming. And it's usually the most chaotic section of the grocery store, packed with stressed out shoppers who are impatiently waiting for their number to be called. There are a million kinds of meats and cheeses all from different brands with slight differences and claims. I've actually had deli counter anxiety since I was a kid when my mom would ask me to put the order in while she continued shopping. I'd repeat the order over and over in my head (wait, was that ¼ pound or ¾ of a pound???) and then panic when they'd call my number and I was too short for them to see me over the counter. Trauma. In any event, I've learned that it's always best to go in with a plan and I'm excited that McKenzie Natural Artisan Deli is making that super easy for me.
McKenzie meats and cheeses are made with all natural, clean ingredients and no hormones or antibiotics. For all my friends in the Northeast, their products can be purchased at Shaw's and they sell several kinds of chicken breast, turkey breast, uncured ham, American Angus roast beef, uncured bacon, and artisan cheeses. You can't miss the orange packaging! But really, with so many choices in the deli case, it's awesome that their packaging will immediately catch your eye.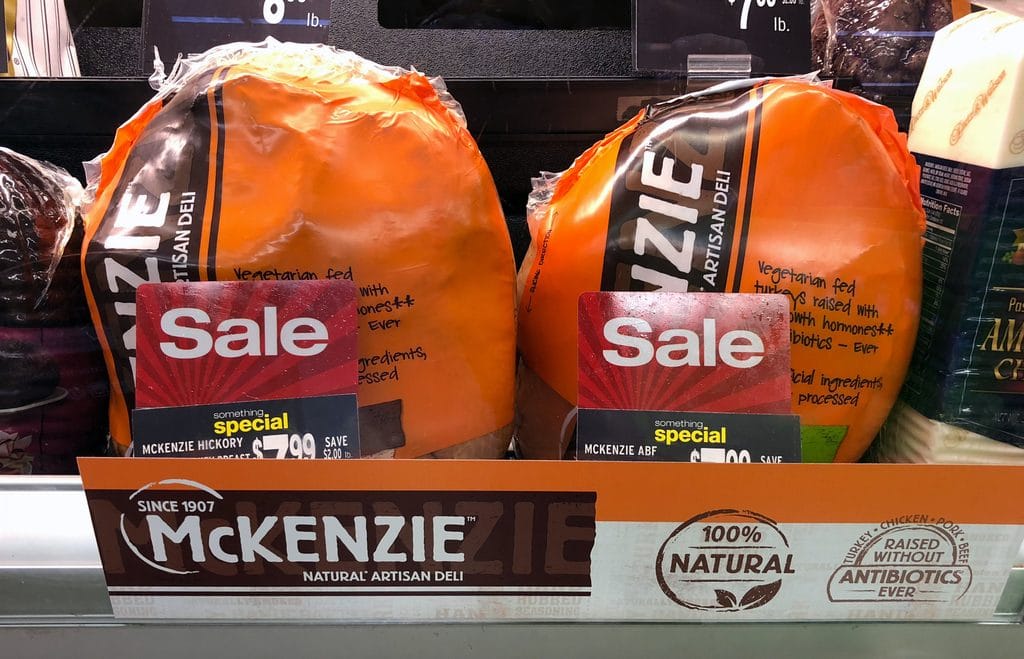 You know when you can just look at deli meat and tell it's high-quality? That's how I felt the first time I purchased McKenzie products. Because I was being majorly indecisive, I opted to make a turkey AND ham sandwich with McKenzie's Oven Roasted Turkey, Honey Ham, and Provolone Cheese.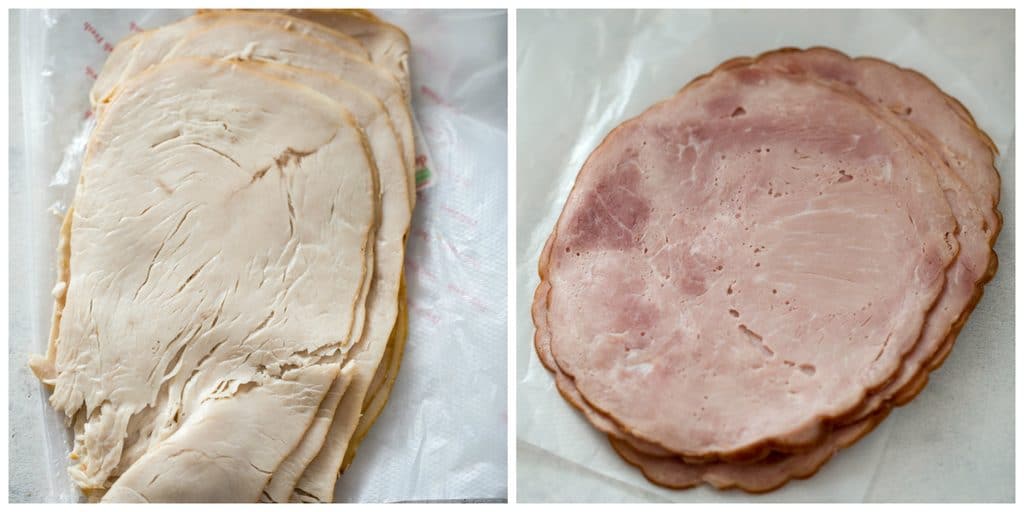 I used a ciabatta for the bread, which I'm pretty sure belongs on the top of the list of all-time best breads to make a sandwich on ever. Furthermore, it's important that you note that my bread was advertised to have 13 grains and seeds. THIRTEEN.
I'm on a mission to convert all mayo haters to mayo lovers. Trust me, I know this mission will be a treacherous one and that there will be plenty of obstacles in my way. If you've ever met a mayo hater (or heaven forbid are one) then you know exactly what I'm talking about. First thing first, I would convince anyone who hates mayo to try making mayo from scratch. Once you break the ingredients down (basically egg and oil), it's really not that bad. But if you don't want to go through that effort, try making different flavors of mayo. Like this beet mayo. And then just call it a beet spread.
The spread is made by simply blending cooked beets, mayo, and black pepper in a food processor. Easy and important to keep in your fridge at all times.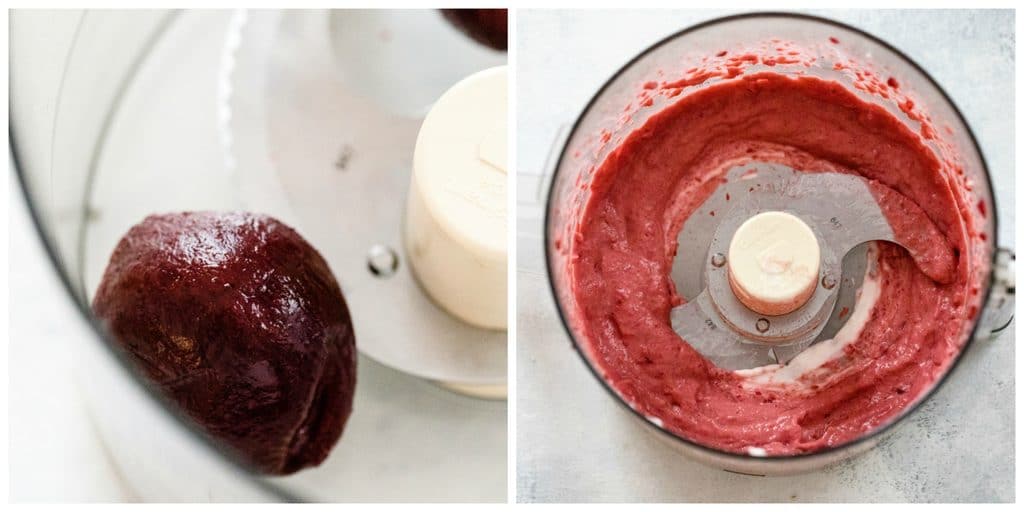 And the crunch! How can you give your sandwich crunch without feeling like a 7-year-old child shoving potato chips between the bread? Crispy kale, of course. Crispy kale will give your sandwich a much more mature crunch. You can also eat some on the side in place of chips.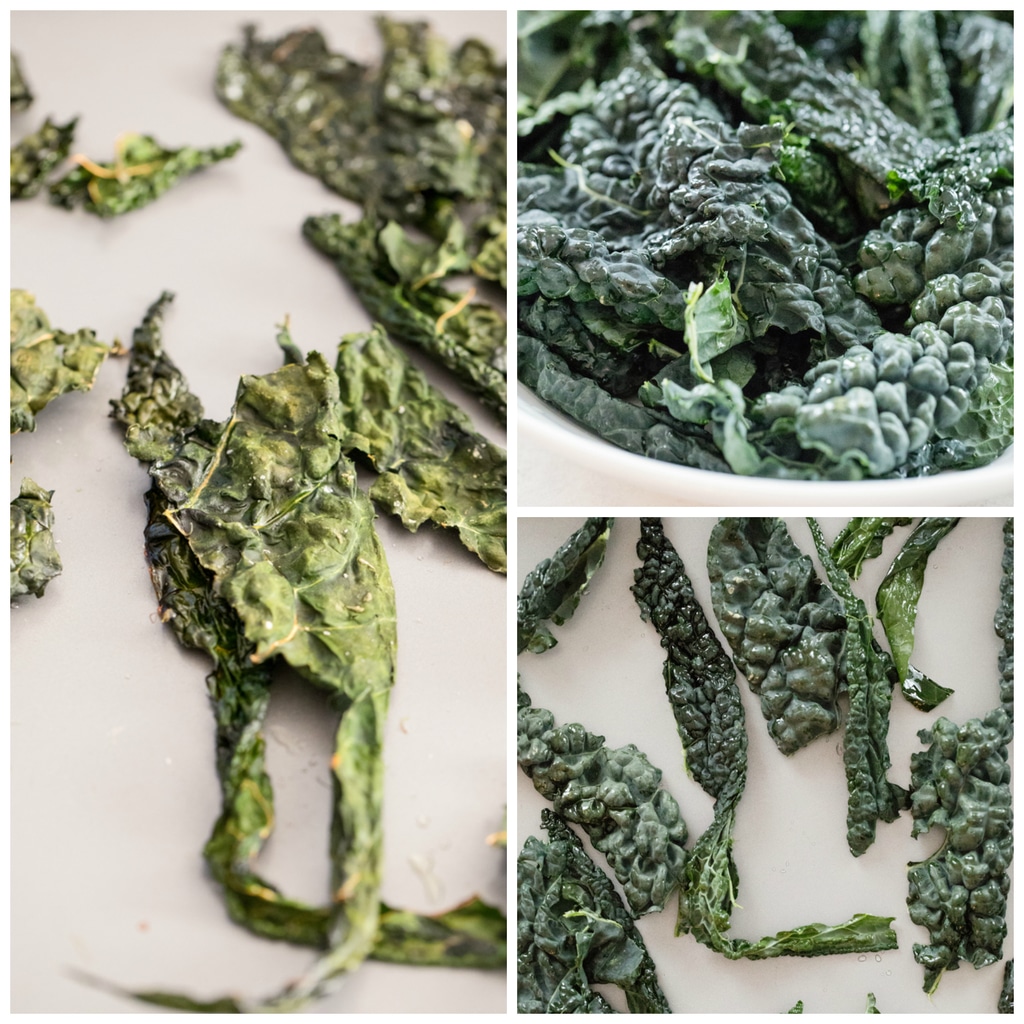 Add a little avocado just because it's never a bad idea to add avocado and then pile everything on to the sandwich. I like a big sandwich, but not so big that you can't actually eat it without dismantling it. You know what I mean?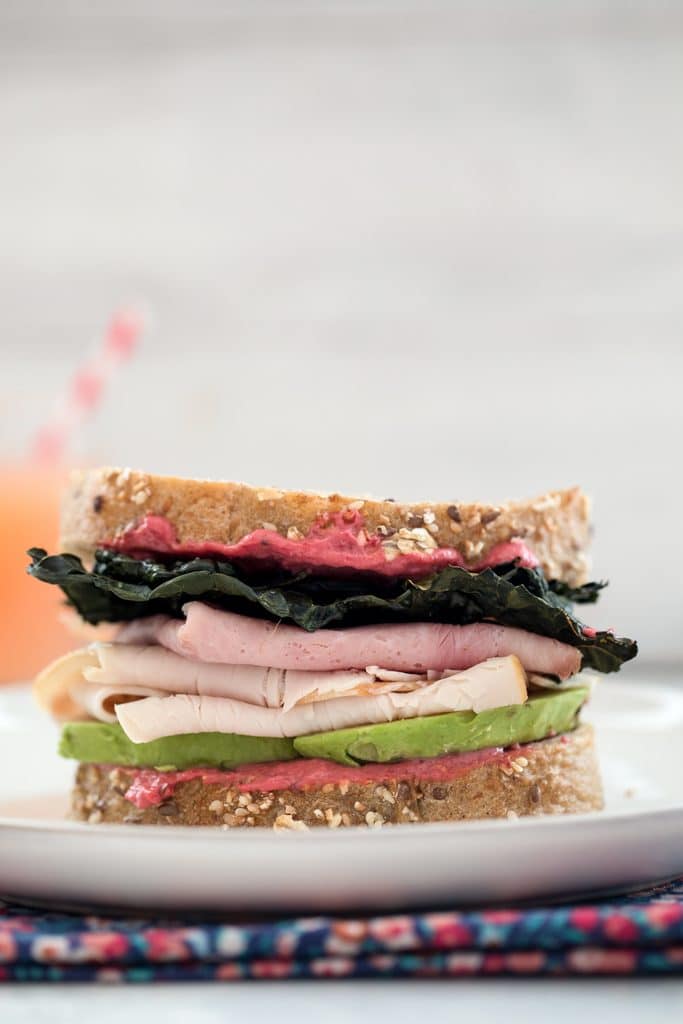 All of those components add up to make the perfect sandwich and there's not one thing this was lacking. Of course, it's the meat that's the most important part and the component that stands out the most. Not only were McKenzie's turkey and ham just perfect between the bread, but I was eating slices right out of the package while building the turkey and ham sandwiches. Don't even get me started on the cheese (I NEED to get my hands on their Maple Smoked Cheddar because that sounds SO good).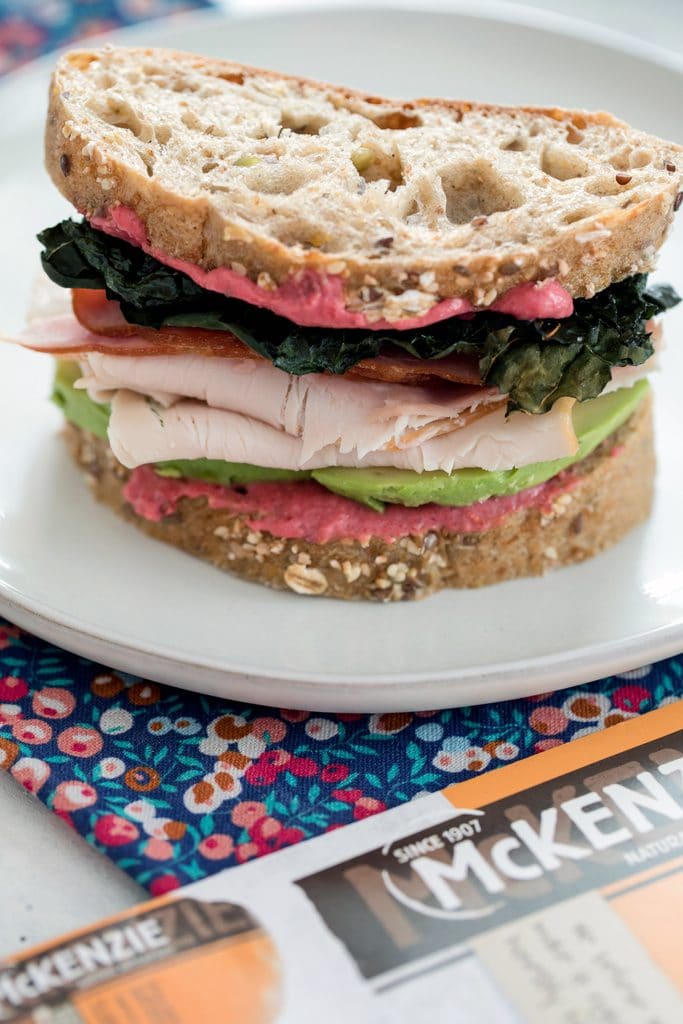 While I admittedly do enjoy mayo, I only really like a light layer spread on my sandwiches or mixed into my tuna or egg salads. But mix a few beets in and omg I was tempted to eat it with a spoon. I'm telling you, this mayo could change everything for you!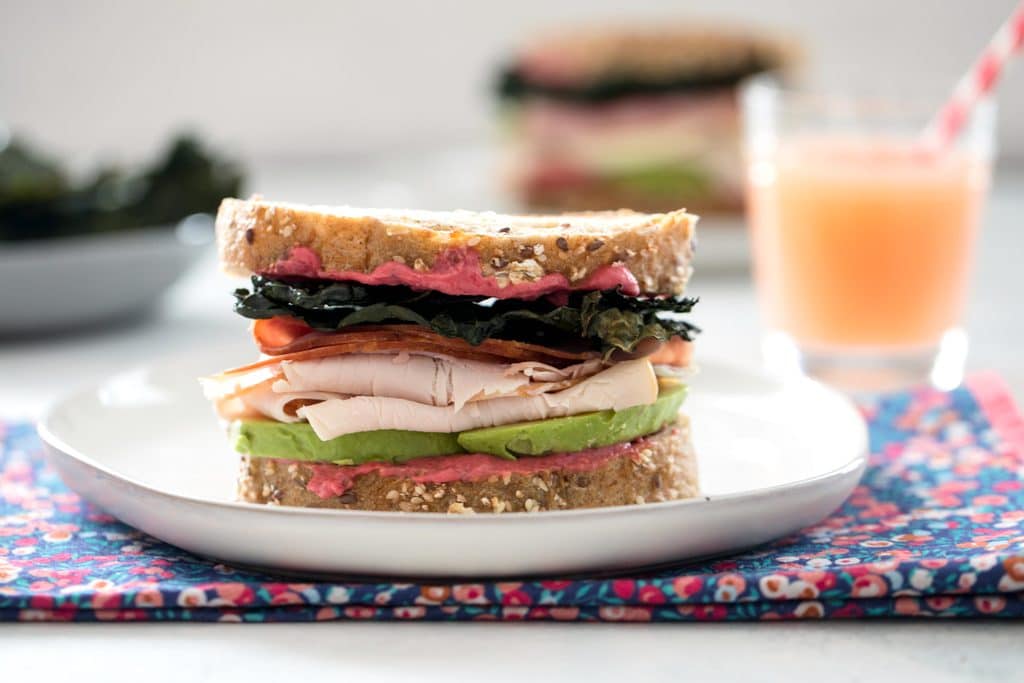 I wrapped a couple of these sandwiches up (always in foil and not plastic wrap #AirportNightmares) and enjoyed them during my work from home lunch break throughout the week. There's nothing quite like a sandwich made-to-order, but these were actually delicious the next day, too. The kale was a little less crispy, but still offered a decent crunch.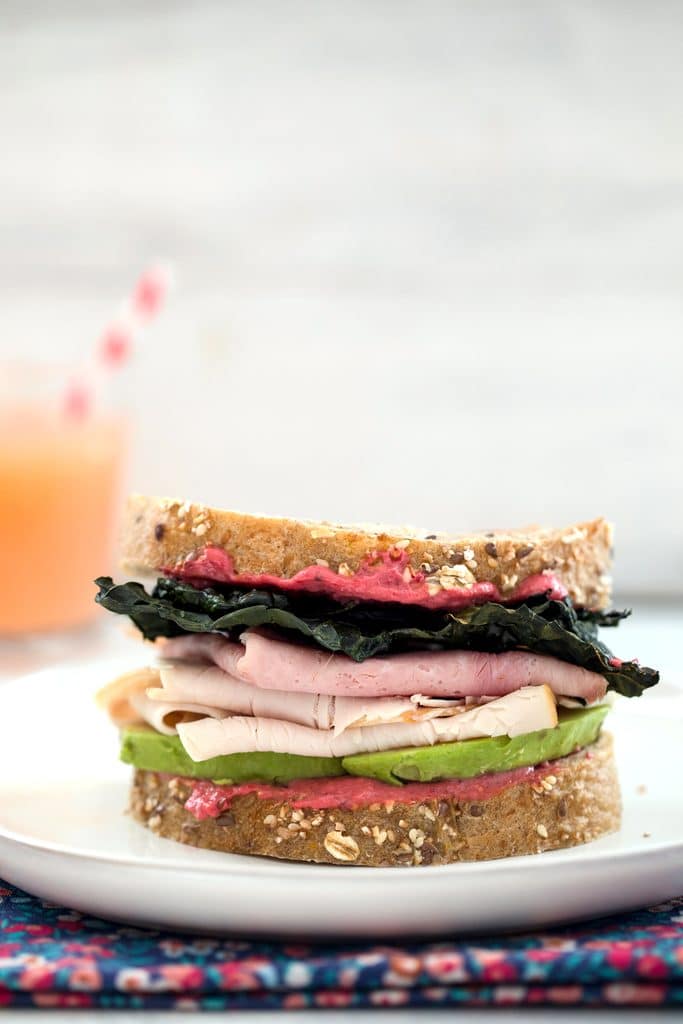 And now I know to always have beet mayo in my fridge, kale chips in an airtight container on my counter, and McKenzie deli meats at the ready. If you live near a Shaw's, be sure to check out your deli case for McKenzie products!
What's the most important component of a sandwich for you?
📖 Recipe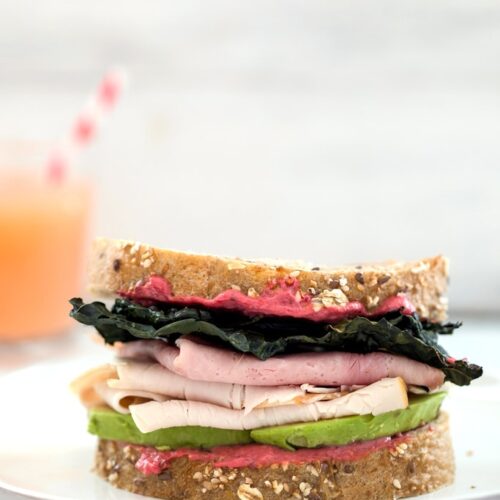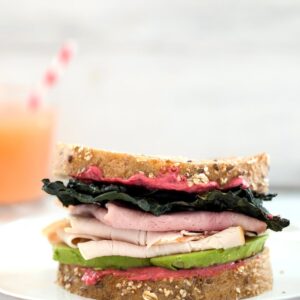 Crispy Kale Turkey and Ham Sandwiches with Beet Mayo
These Crispy Kale Turkey and Ham Sandwiches with Beet Mayo contain all the components of a perfect sandwich: Great bread, a delicious spread, a little crunch, and really good natural deli meat.
Print
Pin
Rate
Ingredients
8

slices

grainy bread (like whole wheat ciabatta)

8

Tbsp

Beet mayo

(recipe below)

1

avocado; peeled, pitted, and sliced

8

oz.

McKenzie Oven Roasted Turkey

4

oz.

McKenzie Provolone Cheese

4

oz.

McKenzie Honey Ham

Crispy kale

(recipe below)
Beet Mayo
3

oz.

cooked beets (about two small beets)

½

cup

mayonnaise (regular or light)

½

tsp

pepper
Crispy Kale
6

large kale leaves; washed and dried, center ribs removed and torn in half

1 ½

tsp

olive oil

Salt and pepper
Instructions
Toast bread until lightly crispy. Spread about ½ Tbsp-1 Tbsp beet mayo onto each slice of bread, depending on preferences.

Divide avocado evenly among 4 of the slices of bread. Place turkey, cheese, and ham on top of avocado. And top with 3 pieces of crispy kale. Top each sandwich with remaining slices of beet mayo covered bread.
Beet Mayo
Place beets in food processor and process until finely pureed. Add mayo to food processor and process until well blended. Remove to bowl, cover with plastic wrap, and store in fridge until ready to use.
Crispy Kale
Pre-heat oven to 350 degrees.

Place cleaned and torn kale leaves in a bowl and toss with olive oil and salt and pepper.

Place kale in a single layer on two baking sheets, taking care not to overcrowd. Bake for 15 minutes, until nice and crispy.
Share a Photo of Your Finished Recipe!
Mention @wearenotmartha and share a photo if you've made the recipe!