This Elote Tuna Salad has all the elements of Mexican Street Corn, but is served in salad form with tuna, macaroni, and more. It has a little bit of a kick and a whole lot of satisfying flavor!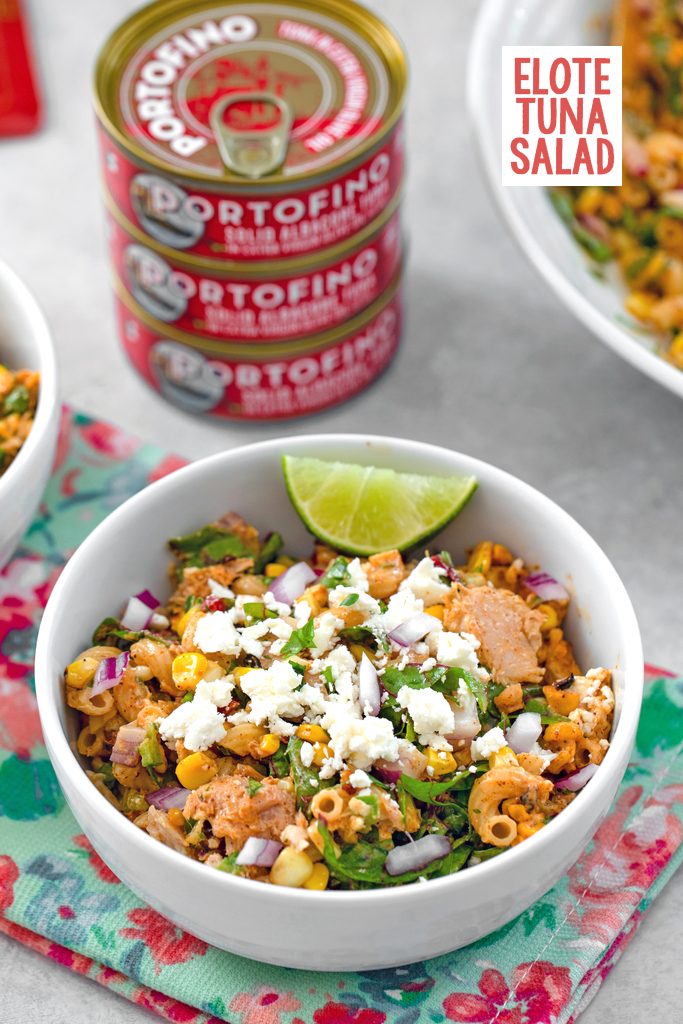 Thank you to Portofino Tuna for sponsoring this post. As always, all opinions are 100% my own and I truly appreciate your support of We are not Martha!
If there were an award for world's worst decision maker, there's an extremely high chance I would win it. Though I'm not big into astrology, I have to admit I'm a true Libra when it comes to balance and the ability to see every side of a story. Of course, this can be great at times... But it's also incredibly annoying at others. Like when I'm at a restaurant trying to decide what to order and the waiter is staring me down waiting for me to say something and my other dinner guests are impatiently waiting and thinking "just order something already!" Obviously my entree choice at a restaurant isn't a life-altering decision, but at the time, it feels so very important. Especially when I'm starving. Compounding my difficulties is the fact that my husband isn't a food share-r and never wants to order a few different things so we can try a little bit of more than one thing (somehow he always knows exactly what he wants almost immediately upon sitting down at a restaurant). Quite often when I just don't know what to order, I choose a salad.
Salads are the best because they let you have so many different foods all in one bowl. I'm excited to be working with Portofino Tuna today so I can show you how I incorporated their tuna into this Elote Tuna Salad. I also added a bunch of other ingredients, like everything you would find on elote corn, along with some other things I love. Instead of spending hours making tough food decisions, I simply added the ingredients that make me the happiest. But the tuna is definitely the star of this show.
Have you tried Portofino Tuna yet? As you can see from the cans below, it's solid albacore tuna packed in extra virgin olive oil with a little bit of sea salt added in. I have to admit that for a long time, I only bought tuna packed in water just because that's how I always ate it growing up. If you're the same, you need to try Portofino Tuna in olive oil ASAP! I'm telling you, it elevates the flavor and consistency of the tuna in the most wonderful way; something water just can't do. This tuna is smooth, mellow, and extremely tender and is delicious either in recipes, mixed with a little mayo, or all on its own. I love that Portofino is made with hand-selected wild caught albacore and yellowfin tuna and I also love that each can or pouch has just three ingredients: tuna, olive oil, and sea salt.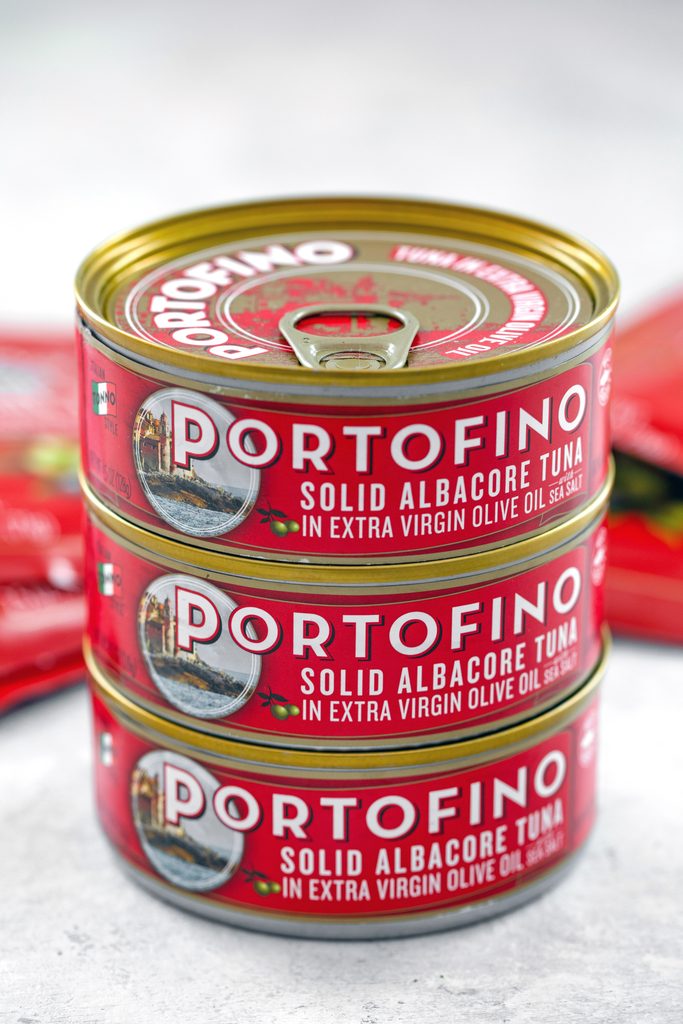 You can either use the cans or the pouches to make this recipe, but I also have to give a shoutout to the pouches for being great to commute with. You can bring thems to work or on-the-go for a healthy lunch or snack. And because the tuna is packed in olive oil, you really don't need to mix it with anything and can just dig right in!
ELOTE TUNA SALAD RECIPE
Of course, the tuna is also fabulous for utilizing in recipes, including salads. Like most salad recipes, this Elote Tuna Salad is pretty simple to put together. The toughest part is grilling the corn, but considering you can do it in a grill pan (or a simple skillet), it's really not difficult at all!
I like to put a little butter in my skillet and then add the corn in and let it sit for a few minutes. Then toss it, let it sit for a few more minutes, and toss it again. Repeat until corn is charred to your liking.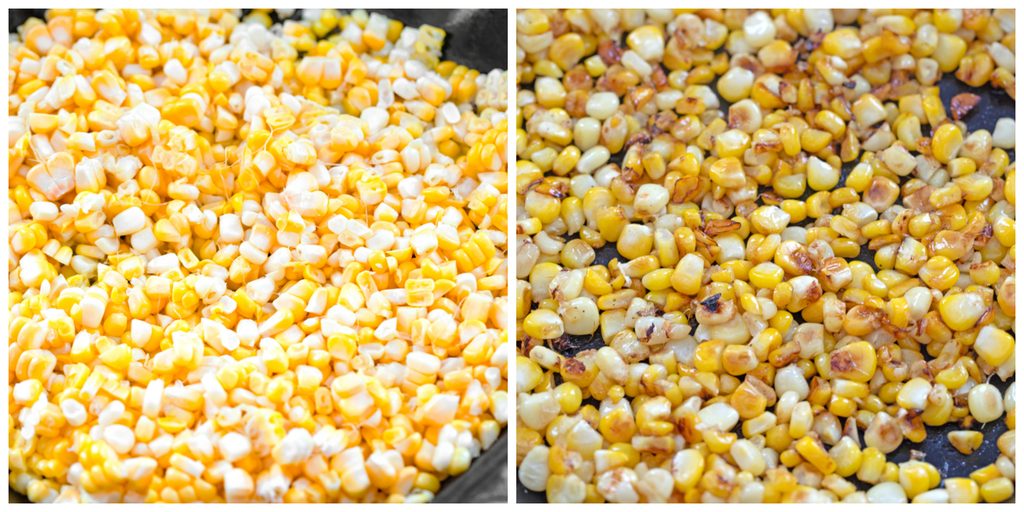 While the corn is grilling, you can mix up the elote dressing. This is what brings the tuna salad together and adds in all that zingy elote flavor. But again, it's simple and just consists of mayo (you can use light or regular), chili powder, cayenne, and lime juice... Exactly what I like to rub on my corn when I'm making it elote style.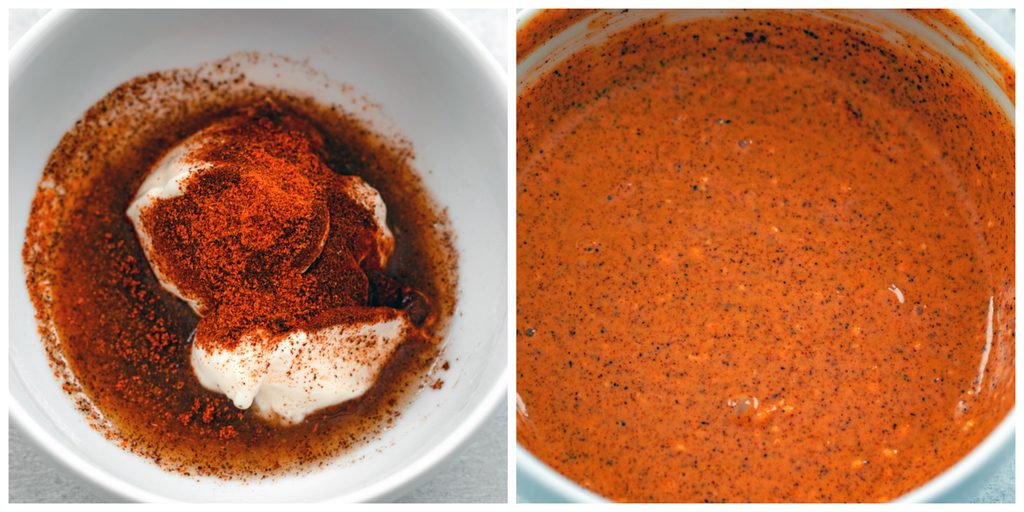 The other things essential to elote corn are cotija cheese (you could also use queso blanco) and cilantro (if you really don't like it, you can leave it out or use parsley instead). Obviously plenty of Portofino Tuna is also essential to this salad! And then I decided to add in some elbow macaroni to make it even more of a picnic dish along with some red onion, chard, and jalapeño pepper.
I'd say those are the makings for a pretty fabulous salad, right?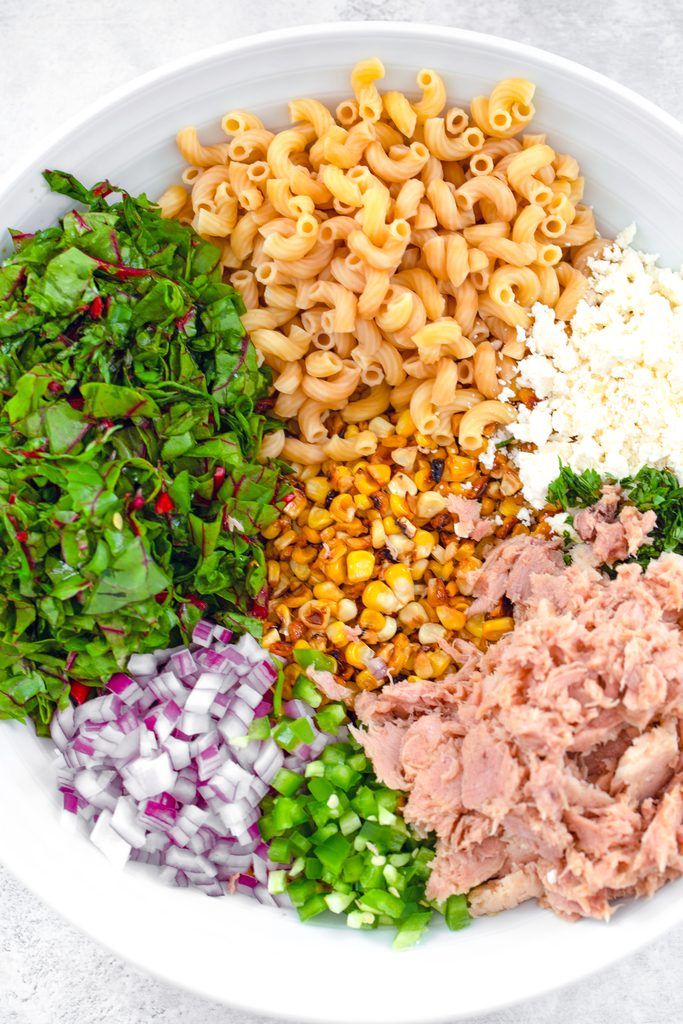 Drizzle the dressing over the top and toss it all up!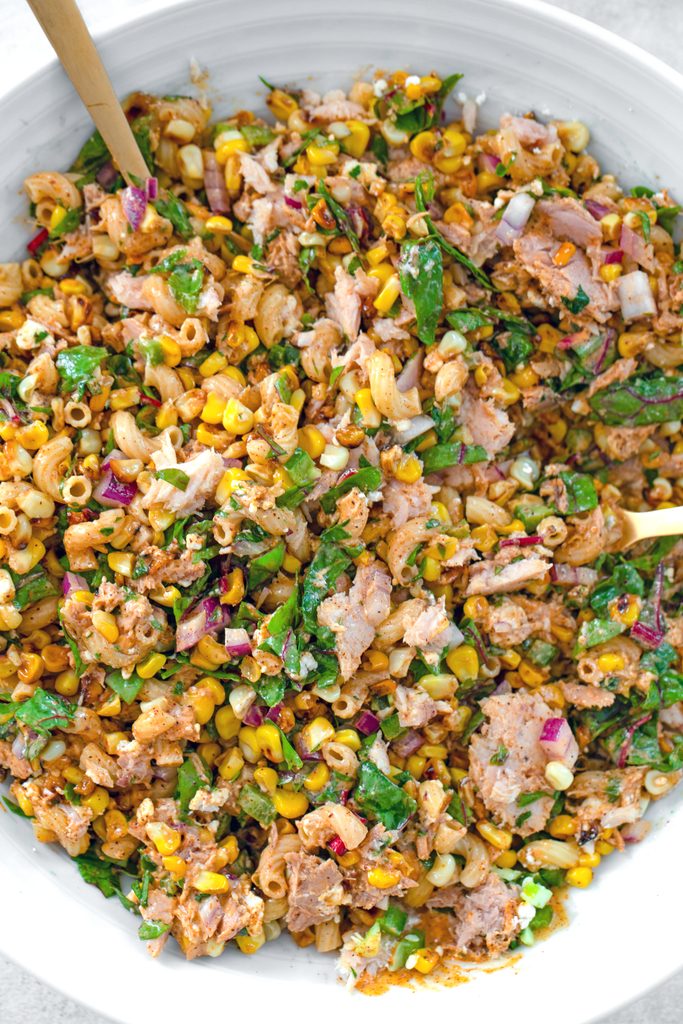 Serve the Elote Tuna Salad in individual bowls with a little extra cheese and cilantro sprinkled over the top. And a lime wedge for good measure.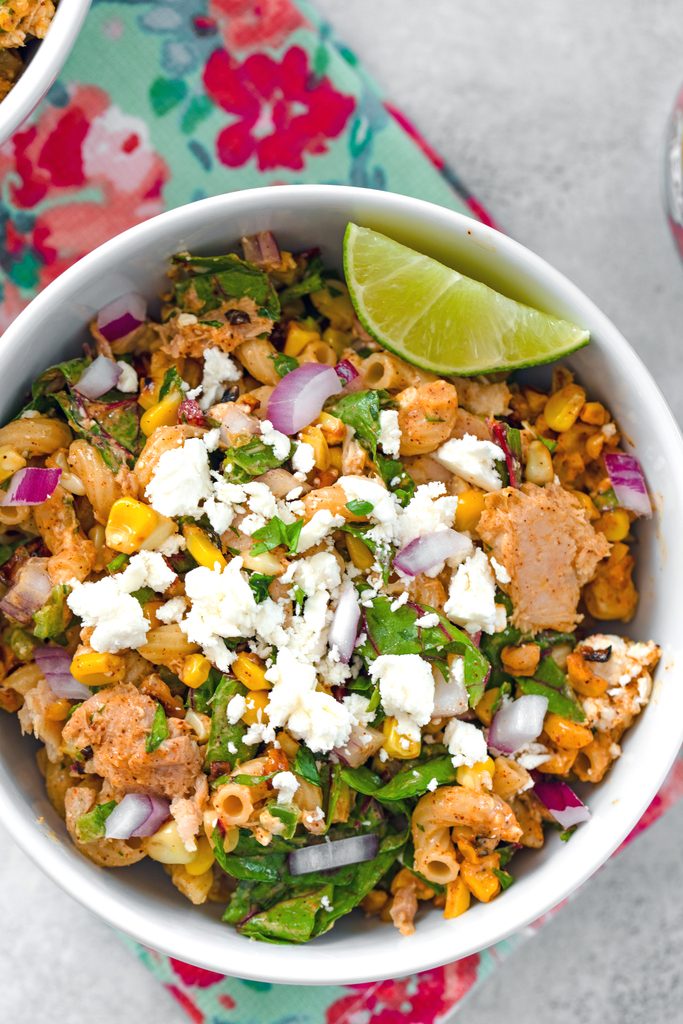 This salad makes the perfect side dish for any BBQ, picnic, or summer celebration, but it also makes an ideal lunch. And really, it's packed with enough good stuff to also make for a really satisfying dinner, especially on a hot evening when you don't feel like being on your feet in the kitchen, but want a delicious meal. Preferably eaten on the deck.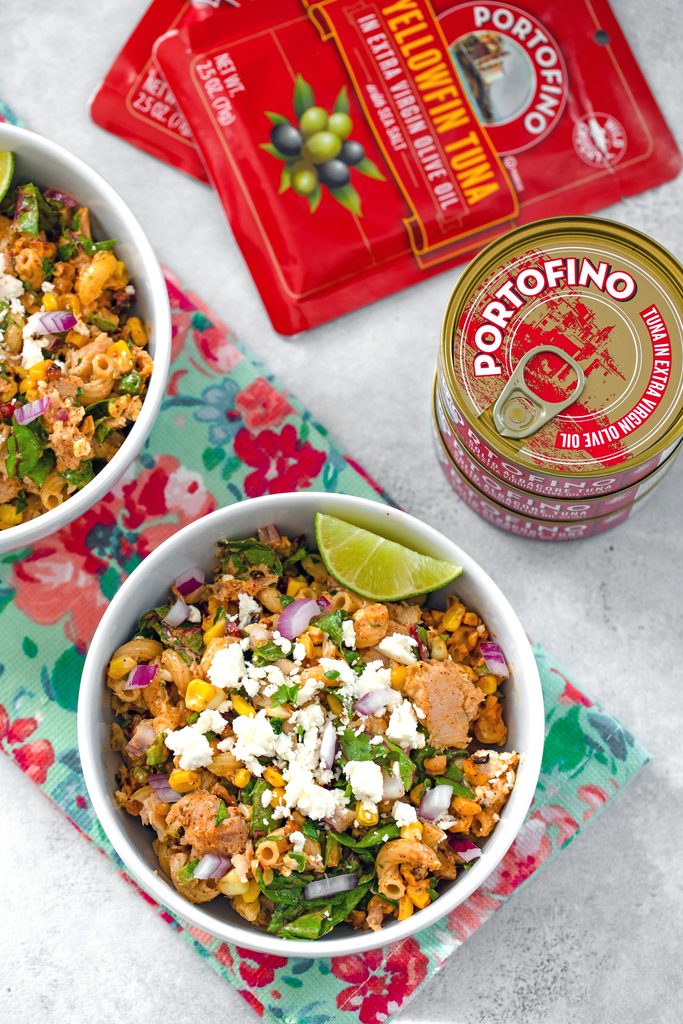 As should be expected with a salad based on elote corn, Elote Tuna Salad packs a wonderful punch. It's certainly not overly spicy, but it's full-flavored with a little kick thanks to the chili powder, cayenne, and jalapeño. The cheese mellows things out a bit and the tuna adds an incredibly satisfying aspect.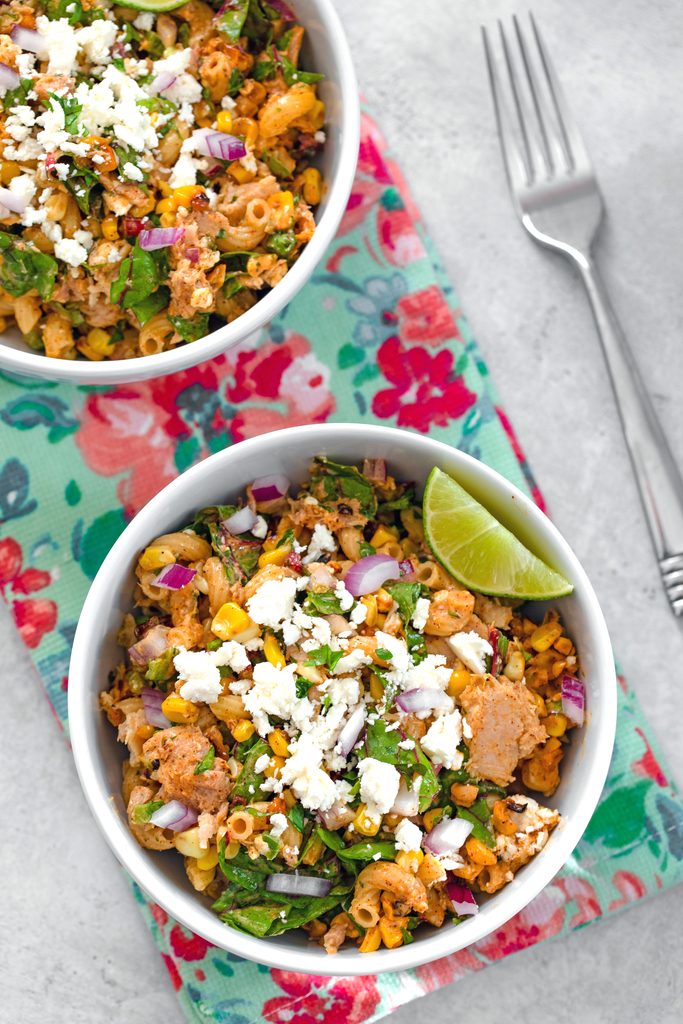 To be honest, most of the time when I eat tuna, I whip it up into a simple tuna salad with a little mayo or Greek yogurt and avocado with some celery. I also love a good tuna melt and have them on standby when I want a super fast dinner that will really satisfy. But now I want to start adding tuna into all my salads. Sure, I'd love a corn salad with a kick any day, but the tuna elevates it into a truly satisfying side or meal.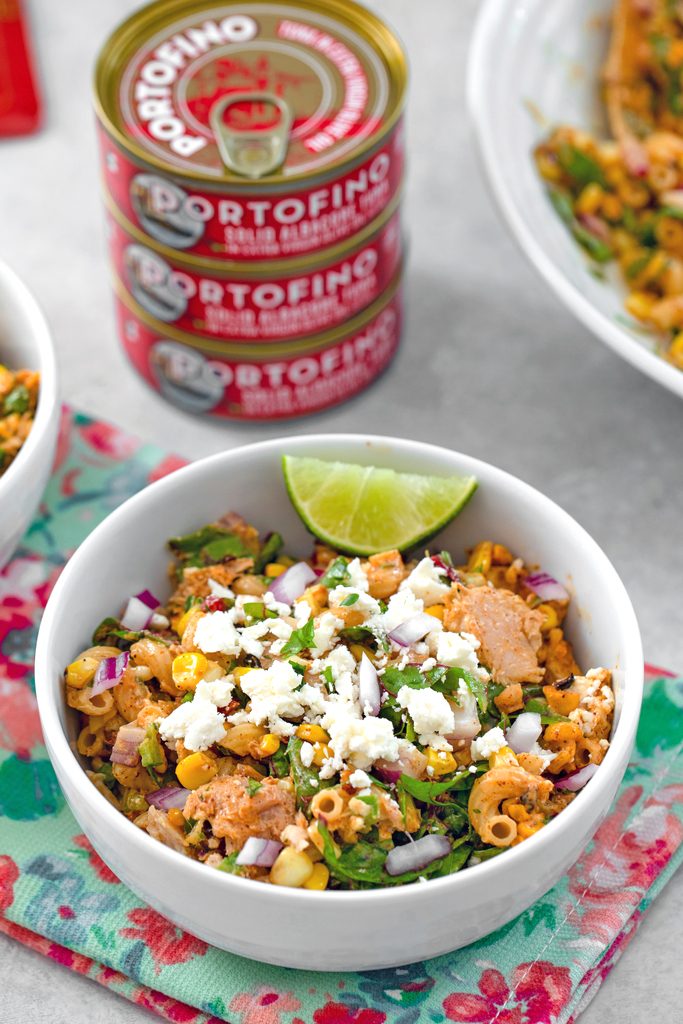 Next up? I'm seriously craving a Caesar salad with tuna. Suddenly, decisions feel pretty easy for me to make!
Portofino Tuna can be found at grocery stores like Market Basket, Price Chopper, Big Y, Hannaford, Shaw's, Fresh Market, and more! Check out their website to see where it's available near you.
What's your favorite way to enjoy tuna?
📖 Recipe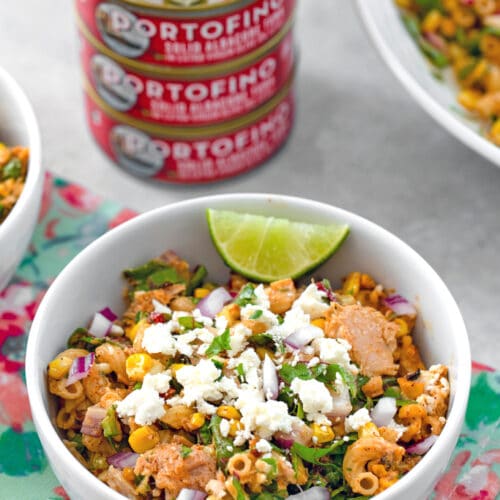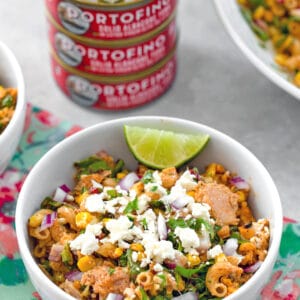 Elote Tuna Salad
This Elote Tuna Salad has all the elements of Mexican Street Corn, but is served in salad form with tuna, macaroni, and more. It has a little bit of a kick and a whole lot of satisfying flavor!
Print
Pin
Rate
Ingredients
1

cup

dry elbow macaroni

1

Tbsp

unsalted butter

3

cups

fresh corn,

from about 4 ears (you can also use frozen)

9-10

oz.

Portofino Tuna

2

cups

chopped red or rainbow chard

(you can also use kale or spinach)

⅓

cup

diced red onion

¼

diced jalapeño

(from 1 jalapeño pepper)

1 ½

tsp

finely chopped cilantro,

plus more for topping

⅓

cup

crumbled cotija cheese or queso blanco,

plus more for topping

⅓

Tbsp

regular or light mayonnaise

1

tsp

chili powder

½

tsp

cayenne

2

Tbsp

freshly squeezed lime juice
Instructions
Bring medium saucepan of lightly salted water to a boil. Once boiling, add elbow macaroni and cook until al dente. Drain and cool.

In the meantime, add butter to a non-stick grill pan or frying pan. Once melted, add corn kernels in and let cook for about 4 minutes before stirring. Let sit for another 4 minutes and stir again. Repeat a couple more times until the corn is nicely charred. Remove corn to a large bowl and let cool a bit.

Once corn is cooled, add tuna, chopped chard, cooled macaroni, onion, jalapeño, cilantro, and cotija cheese to the bowl.

In a separate small bowl, stir together mayonnaise, chili powder, cayenne, and freshly squeezed lime juice.

Pour dressing mixture over corn and toss well to combine.

Serve salad in individual bowls and top with additional cheese and cilantro.
Share a Photo of Your Finished Recipe!
Mention @wearenotmartha and share a photo if you've made the recipe!