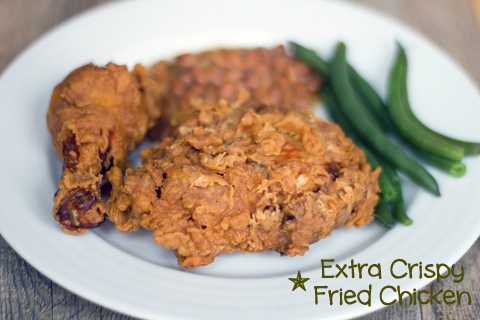 I don't care what anyone says about print dying and all that jazz. I will always read magazines. Especially food magazines. And especially on planes. But my favorite thing of all is when magazines effectively utilize digital media while staying true to their print roots. As a social media enthusiast (OK, it's really my career), I always have my eye on brands and how they're engaging their customers. So, I was pretty excited to see Saveur magazine was jumping aboard the Instagram trend and encouraging users to cook their recipes and post to Instagram for a chance to win. I obviously had to join in the fun. And then I totally forgot to Instagram my photo. Until last night when I remembered and realized I had a grand total of 30 minutes left to post. But I still wanted to share the recipe… Because it's a fabulous one.
And who doesn't love fried chicken? I was actually OBSESSED with fried chicken as a kid and then I legitimately ate so much of it that I had to spend a few years fried chicken free. I learned my lesson big time. I never want to feel that way again. So, now I'm back in the game and Saveur has made me realize I really do need my own trusty fried chicken recipe that I can make every so often when the craving hits. This is it! It promises to be extra crispy and extra crispy it is!
Extra-Crispy Fried Chicken (serves about 4):
Adapted from Saveur magazine
Print this recipe!
¼ C kosher salt, plus more for seasoning
2 T coarsely ground black pepper, plus more for seasoning
2 T honey
2 T sugar
10 whole cloves
6 sprigs parsley
6 sprigs thyme
4 bay leaves
1 lemon (juice and zest)
1 chicken, quartered (3 ½-4 lbs.)
4 C flour
2 T minced garlic
1 ½ T cayenne
1 ½ T onion powder
1 t paprika
1 T baking powder
Canola oil for frying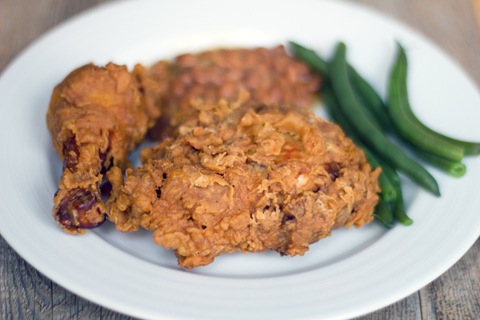 Though this chicken has a lot of ingredients involved, it's actually pretty quick to prep. It does require double frying, so it you're scared of frying, this might not be the best recipe for you. But I promise the double frying is worth it. So, so worth it! And if you have a Ninja Frying System, I promise that frying is SO much less scary. No smoke in my apartment or anything.
To start, you're going to brine the chicken. This will make for a juicer more tender fried chicken. And into the brine is where most of this recipe's ingredients go.
In a 4 quart saucepan, boil the salt, pepper, honey, sugar, cloves, parsley, thyme, bay leaves, lemon zest, lemon juice, along with 6 cups of water, until the salt is dissolved. This will take about 5-7 minutes.
Then, remove the saucepan from the heat and let cool completely. Add chicken to the pan, cover, and refrigerate overnight. I didn't want to let mine brine too long, so I made the brine in the evening, let it cool overnight, and popped my chicken in in the morning since I was going to be out all day and wouldn't be frying until night.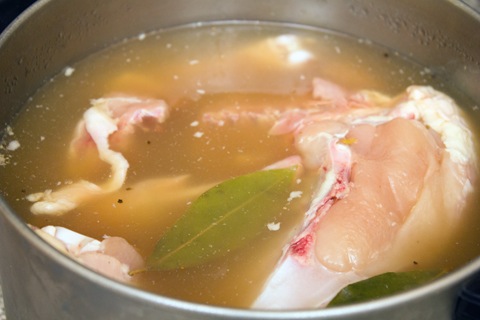 When I was ready to fry, I drained the chicken, rinsed, and patted dry with paper towels.
Now it's batter time! In a large bowl, whisk together 2 cups flour, half each of the granulated garlic, cayenne, onion powder, and paprika with a pinch of salt and a pinch of pepper.
In another large bowl, whisk together the remaining flour, minced garlic, cayenne, onion powder, and paprika with all of the baking powder, a pinch of salt, a pinch of pepper pepper, along with 2 cup of water. Whisk until it's a smooth batter.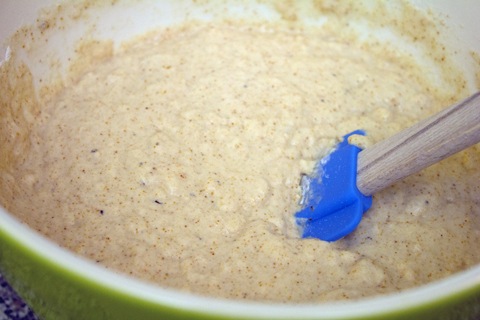 Get your oil ready. Pour enough oil into a 6-qt. Dutch oven or a fryer so it's at a depth of 2". Heat the oil to 300°.
Working in batches, begin dredging the chicken. First, dredge in the flour mixture, shaking off excess flour.
Then dip in batter.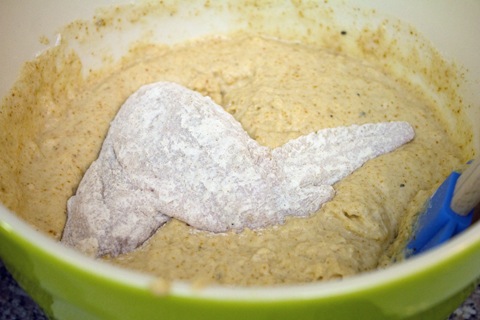 And lastly, dredge again in flour.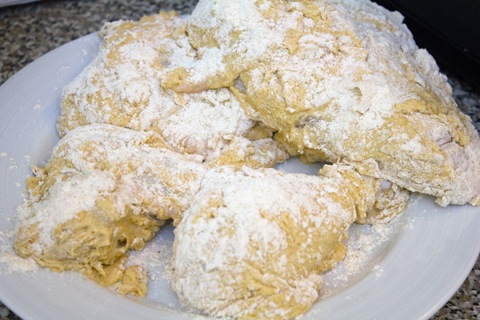 Place chicken in hot oil (working in batches if necessary), flipping once, until the chicken is golden and just about cooked through, about 7–8 minutes (thickest part of thigh should read 150°). Transfer fried chicken to paper towels to rest, while you fry the remaining chicken.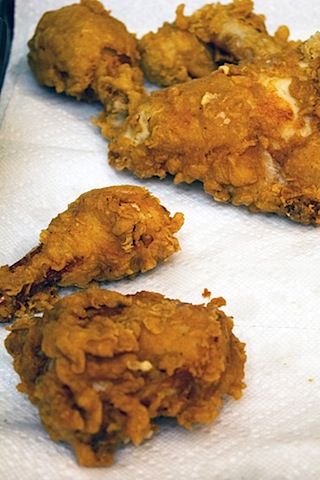 Now, increase oil to 350° and fry chicken again until it's even crispier, about 2–3 minutes more. Drain on paper towels again and season with some more salt and pepper.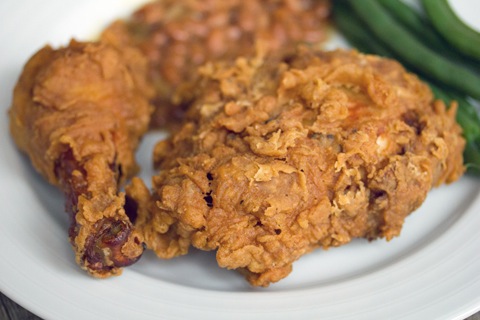 Saveur told me to serve the chicken with baked beans and sautéed green beans, so I did! Great decision. And this was basically the best meal ever.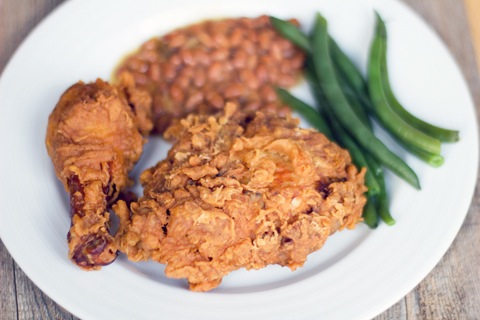 Welcome back into my life, fried chicken. Though this is the first fried chicken recipe I've ever made, I do think it's going to become my go-to recipe. It was amazingly crispy and perfectly tender. I couldn't even believe I made this in my own kitchen. Hoorah!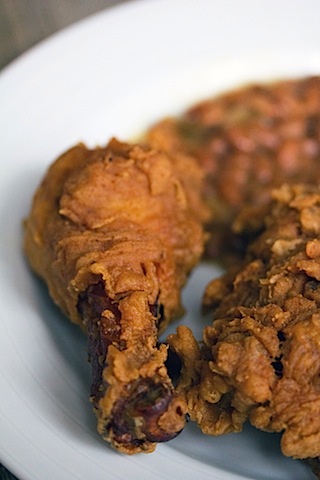 Of course, fried chicken isn't the prettiest of all foods, so these pictures won't likely win any awards. But they still have the power to make me drool. Now that I've had this, I can totally see how it's possible to eat so much fried chicken you need to take a break. Fried chicken overdose. I had to restrain myself from eating an entire batch of this. I can't go back to fried chicken rehab again.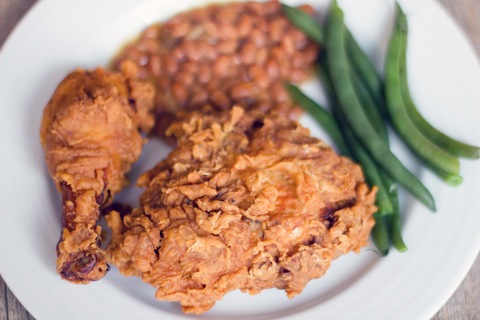 And I totally want to make this recipe again ASAP. Who wants to come over for some fried chicken??
Have you made fried chicken before?
[Sues]