When I was at Dinosaur BBQ a couple weeks ago I noticed they had Fried Green Tomato BLTs on their menu. I was so incredibly tempted to order it for dinner, but figured since I was at a BBQ joint I should most definitely order some tasty ribs, which is exactly what I did. I couldn't stand the thought of not eating any fried green tomatoes so I ordered them as an appetizer and they were delicious to the umpteenth power. As I was eating them I promised myself that I'd make fried green tomatoes when I got home... And that's exactly what I did last night.
First things first, you need, well, green tomatoes. After searching high and low for them at three local grocery stores and becoming increasingly more frustrated with each failed trip, I remembered that Allandale Farm in Brookline wasn't too far from my house. I hopped back in my car, looked the farm up on my iPhone, called to see what time they closed and asked if they had green tomatoes. Yes, they had them, and they closed in 30 minutes. Pedal to the metal, that's what I did. You see, the thing about me is once I get my mind set on something, I.will.not.give.up. At all. I was in the mood for fried green tomatoes and if that meant I had to drive to Alabama to find them, that's what I was going to do. Okay, not really. But I want things when I want them and I'm rarely willing to compromise. Especially when food is involved.
Here's what you need: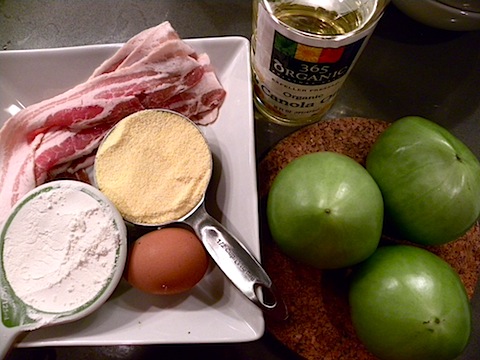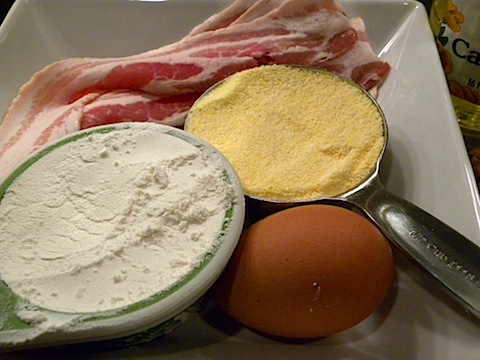 • 4 slices of bacon (or really, however much you'd like)
• ½ cup all-purpose flour
• 1 large egg beaten with 1 tablespoon water
• ½ cup yellow cornmeal
• 1 lb unripe green tomatoes or large tomatillos, cut into ½ inch slices
• canola oil
• thick slices of whole wheat or multigrain bread, toasted
• mayonnaise and baby arugula, for assembling sandwiches
Let's pause for a moment to enjoy the bounty of the farm: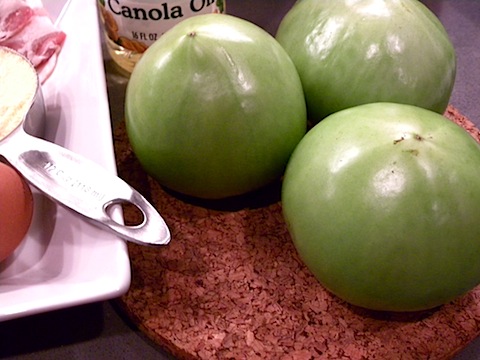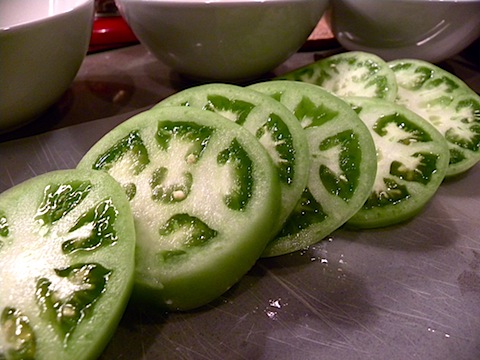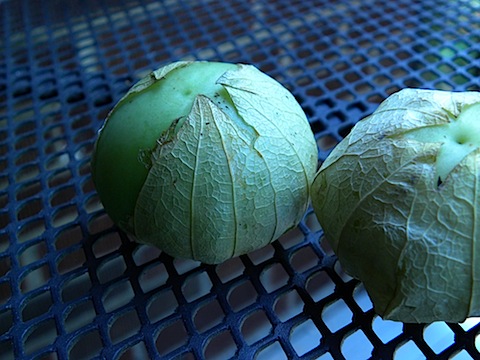 (these are the tomatillo, above. I didn't use them, since the farm had green tomatoes, but just bought a couple to show you all what they looked like!)
Okay, back to the game-plan.
Here's what you do:
• Preheat oven to 400 degrees and line a rimmed baking sheet with foil. Place the bacon on the foil and bake for roughly 15 minutes, until the bacon is crispy and your house smells like heaven 😉 For optimal crunch and minimum splatter, baking your bacon is the way to go. It comes out a lot flatter than it does in a skillet and the crunch factor is pretty phenomenal. Drain the bacon on a paper towel lined plate and cut in half.
• Meanwhile, put the flour, egg mixture, and cornmeal in 3 separate shallow bowls. Season the cornmeal with salt and pepper. Next time I'm definitely going to add a little cayenne, too. They could use a lil' heat!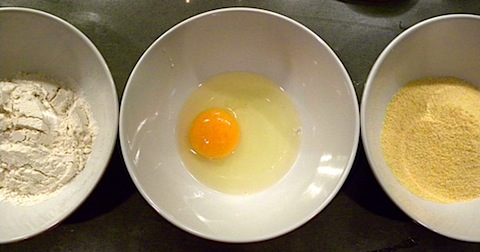 • Dip the tomato slices in the flour, followed by the egg, then to cornmeal, making sure to press the cornmeal to help it better adhere. Transfer the slices to a wax paper-lined platter.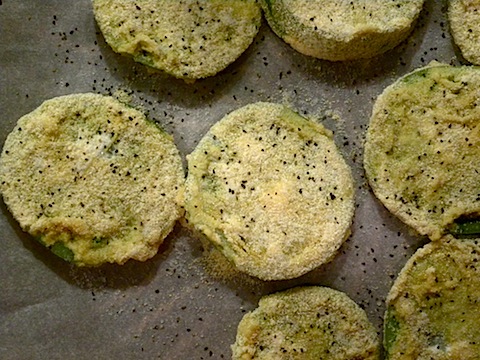 • In a large skillet, heat ¼ inch of canola oil until shimmering. Place tomatoes in oil and cook over moderately high heat, turning once. You'll be able to tell when the tomatoes are done when they are perfectly golden brown and crispy, about 5 minutes.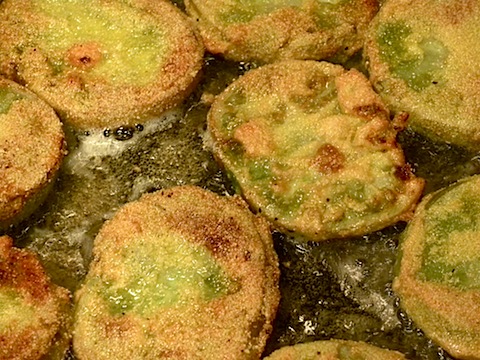 • Drain tomatoes on paper towels.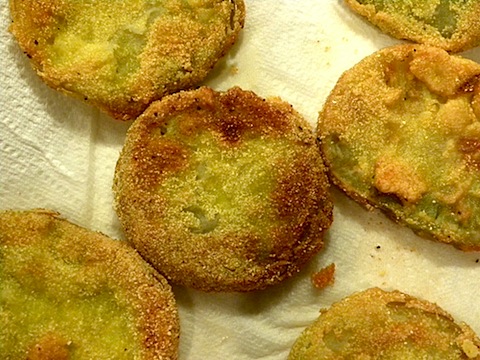 • Toast your whole wheat bread, spread a layer of mayonnaise, followed by a fried green tomato (or however many you'd like), bacon, and baby arugula.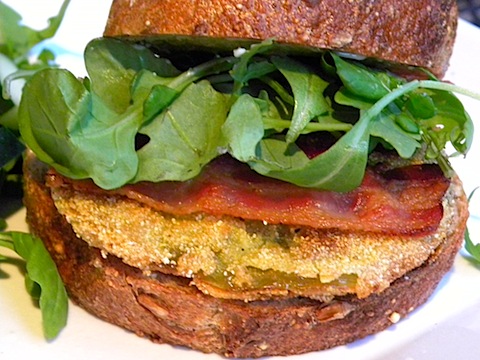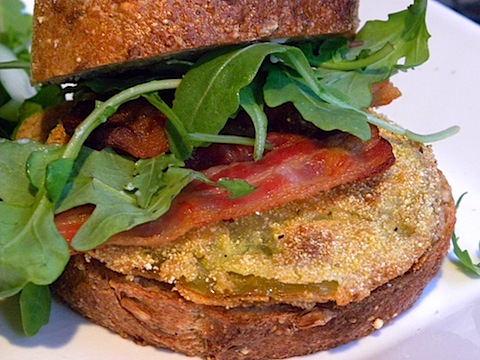 This sandwich has some serious personality. It requires big bites and each mouthful is a crunch-fest of some of my favorite flavors. I like taking "average" meals, like a BLT, and making them more unique by adding interesting and unsuspecting add-ons, like the fried green tomato. It just makes it different and special. Well to us northerner's its different, maybe this goes on daily down south? With a glass of sweet tea? It should be known that if this is a regular occurrence down south, I just might have to pack my bags and have an extended stay 😉
It should also be known that Fried Green Tomatoes is one of my favorite movies. Now I have a craving to watch it again.
Oh, and one more thing. This is VERY important...
For my birthday, Sues and Chris got me a 6-month membership to The Bacon of the Month Club through the Grateful Palate (there site has been down for a bit!). Do you all - or shall I say y'all since we just spoke of Fried Green Tomatoes? - know how excited I am to receive delicious artisan bacon monthly?!?!?!?! This weekend I was sent the welcome package to the Bacon of the Month Club. Among many items, there was a pig snout in the box. Obviously taking a picture of myself wearing it was the first thing I did. I wore this around the house for far longer than is normal. I had a dent in my nose to prove it.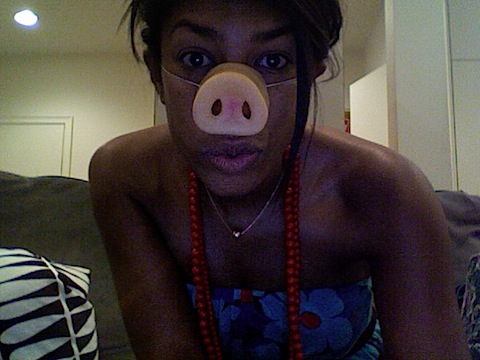 Also, on Sunday my friend Melis gave me a big ole' box of adorable pig related goodies, like a pig ice cream scoop! 🙂
And yes, I understand that pigs being my absolute favorite animal and bacon being my favorite food is a very, very, very twisted thing. I'm working on it.

Some of my other favorite unique sandwiches:
Apple, Sunflower Seed, and Cheddar Sandwich
Grilled Chicken Club Sandwich on a Deli Flat
Cafe 11 Club Sandwich
What's your favorite unique sandwich?
[Chels]