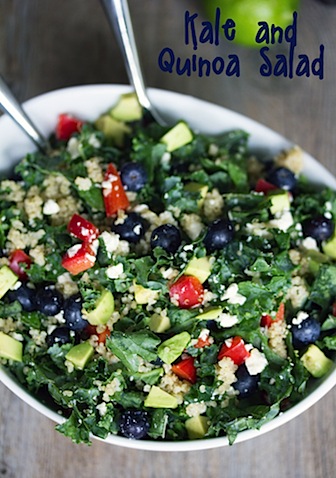 I have a rule that says if you make a recipe three times in two weeks, you should probably blog about it. Unless that recipe is nachos. Because there are ocassions when I do have nachos for dinner. But you don't need to see evidence of that. Really, actually pretend I didn't say that. This post is about kale! and quinoa! And yes, I absolutely eat healthy homemade dinners every night. Suuure.
I made this for the first time to bring to my sister's house for the 4th of July. It was the day before we went on vacation and I basically put everything in this salad that I needed to use up before we went away. Funny that it worked out so well that it's now pretty much my favorite salad ever. And it's superbly easy to throw together. That's why I call it "Everyday." Because I want to eat it every single day. And it's easy enough that I do.
Everyday Kale and Quinoa Salad (serves 6):
Print this recipe!
1 ½ C dry quinoa
6 C cleaned and chopped kale
1 red pepper, chopped
1 C blueberries
2 avocados, peeled, pitted, and chopped
4 oz. feta cheese, crumbled
1 lime
Extra virgin olive oil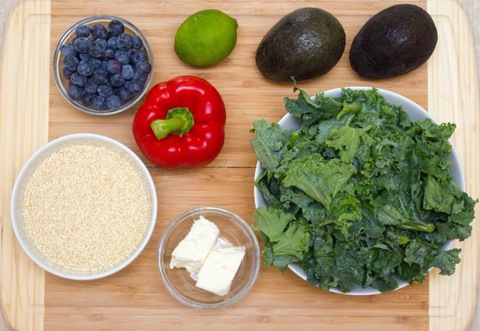 Welp. There's not really much that's difficult to figure out here. Besides the fact that you'll want to cook the quinoa. I brought my 1 ½ C quinoa to a boil with 3 C of water. Then I lowered to a simmer, covered, and let cook for about 15 minutes, until water was absorbed. I fluffed up the quinoa and put it in a bowl in the fridge to cool.
You'll also want to clean and tear up your kale (getting rid of the tough rib in the middle) or buy it already cleaned and chopped in a bag (BEST EVER).
Put it in a large bowl and sprinkle with the juice of one lime. Get as much juice out as you can. And let the kale sit in the lime juice for about 30 minutes.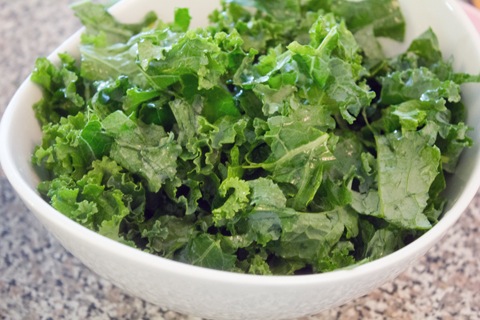 And then? Then add in the quinoa and your other ingredients and toss together. I drizzled a little extra virgin olive oil on top and combined with the lime juice the kale soaked in, this was my salad dressing.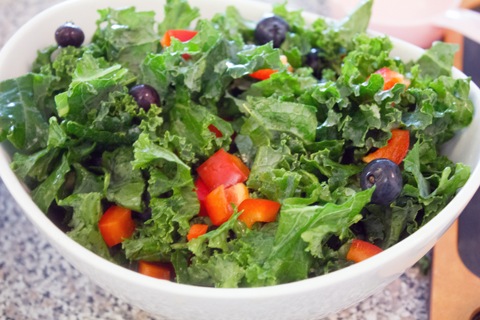 Yup, salads are easy. Almost stupid easy. I feel a little bad even calling this a recipe, but not really because it is one. And once you try it, you'll (hopefully) be happy it's here.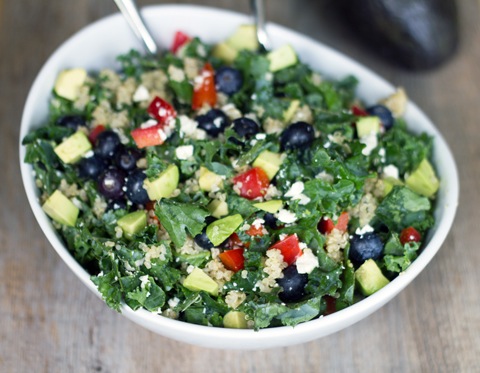 This is how I made the salad the first time I made it with what I had left in my fridge. I wasn't sure how it would all come together and thought the blueberries might be a little weird, but I ended up loving them. I made the salad again for a family party while on the vacation. And then I made it again the day after I got home from vacation to bring for work lunches for the week. And now that I'm looking at these photos, I'm seriously upset I haven't made it yet this week. So yeah, I guess you could say I'm a little in love.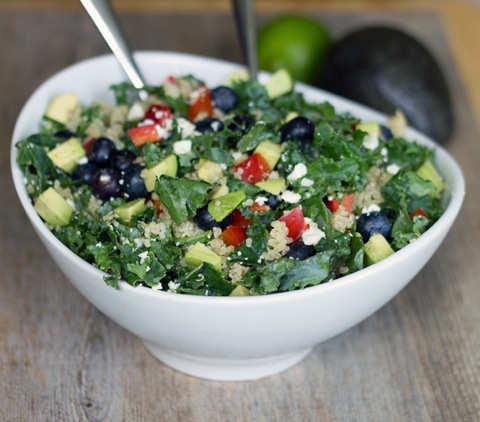 I used to think that people who claimed they were obsessed with kale were just saying that to sound all healthy and better-than-everyone-else. Sure, you can like kale OK and feel good about eating it, but be addicted to it? Let's not try to pretend it's a slice of chocolate cake here. But now I actually kind of get it. Yesterday I craved kale. Craved it. I had peanut butter cups sitting on my desk, but I wanted a bowl of lime-drenched kale. Who stole Susie and when are you bringing her back?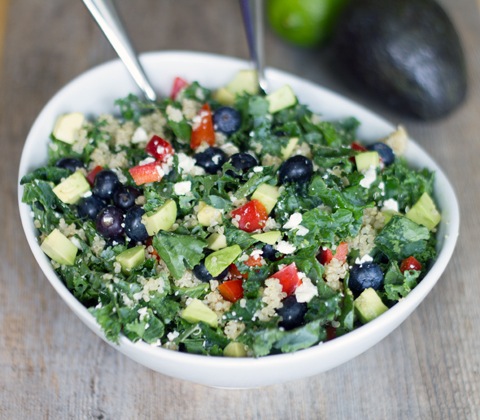 Speaking of, have you seen Bon Appetit's article on "44 Years of Trendy Vegetables"? Both avocado (1969) and kale are on there. Considering this salad involves quinoa, too, I'd say this is one trendy salad. Ever think you'd refer to a salad as trendy? Nope, me neither. I'd be worried about if I wasn't so darn thrilled over it.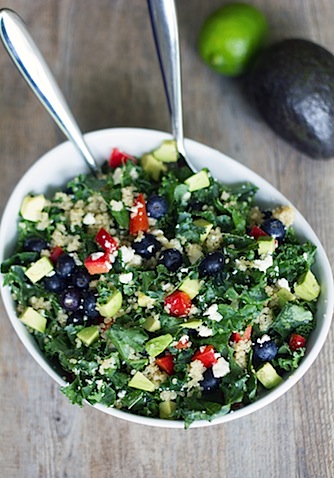 But really, I think this salad is so grand because it's the perfect combination of greens and grains. Plus, there is avocado and feta cheese involved and that automatically makes anything awesome. Oh wait, blueberries, too. Talk about antioxidants!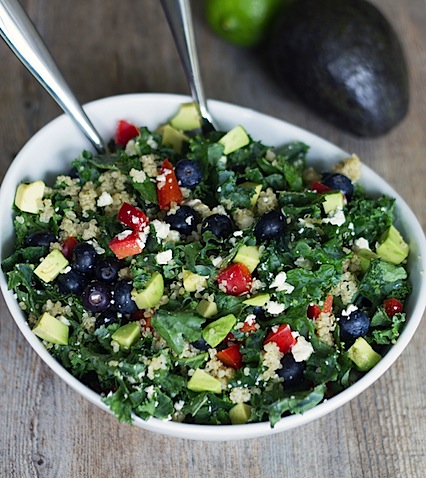 I have a tendency to overdo foods I love sometimes, so I'm interested to see how many times I make this salad before I decide I want nothing to do with it anymore. I really hope that never happens.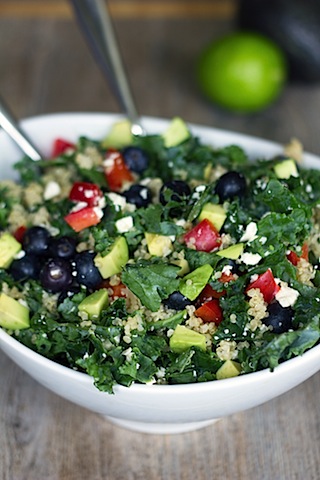 What have you been eating for lunch lately?
[Sues]