These Lemon Waffle Sandwiches are loaded with maple honey turkey, provolone cheese, and green apples, with a simple raspberry spread. They're perfect for enjoying during a late summer's picnic or any time of year!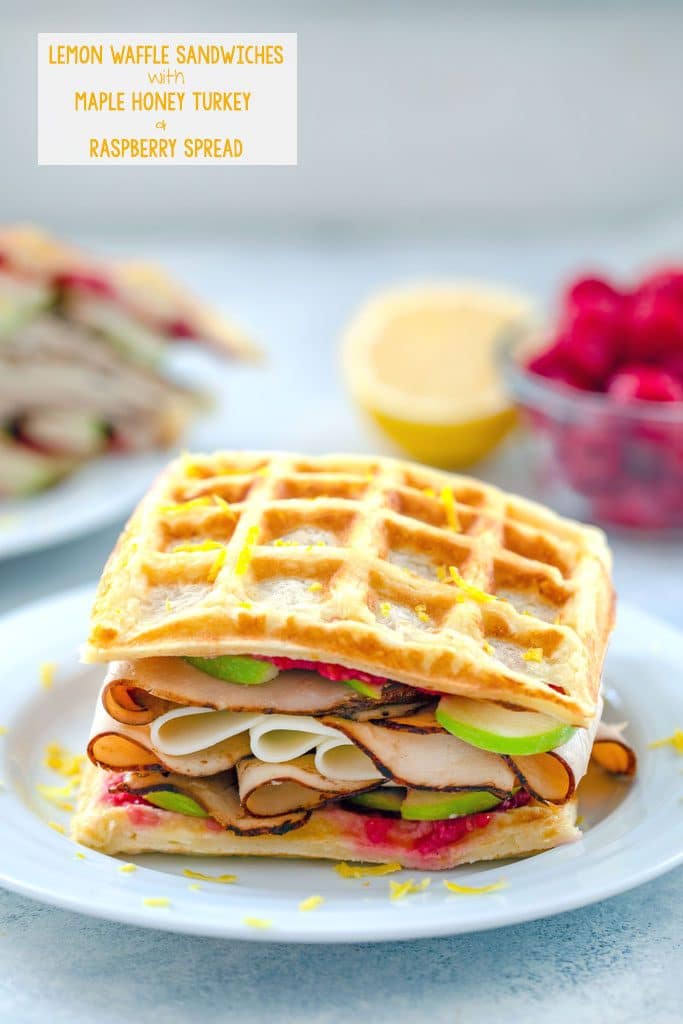 Thank you to McKenzie Natural Artisan Deli (available at Shaw's) for sponsoring this post. As always, all opinions are 100% my own. Thank you so much for supporting We are not Martha!
It's currently that time in the summer when I'm starting to get desperate. The days are getting a little bit shorter, kids are going back to school, and pumpkin beer is now fully stocked at my local liquor store. And I feel like I haven't spent nearly enough time outside. This summer has been a bit of a weird one in that the weather has fluctuated from "omg ridiculously hot, I think the world is on fire" to "rain, rain, rain." I think we're finally reaching a point in the season where I can happily spend some time outside without burning up, melting, or getting drenched. Phew! That means lots of walks with my pup, reading on the hammock, and, of course, dining al fresco.
I'm excited to enjoy dinner on my deck, but I think I'm even more excited to lay out a blanket on the grass and enjoy the afternoon sunshine with my husband and my dog (and um, probably the neighbor's dog barking like crazy at the sight of us sitting in our yard). I created these lemon waffle sandwiches with McKenzie Natural Artisan Deli especially for picnic goers, though they can also be enjoyed in the middle of winter while you're hiding out in in your house for weeks on end.
LEMON WAFFLE SANDWICHES WITH MAPLE HONEY TURKEY AND RASPBERRY SPREAD
Of course, waffles are typically made for breakfast and these lemon waffles are certainly quite delicious when served piping hot with maple syrup. But I like to make a big batch and use them for sandwiches throughout the week. There's something so fun about a waffle sandwich and these lemon waffles make for a particularly happy lunch. I went with a bit of a sweet and tart theme here with tart raspberry spread and green apples complementing the slightly sweet maple honey turkey and lemon waffles perfectly. If raspberries aren't in season where you are, you can use a raspberry preserve instead.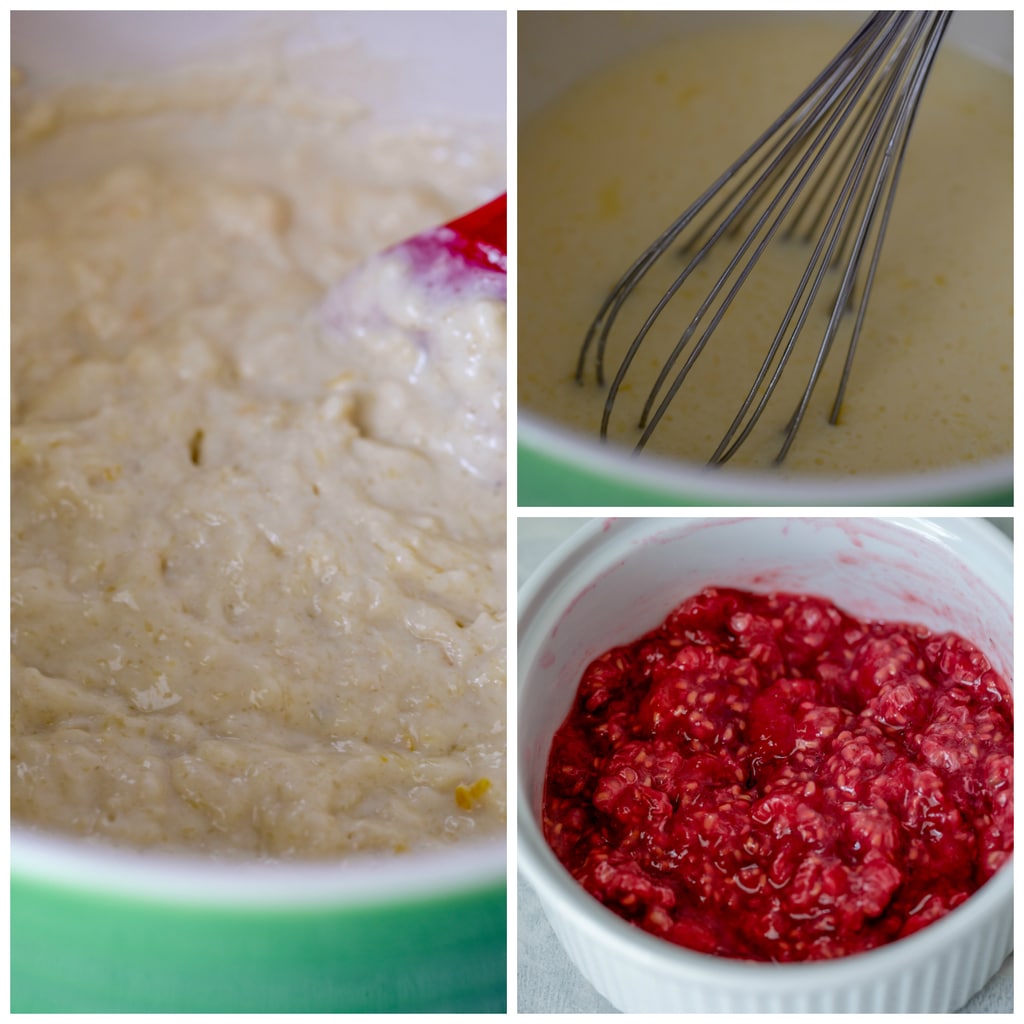 You do need a waffle maker to make waffles obviously, but if you don't have one, you could always use this batter to make pancakes and make a pancake sandwich instead!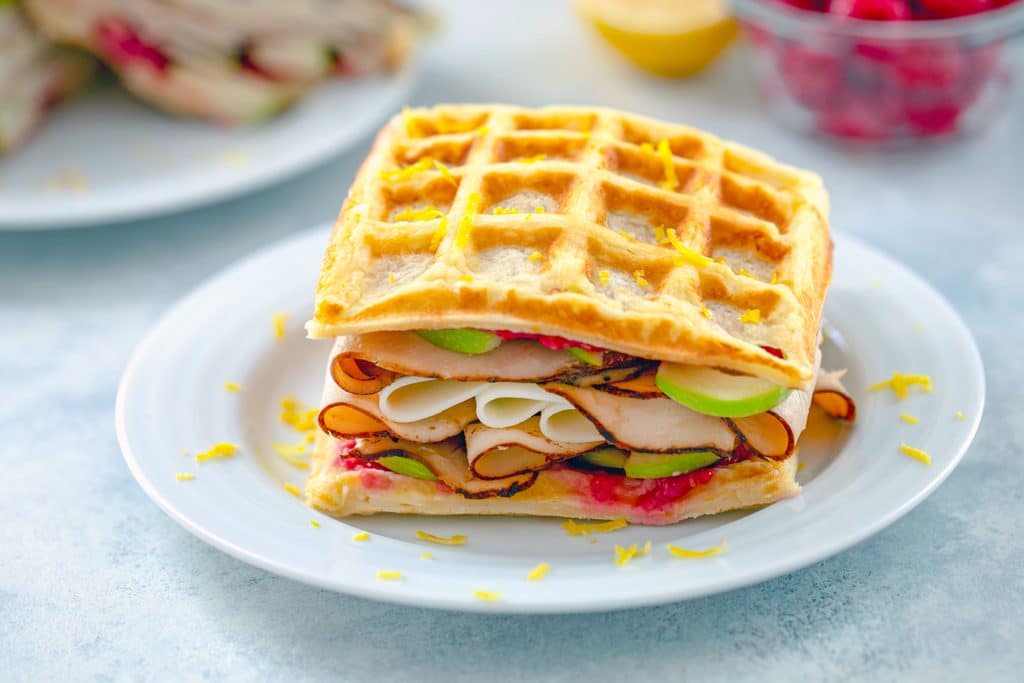 My ideal sandwich is one that's fully loaded with the good stuff; no skimpy sandwiches for me! If you've been reading my blog for some time, you know how I feel about McKenzie Artisan Deli. I love their meats and cheeses because they're all natural with no added growth hormones or antibiotics. Also, one of the philosophies on their website says, "Be good, do good, and bring good to as many people as we can" and how can you not love a company who makes that their mission?? If you're in the New England area, you can purchase McKenzie products at your local Shaw's.
Also, their maple honey turkey is seriously to die for. Whenever I make a sandwich with it, I stand at the counter and play the "one slice for my sandwich and one slice for me" game. And I make sure to put enough in my sandwiches so I can get plenty with every bite. Be sure to check out all of the products McKenzie has available (I NEED to get my hands on that Thanksgiving Gobbler Turkey!)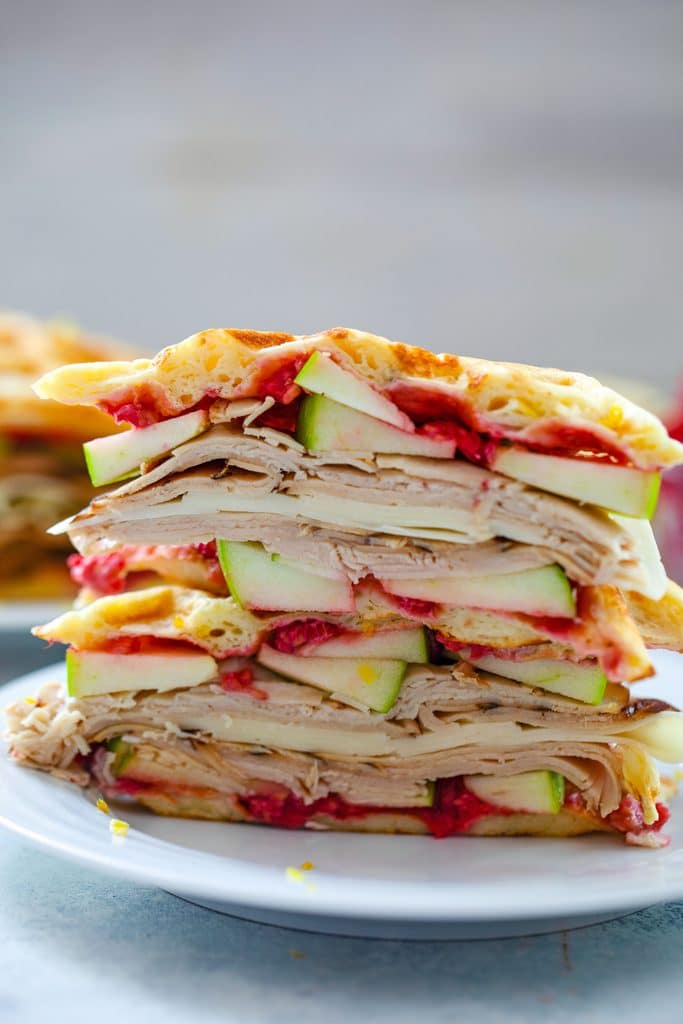 These waffle sandwiches are basically a little extra sunshine in my life and just one more reason to smile. Each bite is a little bit sweet and a little bit sour and basically heaven. You can also feel free to drizzle maple syrup over the top for some added sweetness and a little more complementary flavor to that maple honey turkey. Of course, maple syrup does make a bit of a mess at a picnic...
And you're really going to want to have a picnic after seeing this!! See that picnic setup below? Isn't that cooler simply gorgeous?! Well, I have good news because thanks to McKenzie, I'm giving away pretty much the whole spread (well, minus the food) over on my Instagram feed tomorrow. So, come follow me now at @wearenotmartha and stay tuned!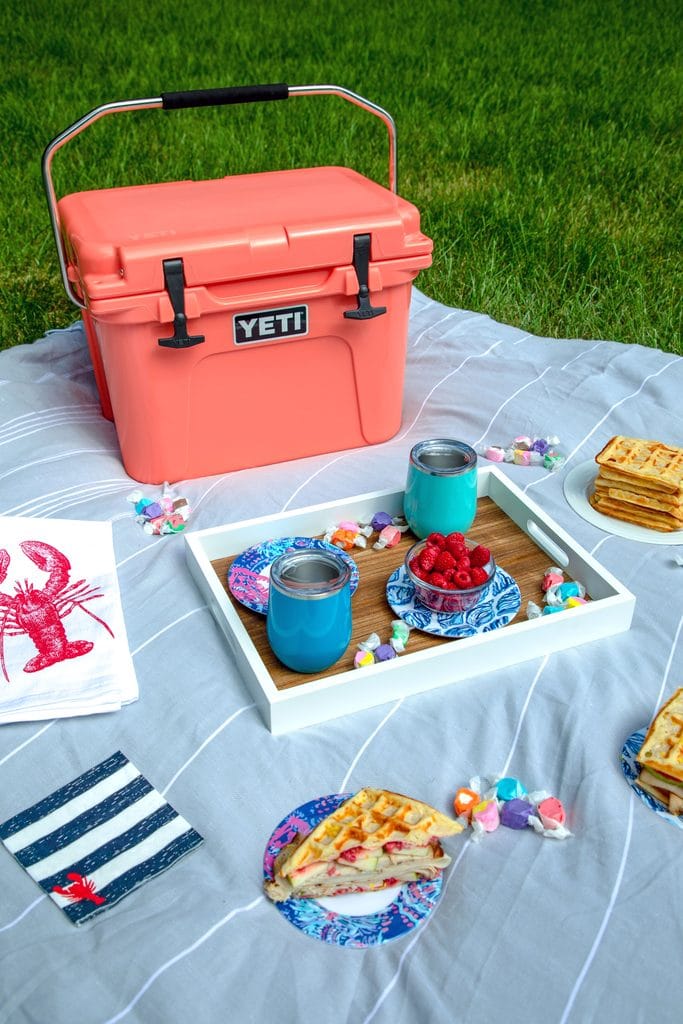 Like I said, it includes that gorgeous Yeti cooler and a whole bunch of fabulous New England themed goodies... Basically, everything you need to have your own fabulous New England style late summer picnic. I hope you'll make my lemon waffle sandwiches with honey turkey and raspberry spread, whip some sides (or fine, open a bag of chips) and head outside to enjoy the last of these summer days!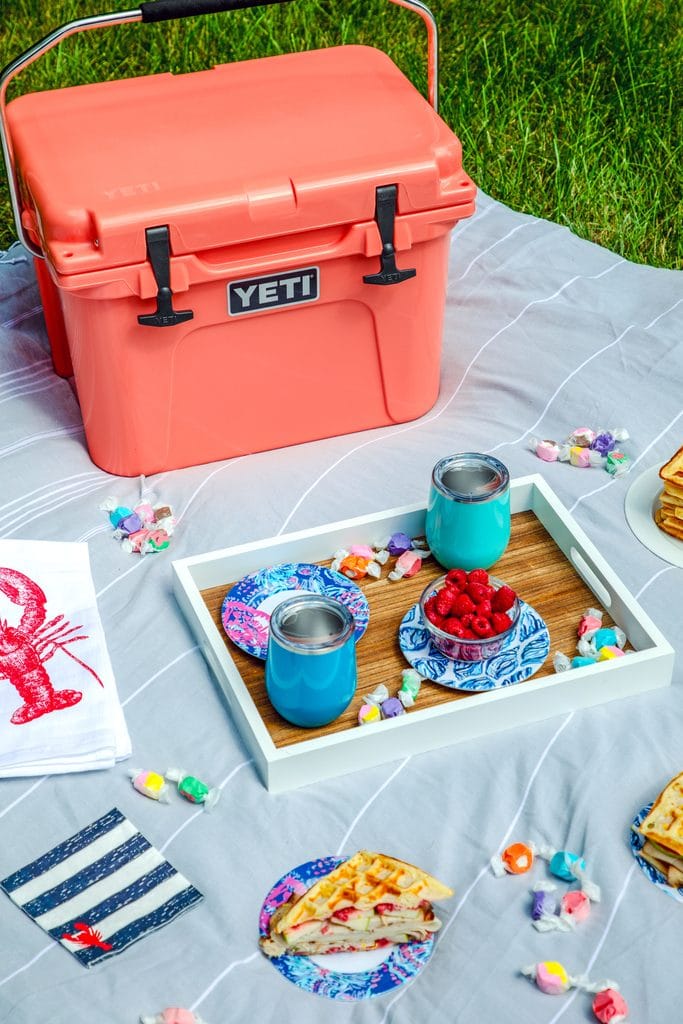 Now if you'll excuse me, the temperature has finally dropped a bit for the day and I'm off to spend a little bit of time outside while I quietly cry about summer ending soon (but only momentarily because I'm also a pretty big fan of fall!).
Don't forget to come follow me on Instagram for a chance to win the Yeti cooler and picnic spread!
What's your ideal picnic lunch?
📖 Recipe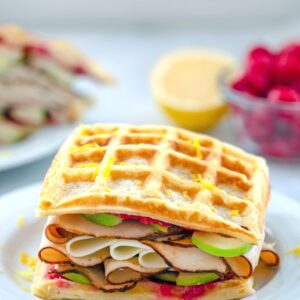 Lemon Waffle Sandwiches with Maple Honey Turkey and Raspberry Spread
These Lemon Waffle Sandwiches are loaded with maple honey turkey, provolone cheese, and green apples, with a simple raspberry spread. They're perfect for enjoying during a late summer's picnic or any time of year!
Print
Pin
Rate
Ingredients
2

cups

all-purpose flour

1

Tbsp

granulated sugar

2

tsp

baking powder

1

tsp

baking soda

¼

tsp

salt

2

cups

buttermilk

2

Tbsp

freshly squeezed lemon juice

2

tsp

lemon zest

½

cup (1 stick)

unsalted butter,

melted

6

oz.

fresh raspberries

¼

lb.

McKenzie Maple Honey Turkey

4

slices

McKenzie Provolone Cheese

1

granny smith apple,

thinly sliced
Instructions
In a medium bowl, whisk together flour, sugar, baking powder, baking soda, and salt.

In a separate, larger bowl, whisk together buttermilk, lemon juice, lemon zest, eggs, and melted butter.

Pour dry mixture into wet mixture and stir until just combined, being careful not to over-mix.

Heat waffle iron and spray lightly with cooking oil or brush with canola oil. Pour batter into waffle iron, close iron, and let cook for 3-5 minutes, until waffles are golden.

In a small bowl, mash raspberries with a fork. Spread mashed raspberries on one side of each waffle.

Layer honey turkey, provolone cheese, and sliced green apples on two waffles and top with the remaining two waffles.
Share a Photo of Your Finished Recipe!
Mention @wearenotmartha and share a photo if you've made the recipe!