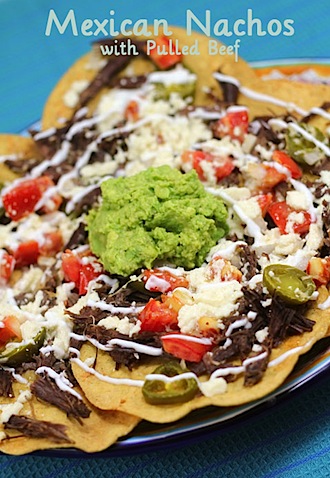 There are few things I love more than nachos. But it's such a struggle in life because you know if you go out to dinner and order nachos as an appetizer, by the time your meal comes around, you won't be hungry for it. But still, every time you're out you conveniently convince yourself this won't happen again. You'll control yourself. You'll share the nachos with the whole table. You'll only have a few. You'll definitely save room. But do you ever really? It's time to stop fooling yourself. I'm not saying you can't order the nachos. I'm just saying, top them with pulled beef and call them a meal. If nachos are your dinner, then you don't have to worry about saving room for anything else. Unless it's dessert. But then, you always have room for dessert.
When Chris and I were on our honeymoon in Los Cabos, Mexico (Swooon. Can we go back yet?? Please??), we ate a lot of nachos. We were on vacation and that's the kind of thing you do on vacation. Nachos for every meal (and snack) and nobody can tell you you're being ridiculous. Plus, when you're all the way in Mexico, nobody can see you being ridiculous. And since Chris vowed to be with me for better or for worse, there was no running away for him when he saw how many nachos I can and did house.
Basically, the nachos we had in Mexico were some of the best we ever had and we were determined to replicate them when we returned home.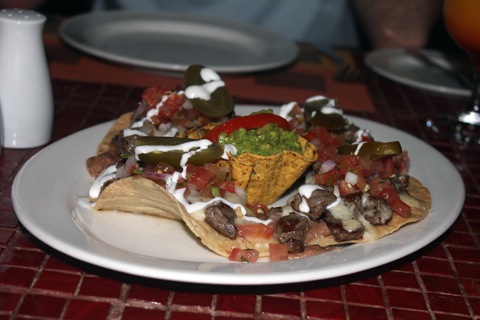 We especially loved that they were made with tostadas because who wouldn't love a giant nacho chip? I was psyched that we stumbled across them at Market Basket upon our return.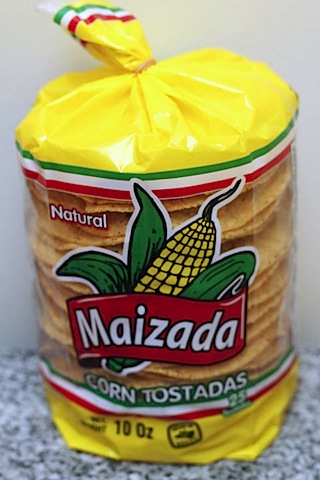 I didn't take an ingredients shot when making this dish because I was kind of just going with the flow and wasn't sure exactly what I'd be doing when I started. I'd say they came out pretty much awesome and I will likely be making them again and again. As a complete meal. Why is it that it's perfectly acceptable to have tacos as a meal, but not nachos? Riddle me that.
Mexican Nachos with Pulled Beef:
Print this recipe!
Chuck roast (mine was about 2 lbs. but I didn't use all of it for the nachos)
2 T chili powder
1 T cumin
1 T garlic powder
2 bay leaves
6 tostadas
Pickled jalapeños
Tomatoes, chopped
Onion, chopped
Queso blanco, or other spanish cheese
¼ C sour cream
1 avocado
Lime juice
While nachos are typically known as quick food, topping them with shredded beef obviously makes them take a little bit longer to prepare. I wanted to make a perfectly shredded roast, so I got a chuck roast and slow cooked it for a few hours. This is one of the times I wish I had a slow cooker. I know; it's kind of weird that I don't have one, but I've never really gotten the whole slow cooker trend. But for large cuts of meat that you want to cook slowly, I feel like a slow cooker's the way to go. Plus, I could whip this up while I'm at work! Not so much when you have to use the oven.
Anyway, put the roast, chili powder, cumin, garlic powder, and bay leaves in a dutch oven, covering with water. Bring to a boil over high heat and then reduce to a simmer, partially covering dutch oven with its lid. Cook for about 3-4 hours, until the meat is falling apart.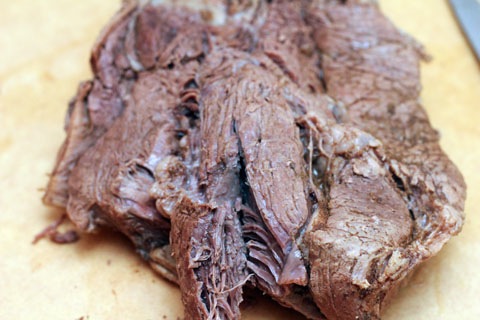 Transfer the roast to a cutting board and once it's cool enough to touch, shred the meat with your fingers or a knife. Perfection! Waiting for beef like this is always worth it. Plus, your kitchen will smell phenomenal. I've heard that's another benefit to owning a slow cooker.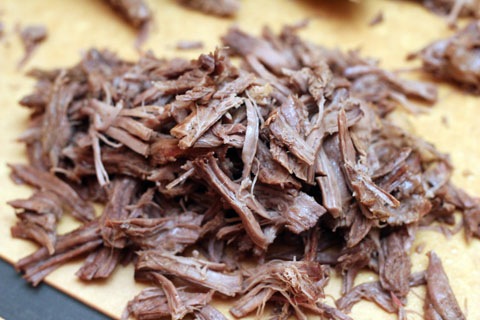 Now, pre-heat your oven to 350 degrees. On a baking sheet covered in foil, arrange your tostadas. I had mine slightly overlapping.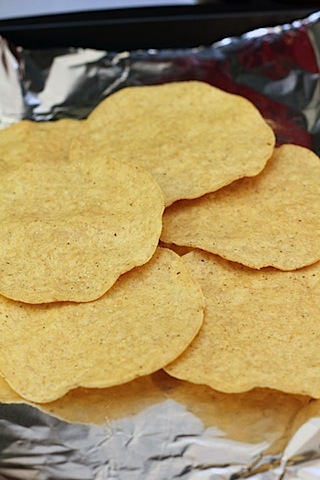 Layer all your toppings on the chips. You can obviously use ANYTHING you want here. I did a few of my faves.
Like, the brisket, pickled jalapeños, chopped tomatoes, and chopped onions.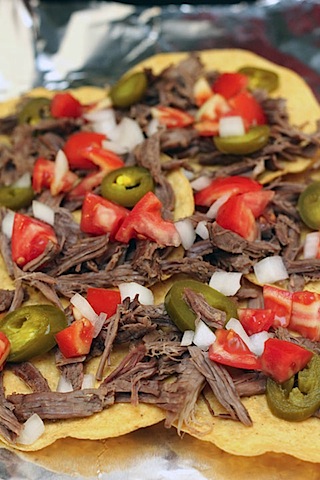 And then a nice generous layer of crumbled queso blanco. Feel free to get crazy and improvise.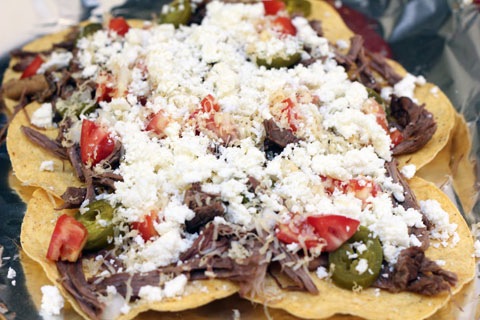 Pop those babies in the oven at 350 degrees for about 8 minutes, just until the cheese gets all nice and melty.
Sour cream (or Greek yogurt) is a must on Mexican nachos and I put mine in my frosting squeeze bottle because I wanted to drizzle it on the nachos, instead of adding it in clumps.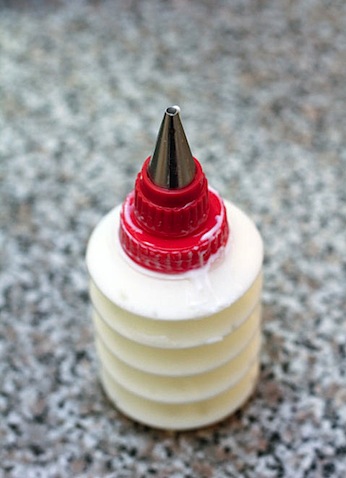 YES, please.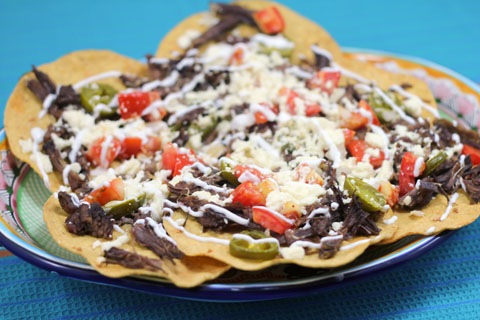 But you can't forget the guacamole! I'm sorely disappointed if I order nachos somewhere and there's either a) no guacamole, b) the sorriest little dollop of guacamole you've ever seen, or c) an extra charge for guacamole. Guacamole should be a given and every time we ordered nachos in Mexico, it was.
I simply mashed an avocado and mixed it with some salt, pepper, and lime juice.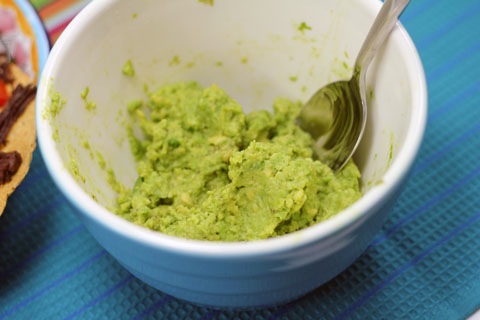 And I got out my Telavera ceramic plate that we got in Mexico. This plate makes me incredibly happy.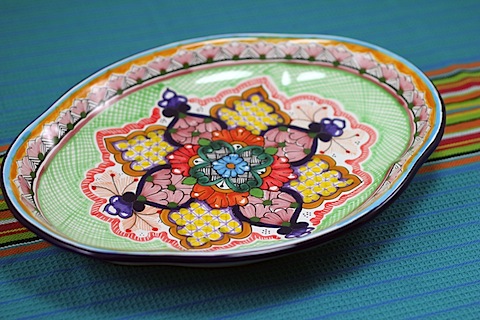 I moved the nachos from the baking dish to my pretty dish.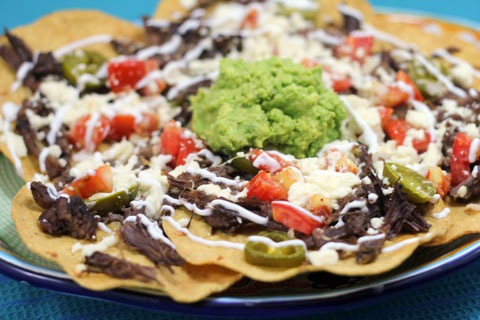 And marveled at their beauty. Not exactly like what we had in Mexico, but pretty darn close. All the elements were there and I felt almost like I was back on the beach with not a worry in the world with every bite I had.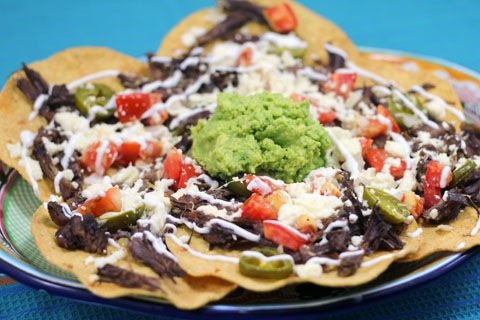 Yes, we ate these as a meal. And no, we didn't regret it. What more could you ask for in a dinner? Oh, a margarita? Good point.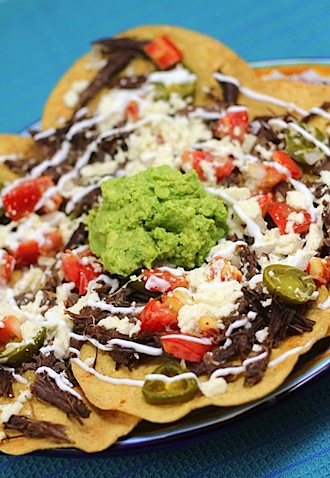 Nachos are one of those staples in life that you always need to be at the ready to prepare. While preparing the beef makes these a little more intensive and not so much "make on a whim," they're versatile enough that you can improvise and do whatever you want. Buy a rotisserie chicken and shred it for your protein. Or go meatless and utilize black beans instead.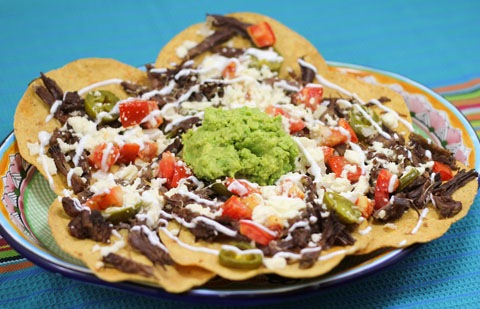 But whatever you do, you've got to have the guacamole. And jalapeños. Lots and lots of jalapeños.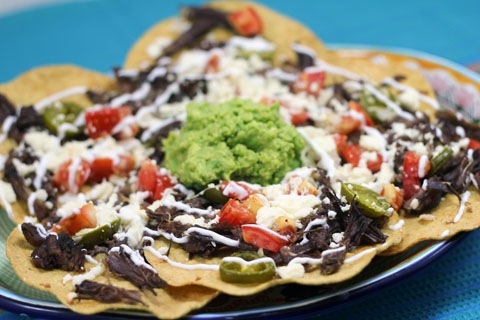 I suppose this meal will hold me over until I can jet off and make another getaway to Mexico. Which means it will probably have to hold me over for quite a while. That's what happens when you use up all your vacation time on your honeymoon. Which, by the way, already feels like it was 250 years ago. I have yet to understand how a summer can fly by so quickly, yet June feels like so long ago.
Happy Monday, friends! I hope your week is off to a great start. I'm getting ready to buckle down for a busy one, but I have happy thoughts of the weekend and attending the fabulous Belgian Beer Fest in Boston. Did you know Night Shift Brewing makes a habanero beer? Ah-mazing. Actually, all of their beers were. Every single one. And they're based in Everett. New favorite! This week, I've got to get through tons of work to make my way to Bon Iver on Thursday. Woo hoo!
Do you approve of nachos as a meal?
[Sues]
http://www.blogdash.com/full_profile/?claim_code=c787387e0568e563c74d60ac3c0c96b8