Hello, Monday. Goodbye weekend filled with fun. And tons of heavy (but deliciously amazing) food. For those who asked if Chels and I are sick of feta-full salads yet, I have to say 100% honestly I am not. At all. This challenge is awesome because it's "forcing" me to eat salads. And I'm pretty sure I'll never get sick of feta, so no problem there.
So, while this salad did have plenty of veggie-goodness, it wasn't exactly totally healthy. But like I said, it's Monday, and we have to ease into this week slowly. So, yes, there are corn and tomatoes. But yes, there is also butter. The good news? I got my salad inspiration from this recipe on the Food Channel website, but I changed it a bit. And cut way down on the butter it called for. And the olive oil too (though there's nothing I hate more than people who bash olive oil. In moderation, it's SO good for you!!).
Pan-Roasted Corn Salad with Tomatoes and Feta:
4 ears of corn, husks and silks removed and shucked off cob (about 3.5 C of kernels)
1.5 T unsalted butter
2.5 T extra-virgin olive oil
1 garlic clove, minced
1 t thyme, freshly chopped
1 bunch green onions, thinly sliced
Salt and freshly ground pepper
3 C halved cherry tomatoes
4 oz. Athenos feta cheese, crumbled (I used Athenos Roasted Bell Pepper and Garlic. OMG!)
Juice from 1/2 lime
2 T basil, slivered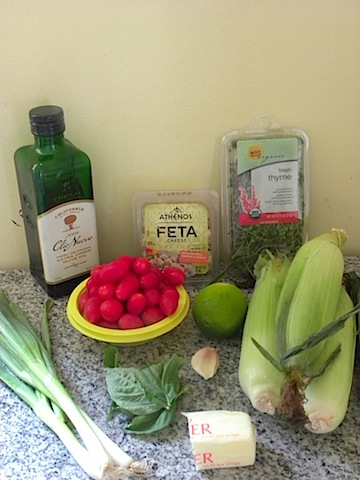 To be honest, I am not a huge lover of corn on the cob. Never have been. I LOVE corn, especially in the summer, but I just HATE eating it on the cob. My dad has always removed it from the cob for me, or else I just plain ignore it on the dinner table. Sad because when it's in season, it's so, so awesome. That's one of the reasons I wanted to make this recipe so badly. I get to eat fresh corn on the cob, but off the cob!! Now where was my dad when I was cutting it off?? 😉
I shucked all the cobs and used a knife to cut all the corn off (myself!).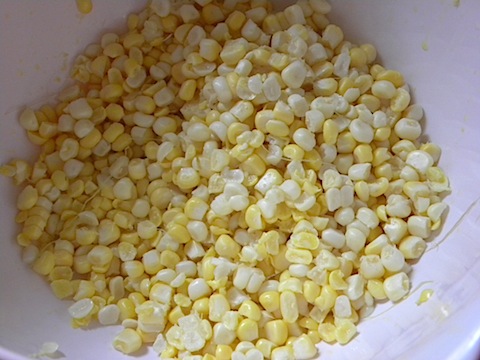 Then I heated about 3/4 T of butter and 1 T of EVOO in a nonstick saute pan over medium-high heat. I warmed it until it was almost smoking and then added half my minced garlic, stirring constantly for about 30 seconds. Use as much butter and EVOO as you feel is necessary, but this amount seemed to work for me.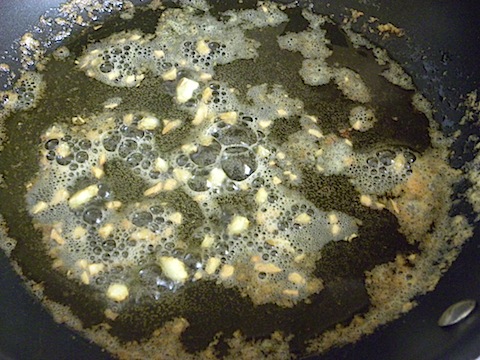 Then I added in half the corn and stirred occasionally until tender, about 4 minutes.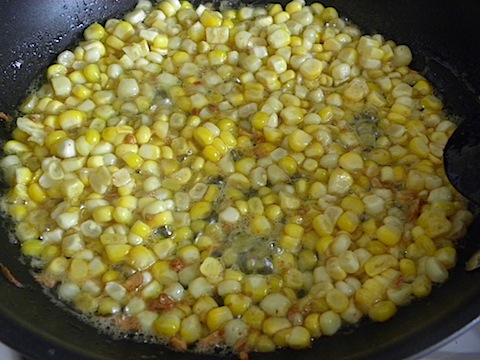 Then I added in half the green onion and half the thyme and sautéed for another minute before seasoning with salt and pepper.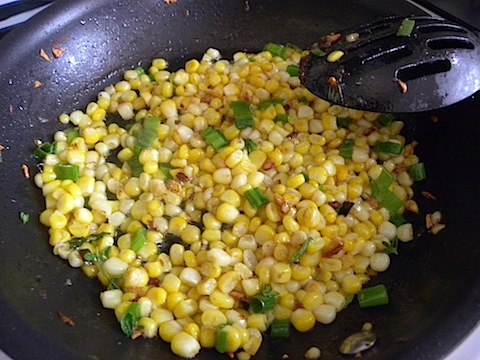 I removed the corn mixture to a big bowl and repeated the whole process with the other half of the ingredients.
Add the second batch of corn to the bowl and let cool to room temperature (stirring occasionally) for about 30 mins. I put mine in the fridge.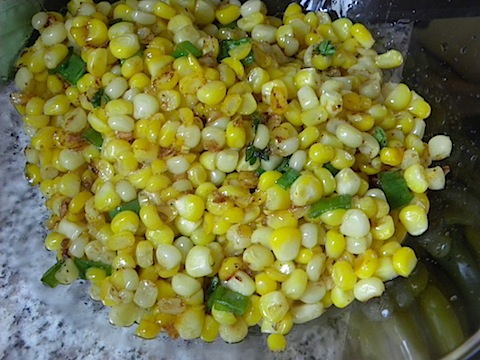 I chopped all my cherry tomatoes. On that note, can someone tell me WHY I can never take a good photo of tomatoes? Ugh. It's just awful.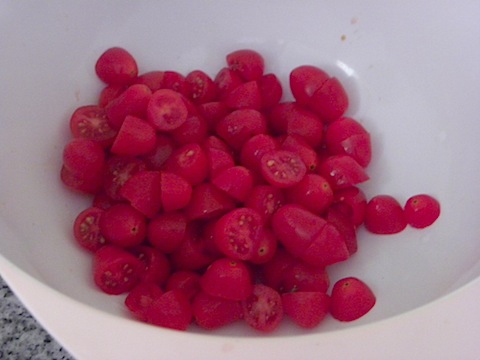 Anyway, then add the feta cheese. You can obviously use whatever kind you want, but I was SO excited when Athenos sent me the Roasted Bell Pepper and Garlic variety. I didn't even know it existed and figured it would go perfectly with the tomatoes and corn!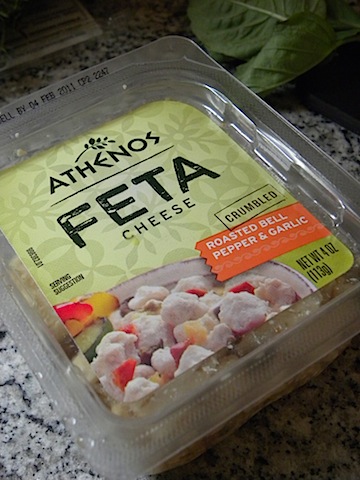 Can't you just see the amazing flavors? I also threw in 1/2 T of the EVOO and some pepper (I didn't think it would need any more salt). I put this in the fridge while the corn was cooling, too.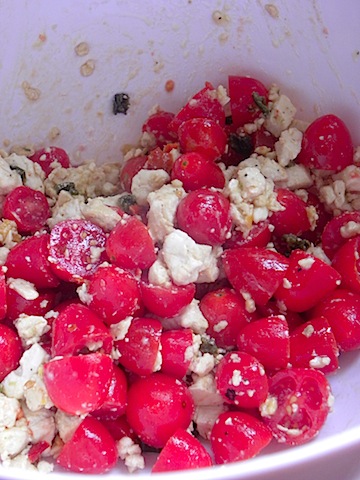 When the corn was cooled, I added the tomato/feta mixture to it. Plus I added in the basil and lime juice.
It's one of those salads, that not only looks delicious, but it looks beautiful too! I LOVE bright summer salads.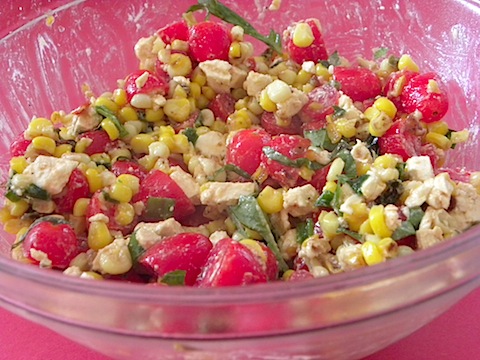 Of course, I had a serving right away. And. This is exactly what I expect summer to taste like. I mean, come on, corn, tomatoes, basil? Does it get more summery than that? Oh, and the lime juice was a really awesome complement too.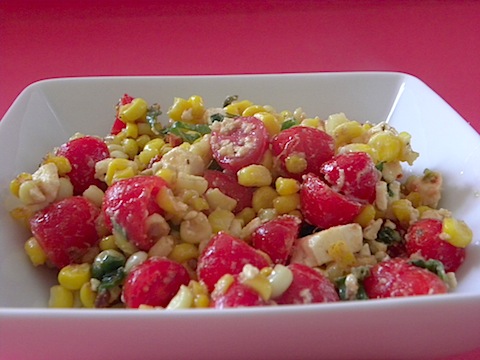 I thought the flavored feta was the perfect touch. Though plain feta would have been totally fine.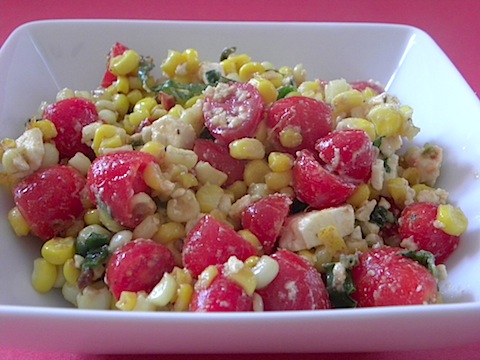 Can you seriously blame me for not being sick of these feta salads yet? Even though I had this for lunch, I'll probably have another serving later on. I'm planning on making tacos for dinner and think this salad will be the best side ever!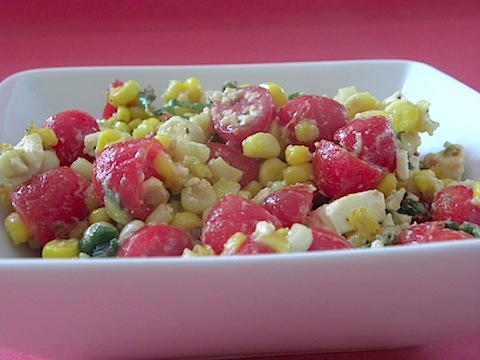 I really can't think of any way this salad could have been any better. Unless I was sitting at a pool eating it… With a large glass of sangria in my hand. But I'm trying to be realistic here.
How do you like your corn on the cob? On the cob or off?
[Sues]