This Chilled Mexican Corn Bisque with Shrimp is the ultimate summer soup, perfect for entertaining. Made with fresh corn on the cob, spicy shrimp, and a touch of Hood Cream, this bisque will leave you and your guests completely satisfied!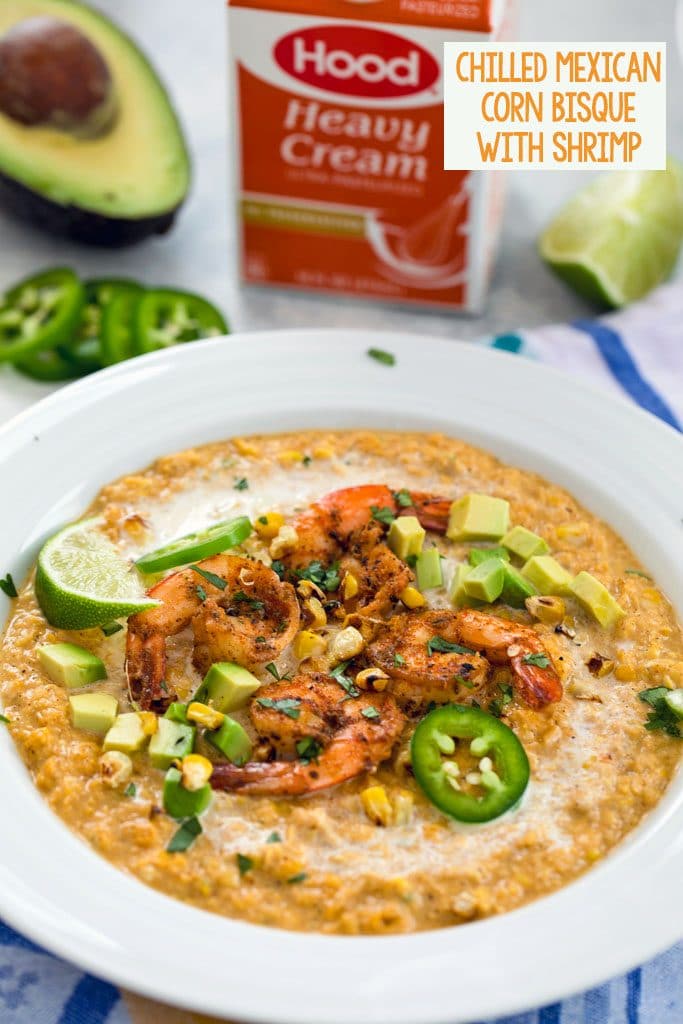 Thank you to Hood Cream for sponsoring this post! As always, all opinions are 100% my own. Thank you so much for supporting We are not Martha!
I am 100% a New England girl and love the seasons more than anything, but I can't even describe how obsessed with summer I am. I love everything about it and I truly believe that living through the cold and blizzards and ridiculous knee-length winter coats and clunky fur boots makes me appreciate it even more. You will NEVER hear me complain about the heat in the summer, aside from maybe a night or two when I'm trying to sleep and my bedroom is one billion degrees. Buuuttt considering you probably won't be in my bedroom while I'm sleeping, I can quite comfortably say you'll never hear me complain. Aside from the glorious heat, a few of my favorite things about the summer include long days when the sun doesn't set until late, my deck and hammock, lobster, watermelon, cherries, tomatoes, and corn on the cob (obviously 5 of those 7 items are food).
The thing is, I love corn on the cob, but I hate eating it. It's too much work and it gets stuck in my teeth and I just want to be able to eat it faster than I possibly can off the cob. I will admit that if I'm eating corn on the cob with my family, my dad will still cut it off the cob for me. Yes, I'm in my 30s. So, while I love the actual corn that is on the cob, I often look for other ways to prepare it that will maximize my eating enjoyment. Soup is one of those things and this chilled Mexican corn bisque with shrimp is my new favorite summer dish. It's packed with corn (from the cob!), plenty of kick from jalapeños and other spices, and a delicious creaminess brought to you by Hood Cream.
CHILLED MEXICAN CORN BISQUE WITH SHRIMP RECIPE
When it comes to soup, I prefer ones that are a little more substantial or else I'll find myself not very satisfied or eating a loaf of bread along with it. You know what I'm talking about, right??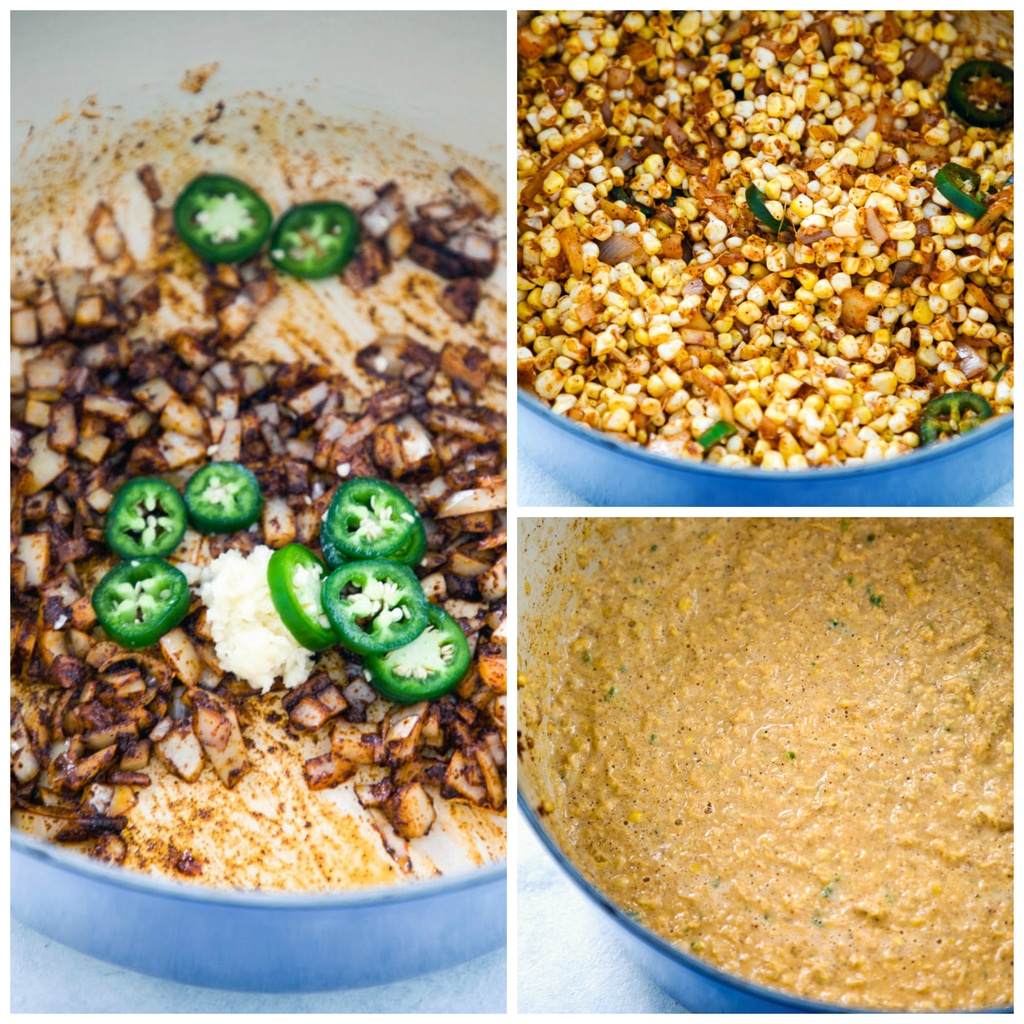 This soup is incredibly satisfying and I owe it all to the corn, shrimp, and cream. But though this shrimp and corn bisque is substantial, don't be fooled into thinking it's heavy. Served chilled, it's ideal for summer entertaining in your backyard or on your deck. The cream gives the bisque a nice silky touch, without weighing it down or making it feel like a wintry dish.
Did you know that Hood Cream is the cream of choice for many top chefs? Not to mention, home chefs, like me! Growing up in New England, my family has always purchased Hood products and these days, I always choose Hood Cream over any other brand. It's a premium, high-quality ingredient perfect for everything from your morning coffee to your summer soups and desserts. Oh, and did I mention homemade whipped cream??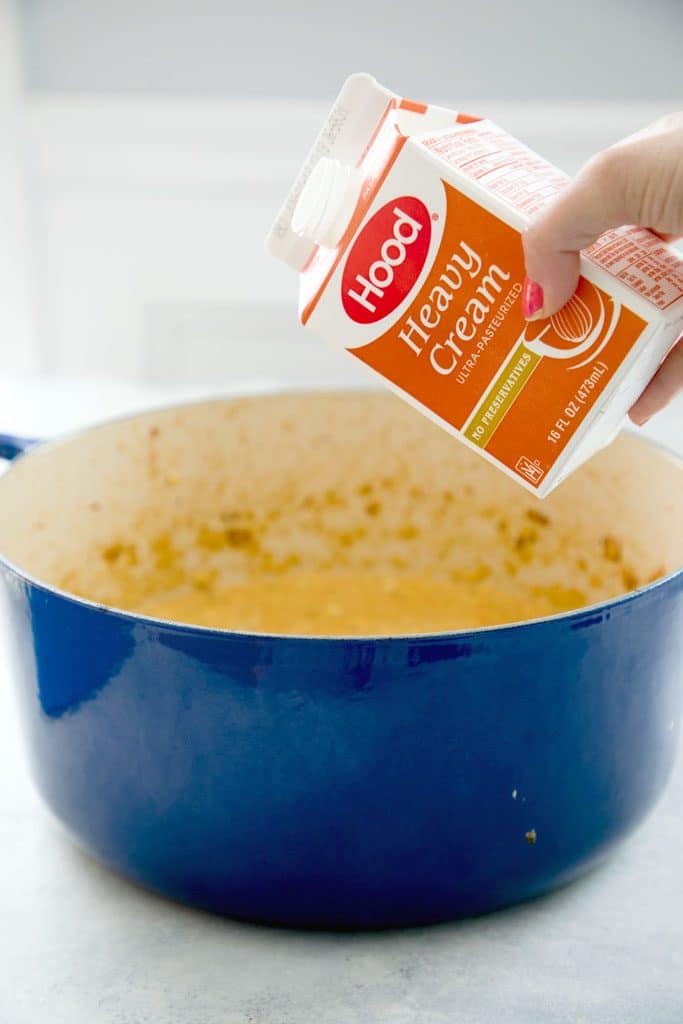 This recipe is perfect for truly experiencing the impact of Hood Cream because you can take a taste of the corn bisque before adding it... And then another taste after you add it in. Trust me, you'll see how it can take your recipes to another level!
Of course, the Mexican shrimp in this dish also helps make this bisque a true meal. It's quick and easy to prepare and aside from marinating it in lime juice and spices for 30 minutes, it will be ready for your bisque in no time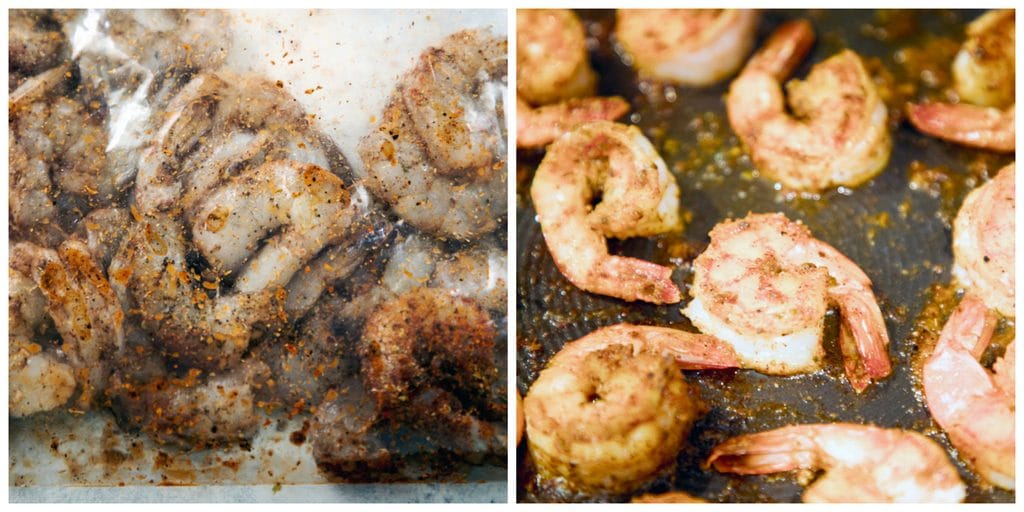 If anyone tries to tell you soup isn't a meal, you need to present them with this Mexican shrimp and corn bisque and a large spoon.
Give them a few minutes alone and then come back to check on them.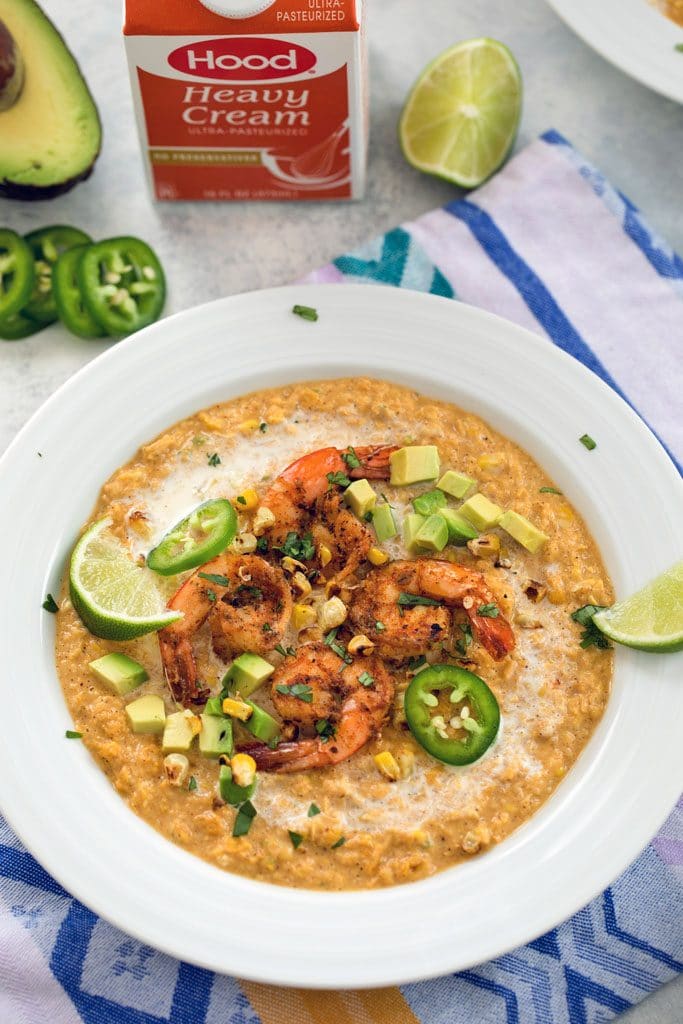 I guarantee they'll be fully satisfied... No loaf of bread or crackers needed!
This bisque is pretty thick (which I prefer), but if you'd rather have a thinner soup, you can certainly add more vegetable stock and puree it a bit more.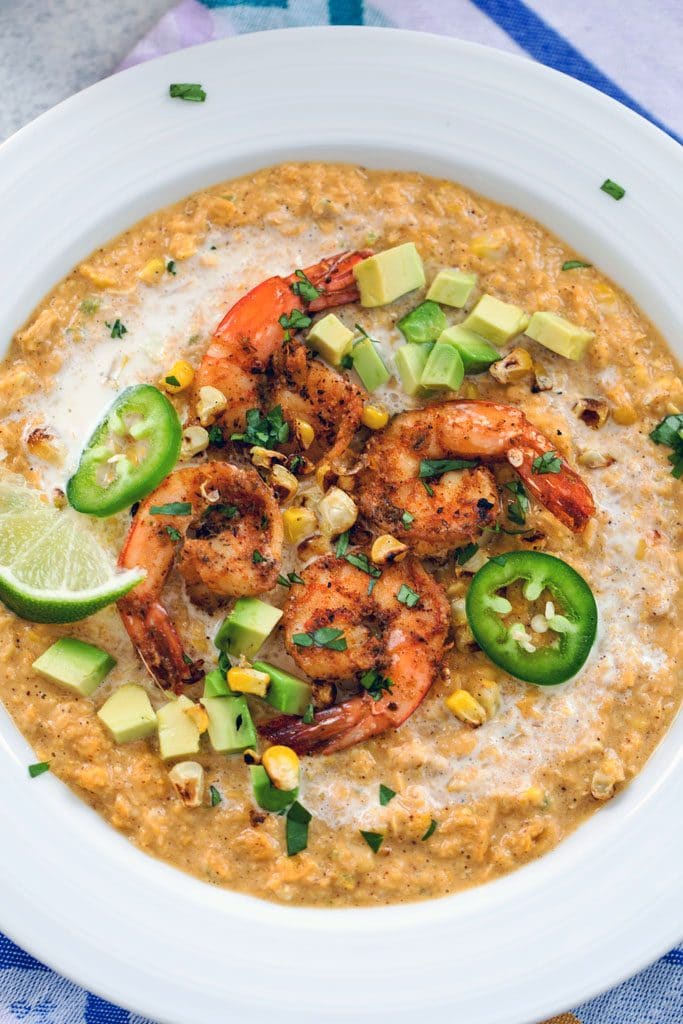 It also has a ridiculously awesome kick of spice to it. If you or your guests can't handle too much heat, you can certainly adjust the seasonings or cut down on the jalapeño. You can cut out on the jalapeño altogether if you want, but still use some slices for garnish since it's so pretty!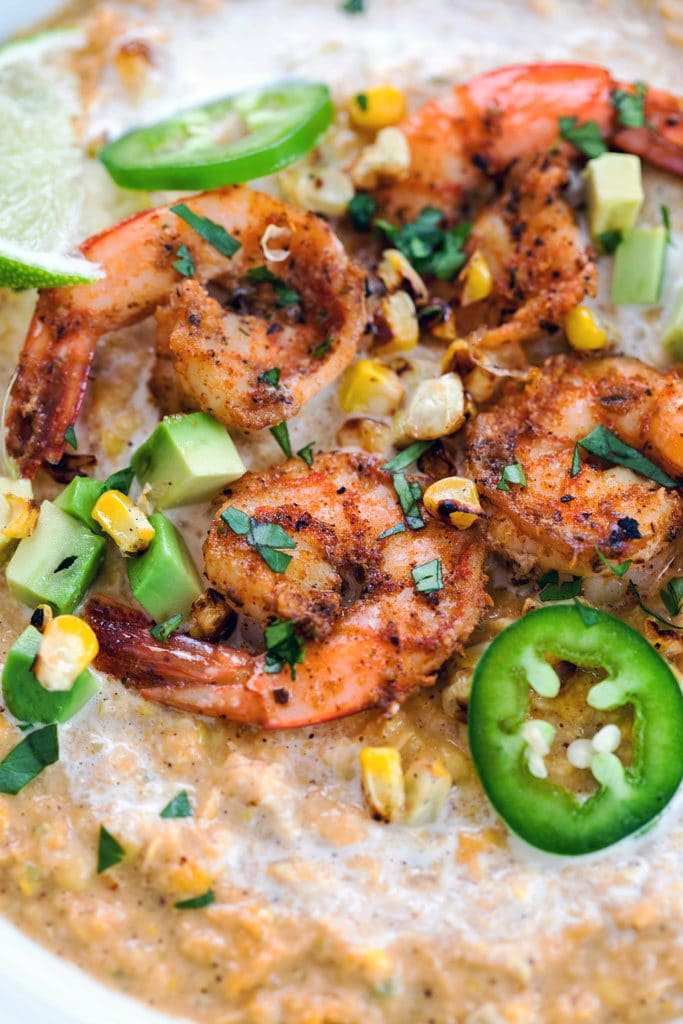 Garnishes are very important for this shrimp and corn bisque and you can really add anything you want, but I went with diced avocado, sliced jalapeño, some grilled corn kernels, lime wedges, and cilantro. I also chose to swirl a little Hood Cream in the bisque after serving it and those bites were probably my favorite.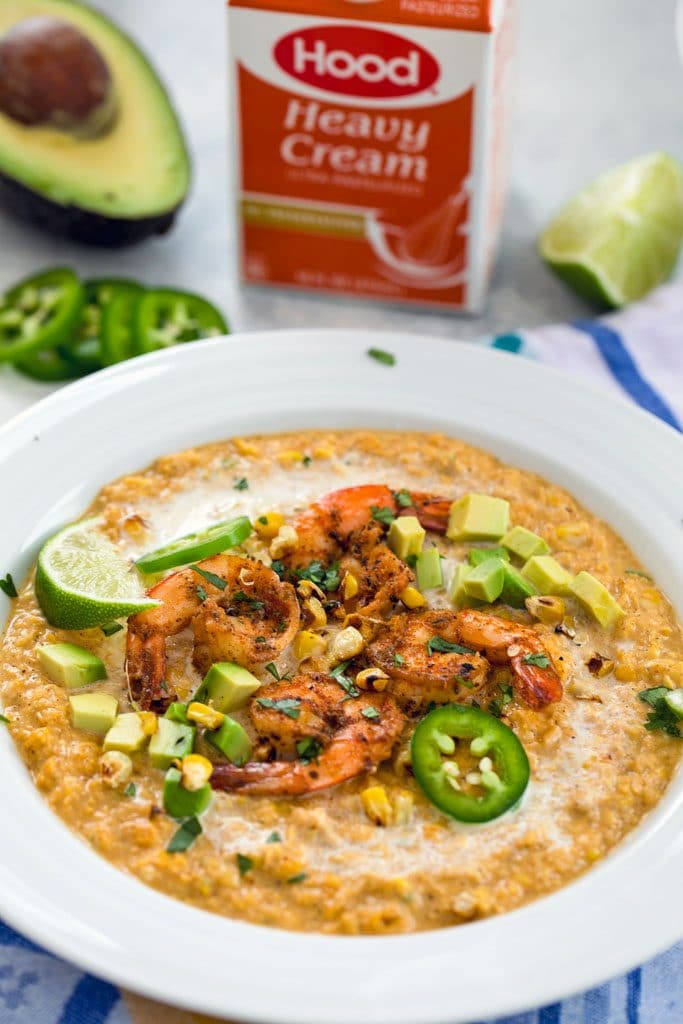 I'll just be over here waiting for the summer weather to get ridiculously hot, so I can make a big batch of this chilled Mexican corn bisque with shrimp and enjoy it on my deck with friends. If I had a garden, I'd totally throw a garden party, but for now, a simple summer deck party will have to do!
To learn more about Hood Cream and get coupons, tips, and more recipe ideas, visit Hoodcream.com!
What summer dishes do you add cream to?
If you like this summer bisque, be sure to check out my recipes for Chilled Avocado Soup and Spicy Clam Chowder with Corn. I also love this Instant Pot Smoky Corn Chowder from Dance Around the Kitchen!
📖 Recipe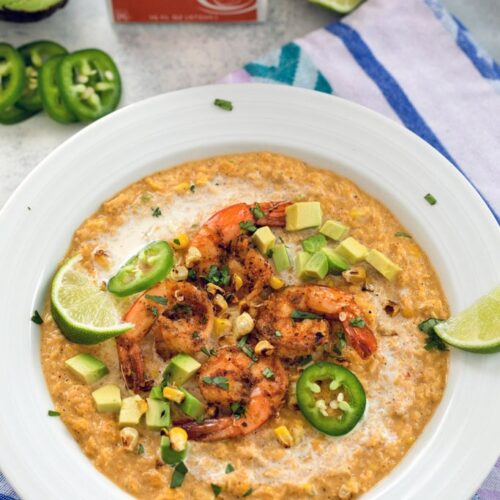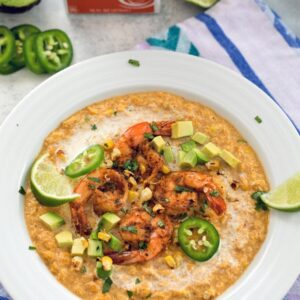 Chilled Mexican Corn Bisque with Shrimp
This Chilled Mexican Corn Bisque is the ultimate summer soup, perfect for entertaining. Made with fresh corn on the cob, spicy shrimp, and a touch of Hood Cream, this bisque will leave you and your guest completely satisfied!
Print
Pin
Rate
Ingredients
2

Tbsp

olive oil

1

cup

chopped onion

(from 1 small onion)

2

tsp

chili powder

½

tsp

cumin

½

tsp

cayenne

¼

tsp

salt

1

Tbsp

minced garlic

(from about 4 cloves)

1

small jalapeño pepper,

sliced

6

cups

corn kernels

(from 8-10 ears of corn)

2

cups

vegetable broth

¾

cup

Hood Heavy Cream,

plus more for swirling

Mexican Shrimp

(recipe below)

Diced avocado, sliced jalapeño, grilled corn kernels, chopped cilantro, lime wedges, or whatever you prefer for garnish
Mexican Shrimp
1

lb.

extra large shrimp,

peeled and deveined with tails left on

1

Tbsp

freshly squeezed lime juice

1

tsp

oregano

1

tsp

cumin

½

tsp

chili powder

½

tsp

cayenne

½

tsp

garlic powder

½

tsp

salt

¼

tsp

pepper

1 ½

Tbsp

olive oil
Instructions
In a large saucepan or dutch oven, heat olive oil over medium heat. Add chopped onion, chili powder, cumin, cayenne, salt and sauté for 3-4 minutes until onions are softened. Add garlic and sliced jalapeño peppers and cook for another minute.

Stir in corn and cook for about 3-4 minutes. Add vegetable stock and bring to boil. Lower heat and let simmer for about 5 minutes.

Remove soup from heat and stir in ¾ cup Hood Cream. Using an immersion blender or working in batches in a blender, puree soup. I prefer to my bisque to be thicker, but feel free to puree the soup to smooth if you'd rather.

Put bisque in fridge for about 2 hours to cool completely.

Once cooled, serve in bowls and swirl a little extra cream throughout. Top with Mexican shrimp and garnishes of choice.
Mexican Shrimp
Place all ingredients aside from the olive oil in a large Ziplock bag and let marinate in fridge for 30 minutes-1 hour.

Heat olive oil in a large skillet over medium heat. Add shrimp to the pan and cook for about 2 minutes on each side, until shrimp are cooked through and pink.
Share a Photo of Your Finished Recipe!
Mention @wearenotmartha and share a photo if you've made the recipe!