I warned you. More pumpkin. If I had my way, I'd post a new pumpkin recipe 2 times a week until the end of November. But I'll try to be respectful to those of you who might not be as crazy as me (YOU exist?!). But you know what? I really can't think of anything pumpkin doesn't go with. This post is proof of that.
I have a love/hate relationship with We are not Martha's ingredient photos. On the one hand, I think they're beautiful, helpful tools for our readers to quickly learn what they need for a particular recipe. On the other hand, they're really kinda binding. I mean, I'm already a rules girl enough, but now I have to commit to using certain ingredients before even starting to cook or bake a recipe? Doesn't allow for much creative freedom, does it?
I often find myself wanting to add ingredients and take ingredients out while I'm in the midst of cooking something. I'm a big taster and when something tastes good, I might add more. And when it's not good, I make changes. And then I'm left with a disaster of a photo, featuring ingredients that came from who knows where. And then I freak out because, you know, it's like I broke some rules. My point is, don't put 100% faith into the ingredient photos here at WANM. Especially in a recipe like this, where really? There are so many things you can add and take out depending on your tastes.
Just make sure you have a taste for pumpkin. Because that part is kind of important. I could eat tacos every night. Which is why when pumpkin tacos popped into my head, I knew they had to be done. I decided chicken would be a good addition, but if you're a vegetarian, you could probably just use extra pumpkin.
Pumpkin Chicken Tacos (makes 6):
1 small onion, chopped
2 peppers (I used 1 red and 1 green), chopped
1 t cumin
1 t chili powder
1 lb. chicken breast (I used tenderloins), cut into bite-sized pieces
1 can pureed pumpkin, 15 oz.
2 jalapeno peppers, chopped
2 C frozen corn
6 corn tortillas
½ C sharp cheddar cheese, grated
1 tomato, chopped
Couple handfulls spinach
Cilantro (optional)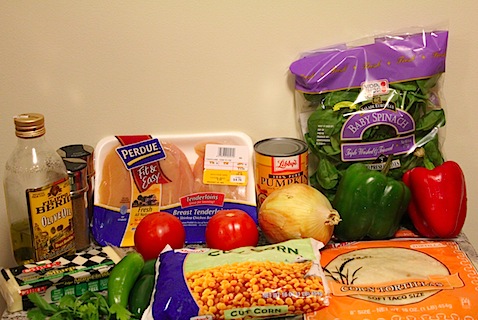 To get started, chop the peppers and onions. I used one red and one green because I like my tacos to be pretty colors. But that's probably just me.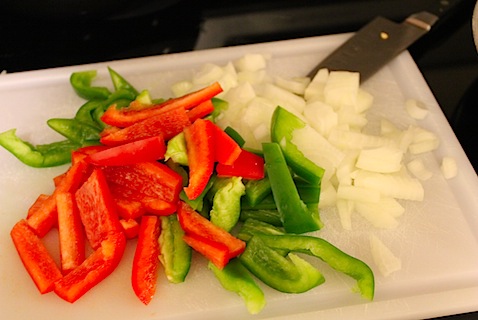 Sautee them in a little bit of olive oil and salt and pepper. Add the cumin and chili powder and cook until soft and golden.
I cut the chicken into more manageable, bite-sized pieces and sauteed them in a tiny bit of olive oil over medium heat. Sprinkle some salt and pepper on there, too.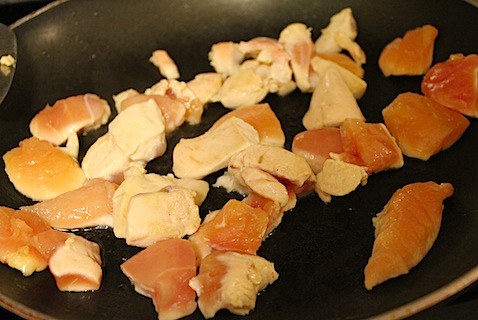 While the chicken was cooking, I chopped up two jalapenos. I LOVE a bit (a lot) of heat in my food, so I didn't discard the seeds or anything silly like that. But everybody is different, so add at your discretion. Also, wear gloves when cutting jalapenos at your discretion. And take out your contact lenses before cutting jalapenos at your discretion. Ahem.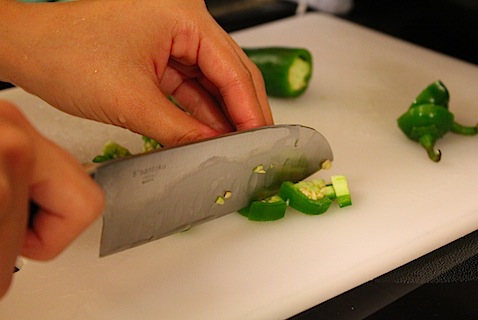 The chicken is just about cooked through!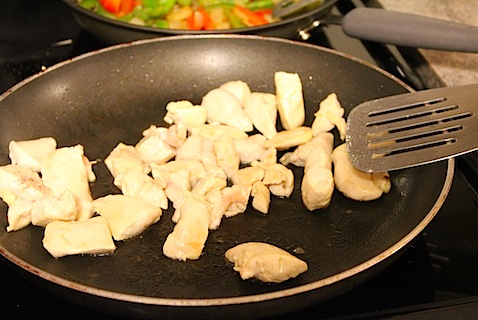 So, add the jalapenos.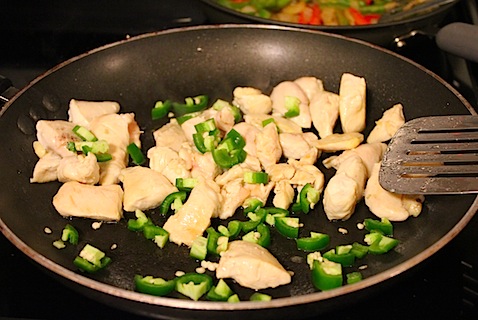 Now add in the can of pumpkin! Yum. I love this part.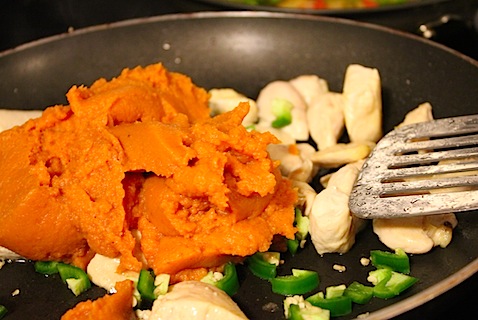 Stir the pumpkin in and cook it all a bit longer. Make sure the chicken is cooked all the way through.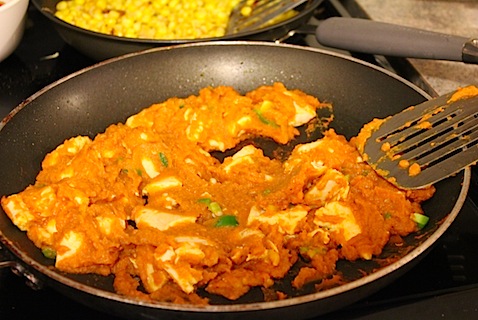 In the meantime, put your 2 cups of corn in a frying pan (I used the same one I cooked the peppers and onions in and moved those to a bowl) and cook over low heat.
While you're waiting, chop some tomatoes and trim some spinach (if you choose!)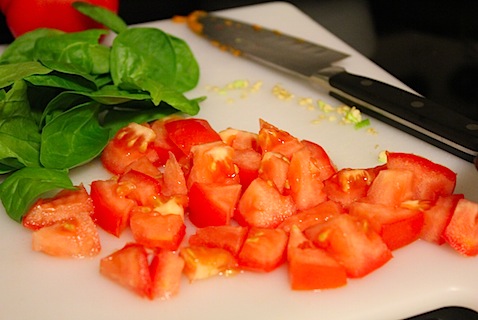 Heat your tortillas a bit too. I stuck mine in the oven for a few minutes on low heat.
Now, build your tacos! I put some chicken and pumpkin on the tortilla, along with pepper and onion, and corn.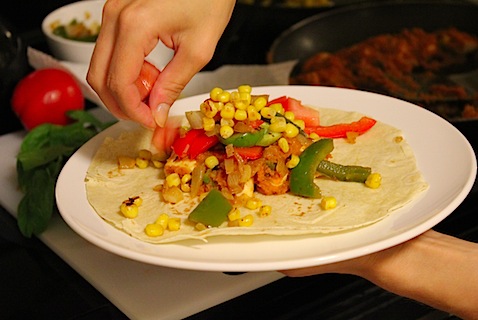 Obviously, some super sharp cheddar cheese.
And then sprinkle tomatoes and spinach on top. You can add cilantro on, too. Like I forgot to do. Sour cream might be a nice touch if you're into that, too.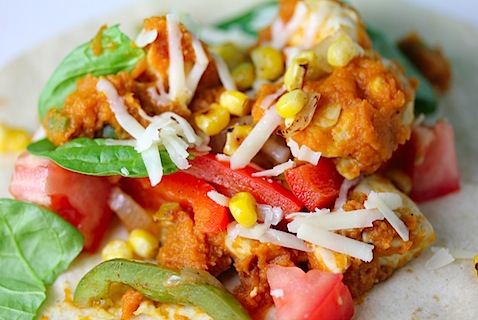 Oh my. This is Mexican food taken to a whole new level.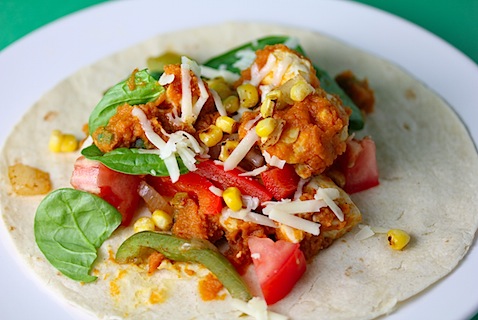 If tacos remind you of summer, then this taco will bring you straight into autumn. Full force. These just made me so happy. I mean, the slightly sweet pumpkin with the slightly roasted corn and the sharpness of the cheddar was like nothing I've ever experienced. I never imagined pumpkin would intercept with my Mexican food. But it did. And it was glorious.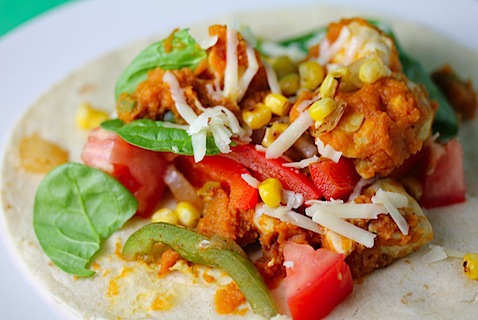 Speaking of tacos, I'll be in Austin, Texas, in exactly 2 weeks and I'm incredibly crazy excited! Let me know if you have any local food tips, though I'll be quite busy since I'll be spending 3 days at Austin City Limits. I haven't been to Texas since I was 15 and I can't wait to go back. And you know me, I'm planning on eating my way through the city when I'm not listening to fabulous music 🙂
Yay for Mexican food! Yay for pumpkin! Yay for the first day of fall being 85 degrees. I guess.
Seriously, though, is there anything pumpkin isn't good with? Tell me!
[Sues]