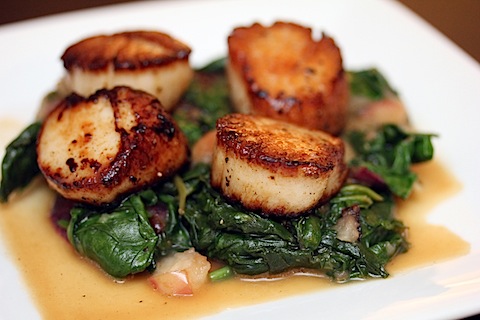 For a long time I was afraid of scallops. Deathly afraid. Well, for a long time, I was afraid of all fish. But even after I started falling in love with salmon, lobster, and shrimp, my scallop fear remained. I guess you could say I had a few bad scallop experiences as a child. And they stuck with me. I particularly remember the time I covered my scallops in parmesan cheese thinking it would mask the taste. It didn't. And that night didn't end well. As an 7-year-old I had discovered the one food parmesan cheese didn't make better. Come to think of it, the parmesan cheese incident is probably what marred scallops in my mind for the next 10+ years.
Scallops were the last of the seafoods for me. I wouldn't even go near them until about 7 years ago. But once I overcame my fear, I never turned back. For a while I just ordered them in restaurants since I think they bothered me most in their raw form and I had no interest in introducing them to my kitchen. But then I realized how easy they were to cook and how many different ways they could be cooked and I fell in love all over again. These Scallops with Apple Cider Glaze are the perfect fall dish and are extra delicious over a bed of spinach with apples.
This is one of those super quick-moving recipes where you really want to have everything prepared ahead of time. Once you start cooking, everything will move really quickly and you'll have dinner on the table in no time. Seriously, I'll do Rachael Ray one better and call this a 10-minute meal.
Scallops with Apple Cider Glaze Over Spinach with Apples (serves 2):
Print this recipe!
½-3/4 lb. scallops
Salt and pepper
1 T olive oil
1 T butter
½ C apple cider
¼ C apple cider vinegar
1 recipe for apple spinach (see below)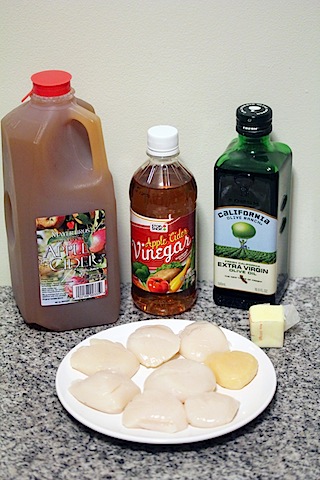 The scallops simply get a quick sear. Which in my short-lived scallop experience is the best way to cook scallops. Start by removing that small side muscle from the scallop, rinsing scallops with cold water, and patting them dry. Sprinkle them with salt and pepper.
Add the olive oil and butter into a medium pan on high heat. Once the oil and butter is hot but not smoking, add the scallops in.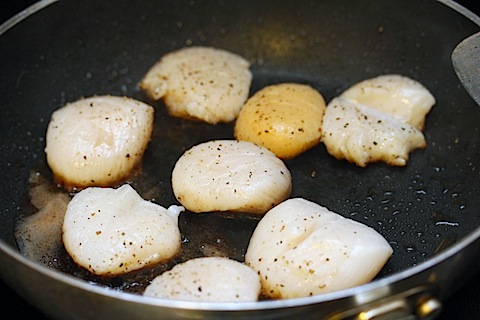 Sear them for about 2-3 minutes on one side before flipping over and searing on the other.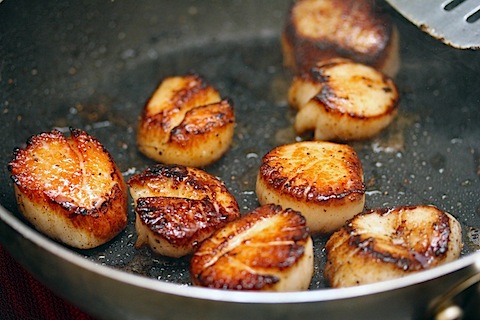 Once the scallops have a nice golden color to them and are cooked through, remove from pan to a plate. Tent the plate with foil to keep scallops warm.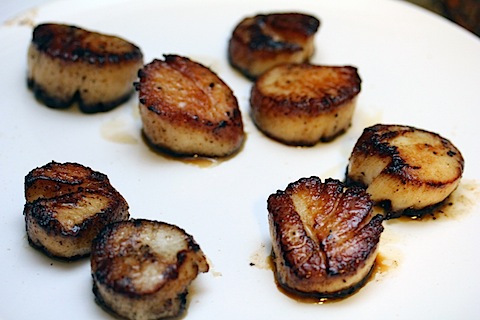 Now, in a bowl, mix together the apple cider and apple cider vinegar. Sprinkle with a little salt and pepper.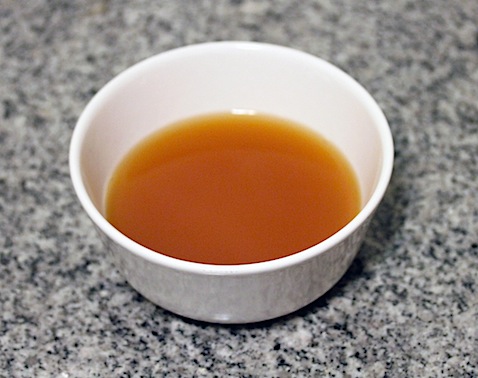 Add the mixture to the same pan you cooked the scallops in, still over high heat. Scrape the brown bits up with a spatula and let the mixture cook until its reduced by about half and it begins to thicken.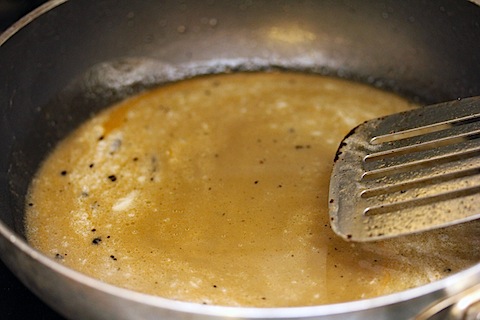 While the glaze thickens, you can be sautéing your spinach.
Spinach with Apples (serves 2):
1 T olive oil
½ red onion, chopped
1 macintosh apple, chopped
9 oz. baby spinach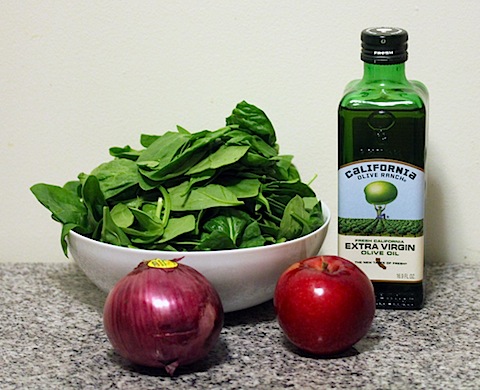 Heat your olive oil in a pan over medium heat. Add onions and sauté for about 2 minutes. Add apples and sauté for another 2 minutes.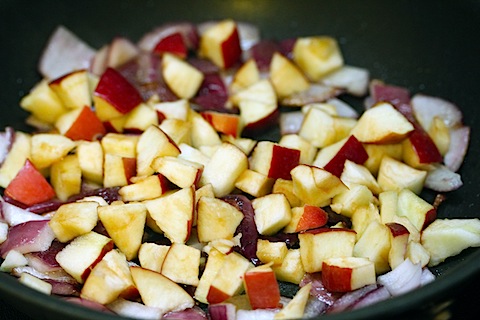 Then add spinach and toss to wilt, about 1 minute. Add salt and pepper to taste.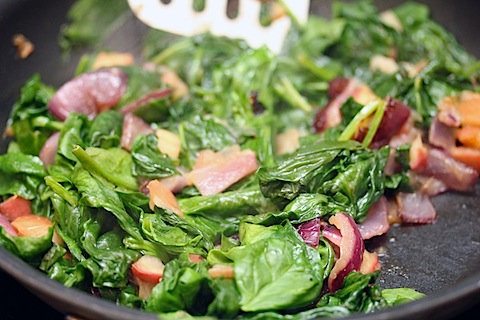 Serve spinach on plate and top with scallops. Pour apple cider glaze over the top.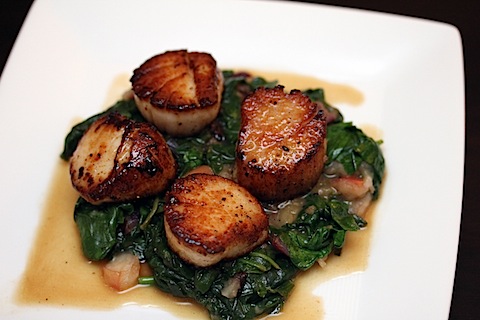 Dig in. And you will wonder how on Earth I went so long without allowing scallops into my life. Legitimately a travesty.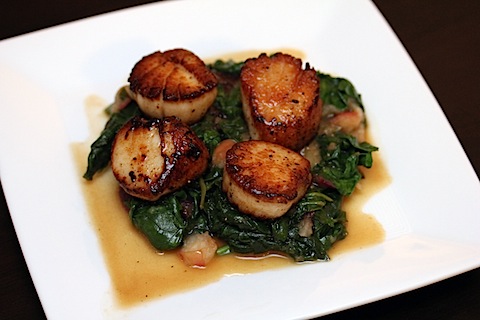 Thankfully I'm still young and hopefully have plenty more scallop-loving years in my life. I love how caramel golden these were and honestly think that even without the sauce and spinach, these had such a naturally amazing taste. BUT the sauce? I LOVED the slight sweetness and kinda tart apple and vinegar taste it added. It was fall on a plate in both looks and taste.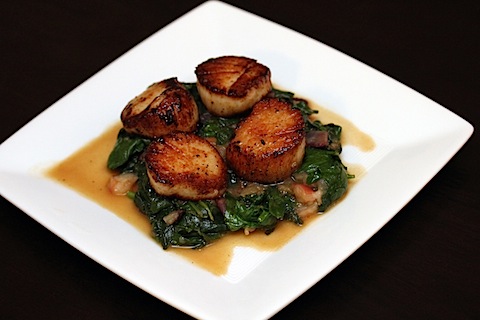 This was one of those light meals that didn't leave me craving a giant bowl of pasta or a big slab of bread after. And in my case, that's actually kind of rare.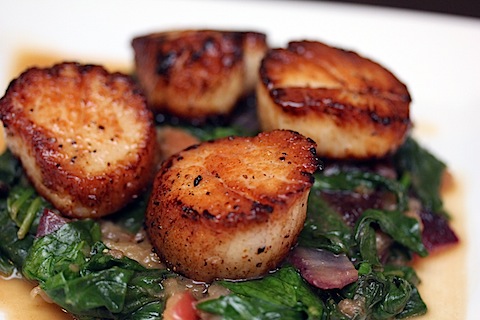 Definitely adding this to my dinner repertoire and will be making it as long as apple cider is in season. Even when it's not, I'm sure many other juices would give a similar effect. Oh, happy scallops!
Have you ever had a food fear that you are SO happy you got over?
[Sues]