The underrated pavlova is an easy-to-make dessert perfect for all kinds of occasions. This version is a Peppermint Pavlova with White Chocolate Whipped Cream and will be the hit of all your holiday parties!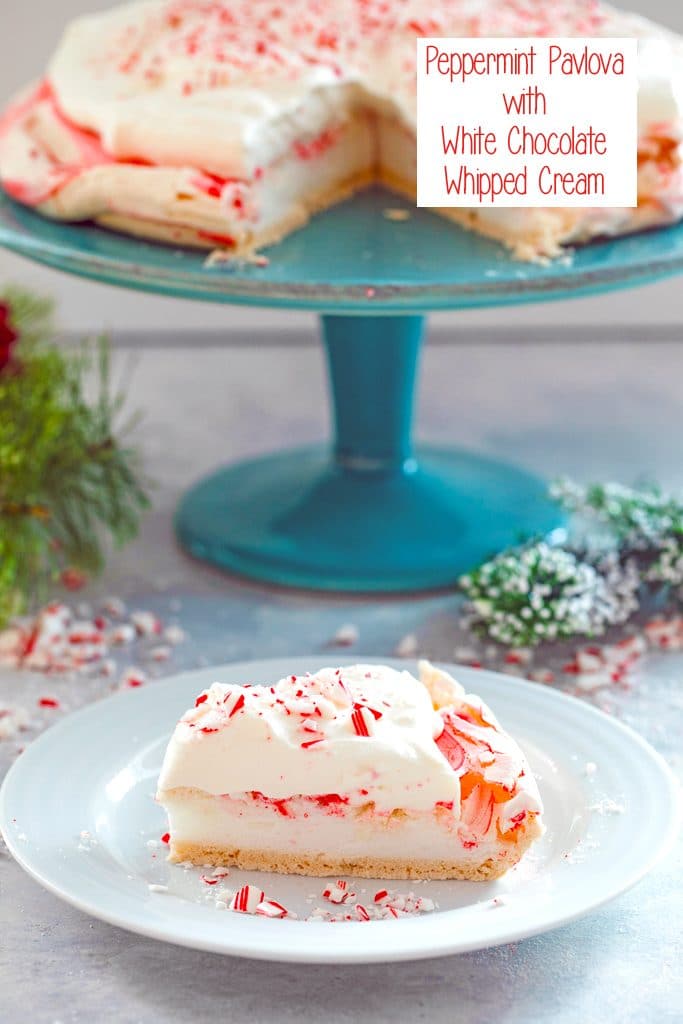 Thank you to Hood Cream for sponsoring this post. As always, all opinions are 100% my own and I really appreciate you supporting We are not Martha!
If you ask me, pavlova is one of the most underrated desserts around. It's so simple, elegant, and versatile, making it perfect for pretty much any occasion at any time of year. It can be dressed up or down and takes on the flavor of whatever you choose to incorporate into it.
But so often when I tell people I'm making a pavlova, they respond with "huh?"
It's rarely seen on restaurant menus and it's not often on the dessert table at holiday parties. But it should be! And I think I need to start a pavlova revolution.
So, if you've never had pavlova before, I am here to change your dessert making life and arm you with a holiday recipe that will impress and will not be a duplicate of every other dessert at your next holiday party.
Another reason to love pavlova? Whipped cream! Pavlovas are almost always topped with whipped cream. Often fruit, too, but since I'm making a peppermint pavlova here, I opted to top it with crushed candy canes instead. Plus, who really wants fruit at a holiday party? Let's save that for January, shall we?
I'm excited to be working with Hood Cream once again for this post because having the freshest, best-tasting cream is so essential in a recipe that features whipped cream so prominently. I always have Hood Cream in my fridge, but during the holiday season, it's a little out of control. I stock up on cream and butter a ridiculous amount for all the baking I do!
Be sure to check out my video in this post, so you can see how easy it is to make a pavlova step-by-step.
What is Pavlova?
Pavlova is a meringue-based dessert originating in Australia and New Zealand, named after the Russian ballerina Anna Pavlova.
Whereas meringues are typically crispy all the way through, pavlova is crispy on the outside, but light and soft (almost like marshmallow) on the inside.
It's light and delicate and pretty much melts in your mouth. It's also incredibly addictive due to the combination of incredible consistency and flavor.
---
This peppermint pavlova is a wonderful holiday dessert for many reasons. First of all, despite how elegant it looks, it's super easy to make and requires very few ingredients.
The pavlova is pretty much just egg whites, granulated sugar, cornstarch, white wine vinegar (to help stabilize), and peppermint extract. And the whipped cream consists of just two simple ingredients- Hood Cream and white chocolate.
How to make White Chocolate Whipped Cream
You'll want to start with the white chocolate whipped cream since the mixture needs some time to cool before whipping.
To start, you'll heat 1 ½ cups of the cream and pour it over the chopped white chocolate. Let it sit for a few minutes to melt the chocolate and then stir until smooth.
Pop it in the fridge for a few hours (or overnight). Before you serve the pavlova, you'll whip this mixture with the rest of the cream.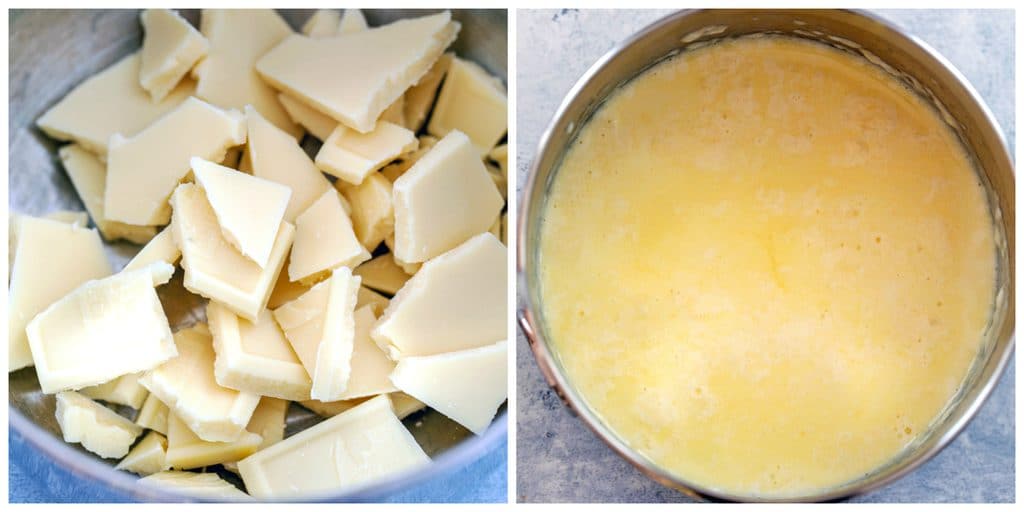 While the pavlova is baking, you can finish the white chocolate whipped cream. The only remaining step is to beat the white chocolate/cream mixture with the remaining cup of heavy cream.
You'll end up with a beautiful whipped cream that is packed with white chocolate flavor.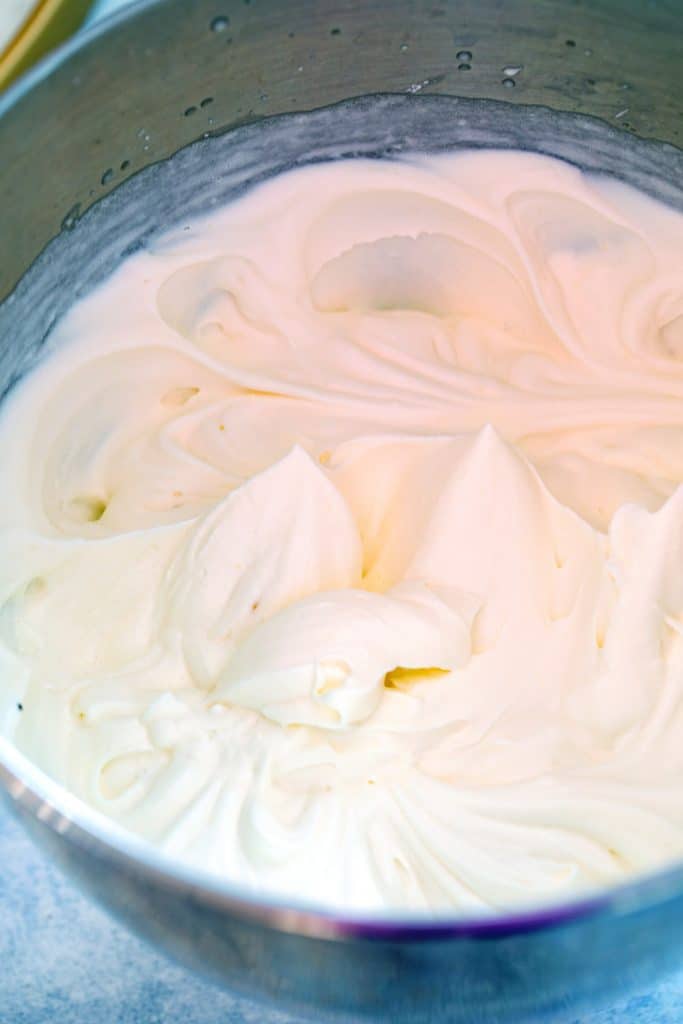 How to Make Peppermint Pavlova
To make the pavlova, you'll mostly be whipping egg whites (be sure to save the egg yolks for another use… Like a custard!).
First you'll beat them until soft peaks form (shown in the bottom right of the below photo collage), then slowly add the sugar 1-2 Tbsp at a time while continuing to beat until stiff peaks form (shown on the left of the below photo collage).
And then mix in the cornstarch, white wine vinegar, and peppermint extract.
There's something about beating egg whites that is so satisfying to me; almost therapeutic. And I just love that simple egg whites and sugar can result in such a delicious dessert!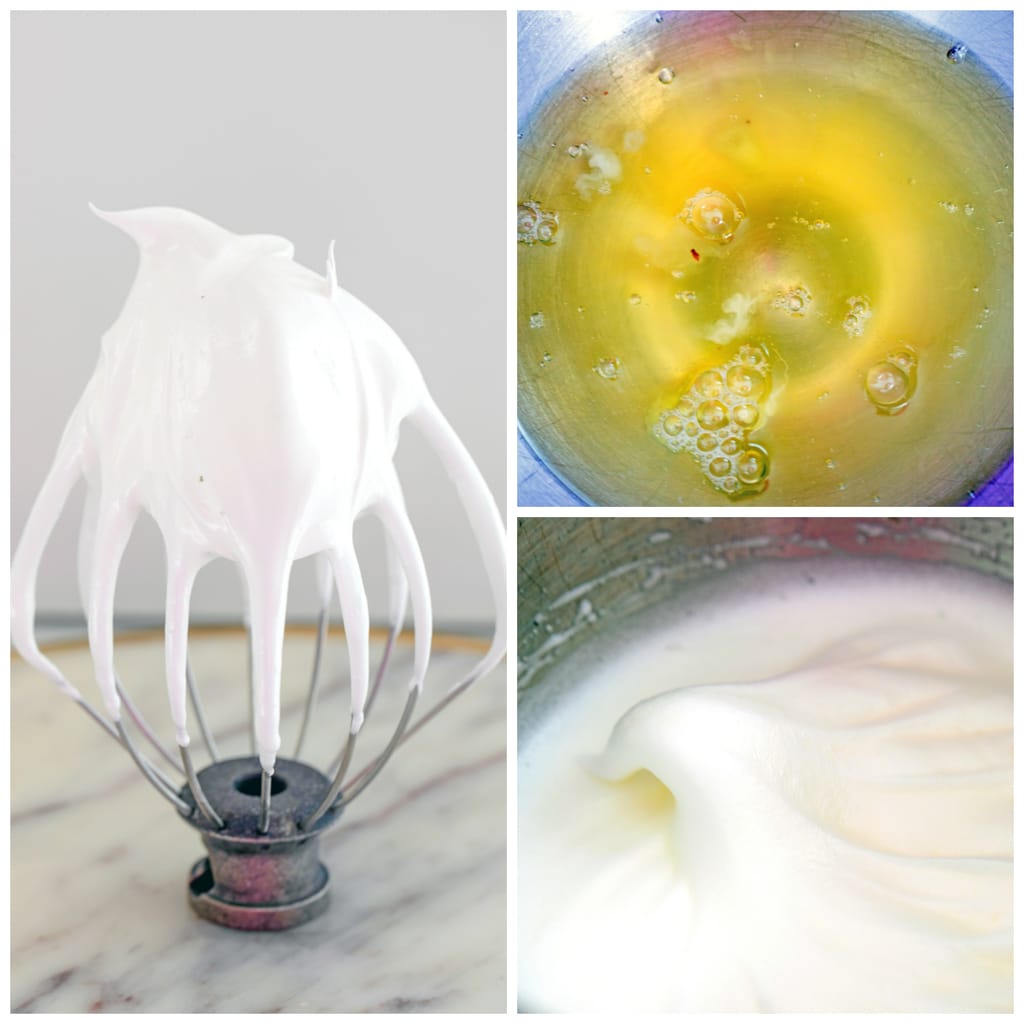 Now all you have to do is scoop the meringue mixture onto a piece of parchment paper (I like to draw a 9-inch circle as a guide and then flip the parchment paper over so no ink is getting in the meringue) and smooth the surface with a spatula.
Then, using a knife or toothpick, swirl some red food coloring around for a festive holiday look.
Pop it in the oven! It will take a while to bake since you're doing it at such a low temperature (240 degrees) and you'll need to let it cool completely in the oven (to prevent cracking as much as possible).
You'll bake it for 1 ½ hours and then turn the oven off, crack it open, and leave the pavlova in it for at least 2 more hours.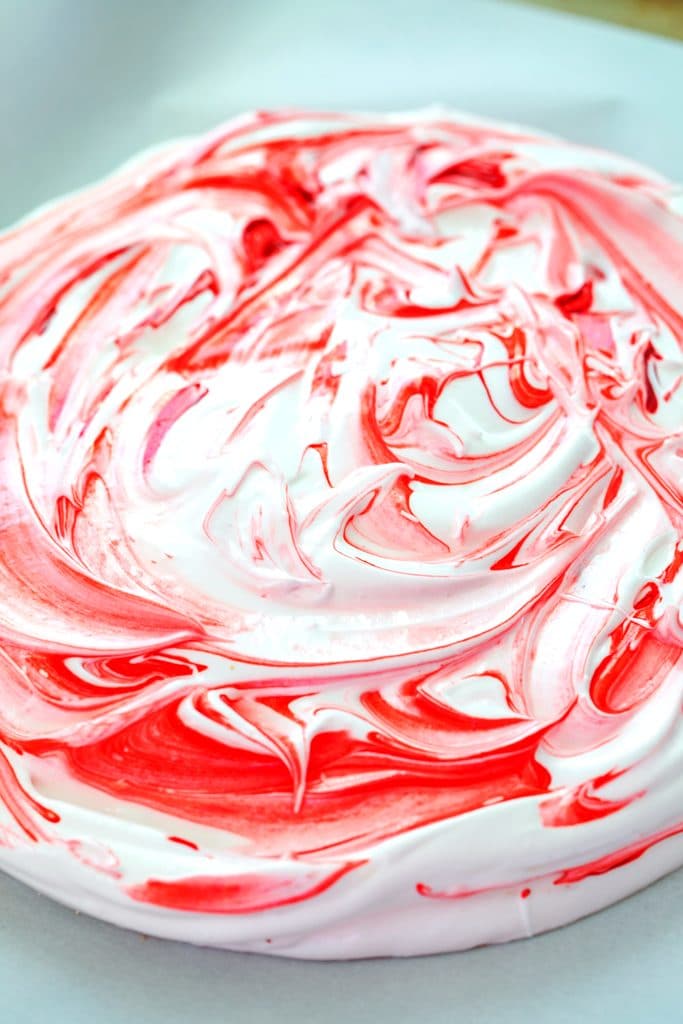 When you're ready to serve the peppermint pavlova, simply spread the white chocolate whipped cream over the top and sprinkle crushed candy canes over it.
Crushing candy canes is one of my least favorite holiday "chores," but it's so, so worth it for a festive look.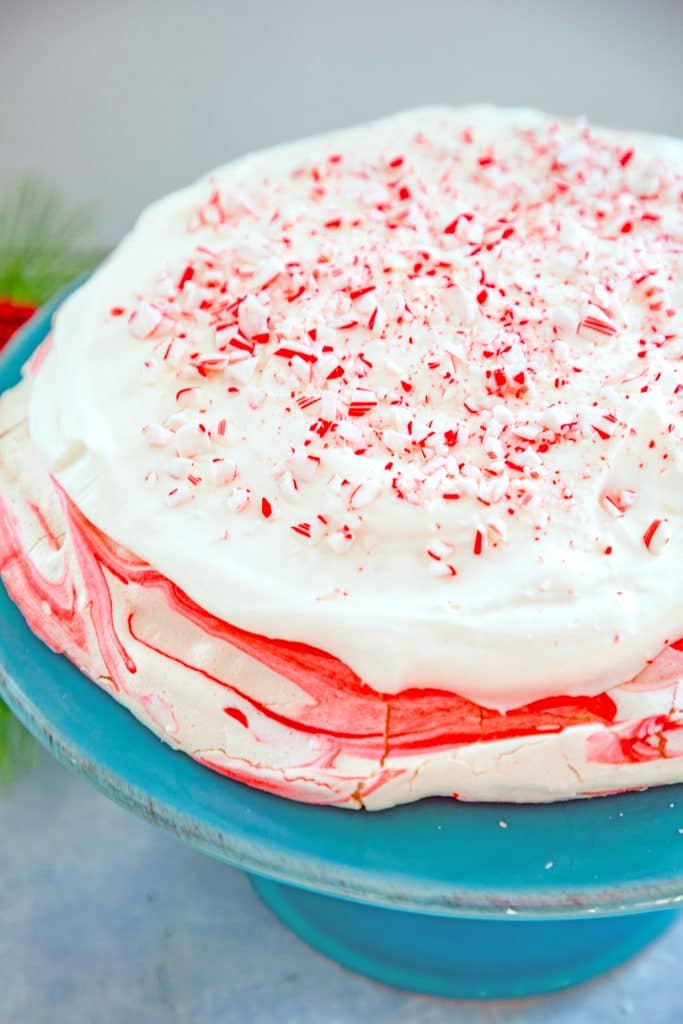 Then you're ready to slice and serve!
Besides the fact that it's incredibly tasty, do you want to know what the other wonderful thing about a whipped cream topping on pavlova is? It easily hides any cracks that may have formed as the pavlova cooled.
But honestly, pavlova has a bit of a rustic look to it anyway, so a little cracking and crumbling shouldn't really bother anyone. It's all part of the experience!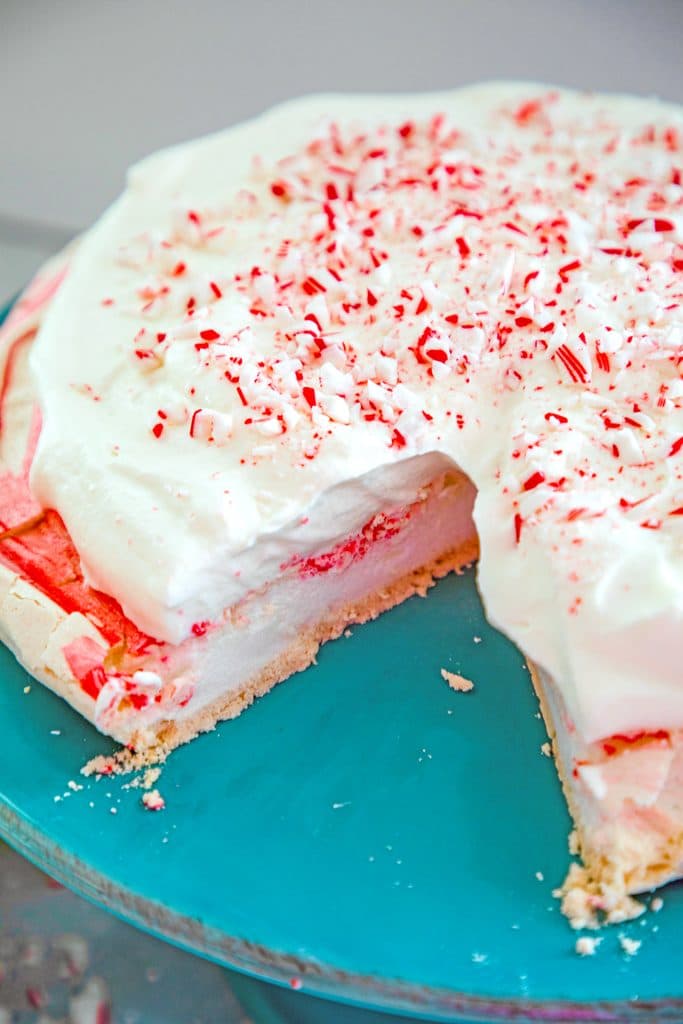 And to me, a truly perfect pavlova is nice and crumbly on the outside and soft and marshmallow-like on the inside. Consistency is everything here and part of the reason I love pavlova so much (and am likely to choose it over meringues every time).
I'm a marshmallow fanatic and this is a much easier way to get that marshmallow consistency (plus a little crunch!) in homemade form.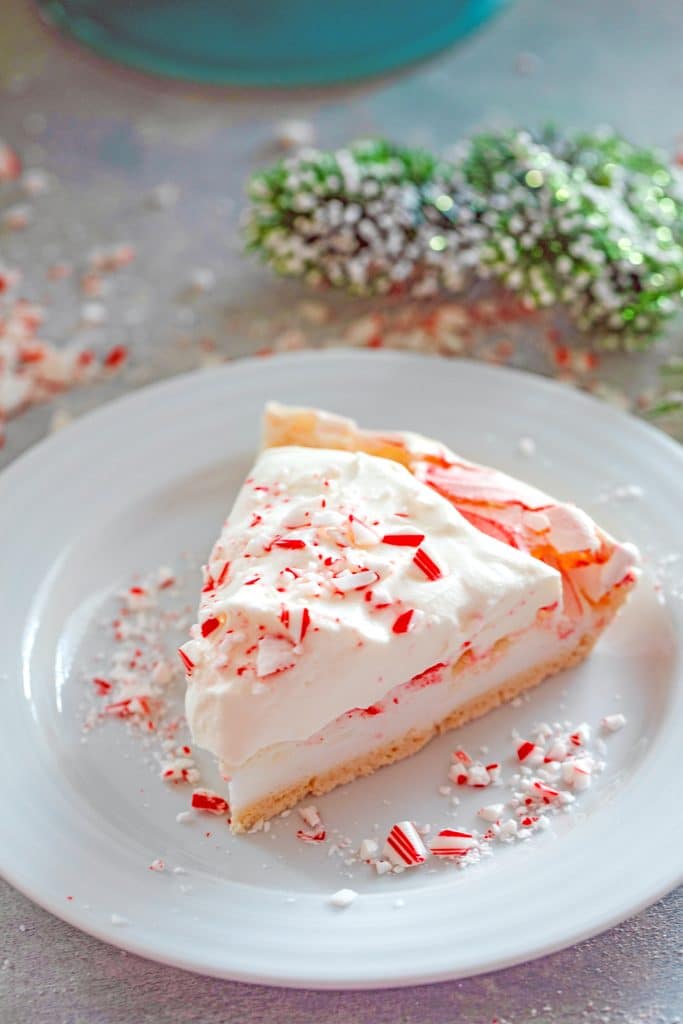 And then the white chocolate whipped cream topping? Well, I could most definitely eat it with a spoon right out of the mixing bowl, but the creaminess and lightly sweet flavor complements the peppermint flavor in the pavlova so well.
I love that the whipped cream is so simple to make and doesn't involve a lot of added ingredients that take away from the flavor profile of the cream. It's funny because I add cream to all kinds of dishes, but homemade whipped cream is one of the best ways to actually taste the cream.
That's one reason I only use Hood; it tastes so much more delicious than any other brand.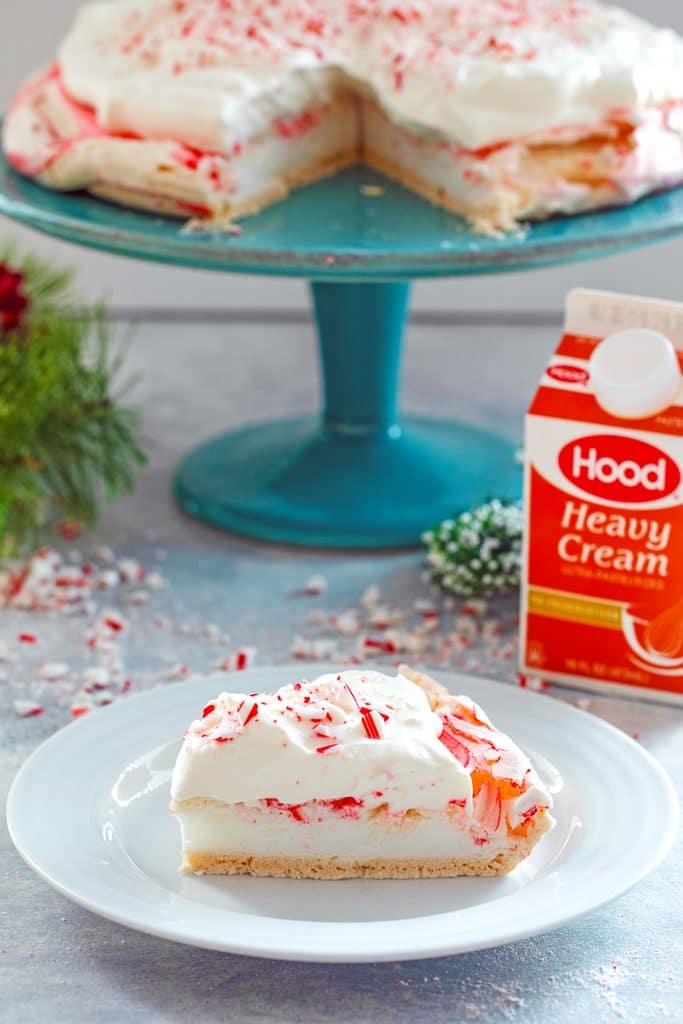 This peppermint pavlova is a super fun alternative to cake at holiday parties. I mean, in a way, it is its own type of cake; just not a traditional one. But it makes a super pretty centerpiece and is easy to slice and serve.
You could even make mini pavlovas if you prefer by simply putting the meringue batter in a pastry bag and piping mini mounds on parchment paper. And then topping each of them with white chocolate whipped cream and candy cane crumbles.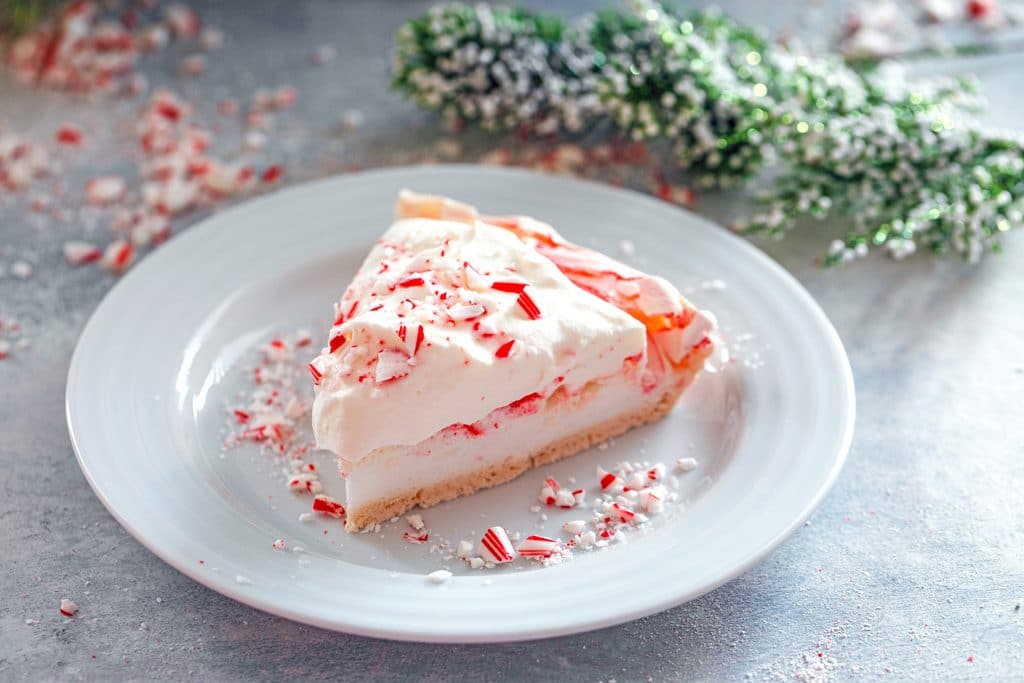 Happy holidays and happy baking! If you've never made pavlova before, I hope you'll try this peppermint pavlova for your upcoming holiday festivities. But at least promise me you'll make an extra large batch of that white chocolate whipped cream and top all your holiday desserts with it, OK?
For more fabulous holiday recipes that incorporate cream, be sure to visit HoodCream.com.
How do you incorporate cream into your holiday baking?
If you're looking for a side or appetizer to serve with your holiday meal, check out this delicious Four-Cheese Mac and Cheese. And if you are craving more peppermint, check out my Peppermint Marshmallow Ice Cream! For more fun meringue desserts, try my Orange Gingerbread Meringues or these Black Forest Meringues from Charlotte's Lively Kitchen!
📖 Recipe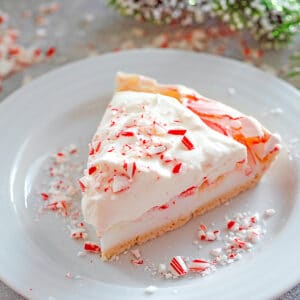 Peppermint Pavlova with White Chocolate Whipped Cream
The underrated pavlova is an easy-to-make dessert perfect for all kinds of occasions. This version is a Peppermint Pavlova with White Chocolate Whipped Cream (made with Hood Cream) and will be the hit of all your holiday parties!
Print
Pin
Rate
Ingredients
4

oz.

white chocolate,

roughly chopped

2 ½

cups

Hood Heavy Cream,

divided

6

large egg whites

½

tsp

salt

1 ¼

cups

granulated sugar

½

Tbsp

cornstarch

1

tsp

white wine vinegar

1

tsp

peppermint extract

3-5

drops

red food coloring

¼

cup

crushed candy canes or peppermint candies
Instructions
Place chopped white chocolate in a medium heat-proof bowl. In a double boiler on the stove or in a separate heat-proof bowl in the microwave, heat 1 ½ cups Hood Heavy Cream until it's scalding (but not boiling).

Pour hot cream over white chocolate in bowl and let sit for 3 minutes to melt chocolate. Stir mixture until chocolate is completely melted. Place bowl in fridge to chill, for at least 3 hours.

Pre-heat oven to 240 degrees. On a large sheet of parchment paper, draw a 9-inch diameter circle. Flip parchment paper over and place on baking sheet (so ink/pencil from circle drawing is on the bottom).

In a stand mixer or in a large bowl with hand mixer, beat the egg whites and salt until soft peaks begin to form, about 2 minutes. With mixer still on, beat in sugar slowly, 1-2 Tbsp at a time, and continue to beat until egg whites turn shiny and stiff, about 6-8 minutes.

With mixer on low, beat in cornstarch, white wine vinegar, and peppermint extract.

Scoop meringue mixture into a mound within the circle outline on the parchment paper. Smooth sides and tops of meringue mound with a spatula. Drop 3-5 drops of red food coloring over meringue and using a knife or toothpick, gently swirl.

Bake for 1 ½ hours. Turn oven off and prop it open a crack (you can stick a wooden spoon in it to hold it open). Keep pavlova in oven with door cracked for at least two hours.

To finish whipped cream, place cream/white chocolate mixture in the bowl of a stand mixer or in a large bowl with a hand mixer. Add remaining cup of Hood Heavy Cream and beat until soft peaks form. Keep chilled if not serving pavlova immediately.

When ready to serve, spoon whipped cream over the top of the pavlova and gently spread with a spatula. Sprinkle crushed candy canes over the top, slice, and serve.
Share a Photo of Your Finished Recipe!
Mention @wearenotmartha and share a photo if you've made the recipe!