Think a meatless hash sounds like no fun? Think again! This Squash Hash with Kale and Eggs will have you loving every minute of fall, especially at breakfast time.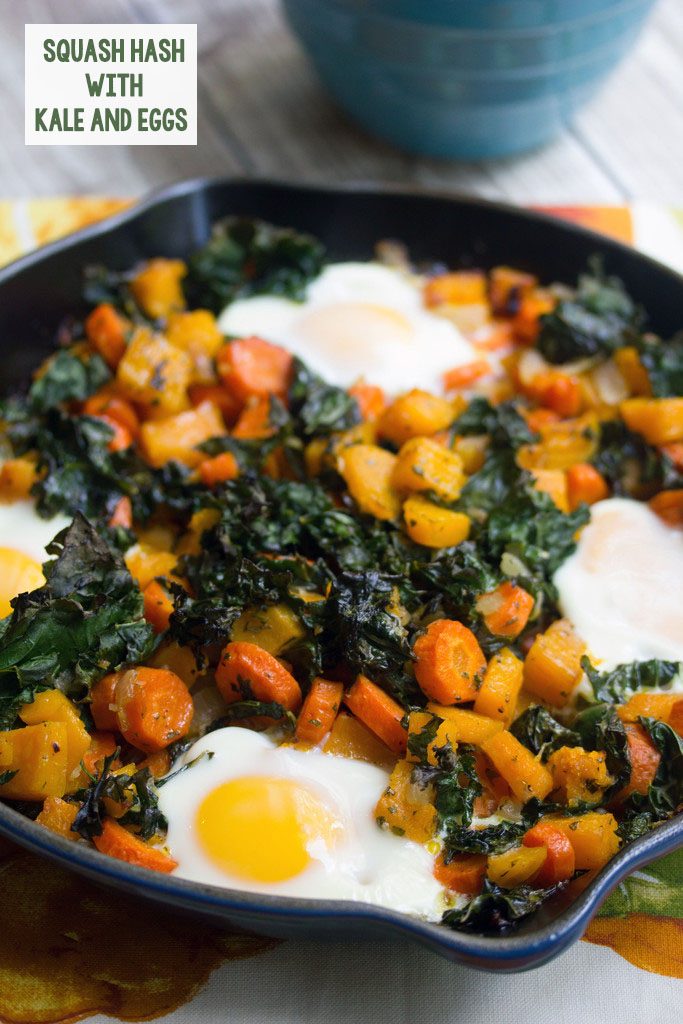 I left work tonight in the dark. Ugh. Is there anyone in the world that actually enjoys that? Thankfully, it was actually still quite warm-ish at 6:00 p.m., which I think helped to soften the blow just a bit. Thanks, Gods of November? We can only handle so much at once, you know? At least the time change doesn't seem to affect me much, aside from the fact that I abruptly woke up at 4:00 a.m. this morning. I briefly considered making an extravagant Monday morning breakfast, before I rolled over and determined that another hour of sleep was very much required.
But now I can't stop thinking how much more productive I could have been today if I made a hearty and healthy breakfast this morning. While I often crave things like Eggs Benedict and pancakes slathered in maple syrup for breakfast, I can also totally get behind a slightly more nutritious, vegetable-packed meal, especially if those vegetables are seasonally-appropriate... And there are eggs involved. I spotted this recipe for Squash Hash with Kale and Eggs in October's Martha Stewart Living and couldn't resist. The colors, the flavors, and the seasonality had me craving it immediately.
SQUASH HASH WITH KALE AND EGGS RECIPE
This squash hash with kale and eggs is a simple dish to make, if you don't mind a little bit of chopping. Once the squash, carrots, onion, garlic, and parsley are chopped, everything pretty much does in a cast iron skillet and is good to go.
Well, after you add the eggs, of course. I'm a firm believer in eggs with every breakfast. Even if that breakfast is pancakes or waffles. Eggs make everything better. And it really doesn't get any easier than this!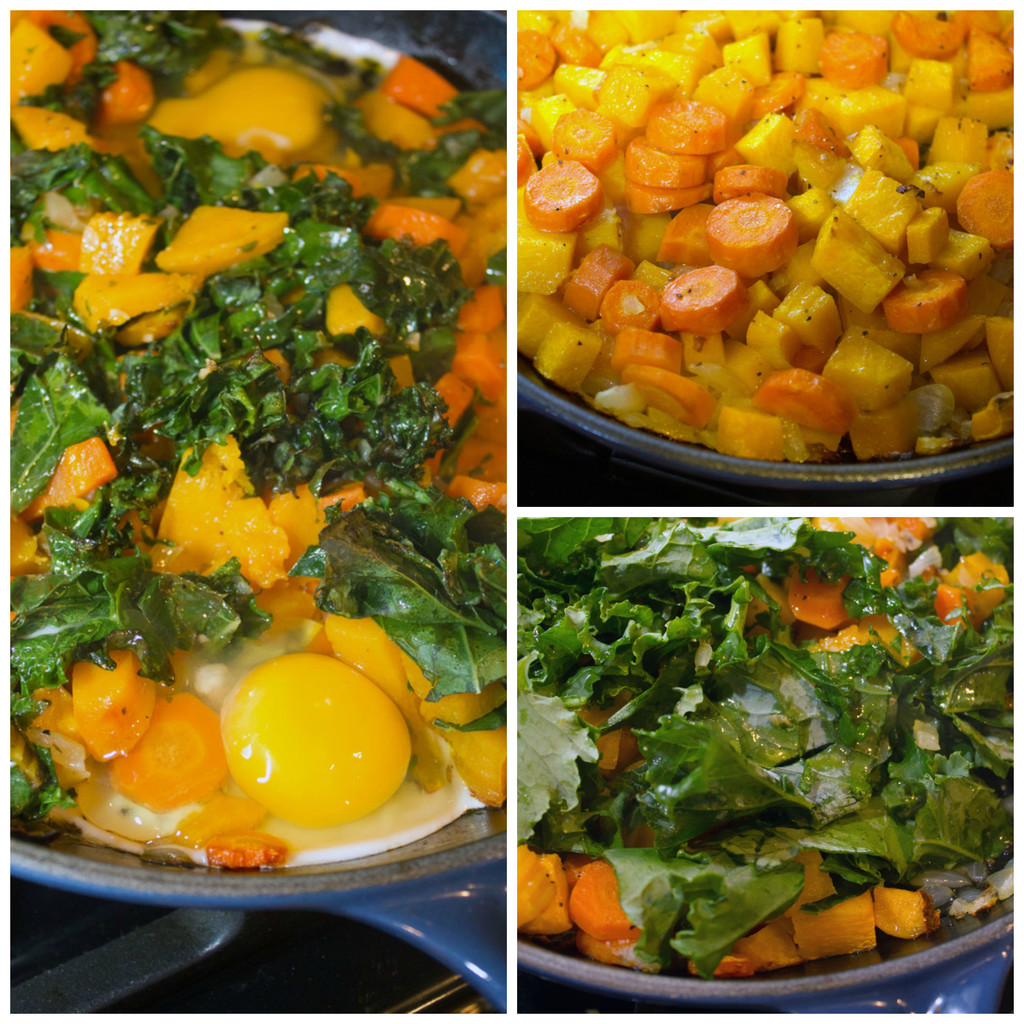 Yes, I know that bacon makes everything better, too. And that there's probably something very wrong about a "hash" that doesn't involve meat. But butternut squash and carrots make for a pretty delicious dish.. Even if it's not your typical hash.
I'm going to be honest with you here. I actually stood at my stove eating this vegetable hash right out of the skillet. I think I was pretending it was a personal-sized breakfast? Despite the fact that it was made in a large cast iron skillet with half a squash and four eggs. Whatever. Chris wasn't home and I didn't feel like reaching my arm all the way up to get a plate out of the cabinet.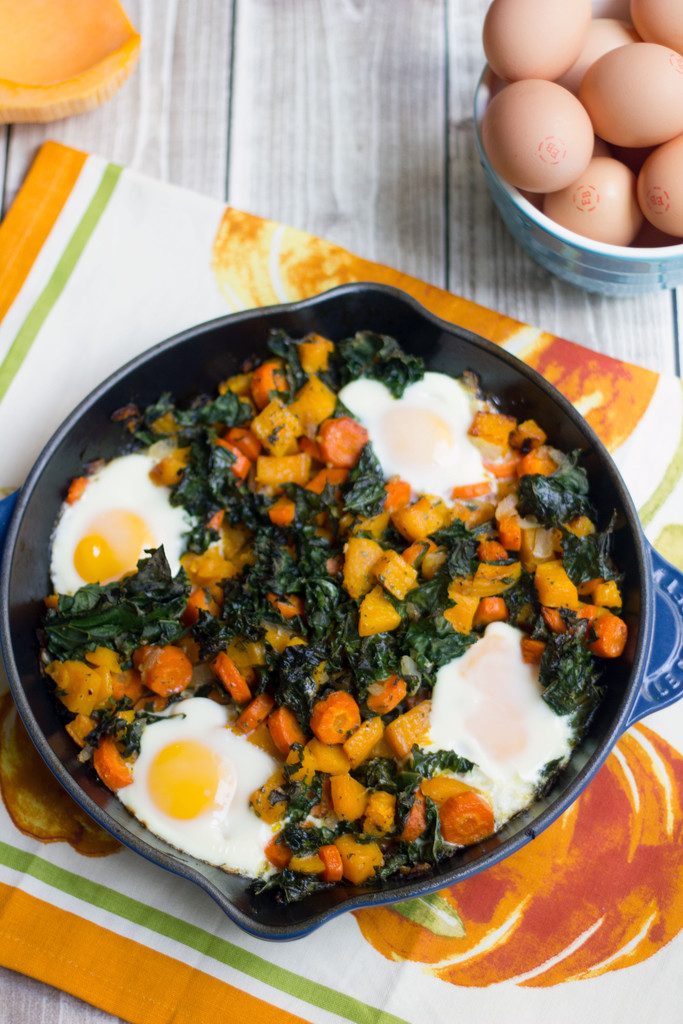 I sometimes stand over the sink with a jar of peanut butter and a spoon... So, I'm going to call standing over the stove with this veggie hash a major upgrade.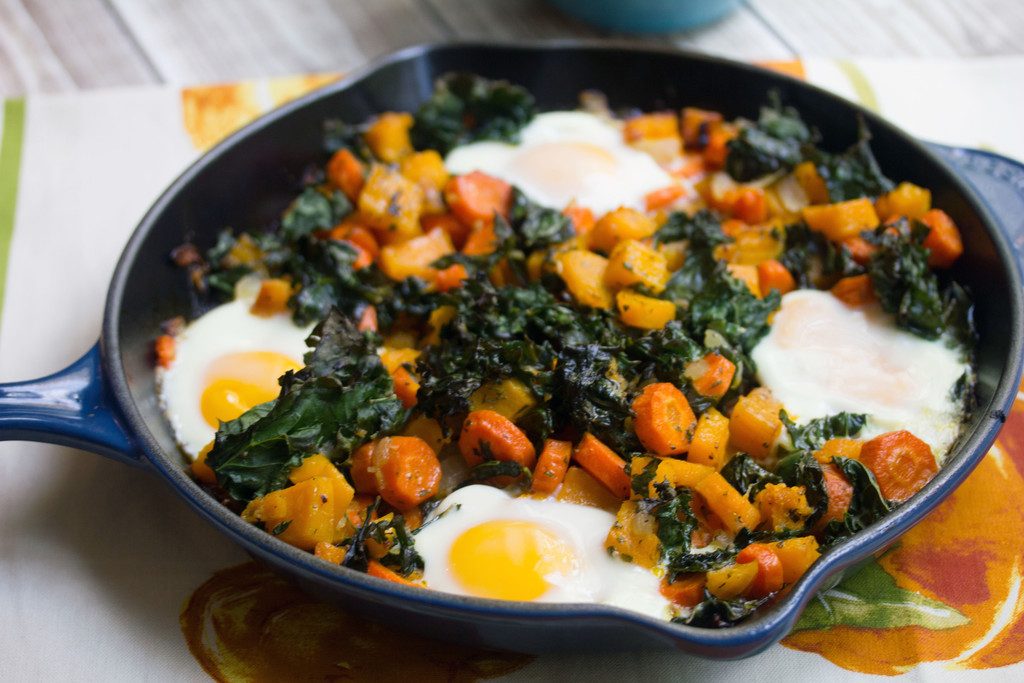 I did make a few changes to the original Martha Stewart recipe... Instead of a cilantro dressing, I made a parsley dressing. Mainly because I had parsley on hand, but also because I love it and recognize that many people don't love cilantro. I'm one of those in-between cilantro-ers. I like it, but i don't love it and I totally get how others may be personally offended by it.
In any event, this is the kind of dish that gets me so excited for fall. And actually gets me excited to get out of bed in the morning. Pretty much a miracle.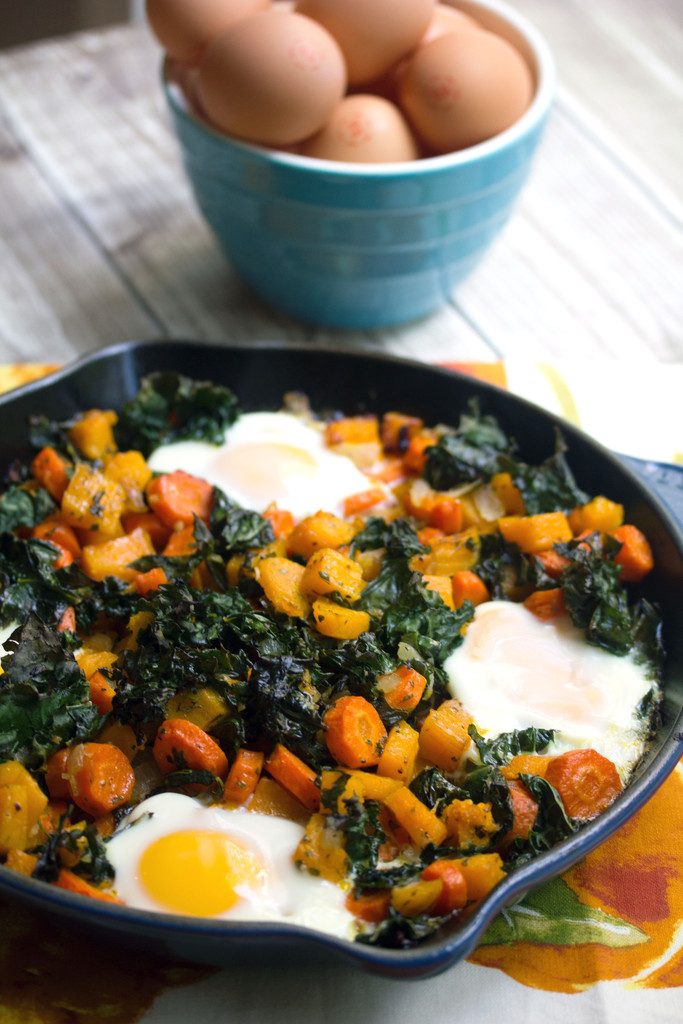 I do recommend chopping all your veggies up in the evening, so when you wake up in the morning, you can enjoy this squash hash immediately. Maybe even when you're still half asleep...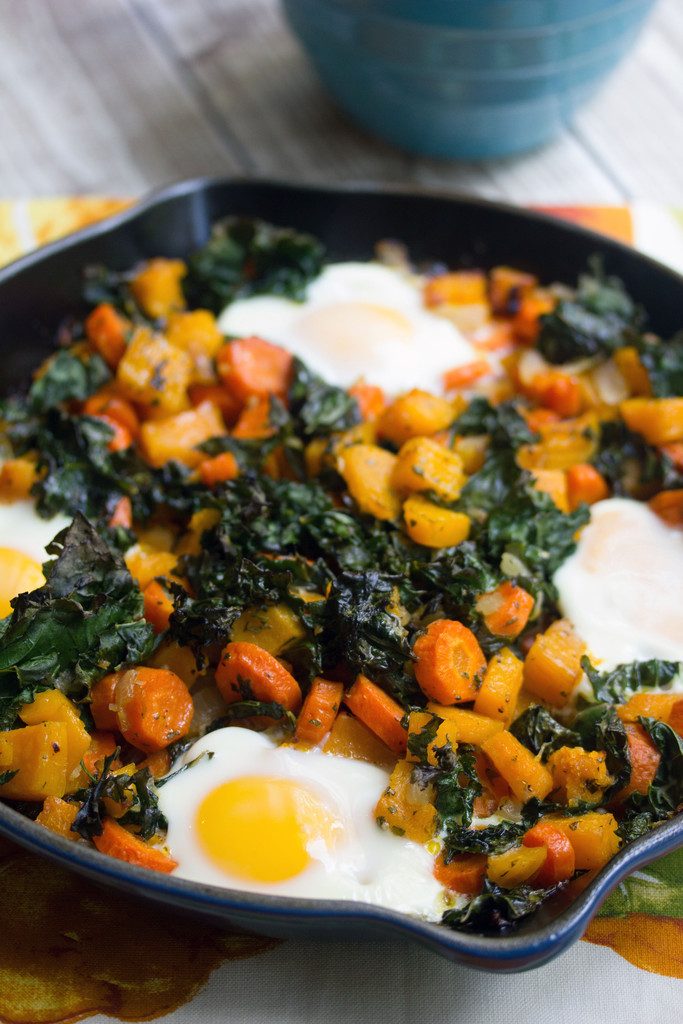 Just hopefully not at 4:00 a.m. At least not on a Monday. Meh, only if I had kitchen elves who could have this ready for me when I woke up.
How are you feeling with the time change?
📖 Recipe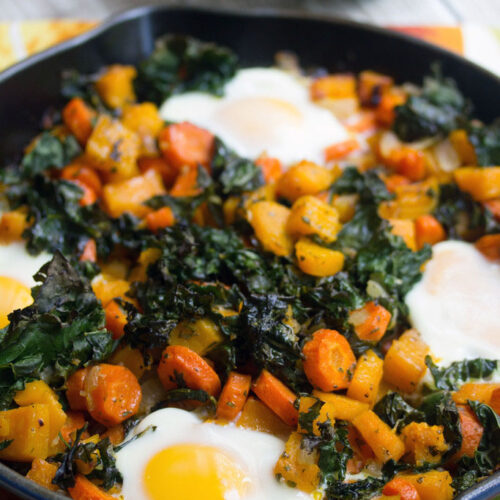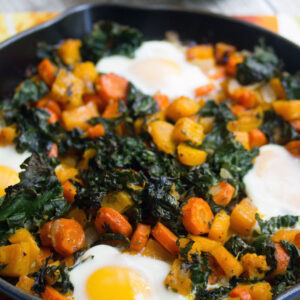 Squash Hash with Kale and Eggs
Think a meatless hash sounds like no fun? Think again! This Squash Hash with Kale and Eggs will have you loving every minute of fall, especially at breakfast time.
Print
Pin
Rate
Ingredients
½

cup

extra-virgin olive oil,

divided

3

Tbsp

freshly squeezed lemon juice

½

cup

coarsely chopped parsley

Coarse salt and freshly ground pepper

1

small onion,

minced

2

cloves

garlic,

minced

4

cups

butternut squash cubes

(½-inch pieces)

1 ½

cups

chopped carrots

(½-inch pieces)

2 ½

cups

coarsely chopped kale

4

large eggs
Instructions
Pre-heat oven to 425 degrees.

In a small bowl, whisk together ¼ cup plus 2 tablespoons oil, lemon juice, and parsley and sprinkle with salt and pepper.

In a large skillet (cast iron if possible), heat remaining 2 Tbsp olive oil over medium-high heat.

Cook onions and garlic for about 3 minutes, stirring occasionally.

Add squash and carrots to skillet and season with salt and pepper. Transfer skillet to oven and let roast at 425 degrees for 20-25 minutes, until golden. Stir once, halfway through.

Stir kale into squash mixture, with ¼ cup parsley dressing. Return skillet to oven for 7 minutes.

Form four wells in squash mixture and crack eggs into wells. Place skillet back in oven and roast Make 4 wells in vegetables and crack an egg into each. Season eggs with salt. Return to oven and let bake until egg whites are set but yolks remain runny, 4 to 6 minutes.

Serve hash, drizzled with more parsley dressing.
Share a Photo of Your Finished Recipe!
Mention @wearenotmartha and share a photo if you've made the recipe!