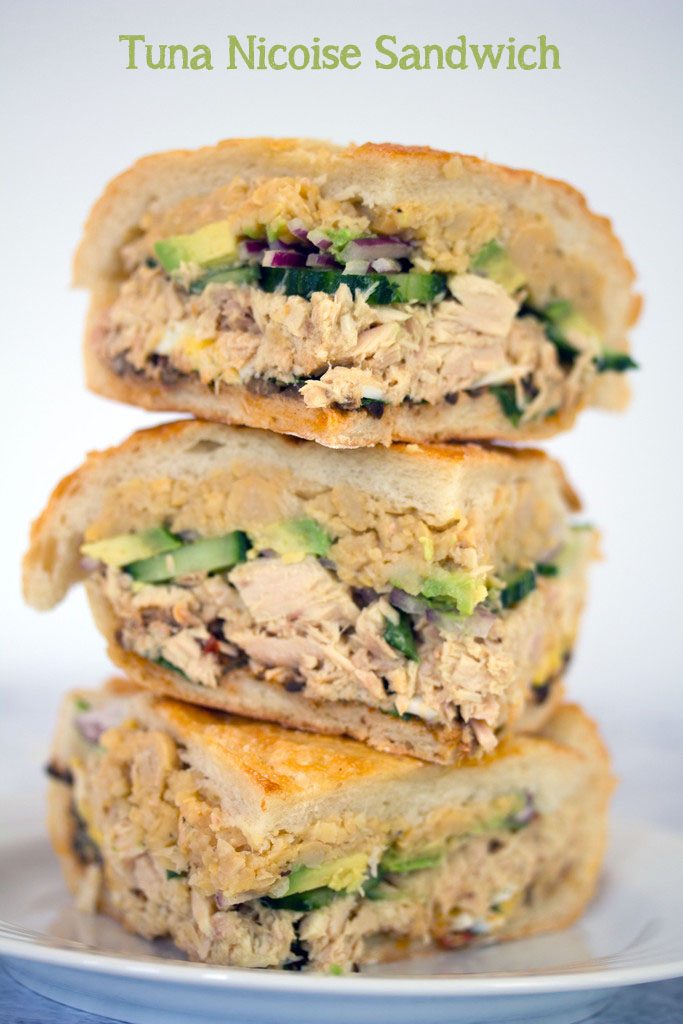 I think I could sleep for 50 billion years right now. Legit 50 billion. I'd wake up really old and grey, but at least I'd finally feel like I got a decent amount of sleep. I guess I'd also wake up really, really hungry. But still, maybe worth it? All I know is that I've had a few really long weeks, with super busy to-do packed weekends where I barely sit down. And I don't sleep in anymore, ever. Someday maybe I will (hello, vacation coming soon!), but until then, I'm just going to keep trucking along. And enjoy the precious sleep I do get. But oh man, it's a struggle when I wake up at 5:00 a.m. with my little pup snuggled right up with me and I'm forced to get out of bed. Even my pup, who basically follows me everywhere, opts to stay in bed and catch up on her Zzzs while I get ready.
I've still been trying to cook dinner as many nights as possible, but oftentimes when I get home from work and have even more hours of work to do, I just can't commit myself to an hour in the kitchen. I'm sure you all know this already, but there are straight up not enough hours in the day. Where's the presidential candidate who's going to give me 4 more hours each day? Let me know and by all means, he or she will have my vote immediately.
For now, I'll make elaborate dinner-appropriate sandwiches when I'm short on time. This recipe was adapted from Martha Stewart's recipe for Tuna Nicoise Sandwiches; I followed the recipe, but added in a few extra perks. Like chickpeas... And avocado. It's an elaborate tuna nicoise salad, but in sandwich form. The sandwich has a lot going on, but isn't very time-consuming.
It involves tuna fish and a mustard vinaigrette...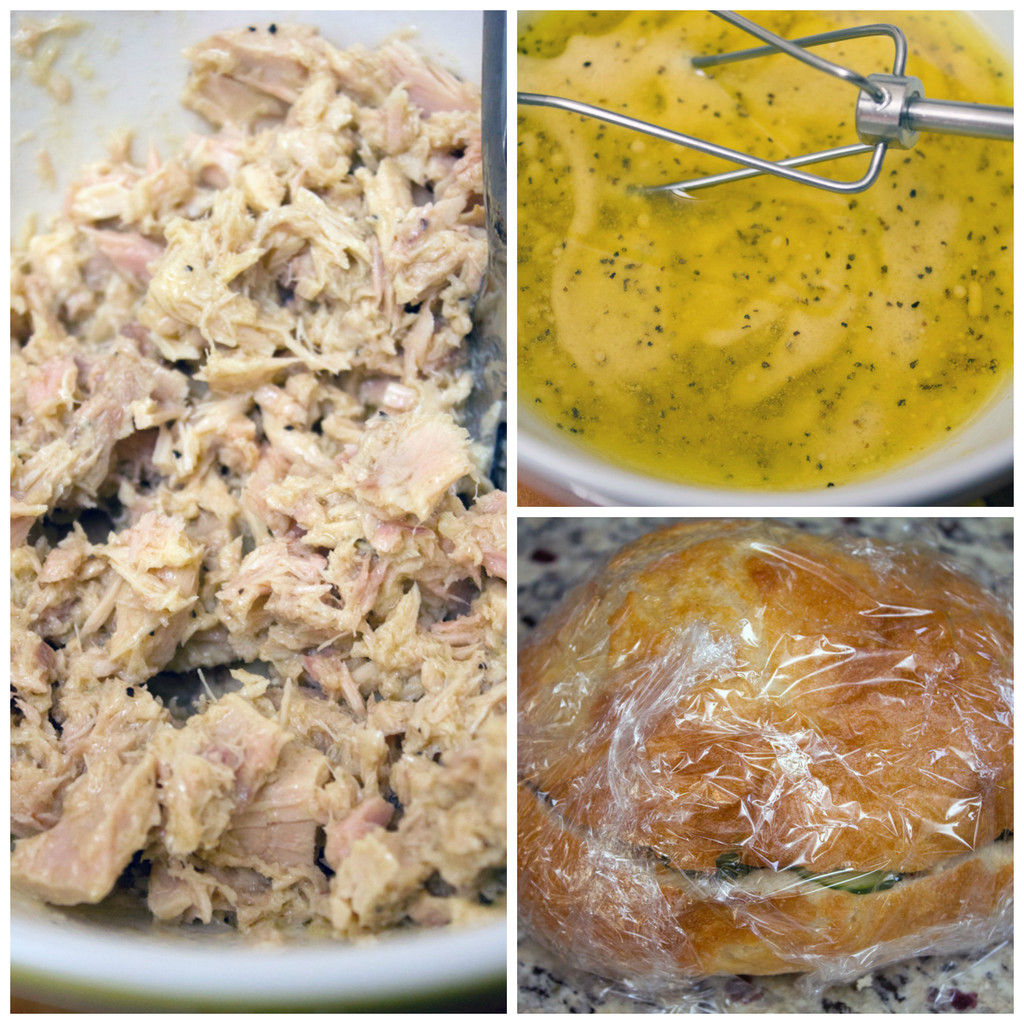 Along with olive tapenade, basil, hardboiled eggs, cucumber, and red onion.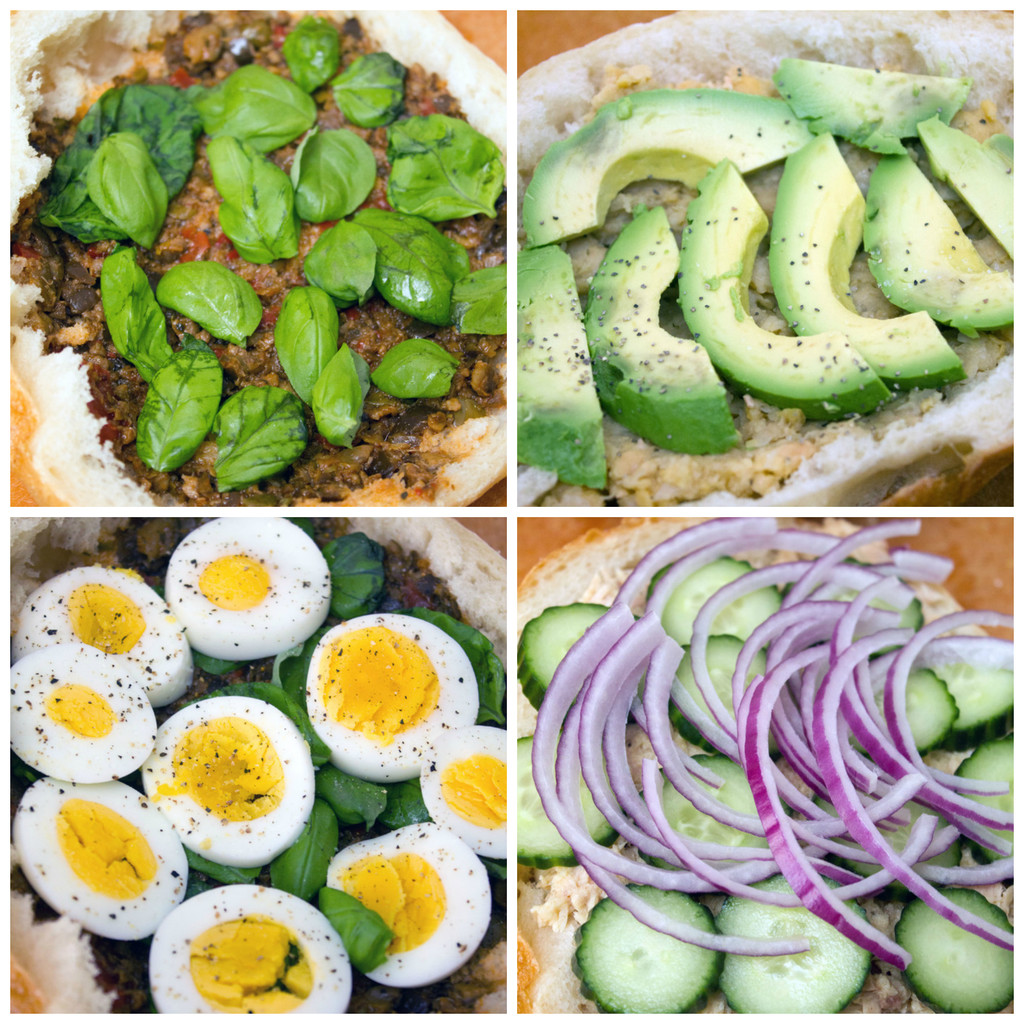 It is recommended that you let the sandwich sit for about an hour (with a heavy skillet on top of it, pressing it down), but that just means you have time to get into your comfy clothing, set the coffee for the next day, take your dog out for a walk, and pour a glass of wine. Then you can dig in.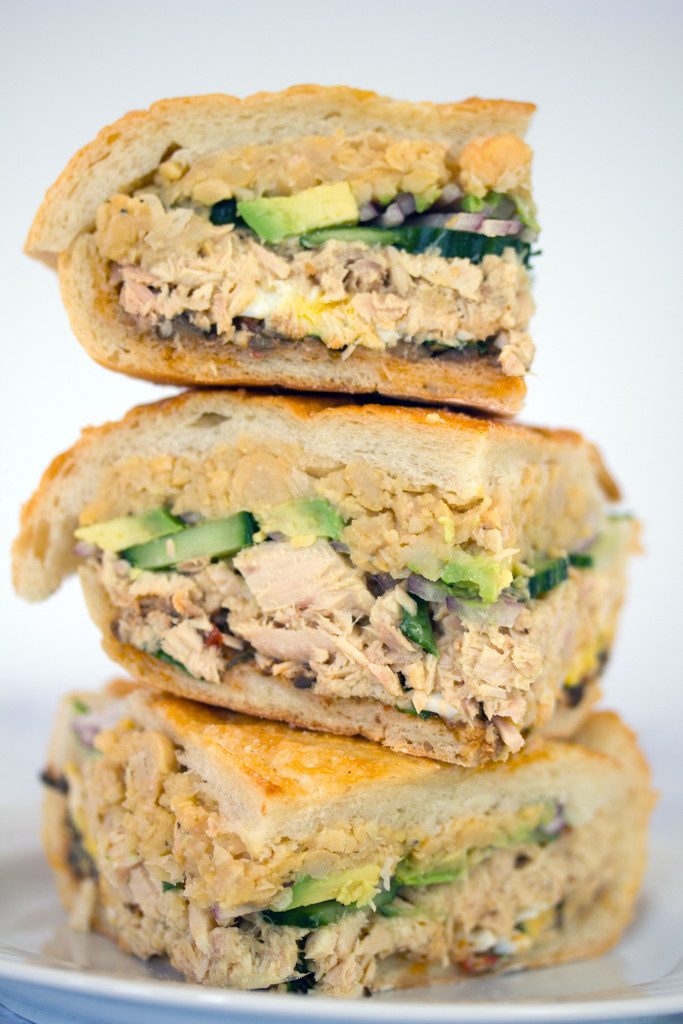 I'm one of those people who can never decide what I want to eat. I really just want a little bit (or a lot!) of everything. And with this sandwich, that's exactly what I'm getting.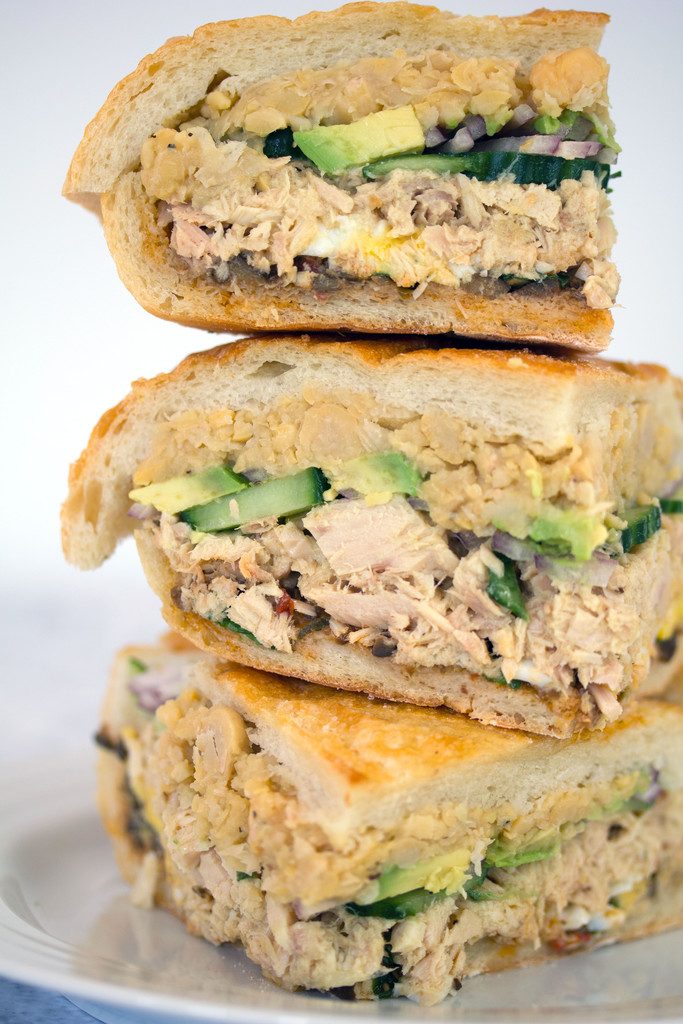 Seriously, some of my very favorite foods are in this tuna sandwich... Hi, avocado and hardboiled eggs. And tuna, duh. Oh wait, I forgot the olive tapenade. I never even considered that as a thing on a tuna sandwich, but it's a brilliant idea.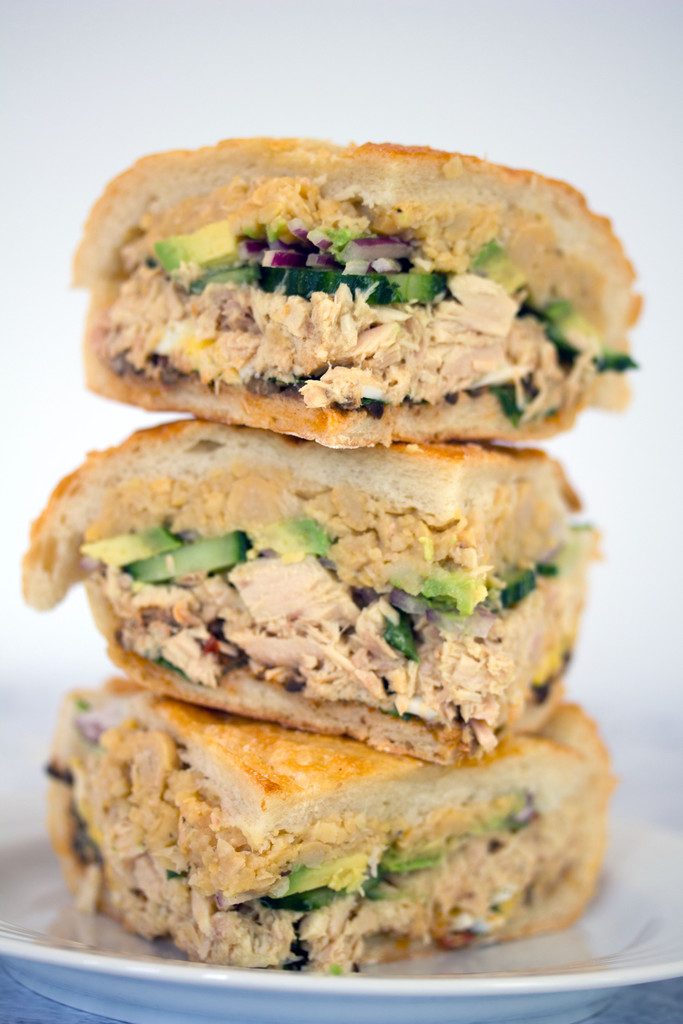 This sandwich makes four large quarters that are each large enough for a meal. It's also incredibly satisfying and packed with protein and healthy fats from the tuna, chickpeas, hardboiled eggs, and avocado. The cucumber and onion give the sandwich a little crunch and zing and the olive tapenade some satisfying saltiness.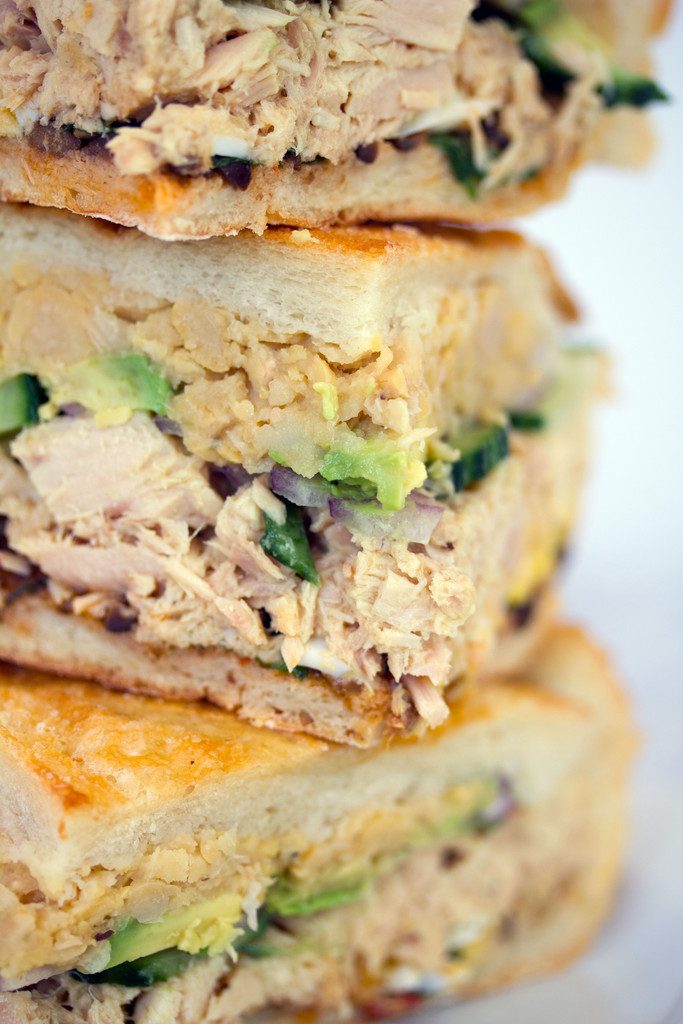 Also, I just realized that I ate a whole sandwich with no cheese involved. And I loved it. That's a pretty big accomplishment for me. Though I guess I shouldn't brag too much considering all the other awesomeness that was here.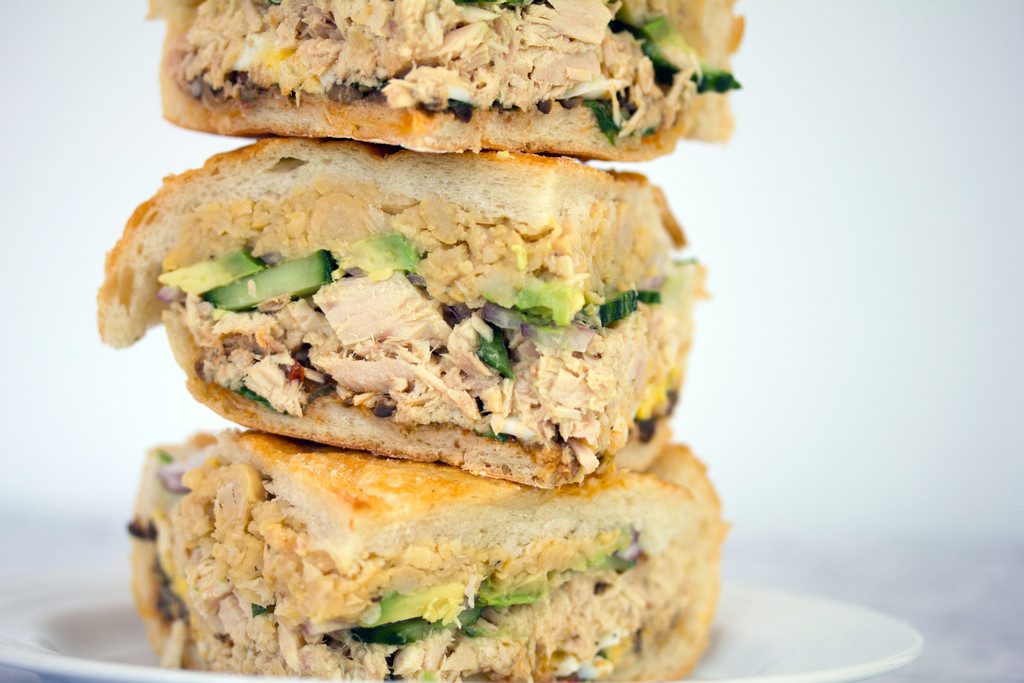 Would you add anything to this tuna nicoise sandwich?
Also, HAPPY FRIDAY!!
📖 Recipe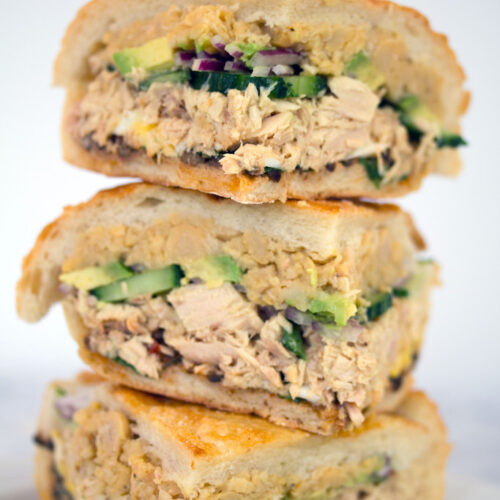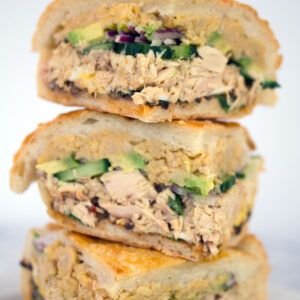 Tuna Nicoise Sandwich
This layered Tuna Nicoise Sandwich is packed with lots of protein and healthy fats, including tunafish, avocado, hardboiled eggs, chickpeas, and more. It's a deliciously beautiful sandwich that's incredibly healthy, too.
Print
Pin
Rate
Ingredients
3

Tbsp

extra-virgin olive oil

2

Tbsp

white-wine vinegar

1

Tbsp

Dijon mustard

Coarse salt and freshly ground pepper

1 8-

inch

round loaf country-style bread

2

cans oil-packed tuna

6 oz. each, drained

¼

English cucumber

sliced

½

small red onion

sliced

1

cup

chickpeas

2

cloves

garlic

½

avocado

sliced

3

Tbsp

jarred olive tapenade

1

cup

fresh basil leaves

2

large eggs

hard-boioled and sliced
Instructions
In a medium bowl, whisk together olive oil, vinegar, and mustard and season with salt and pepper. Toss tuna with the dressing.

Cut bread in half horizontally and remove most of soft interior crumb (you can save and freeze it for croutons).

Spread olive tapenade on bottom half of bread. Top with basil leaves and egg slices. Season with salt and pepper. Top with tuna, followed by cucumber and onions.

In a small bowl, mash together chickpeas and garlic together. Spread chickpea mixture on other half of bread, top with avocado, and season with salt and pepper.

Close sandwich and wrap tightly in plastic wrap. Place sandwich between two baking sheets and place a heavy skillet on top for weight.

Let rest for about 1 hour (or refrigerate, up to overnight).

To serve, cut into quarters.
Share a Photo of Your Finished Recipe!
Mention @wearenotmartha and share a photo if you've made the recipe!